Follow @BigBspoilers and @Dawgsbigbrother on Twitter for recent crazed out spoilers. There is also a Facebook page.
9:13pm Storage room Dom and Kalia Kalia tells Dom that she's sure that the both of them are safe. Dom points out that Adam doesn't do anything in the house or the game. Dom tells her that the one thing he knows is Lawon will not go quietly he's going to cause a massive blow out rolling it all out. Dom doesn't want people to think he's with adam because they are couples.
9:33pm Hammock Rachel and Brendon
Rachel tells brendon that when jeff and jrodan called dom up in the HOH they asked him what side will he be on when they start to fight JJ or BR. Rachel says they need to start thinking about what happens near the end and be prepared for a power shift. She knows that neither side wants to get the other one out but they're always a power in the game. Brendon is surprised that they asked dom that.
Dani joins them. Says that it's really strange that Adam has been asked 3 questions in 2 weeks. Rachel: "you just don't think that america loves him" Dani: "Dani umm i dunnno umm maybe. Dani brings up that Jeff and Jordan want Adam to stay and it's obvious that Adam is on their side. Dani says that the other side wants BR to fire the first shot they are getting together the other players, Jeff and jordan know that dom is not going to work with them. Dani: "trust me dom is not going after you 2". Dani suggests they take out Adam this week and Lawon next week. She reminds them that there is going to be a power shift and they want that shift on their side. Brendon says if he puts lawon and Kalia and Dom wins the POV we'll have to put up JJ. Dani is confident that she can talk Dom into throwing the POV and she doubts he would use it to save Lawon and Kalia. Brendon isn't sure they can trust Dominic to throw a comp.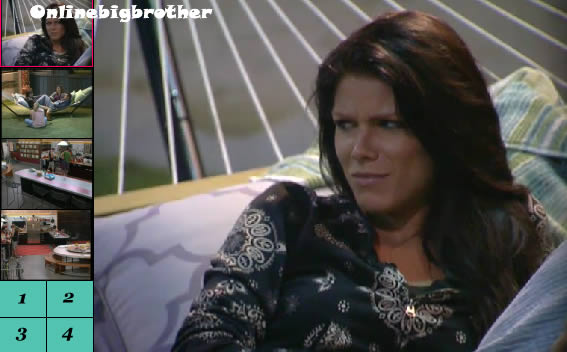 Rachel ask if dom blames them for Cassi going. dani doesn't think so, "it not like he's going to come avenge her he's not stupid". dani reminds them if a split happens they are going to need the numbers
Dani says she's going to tell brendon something and she wants to be 100% sure that brendon will not tell anyone this. dani adds that she told rachel this and rachel swore she won't tell anyone (but 10 minutes ago rachel told brendon)
Brendon: "ya ya ya she told me"
dani explains the story about Jeff and JOrdan asking Dom what side he was on JJ and BR
Brendon: "no she didn't tell me that "
rachel: yes I did Brendon" (LOL)
brendon i'm sure he's just telling you that because he wants us to turn on JJ because that will take out the 2 strongest groups. Brendon doesn't trust any of the newbs. Brendon says that he just needs to win the POV this week then he'll take out whoever he wants.
Brendon sys he's not threaten by adam in any competition. dani and Rachel say that Adam knows the big brother game forwards and backwards. That doesn't matter to Brendon, he doesn't think knowing trivia about past seasons is a big deal. Rahel and DAni disagree.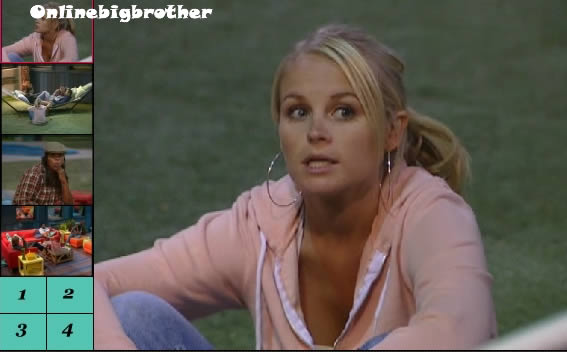 Jordan joins them
Jordan starts telling them that she hasn't heard this from dom in awhile but he wants Lawon and Kalia up and if lawon and Adam win HOH she has no idea who he'll put up. Dani adds "adam will flip on a dime"
Jordan says if she had to choose lawon, dom or Adam she would says Adam and lawon but between Adam and laawon it's a toss up. Brendon: "I think for me that Adam needs to go". brendon says that he's trusting dom a bit more and Adam is to big a unknown. (wow have to update the site graphics the HOH this week is dani)
10:10pm Dani and RAchel Tell JEff they think Adam being asked 3 questions out of the last 2 weeks is kinda strange and that Adam is always going to the DR like Ragan and Annie did last year. They hint that Adam should be the target. Jeff thinks that a pretty weak reason. Rachel says they will talk later upstairs later tonight.
10:30pm Wine time
Share it YO!!
Tweet