12:45pm Rachel is talking to Adam in the lounge room. Rachel says that Lawon hasn't done anything in the game to prove himself. She comments that all he did for the first month was walk around the Big Brother House wearing outrageous outfits. Rachel says that she doesn't go back on her word and that people can trust her. Rachel says that she doesn't know where Adam's head is at because he doesn't talk game to her. Adam says that he knows that she is emotional and that he just wanted to give her space. Adam says that it definitely took Rachel a couple days to get back on her game. They start talking about the twist. Adam says that the word that sticks in his head is "Chance" to come back. Adam says where as you think its a guarantee. Rachel says yeah I think its a guarantee… I think the person has to play to get back so they have a chance. Rachel starts talking about other season of big brother where people were given powers. Rachel says that she doesn't think they would say chance if it wasn't a very big chance. Adam says that its a tough decision because either he gets out a strong player or a floater. Adam says if I get rid of the floater and save the strong competitor then I need to know that person is on my side. Adam says that he thinks it really comes down to his and Porsche vote. Rachel says that this might be the last time a floater like Lawon gets nominated …and before you know it he will be in the final two and win BB. Rachel says that he doesn't even talk game to anyone! Rachel says that she can't win everything … and knows that she will always be a target in this game and 100% a bigger target than Adam. Adam says that he is still surprised that Kalia put up Lawon and not him or Shelly.
See What They Can't Show You On TV! SUPERPASS – 3 DAY Trial!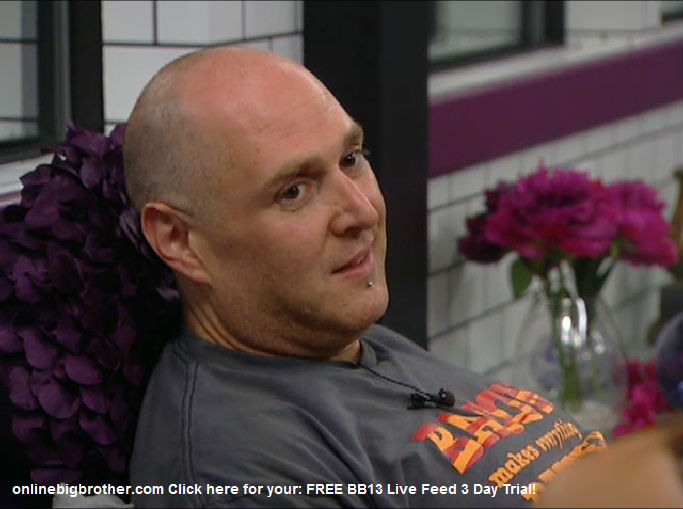 1pm Adam says that when you are confident you make mistakes. Adam says if you stay … you will owe me .. I don't mean it in a bad way. Rachel says that if I stay …we need to talk more game. Rachel says just don't make a decision just because someone tells you to vote one way, do what you want to do. Adam asks Rachel if she thinks she is safe. Rachel says no ..I admit I felt more safe when they put up Lawon ..but I still don't think I am safe. Adam says that he won't do what people tell him to do ..he will do what's best for him. Adam says that its all food for thought. Adam says Lawon is a good person but ..we aren't playing the game of life ..this is big brother. Rachel says that Kalia put up Lawon because she didn't want to piss anyone else off. Adam says that he definitely thinks that Kalia putting up Lawon was a bad move. Adam wonders if he should keep Lawon. Rachel says all he will be good for is a vote in the end ..because he isn't going to do anything else for you. Adam says thats definitely a pro for Rachel. Adam says that there are a lot of good points for keeping you and that I would reap the benefits. Adam says that he felt that if her and Brendon were still here … they would steam roll through this thing. Adam tells Rachel to just breath a little sometimes… people are going to hate you and people are going love you … just don't dwell on the haters because they will bring you down. Adam says that he is still weighing the options and that he will tell her tomorrow what his plan is.. Rachel says that keeping me here ..will only benefit you ..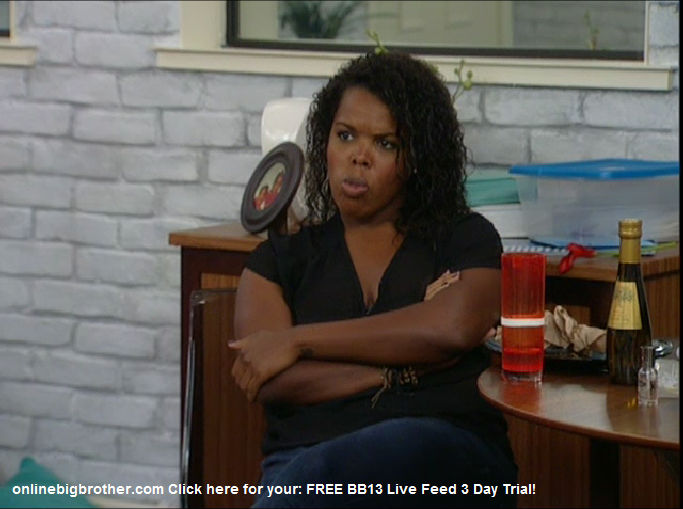 1:15pm Dani asks Kalia …you know with the golden keys ..what if the twist is that the person we vote out has to battle it out with Keith, Dominic, Casey and Brendon to see who will come back into the Big Brother house. Dani says that way it is a chance that the evicted houseguest will have chance to come back. Dani says that Lawon will not be able to beat any of them …and that only Dominic and Brendon will be able to beat Rachel. Dani says that Lawon told her that he thinks the twist is that if he gets evicted he will be able to help one of the final for with information. Dani says about Lawon ..are you high… who are you going to help with any information… are they passing drugs out in this house ..or do they need to start passing out drugs because these people are stupid. Dani asks so what do you think about the twist that I just said. Kalia says I guess its as possible as anything. Dani says that what if tomorrow is actually an endurance ..like production is trying to throw us off and so what if Brendon comes back …I am not scared to go up against Brendon in an endurance if he came back into the house. Kalia is getting pissed that Rachel is now campaigning and that was not part of the deal. Dani says of course she has to campaign it would be weird if she didn't. Dani says that Rachel has apparently not said anything about the deal. Kalia says logically you and me are the only votes she needs to switch it.
Sign-up NOW and watch the houseguests live!
Click here for your: SUPERPASS – 3 DAY Trial!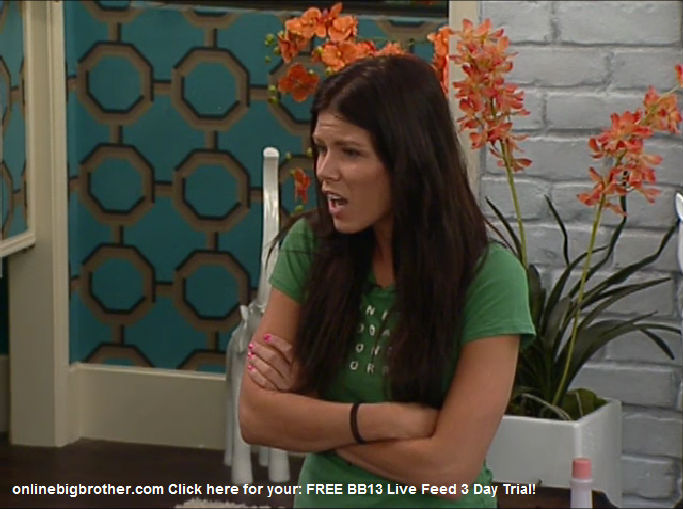 1:25pm – 1:40pm Dani asks Kalia right now who do you want to stay. Kalia says 60/40 split for Lawon to stay. Kalia says that she just doesn't know .. that she has never wanted to keep Rachel ..it is just because of the twist. Kalia says that she will slap Rachel so hard in the jaw if she goes back on the deal. Kalia says that she will self-evict herself is Brendon and Rachel come back into the house. Dani says that it would be a waste of your HOH and mine. Dani says that if she gets offered Pandora's box …she wouldn't touch it with a ten foot poll. Dani says they have to do something to get back in …like America's vote or something ..thats why they said there's a chance. Dani says best case scenario Rachel gets voted out and Dominic comes back. Dani says that who ever comes back too ..will take the targets off of us. Kalia says that it would be terrible if Brendon came back!! Dani says let this soak and think about it. Kalia says do you think we should just vote her out and take the chance that she would come back… and if she does we tell her that we gave her the chance …but that she started telling people she had the votes. Dani says we would just call her a liar and no one would believe her. Dani says lets just think it all over and decide tomorrow. Dani says that she will talk to Adam and warns Kalia to be careful about what she says to Shelly. Dani says that she would feel so much more safe if the HOH is actually an endurance. Dani and Kalia break up their conversation and Kalia heads downstairs.
TRY the Live Feeds for FREE!
Click here for your: SUPERPASS – 3 DAY Trial!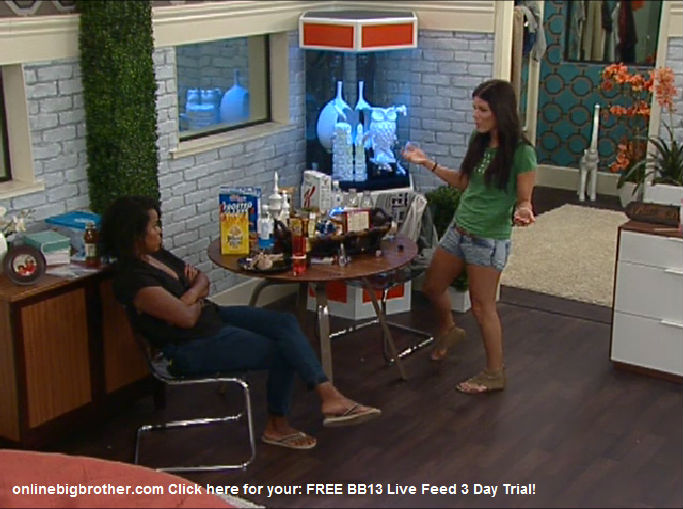 1:50pm – 2:10pm Rachel and Jordan are in the havenot room. Rachel says that she doesn't even think that she can trust Porsche or Adam. Jordan that Shelly spent all day yesterday to try and convince Dani and Kalia to keep you. Rachel says that everything is really weird ..something is up .. I feel like I can't trust anyone right now.. one of them are lying and I don't know who it is. Jordan tells Rachel not to go confront anyone because the will make it worse. Rachel says that no matter what ..if I go home ..you or Jeff need to win HOH. Rachel says that she doesn't know whats going on .. but she thinks she is going home. Jordan says that she knows Rachel will come back. Rachel says that you need to take back control. Jordan says that if we don't get control Dani will go right to then end and win. Jordan says that we just need to get passed this week. Rachel says that there is just something weird going on. Jordan asks this was the season of what?! Rachel says the season of blessing and curses. Jordan says that if Rachel leaves she is for sure coming back. Rachel says that she just doesn't know what is going on …I talk to people and I get different stories. Shelly comes in the havenot room. Rachel says that something is BLANK weird with Lawon. Shelly says I know I have been saying that all week. Shelly leaves. Jordan wonders if it could be America's Player or the saboteur. Rachel says she doesn't know ..but something is weird. Meanwhile, Kalia brings out the HOH camera and starts taking photos of all the houseguests in different poses.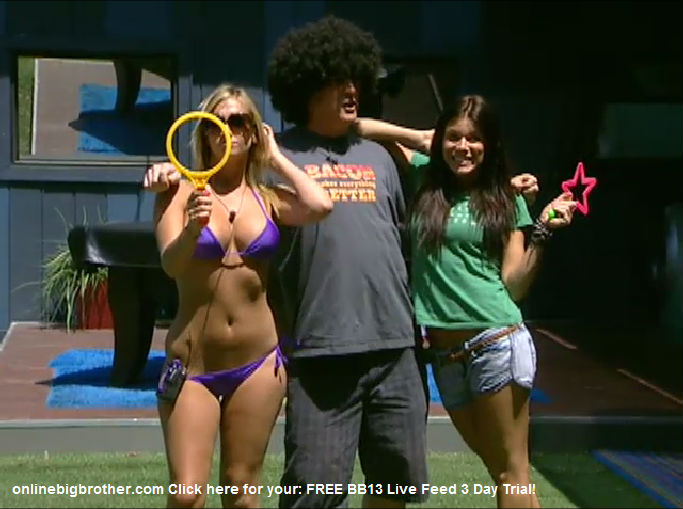 2:25pm HOH photo madness continues…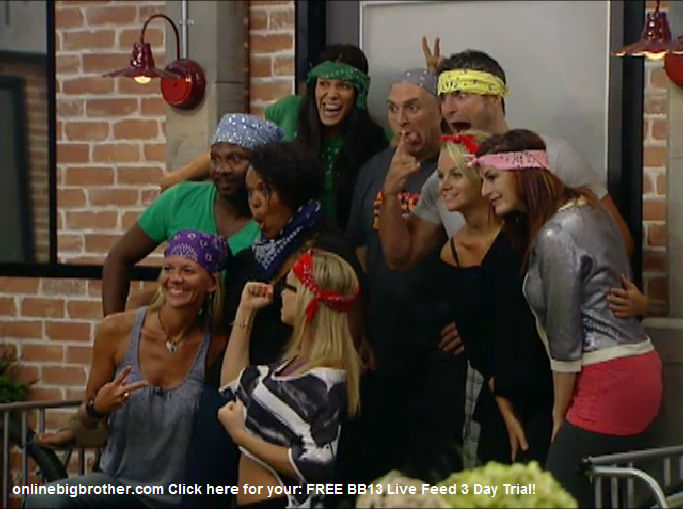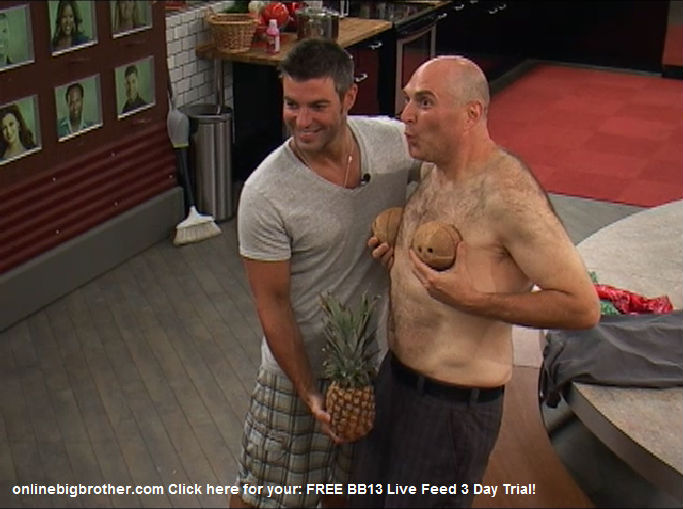 2:35pm – 2:45pm HOH photos are over. Jordan goes and changes in the shower. Jeff, Adam and Shelly are sitting out on the backyard couch talking about random things. They talk about being in the jury house and being about the relax in the jury house without worrying about people talking behind your back. Porsche and Dani are getting ready to go out into the backyard to suntan. Porsche, Shelly, Jordan and Dani lay out in the loungers to tan. Lawon is still laying in the hammock. Kalia is sitting on the couch talking about how she got too much sun the other day and will be going up to write the HOH blog soon.
If you like this site and want to help us keep it running please consider donating, Your donations go directly to paying the server and bandwidth fees. Donate Link
Big Brother 13 Spoilers POLL CAST your VOTE!

Big Brother 13 Live Feed Image Gallery
Follow: @BigBspoilers and @Dawgsbigbrother on Twitter for recent crazed out spoilers. Theres also our Facebook page.
Share it YO!!
Tweet