12:40pm Brendon and Shelly are in the backyard talking about Cassi and how she was picked on in school. Shelly says that she was here to win to make enough to pay off her parents house, because her dad is unemployed. They talk about past house guests from other seasons that were so vain. Rachel comes out and Brendon tells her that she is beautiful on the outside and the inside. Brendon heads inside. Shelly tells Rachel that she know she will get made fun of for cleaning so much. Shelly says that she gets antsy and just needs to do something. Shelly says that yesterday she was getting snippy with Adam. Shelly says that he needs to win something. Shelly says that Adam doesn't even know if he has his job when he gets out ..and now he will be here for the rest of the summer either in the house or jury. Shelly tells Rachel that she is handling it really well. Shelly asks Rachel if Brendon is taking himself off or her. Rachel says he is taking himself off. Rachel says that Dani will put up either Porsche or Jordan. Rachel says that she will probably put put Jordan to guarantee I go home. Shelly asks what Rachel will do when she gets out. Rachel says that she doesn't know .. she doesnt have anything .. and doesn't know anyone in LA. Rachel says that she might go to her parents house till she gets out.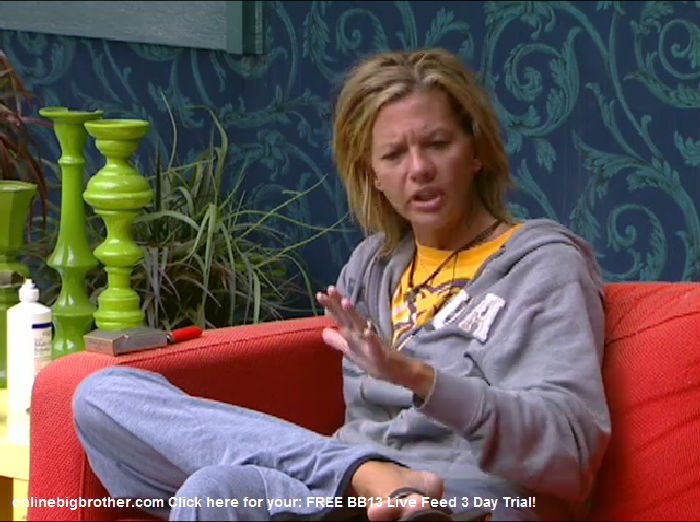 12:50pm – 1:10pm Shelly asks if it would do any good to go up and tell Dani to put up Kalia…. Shelly says that she doesn't care and doesn't care if Kalia hears it either. Shelly asks is there any kind of deal that Rachel could run by Dani so that Rachel doesn't go home. Shelly asks what would you give her for doing that. Rachel says that Dani would then get in the good graces with the rest of the house again …and that she would then get back their jury votes. Shelly asks so would you keep that deal with her though? Brendon and Rachel says that they would and that they aren't the kind of people that back stab. They start bashing Kalia talking about how she runs and tells Dani everything… how she was best friends with Jordan drinking wine in the bath tub and now she's up there with Dani. They talk about how Dani only has Kalia because they both have said that they don't trust Lawon. Rachel says that for the last 4 weeks Dani has been bad mouthing Kalia and now she is best friends with her ..because that all she has. Shelly brings up how Kalia wouldn't even give Dominic a vote. Rachel says that even when Kalia was up on the ski competition she was yelling out this is for you Dominic …and you didnt even vote to keep him. Shelly keep praising Rachel for how she is acting and that people will remember how classy she was and how much more beautiful she looks.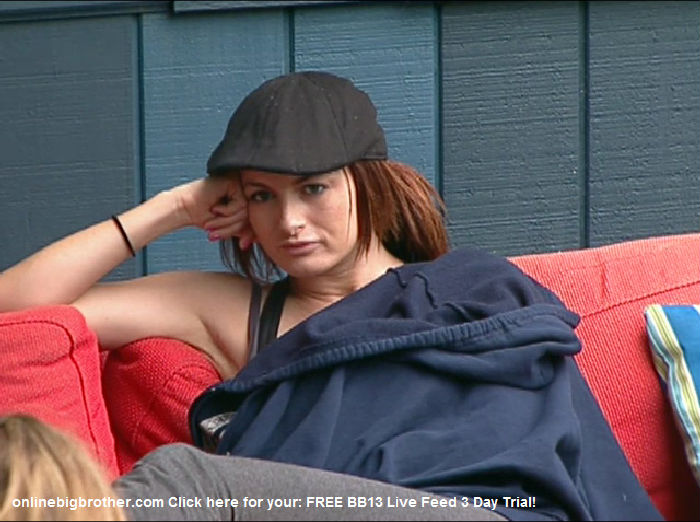 1:20pm Jeff, Lawon and Jordan are in the kitchen talking about random stuff. Jeff is eating breakfast. Dani comes down and Jeff tells her she slept till 1pm. Dani says you say that like I care… I love to sleep in ..especially when its cloudy out.
See What They Can't Show You On TV! SUPERPASS – 3 DAY Trial!
1:30pm Jeff and Jordan head up to the HOH room. Dani says that she genuinely likes Jeff and Jordan and wants to keep them here. Dani says that she hears that Brendon will take himself off the block… which is weird because he has been saying he wants to go back to his schooling. Dani says so if he takes himself off the block I don't want to put you up against Rachel. Dani says that she will go out of her way to try and keep them (jeff and jordan) in the house. Dani says that if Brendon was on the block I wouldn't be worried about you being up next to her …because everyone would want Brendon out of the house. Jordan says that if you put up Porsche it would be …I would vote out who ever you wanted me to vote out …but I think Brendon and Rachel would cut deals and they would both end up staying. Jordan says if you put up Porsche then you would make another enemy with her and then both her and Rachel would be coming after you. Jordan says that she will talk to people and if she thinks she has the votes she will go up as the pawn. Jeff says don't say pawn. They talk about how Shelly is on the fence and they don't know where she's at. Jeff says that they talked to Adam …and he said he would help them because they showed him love way back. Jeff says that he doesn't see the house voting out Jordan over Rachel. Dani says yeah but I can see Rachel selling her soul to stay.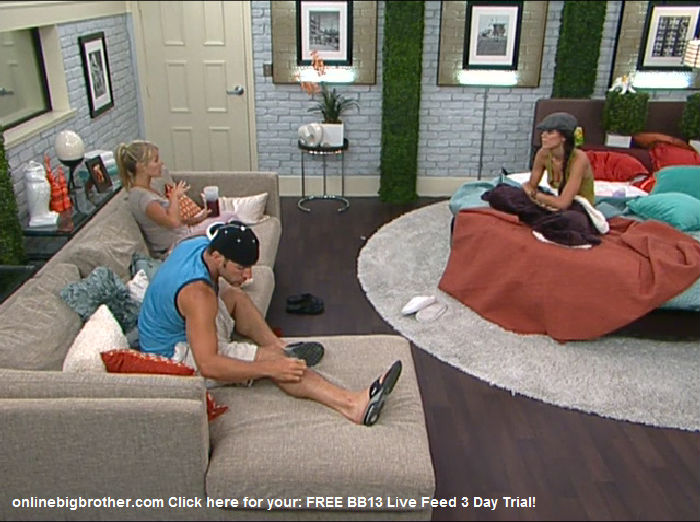 1:55pm They talk about how they will talk to Adam, Shelly, and Kalia again to see where they are at. Dani says that she thinks if they had Adam they would have Shelly. Jeff and Jordan tell Dani that if she keeps them safe …they will show her the love and that she will be good with them and she will be safe next week. They talk about how they don't really know what Rachel and Brendon are doing. Jordan says that she heard him say that he said he was saving himself. Jeff says that if you hear stuff about us ..just know that they try and talk to us …we just says yeah yeah …and try and get out of the room. Dani asks them to go fish for stuff. Dani says that Shelly was talking to her asking her who she wants to go ..because she has some pull. They talk about how Shelly acts like the mom …and that she is cheering for everyone and not picking a side. Jeff says that he will talk to Shelly and see where she is at. They start talking about the spelling competition. Dani says that the only thing she can think of why Brendon is wanting to stay now …is because Rachel would fall to pieces without him. Dani says that this wasn't supposed to be this difficult. Dani says that this is just a clear sign that Brendon is going to win against you the entire way. Jeff and Jordan say that they will talk and see where people are at. Jeff says that he will send the elf up to talk to Dani so that she can see where he is at… Jeff and Jordan head downstairs. Jeff then goes and tells Adam the elf that he should go talk to Dani.. Adam puts on his elf costume and heads up to the HOH room…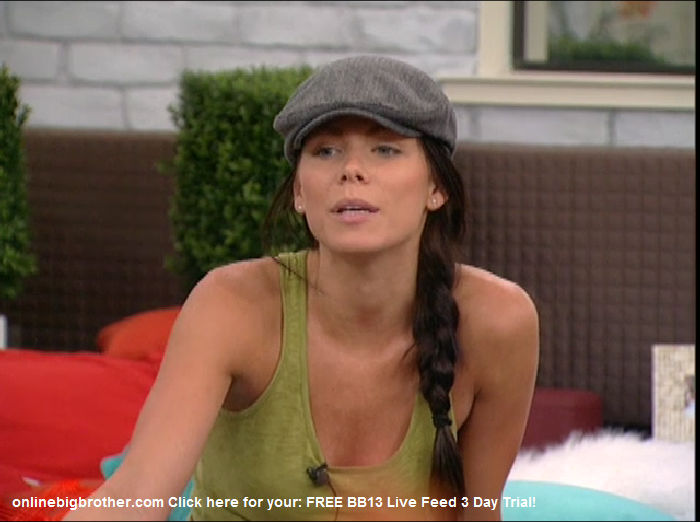 2pm Adam goes up to the HOH room. Dani asks him where his mind is at with the Veto being used. Adam says that he doesn't know if he is using it on himself or her. Dani says that all summer he has been talking about how he wants to go home… but that yesterday he is saying he is using it on himself. Dani asks where his head is at? Adam says that he would put up Porsche or Jordan. Adam says that if he put up Jordan against Rachel …Rachel would go home because people like Jordan. Adam suggest putting up Porsche just because she is a vote for Rachel. Adam says that you only need 4 votes to evict Rachel. You would have me, Kalia, Lawon and you. Adam says that they only thing is that Brendon will hate me for evicting his girlfriend. Adam says but he wouldnt really know whos votes were whos. Adam says that Jordan is the safe pick.

2:10pm Dani asks if Adam is going to fight for HOH next week. Adam says yes ..next week is my birthday and I want to win. Dani says that her only fear is that next week people will think they are safe and not try for the HOH and then he will get it and come after me. Adam says yeah I know. Adam says that if he won next week ..it would be hard for him to put up Brendon because he would then win the POV. Dani says that we have to remember he can't win everything. Dani asks Adam when Brendon got voted out last season. Adam says that it was the hay stack veto …and the double elimination. Dani says that there are 6 weeks left and so it will be a regular season …unless they bring someone back and then do a double elimination. Dani says that she doesn't think they would bring some back after this week. Dani asks what other twists do you think will happen? ..I think it will be something totally different. Adam says that he doesn't know.. expect the unexpected. They talk about whether they will bring back Pandoras box ..because its something go and bad. Dani says that the next HOH will be questions elimination or knockout. They talk about who they would knockout. Adam says that Brendon will already be pissed …and maybe I should just put him up if I win … who knows what the POV will be. Adam says that he is definitely on page with keeping Jordan if Dani puts her up against Rachel.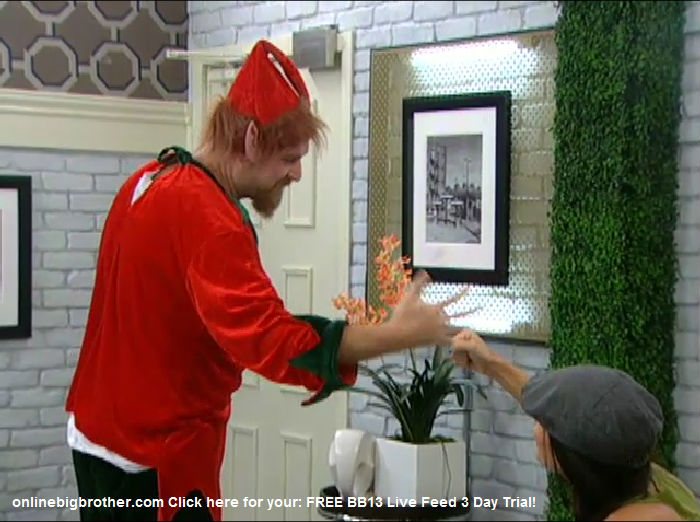 2:20pm – 2:30pm Jordan and Shelly are talking out in the backyard. Jordan is telling Shelly all about the conversation she had with Dani. Jordan says that she thinks it's just better if she goes up against Rachel. Jordan tells Shelly that when she was talking to Dani she played down the alliance that Adam and Shelly have with Jeff and Jordan. All the houseguests are out in the backyard relaxing and talking about random stuff. Kalia and Dani are in the kitchen. Dani says that Rachel is back to giving her dirty looks. Kalia says that its just so uncalled for ..Dani heads out into the backyard…