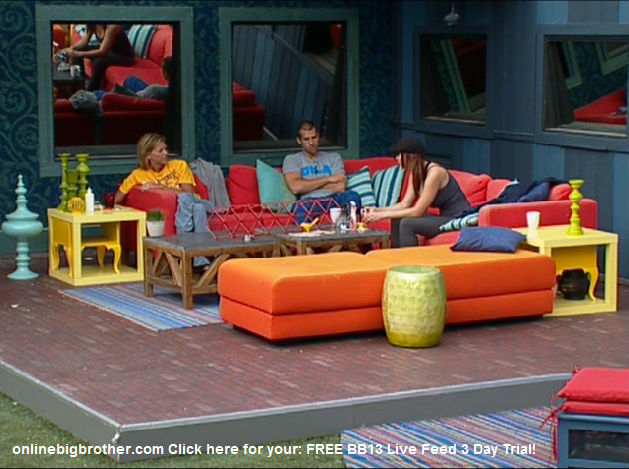 24/7 UNCENSORED Big Brother 13 Live Feeds!
Click here for your: FREE 3 Day TRIAL!
Get the BB13 live feeds on your Android and iOS devices. Sign-up for the 3 Day Free Trial
11am – 11:10am Brendon, Shelly and Rachel talk about they don't understand why Dani isn't thinking about the jury votes. Rachel says that Dani is pissed at us because we are the reason that Dominic went home. Shelly says that Dani will not get her vote ..because she lied and she won't admit it. Rachel says that now she gets it why Dick says his daughter is a little bitch. Rachel says that she understands it because of how she treats people ..she holds on to that hate and loathing. Shelly tells Rachel to be the stronger and better person than her. Rachel says that Dani isn't even worth it. Brendon says that coming into the house Dani was someone that he could trust and that they all had a common bond. Brendon says that Dani kept saying that she had it the hardest …bullshit ..she had it the easiest all she had to do was sit there. They talk about how Kalia is playing every side of the house and runs to the power. Brendon says that he is going to win HOH next week and put up Dani and Kalia. Rachel says that Kalia said that she doesn't respect her game and that shes not playing the game. Rachel says how does winning 2 HOH's means that I am not playing the game. Brendon starts talking about the fight he had with Kalia in the backyard. Brendon says that Kalia better not start ordering people around in the jury house like they are her slaves or servants. They talk about how Dani had conversations with them about trying to get them to throw competitions. Shelly asks ..she actually asked you to throw competitions. Brendon and Rachel say yeah.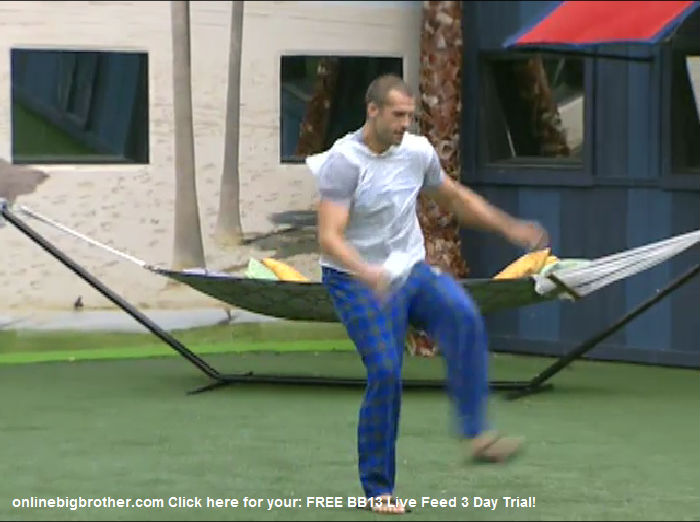 11:15am It starts raining a lot and they move undercover. Brendon rips a trash bag and then goes out into the backyard dancing in the rain. Brendon and Rachel then start playing basket ball in the rain.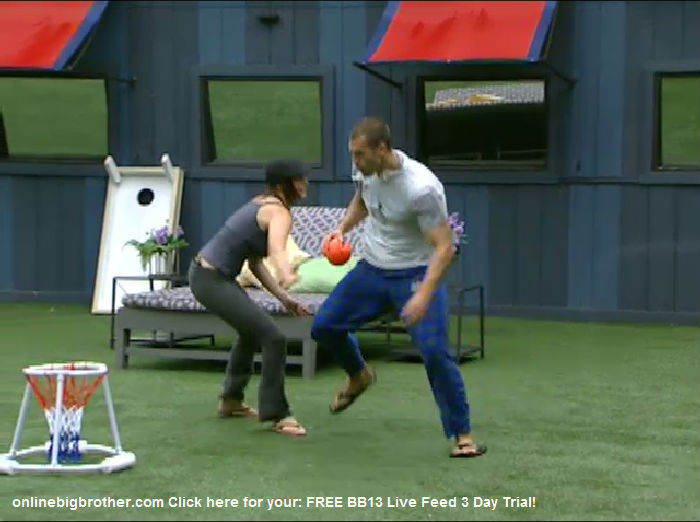 TRY the Live Feeds for FREE!
Click here for your: SUPERPASS – 3 DAY Trial!
11:30am – 12pm Brendon and Rachel go inside the house. Rachel starts making breakfast for Brendon. Shelly starts cleaning and killing ants. Rachel says that she liked their political discussion last night. They start talking about politics. When Brendon and Rachel talk about what they are going to do. Brendon says that he will talk to Dani tomorrow morning before the POV ceremony. Brendon says at the end of the day Dani is going to do what she wants to do. Rachel says just try and talk to her for me …we are so much better than me. Brendon whispers that Rachel has a better shot than he does ..that he will be a bigger target if he stays. Brendon tells Rachel to stay close to Porsche and Shelly. Brendon starts acting like a robot. Rachel asks do you need more food Brendon bot? Brendon says yes, battery pack getting low… Brendon says if cleavage was a country ..you would be the capital.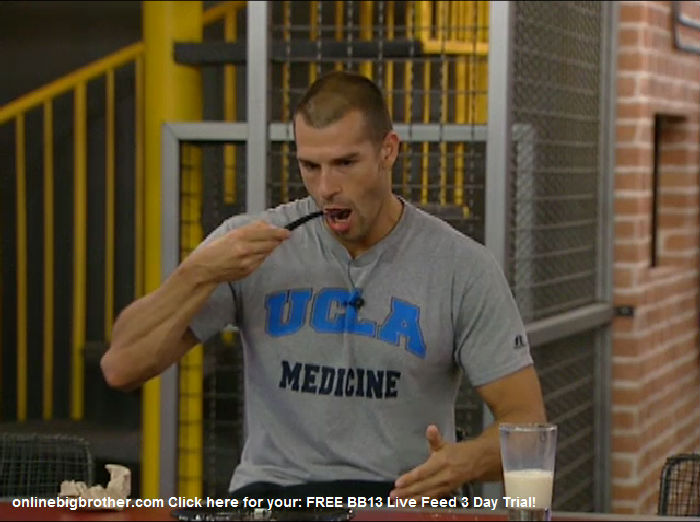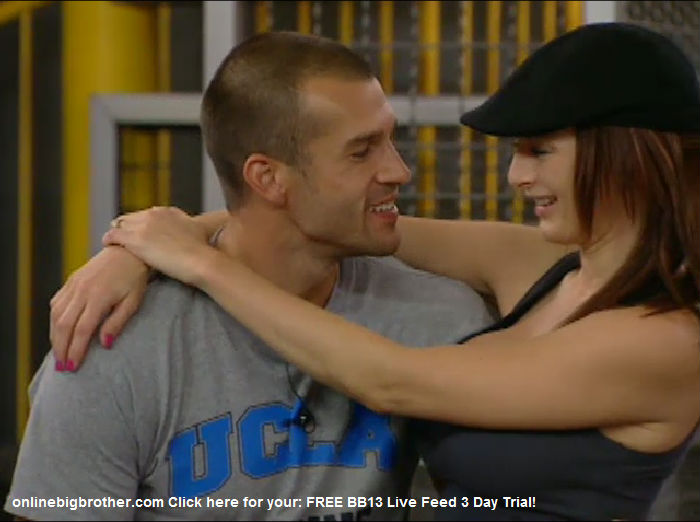 12pm – 12:30pm Brendon heads out into the backyard to talk to Shelly. They talk about the jury votes and how the jury house works and what information they hear and see. Brendon starts talking about his season, about Matt and his wife's fake medical condition and about the brigade. Shelly says that it got really personal …with the personal attacks like calling you Neanderthal and stuff. Brendon talks about how Enzo and Hayden were calling him needle dick behind his back. Rachel comes out into the backyard and brings Brendon slop pancakes in the shape of a heart. Brendon talks about his family and how he has mended his relationship with his father. They talk about Dani and how she was raised by her grandmother. Brendon says that for Dani's sake he hopes she is able to mend her relationship with her dad before her grandmother passes. Shelly says that you have to break that cycle. Shelly says that you know deep down they have each others backs. Brendon says that Dani plays the tough girl. Rachel makes a salad and joins them outside. Lawon is now up and joins them as well. They talk about how when you get out of the house people will be contacting you that you haven't talked to in forever. All the other houseguests are still sleeping..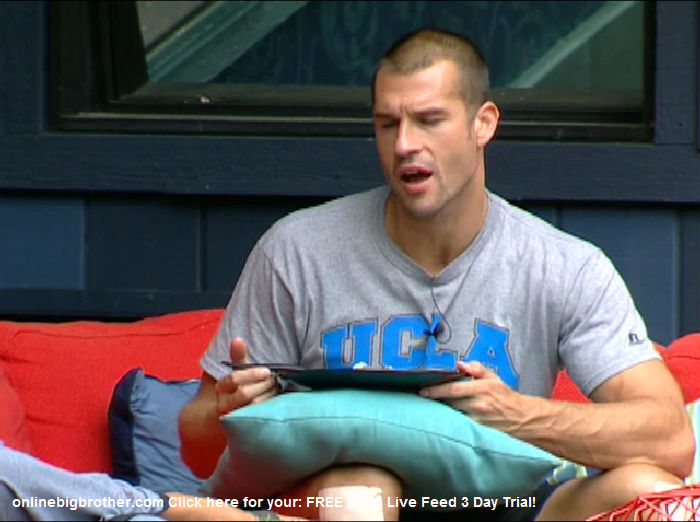 See What They Can't Show You On TV! SUPERPASS – 3 DAY Trial!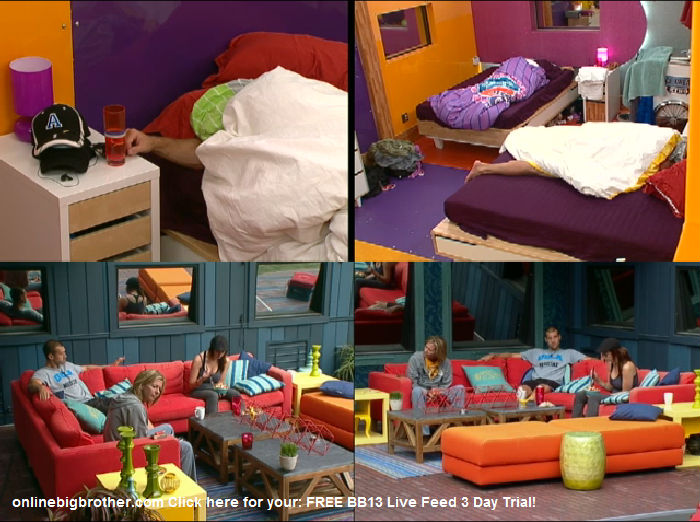 If you like this site and want to help us keep it running please consider donating, Your donations go directly to paying the server and bandwidth fees. Donate Link
Big Brother 13 Spoilers POLL CAST your VOTE!

Big Brother 13 Live Feed Image Gallery
Follow: @BigBspoilers and @Dawgsbigbrother on Twitter for recent crazed out spoilers. Theres also our Facebook page.