Get the BB13 live feeds on your Android and iOS devices. Sign-up for the 3 Day Free Trial
11:50am Brendon continues to give Rachel a pep talk in the HaveNot room. Brendon says that she can't have two day of craziness and that you need to suck it up and do it. Brendon says that he doesnt think its that farfetched that Porsche wouldn't vote for me again. Brendon says get out of this depression and slump and stop acting like I am already gone… Rachel says that she is just sad when she thinks about him leaving. Brendon tells her that she is more sad than he is. Brendon tells her that she is one of the strongest players in this game and you need to start acting like it. Brendon says that you are playing this for the both of us and you need to do this. Brendon says that Shelly was grinning the whole time …knowing that he is going up on the block. ..he says why would you relish in someone else's misery. Brendon says that he doesn't want to see her cry again. Brendon gets really mad when she starts to cry and hugs him and says STOP ACTING LIKE I AM ALREADY GONE! Rachel and Brendon head into the kitchen to eat. Jeff, Porsche, Shelly, Brendon and Rachel are now in the kitchen eating.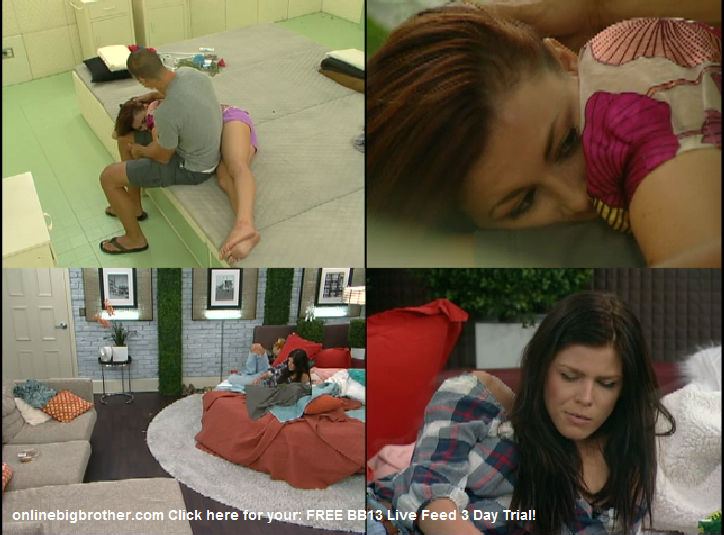 Sign-up NOW and watch the houseguests live!
Click here for your: SUPERPASS – 3 DAY Trial!
12pm – 12:25pm Dani and Kalia are up in the HOH. Dani talks about whether they should get rid of Jeff next week instead of Rachel. Kalia agrees. They talk about how they plan to get rid of Jeff. Dani says that Porsche will win HOH this week and they can do whatever they want. Dani is talking about how they are all a boring cast… we need to start playing games or other stuff… that she is bored out of her mind and that they need to take advantage of this experience. Dani and Kalia talk about going outside to lay out. Dani gets into her bikini and heads out into the backyard. Shelly and Dani are in the backyard talking about POV ceremony. Shelly says that she wasn't trying to be smug or anything but that Rachel was staring her down. Shelly tells her that it was a great speech. Dani says that Kalia said it wasn't a good speech. Shelly says that she was really worried that she was going to put up someone like Kalia as a pawn. Dani says you are paranoid ..I actually like you as a person. Shelly says that she cant wait to give her speech on Thursday ..it will be classy. Shelly says that she is done with Rachel and that Brendon keeps coming up to her telling her that he wants to be friends after…and that she tells him that its not him its Rachel. Shelly tells Dani that she done with all the talking and that she isn't going to come up to talk to Dani about it all ..she is done. Adam tells Dani that her sarcastic comment was really good and that America will love it …they will die laughing.. they will love it. Dani says seriously Brendon and Rachel's mom got in more votes than anyone. Dani says that Adam looked really mad in the veto meeting. Adam says that he was trying to be serious for once in his life.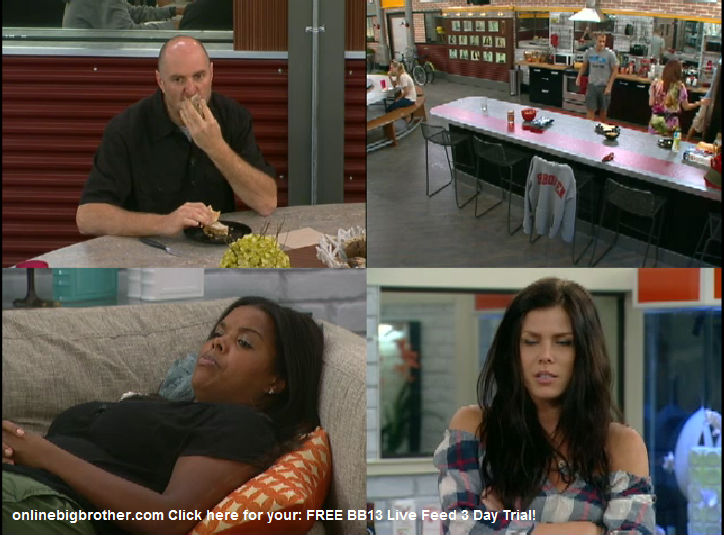 12:20pm – 12:50pm Brendon and Rachel are in the kitchen and he tells her that he's going to go put their sheets in the wash. Rachel says that's probably a good idea. Meanwhile out in the backyard, Porsche joins Dani out suntanning. Porsche says that Dani should have called Brendon the cockroach that doesn't die. Dani asks Cockroaches don't die? Dani says that Brendon and Rachel were repeating themselves over and over and that they think they have you. Porsche doesn't even answer. Adam dresses up like a gangster and starts impersonating gang members and signs. Jeff tells him twice that he wouldn't do that ..those guys are bad dudes ..they're like the mexican mofia. Adam says oh really .. Big Brother cuts the live feeds. When the live feeds come back Adam is now impersonating a Jewish gangster. Jeff, Rachel, Brendon and Adam are by the couches talking about random things. Brendon then says that he thinks he has a decent shot at stayting. Jeff agrees. Porsche, Dani and Shelly are suntanning on the backyard loungers talking about random stuff. Shelly starts talking about her phone call and how just 3 minutes is able to give you a 180 degree turn around. Porsche talks about how she is going to take her comforter and will need to bleach the sheets in the metal room. Dani talks about her condom prank.
TRY the Live Feeds for FREE!
Click here for your: SUPERPASS – 3 DAY Trial!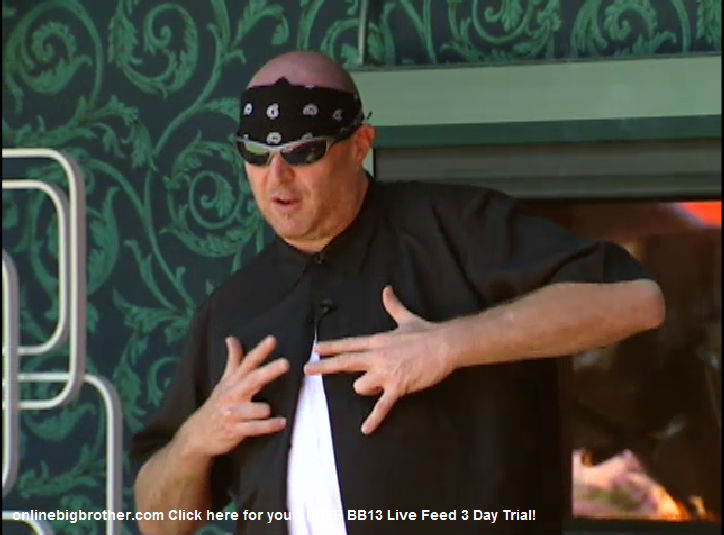 1pm – 1:10pm Rachel and Brendon are talking on the couch. Brendon says no matter what happens I want you to stay strong. Brendon says that he still thinks that he has a shot. Brendon says that Shelly is two faced ..big time! Brendon says that the funny thing is …is that as bad as a player Porsche is …she is still a better player than Jordan. Rachel agrees. Brendon says that we need to fight to win everything just to stay. Rachel says that some people don't have to win anything and they stay. Brendon tells her to just let a lot of that stuff go and focus on what you need to do.. we just need to enjoy out time. Rachel says she agrees. Brendon says you still have a shot. Brendon says no matter what I still have one more week with you. Brendon says that he doesn't like the way Shelly talks to her. …she walks around like her shit doesn't stink. Rachel says I don't understand why she thinks she is better than me. Brendon tells Rachel that once they get out they are not going on the internet …because he doesn't have time for it! Rachel says that she won't. Rachel says that she loves him. Brendon says that he loves her too. Brendon says that he just hates when she has these pity party's… you can't be crying and crazy …I need you to win shit. Brendon says that Shelly is just jealous of them because they are so affectionate and she probably doesn't have with her husband any more. Brendon and Rachel talk about how they don't act fake. Rachel asks if she exaggerates things. Brendon says sometimes ..but not to the point of others.
WATCH the houseguests LIVE on SuperPass!
Click here for your: FREE 3 Day TRIAL!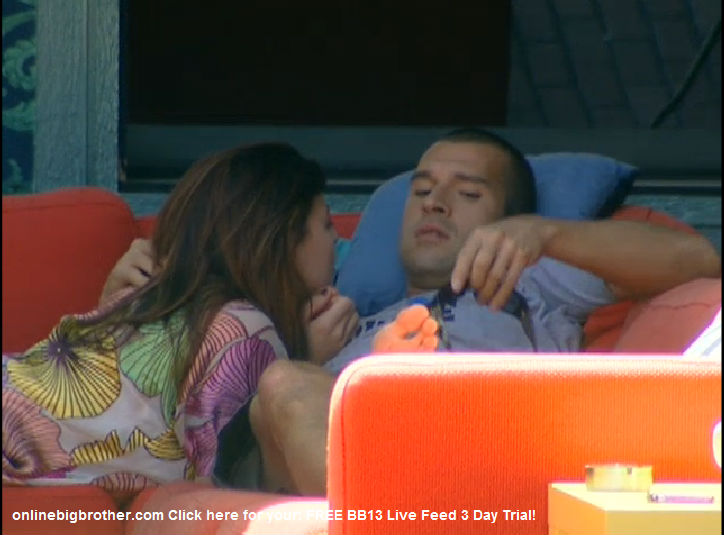 1:15pm Rachel tells Brendon that her mom read all the love letters that he had written her. Brendon asks was there anything dirty in there? Rachel says yeah. Brendon asks what did she say? Rachel says she said you sounded hot. Rachel asks Shelly if she would do that …Shelly says no …only if her daughter was under 20 or something ..because it is her responsible for what she is doing. Shelly says that her daughter will have a quarter between her legs every time she goes on a date and if it falls …she is dead! Brendon and Rachel are alone again on the couch talking. Brendon says it would have been better if they had just been nominated so that at least they could have played for the POV. Rachel calls Brendon her PHd student. Brendon says yeah and I am getting dumber by the second in here. Brendon says that it sucks that he got voted back in just to be voted back out because now he won't be able to work on his PHd this summer. Brendon says that its fine because he got to be with her again.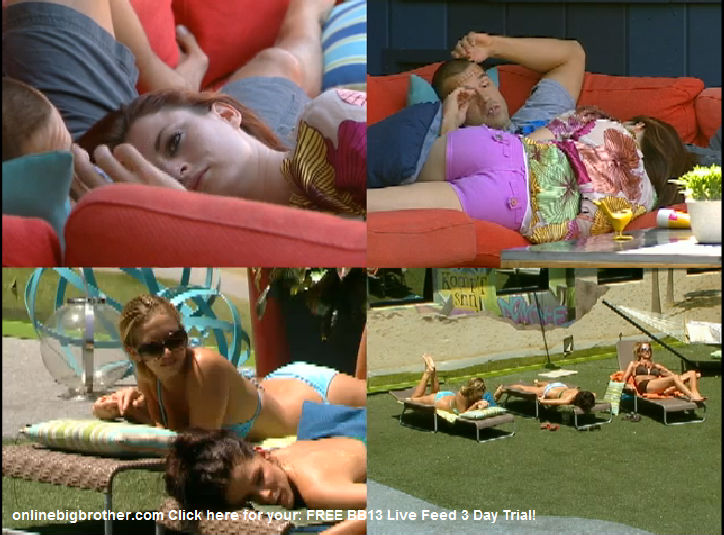 1:35pm – 2:10pm Meanwhile, Dani, Porsche and Shelly are talking about random stuff while they sun tan. Shelly talks about how they all have an ipads in her house. . Shelly tells them about how Rachel said that her mom read her and Brendon's love letters. Dani asks why would a mother read her 27 year old daughter's letters, that's just weird. They talk about boys, actors and that bachelors on the bachelor show. Shelly, Dani and Porsche climb into the pool and continue to talk about random stuff. Meanwhile, Brendon and Rachel are sleeping on the backyard couch. Dani and Porsche are talking alone on the loungers. Dani asks Porsche what she is going to say when they start harassing you? Porsche says that she is going to say I voted for you once and that got me no where! Dani says that this is like season of the zombies, no matter how many times you kill Brendon he won't die.. I hope you didn't pack you bags! Porsche says yeah! Over on the couches Shelly asks if Brendon and Rachel are after him for his vote. Adam says yeah but that she has nothing to worry about.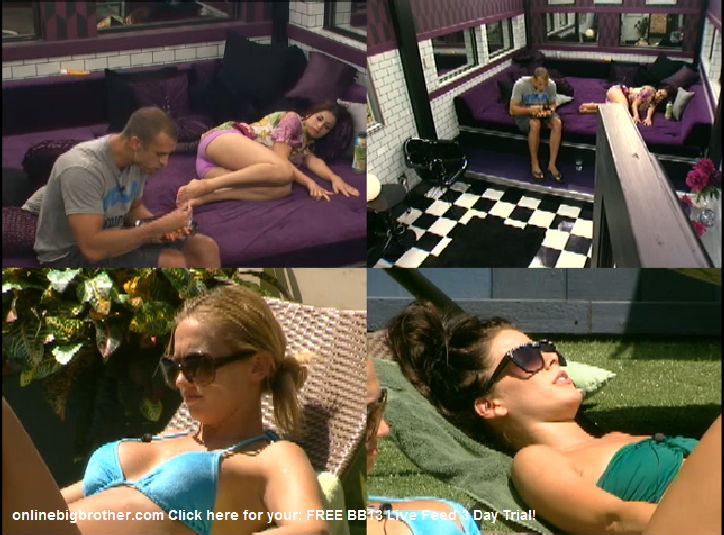 2:15pm Rachel and Brendon head into the lounge room. Brendon is eating and Rachel is laying in silence. All four camera's switch to the backyard, Shelly tells Jordan that she promised Dani that she wants to talk to you guys because she really wants you to know that you can trust her. Shelly tells Jordan ..as long as you will have me I am with you guys. Shelly says that Dani tried two times to make them know that they can trust me. Jordan says that she hasn't even tried to talk to us yet. Shelly says I don't want you and Jeff to stuffer if Brendon and Rachel leave so if you can pick up two more people I want you to… because I want you to make it to the end.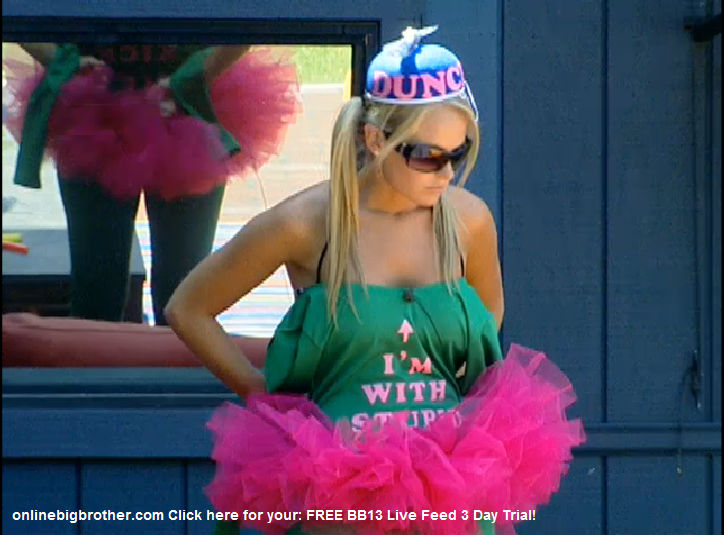 2:30pm – 2:45pm Jeff and Jordan are in the candy bedroom. Jordan is telling Jeff about her conversation with Shelly a few minutes ago. Brendon and Rachel join Jeff and Jordan. Brendon and Rachel claim their new bed and talk about going into the pool. Jeff and Jordan leave. Rachel starts talking about getting Porsche's vote and then all the competitions they need to win. Brendon gets mad and tells her he doesn't want to keep talking about this. Rachel calls him back and starts talking about it again …and he says stop! They then get ready to get into the pool. Rachel says sorry. Brendon asks WHAT!? Jeff, Brendon and Jordan head out to the backyard couch and talk about random stuff.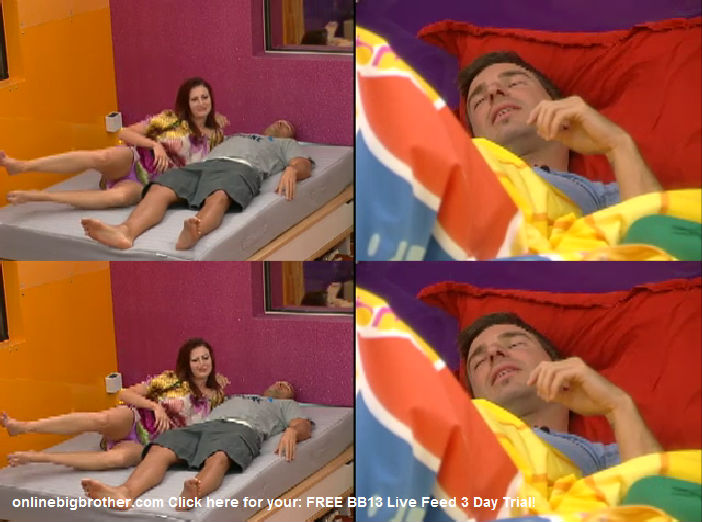 WATCH all DRAMA unfold LIVE on SuperPass! FREE 3 Day TRIAL
If you like this site and want to help us keep it running please consider donating, Your donations go directly to paying the server and bandwidth fees. Donate Link
Big Brother 13 Spoilers POLL CAST your VOTE!

Big Brother 13 Live Feed Image Gallery
3:00pm backyard Brendon, Adam, Shelly and JJ Adam is telling him he's a very clean person he washes his hands before he prepares food, after he uses the washroom and before he touches the fruit.
general chit chat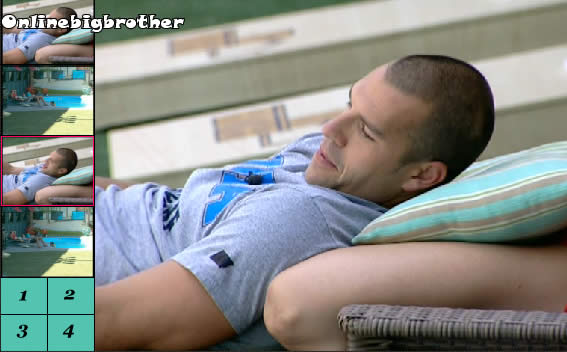 3:20pm Brendon, Rachel, Jeff and Kalia brendon is telling them how he doesn't like CSI type shows becuase it's so fake. Rachel mentions that in CSI they're chemical tests take hours to get results but in real life it would take weeks, Brendon: "They put in their sample then a picture and address of the crook comes out". Jeff: "Yeah but most people don't understand all that stuff so they think it's really cool". Brendon uinderstands he just think they should put the show 20 years in the future.
Jeff brings up the move Fear with mark wahlberg. they all agree that the movie is badass. Rachel mentions the fighter wonders if it was any good. Jeff said it was amazing.. tells them is was up for a bunch of oscars. kalia agrees she really liked the movie.
Follow: @BigBspoilers and @Dawgsbigbrother on Twitter for recent crazed out spoilers. Theres also our Facebook page.
Share it YO!!
Tweet