4:10pm Backyard JJBR BR are saying that they think prosche is their best chance. They know if Shelly wins HOH she will put up Prosche and Dani. rachel points out to JJ that if they can safe brendon this week the 4 of them will make it far in the game they will have the votes for the rest of the season. Jeff has no clue what Prosche is doing. Brendon: "I think trying to understand her at this point is beyond out ability". Rachel asks them what will Adam do. Jeff is pretty sure adam will do whatever is good for his game. (ahh Jeff is shooting straight)
Rachel agrees she thinks if adam won rachel would be in danger. they all agress if Adam wins the HOH he wo't have the balls to put dani up, he has a thing going with POrsche and Shelly. They all decide that Adam will target Kalia and Rachel.. their not sure who Adam would put up if the POV was used.
Jeff tells them they need to slow down and focus on this week, they first need to win HOH becuase if they don't one of them will be going home. brendon agress says he wants to think of how they need to keep him in the house.. Says he's going to campiagn hard with Prosche. rachel is going to tell Porsche tongiht that Shelly is targeting her and POrsche.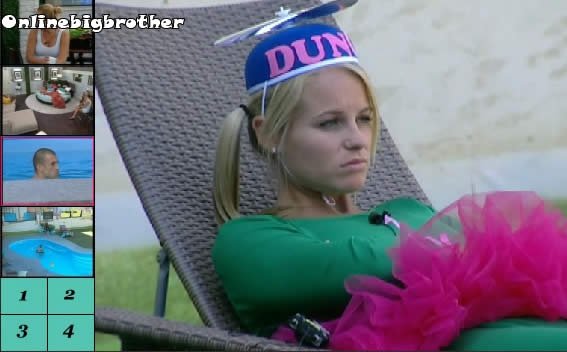 Rachel and Jeff leave.
Jordan is saying that it seems like this year in the game all you have to do is lay back and float to the end.. (LOL.. Can't believe she just said that .. Jordan of all people)
brendon agrees says he thinks that the secret of Big Brother but he can't play that way. Brendon "Prosche doesn't want to give up her bed becuase she thinks it's lucky… Lucky for what she hasn't won anything"
(one thing to note a couple hours ago JJ had a conversation were they talked about who can they trust more BR or SA.. they both agreed that SA will be the pair JJ will want to take to the end. As of 5:06pm Brendon does not have the votes to stay.. I predict this will flip a lot in the coming days)
4:19pm HOH DKP Porsche is surprised at BR's activities lately she thinks they have gone a bit over the top. earlier today BR were on top of each other in the pool and everyone outside got grossed so they went indoor. Porsche is also a bit pissed because it seems to be OK for rachel to walk around like the show BLANK but when she tries to be a little "risky" everyone tells her not to and make a big deal about it. (maybe it's because your friends care about you not being the BB13 BLANK) Kalia brings up how many times BR have had sex this year. Porsche says there was stains again on the sheets.. They ask her what colour and she says fluorescent (WTF?) Dani says if it's green its Gonorrhea.
They starts talking about the next HOH, all three are hoping it's not a skills based one because Jeff does good at those. Dani tells them not to worry few HOH's are skill based.
If you like this site and want to help us keep it running please consider donating, Your donations go directly to paying the server and bandwidth fees. Donate Link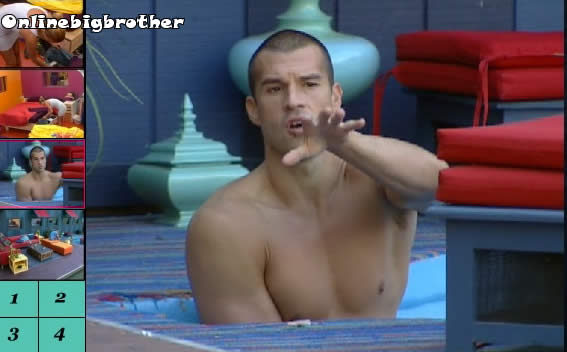 4:30pm Hot Tub JJB Brendon is explaining double eviction to them and retelling how we went out in his season. He stresses that it goes by very quick they have a HOH and POV right after another. During his season he got flustered and messed up on the POV. The guys in his season told him he was going up as a pawn but he didn't believe them and in the end he was evicted. (I think there was no double eviction on bb11)
4:50pm Porsche bikini pics
5:08pm Everyone is working out or engaged in chit chat..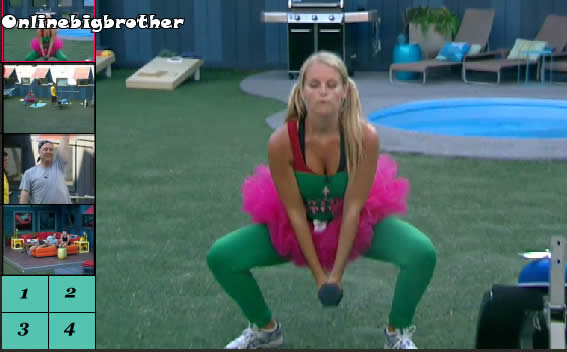 5:45pm Jordan working out
6:00pm Adam assigning Beverly Hills 90210 characters to all the houseguests. Adam is Steve
Poesche is Donna
Jeff is Dillan
Jordan is Kelly
Brendon is Brandon
Rachel is Brenda
Dani is Valerie
Check out the Big Brother 13 Polls
Share it YO!!
Tweet