POV Holder:
Frank
Next POV:
Aug 18 (Saturday)
POV Used
Yes
POV Ceremony
Aug 20 (Monday)
HOH Winner:
Shane
Next HOH:
Aug 13 (Thursday)
Original Nominations:
Boogie and Frank
Current Nominations:
Boogie And Jenn
Have Nots
No Have Nots This Week
Last Evicted Houseguest
Wil
HOH temptations
Britney Safe this week, Boogie gets 10grand
5:15pm Cam 1-2 Jenn, Ashley and Frank

Frank saying if he wins HOH he'll put up Dan and Danielle and if POV is played he'll put up Shane.
Frank thinks they can get Britney on their side, "She's going to play ball"
AShley: 'She'll do anything that stays on the game"
Frank: "She told me she trusts me.. I'm not saying drag her along.. i'm saying we keep the conversations open with her"
Jenn says in her conversation with Britney she said there will allot of sass coming from her but it's not going to be directed to her
Ashley points out hey only have 4 more week.. How many HOH are left.. Frank 4 or 5 maybe.
Jenn says Shane is a shady guy .. and not too bright.
Frank: "When it comes to this game he's as dumb as a sack of hammers.. "
Jenn: "Good thing he's winning competition "
Frank: "Not really when you think of it.. he's lost the last 3 POV"
Jenn mentions that He won the HOH last Thursday.
Ashley asks what this next HOH will be.
Frank: "question and answers"
Jenn: "Ian better pull out a win"
Frank says Ian's Scheme was to get Frank out so he could play with Mike Boogie. Frank noticed that Ian was not happy when Frank one the POV.
Frank: "I went from me and my homie on the block going to 2 of my homies on the block"
Jenn
Jenn says she's real salty about Danielle.. she feels that Danielle could have at least told her to watch out instead she told her nothing. Jenn: "Danielle knew I was going up"
Frank: "I think Shane had his mind made up yesterday he was just too chicken sh!t to say anything to Mike and I" Jenn points out that Shane's speech was very jumbled maybe he did make the decision at the last minute.
Jenn plans to stare Shane down everyday all day until Thursday.. She brings up multiple times that she thinks Shane is mentally deficient.
5:15pm Cam 3-4 Backyard Cam 3-4 Britney, Ian and Dan Watch with FlashBack FREE TRIAL!
Britney points out that Ian has been a bit mean today. ian tells them not to worry he's been playing it up. Ian: "You just wait and see the Sh!t I'm about to pull"
Britney: "I hope you see the things all these people are doing for you"
Ian: "Oh I do trust me I do"
Britney: "Poor Shane.. Poor Freaken Shane"
Ian: "If we don't get in power Joe is gone.. "
Dan: "No way.. your boy is going to be me and Shane up"
Ian: "no no no it's going to be Joe.. we're going to throw Joe under the bus big time.. I'll do everything to make sure it's not you or Shane"
Ian :"Here is how we will do it"
Ian says they are going to bully Joe into saying he's voting one way.. Then once Boogie goes They'll just get Frank pissed off that Joe lied to their face . Dan: 'You have to really rile Joe and Frank up for that to work. Dan asks ian what he would do if he won HOH. Ian says he'll cross that Bridge when he wins.. but he's thinking he'll backdoor Frank.
Ian says if anyone gets asked back from this season it would be Frank, Shane and me.
Ian gives them a run down of where the casteways are at. Jenn is super pissed at Shane she use to call him sugar Shane now she calls him Sewer Shane.. She's also very pissed at Danielle because apparently Danielle had told her she was going to give her a heads up if she was in danger.
Dan asks him if Jenn would put up Dan and Danielle. Ian doesn't think so.. Ian points out that Frank F****** hates joe but joe is so weak he's not high on the "Hit List"
5:54pm Cam 1-4 Frank and Ashley
Ashley and Frank talking about how they need to save Boogie this week. They are going to start working on Joe to get his vote. Frank points out that if they keep boogie they will have Frank, Boogie, Ian and Ashley playing in the HOH and the other side will have Dan, Britney and Danielle. Frank believes that Joe has a better chance with them, Frank will threaten Joe tell him if Frank wins HOH he's putting Joe up unless Joe joins with them.
Frank: "He's got to realize now is a time for him to pick a side"
Ashley says she likes Jenn and all but she's seeing Boogie as more of a asset for the team.
Frank mentions that there are too many people in the house there is going to have to be 2 double eviction situations.. He doesn't think it's happening this week but for sure next.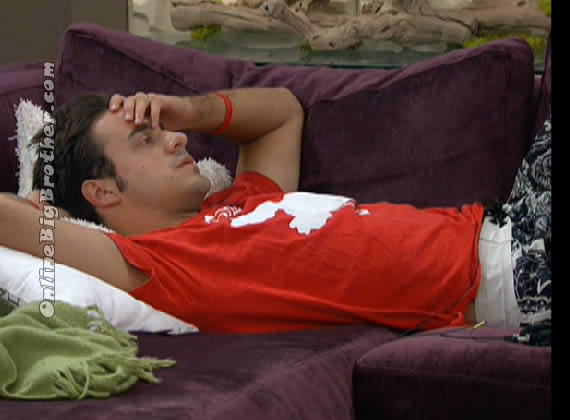 6:11pm HOH Cam 3-4 Dan, Shane and Danielle
Dan says that he likes to cause a little bit of chaos when he gets a power. "I like to squeeze every ounce of information and chaos out of any power I get.. Even though I may not use it.. "
Dan tells Danielle Jenn is pissed at her , wants to know why?
Danielle explains that she was suppose to tell Jenn If she was going up.. Danielle is sticking to the story and saying that she was just as surprised as
Danielle:" She said nobody is loyal in this house and glared at me"
Dan: "no one is loyal but who do you ever talk game to"
Dan points out that Jenn had a lot of opportunities to come up to them and work some kind of deal it's obvious Jenn is working with Boogie and Frank.
Danielle thinks that Ian will not win the HOH he has no incentive.
Dan: "Ian isn't going to win anything.. there is nothing for him to worry.. that is why he's number 5 in our group"
Danielle: "Ian is playing very selfishly.. look at all the shit we're covering for him.. he's walking around the house saying he's cast as a villain so maybe he'll become one"
Dan doesn't think Ian is being portrayed as a villain he's going to be looked at as the smartest player. it'll be edited like he's the one that got Boogie out.
Danielle is really getting pissed about Ian, she points out that he's going to coast to the end while we fight each other.
Shane: "Lets put a little fire under his pants.. tell him we'll rat him out"
Dan says that Ian will not win anything.. there is no need for him to. In Ian's mind unless someone rats him out he good to the end, "He's starting to see a clear path"
Dan: "this vote is his first action that he is with us.. I don't doubt him and the quack pack but I don't think he's giving 100%"
Danielle says Ian is making her super nervous.. He keeps saying he wants to put up floaters.. he'll never put up Frank. Dan says Britney has really been working on him reminding him that he's on a team.
(danielle is very pissed at Ian)
6:34pm Cam 1-2 Joe and Frank
Joe is saying that he just found out Frank was blindsided and he understands why Frank and Boogie had to get some things off their chest.
JOe: 'I just feel more comfortable with them right now because of all the tension"
Frank: "We like the tension you know that joe"
JOe: "It'll slow down.. it's not the tension it's the bickering"
Frank agrees says now that everything got out in the open and they have drawn a line in the sand it's over.
Joe: "Let it settle let the dust settle.. Why is Jenn so salty.. she is such a obvious pawn why.. it;s almost like she's overplaying it"
Frank explains that Jenn is more pissed that Danielle didn't tell her she was going up when Danielle promised her she would.
Share it YO!!
Tweet