POV Holder:
Frank
Next POV:
Aug 18 (Saturday)
POV Used
Yes
POV Ceremony
Aug 20 (Monday)
HOH Winner:
Shane
Next HOH:
Aug 13 (Thursday)
Original Nominations:
Boogie and Frank
Current Nominations:
Boogie And Jenn
Have Nots
No Have Nots This Week
Last Evicted Houseguest
Wil
HOH temptations
Britney Safe this week, Boogie gets 10grand
3:21pm cam 3-4 Backyard
Players lounging around in the backyard.. Jenn City is applying lotion to Frank's Back. Danielle and Shane are playing in the pool. Just chit chat.
Powerhouse joe is around running the place.
3:25pm cam 1-2 Boogie and Jenn Watch with FlashBack FREE TRIAL!
Boogie: "Jenn just so you know I am going to make a hail mary pass to stay"
Jenn seems to think that she's the target. Boogie explains to her that He's the target and there very slim chance that Boogie will get the votes. HE's going to preference every argument saying that he has nothing bad to say about Jenn. Boogie thinks the only angle he can work is that keeping him in the game means keeping a huge target.
Jenn: "I'm going to start kamikaze some of this shit.. I got nothing to lose"
Boogie tells her he's been real with her since day one he still wants to be friends outside the house.. They hug it out..
3:35pm cam 3-4 HOH
Britney and Eagle Eye Joe talking about how pissed Jenn is. Britney is shocked she's acting like she's the actual target. It's so obvious that she is a pawn. Britney thinks that maybe Jenn is just being pissy because she up with one of her alliance. Britney: "Like Shane and JOJO week 2" JOe: "And Wil with me last week"
Brintey: 'Ya sure"
Britney: "Did they expect to get to the final 4 untouched.. I'm baffled I have never seen anything like it"
Joe: "An now we have all week… "
Britney: "I know… All freakin week"
3:49pm Cam 1-2 Jenn and Ashley
Jenn talking about how shocked she was when she got nominated.. Both Ashley and Jenn thought that Ian was going up.
Jenn: "shane is lucky he's good at winning competitions because he's not the brightest guy"
Ashley: 'now he's all buddy buddy with Dan"
Ashley: "OH MY GOD why does Britney still act like she doesn't work with Shane and Dan"
Jenn: "I do think she didn't know what Shane was doing"
Jenn says that danielle Lied to her directly she told Jenn recently that she would come to Jenn and tell her if she ever in trouble. Jenn and Ashley agree that Dan and Danielle Are acting like little "Pu$$ies".
Jenn says that Shane told her she is nominated because several people told him she's feeding Boogie with vital information. Jenn thinks that is complete BS she hasn't told Frank/Boogie any vital information. (This isn't 100% true) Jenn thinks she's been nominated because out of their group she is the most liked and that scares Shane.
3:52pm Cam 3-4 HOH Dan,Shane, Danielle, Powerhouse Joe
Joe: "Whats Up lover boy"
Dan: "Lover boy.. "
Joe: "There's so much love in this house for you"
They are all wondering what the hell Jenn is doing acting the way she is. Dan suspects that Jenn hasn't realized that she needs the votes yet.
Joe says he's 100% done with Ashley.. it doesn't matter what you tell her she ends up telling Boogie, Frank.
Joe is really chatting it up says he's done with the other players in the game.. He's not going to talk game with them anymore there's no game to be played. He's dedicated to Dan, Shane, Danielle and Britney to the end.
Shane says he thought about being with Boogie and Frank but he looked at this group and they are much stronger and closer. Shane: "Did you see Boogie's face during the Ceremony! THAT is why you don't tell people what you are going to do"
They are looking at the HOH Spyscreen, It's showing Boogie looking at the memory wall. Shane comments how Boogie much be thinking about what votes to go fore, "Sorry boogie you are going home" Danielle: "At least he gets to go back home to see his baby"
They start chatting about Double eviction. Shane: "Ohh man imagine if we can get Boogie and Frank out in the same night!" JOe: "Is that even possible"
Dan: "I'm not feeling cocky but the odds are in our favor"
Joe: "we Got the odds "
Dan and Danielle leave..
Shane: "Boogie you just got sent home by Captain America.. "
Joe: "This is a defining moment in this game.. Something he'll remember for ever"
Shane: "Hopefully the rating go up.. Oh shoot I can't talked about that.. sorry BB"
Shane brings up what Ian was saying after the nominations.. "That little shrimp.. Finally Ian jump in the game.. You can really
Shane: "Boogie is gone unless they Chima me again.. If that happens i'll just walk out.. no i'm joking"
4:28pm Cam 3 Look who's running things in the house ;)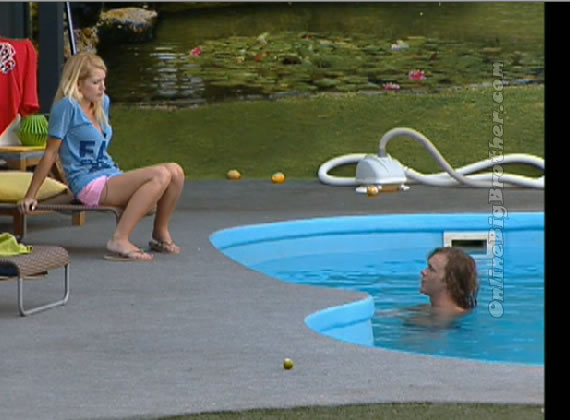 4:20pm Cam 1-2 Britney and Frank near the pool
Britney understands why Frank is mad she went through the same thing in Season 12. Frank says he feels like he was blindsided.. he thought he could trust Dan and Shane. Frank starts to explain what happened in the kitchen earlier he says that Boogie has had his back from day one and if Boogie is getting into a argument with someone who wronged him he's going to jump in and help Boogie out. He knows the confrontation makes people nervous but that is what the game is about and people he trusts are being put up on the block.
Frank goes on to say that Shane makes them dance around like dancing f**king bears past couple days.. We are not trying to bully people we are only sticking up for ourselves. Frank jokes that if he gives a shout out about Britney's Birthday on the live show if she'll vote for Boogie to stay.
4:30pm HOH Shane, Britney and MOFO Powerhouse JOE
Britney giving a rundown of her conversation with Frank. Says frank was nice and they had a fair honest conversation. Shane thinks that maybe he should go talk with Frank. Brintey recommends Shane wait until later Frank is still very heated about dan and Shane.
Joe: "we need a name for our group of five"
Shane: "I'm thinking the furious 5"
Britney: "Ian is being such a little douche"
Joe: "He is"
Britney: "he's loving the drama and 2 of his people are up on the block"
Shane: "He's going to vote for Boogie to stay"
4:50pm Cam 1-2 Someone I have never seen before on the feeds is talking to Britney trying to get votes.. She calls herself Jenn City. This new player says that she is going to stir things up this week she's going kamikaze.
Share it YO!!
Tweet