POV Holder:
Frank
Next POV:
Aug 18 (Saturday)
POV Used
Yes
POV Ceremony
Aug 20 (Monday)
HOH Winner:
Shane
Next HOH:
Aug 13 (Thursday)
Original Nominations:
Boogie and Frank
Current Nominations:
Boogie And Jenn
Have Nots
No Have Nots This Week
Last Evicted Houseguest
Wil
HOH temptations
Britney Safe this week, Boogie gets 10grand
7:15pm Arcade Shane and Frank
Shane is telling him straight up he's getting someone out that will help his game. He blames the Diary room for not letting him tell Boogie and Frank that they are going up. Shane claims he was up all night until 4:40AM thinking about it and even right before the POV Ceremony he was on the fence. Shane made a move and he's sticking by it. It may screw him next week but he had to do it.
Frank says he made them look like a fool running around like dancing bears. Frank says because Shane did what he did he made himself the number one target which was Dan's plan all along.
Frank using the angle that the strong players are now going to pick each other off and a floater is going to win. Shane knows it's a long shot but if Boogie leaves he wants to still be able to talk to Frank.
Frank: "I don't want to burn all my bridges… the bottom line is Dan sold us out I know that now. " Frank and Shane seem open to working together. Frank's only condition is Dan has to be gone.
Shane is worried that maybe Dan will sell him out that is why he's wanting to keep is options open. Frank says maybe he can get Dan out next week then Shane and him can talk. Frank again remind Shane that Dan manipulated him into drawing the line in the sand.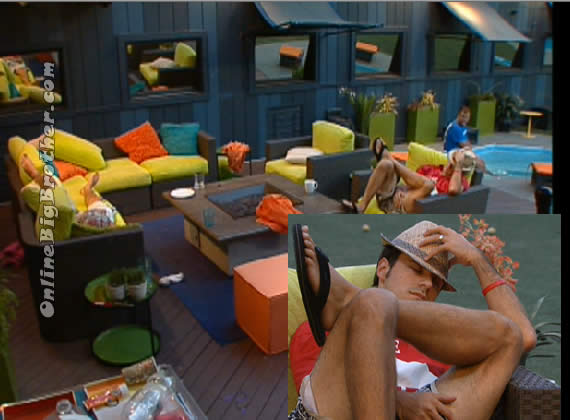 7:31pm Cam 1-2 Boogie and Dan Silence.. Boogie and Dan sitting across from each other looking away. Frank joins them and starts chatting fitness with Boogie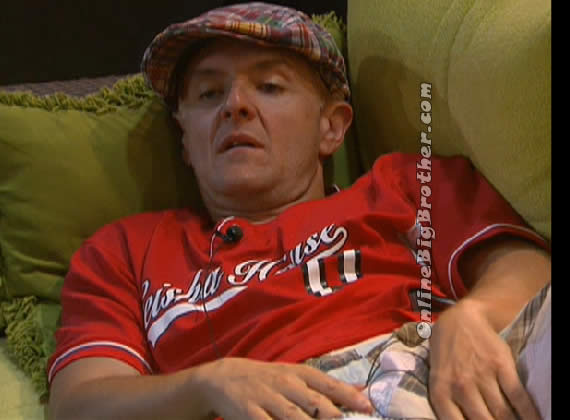 7:55pm Cam 1-2 Frank and Boogie
Frank: 'It f**king disgusts me that Joe is the swing vote"
Boogie: "Preaching to the choir on that one.. what burns me the most is it benefits Joe's to keep us we're not trying to pull a fast one on him"
Boogie:" F**king yoyo mother fu****er"
Frank explains that The Diary told Shane he wasn't allowed to say anything.. feeds cut.
8:02pm Kitchen Cam 3-4 Jenn, AShley and BRintey plan on doing yoga
8:10pm Cam 1-2 Frank and Boogie Watch with FlashBack FREE TRIAL!
Frank is unsure about getting Britney's vote. Boogie is pissed at pretty much everybody.. He says Ian a little pathetic weasel and Britney is a B!tch.
Frank mentions that Dan was telling him he's practices keeping his cool. Boogie laughs says he'll see if Dan keeps his cool when he tells her he's heading to Michigan to F**** his wife (LOL Biam)
Frank says he's going to be working hard to get the votes for boogie. Boogie thanks him.
Boogie will be laughing in his head in October when all the other players are back to their regular pathetic lives. Boogie goes on and on that nobody in this house understands the game. It benefits everyone (Everyone but dan) to keep boogie in the game. Boogie: "It's not a difficult concept but they just don't get it"
Boogie says Ian and Ashley haven't done shit for them or the game. He was feeling good when Janelle left he didn't see it coming. Boogie: "They really duped us.. they really F**ing duped us.. LOL these suckers man.. Look at ian he's playing pool with this guy". (Shane)
Boogie is pissed at Ian
Boogie: "Such a pussy… whatever I had a soft spot for the kid but whatever.. "
Frank: 'I hate to see you like this .. I was thinking about using the veto on you today "
Boogie: "NOo.. you couldn't take that Chance"
(Boogie and Frank are in love they are the Big Brother 14 Showmance)
Boogie tells him when working for votes bring up that Boogie was invited to Dan's wedding and bachelor party they were friends outside of the house.. what do they think he's going to do to you.
Frank: "I'm glad we never had that giant blow up in the yard with Joe yesterday like we were planning" Boogie: 'No Sh!t eh" Frank: "We need his vote now"
Boogie is going to say at the live show "As a owner of 17 restaurant over the years this chef's food is worst he's ever tasted" Boogie says Shane is so far removed from the LA lifestyle he fell for the oldest trick in the book He had a gay guy fly him down for a photoshoot. (How does Boogie know this is the oldest trick in the book? He's been doing it for years) Frank adds that Shane was telling him he's so glad to make the Jury and he never thought he would make it this far. Frank lost respect for Shane when he said that.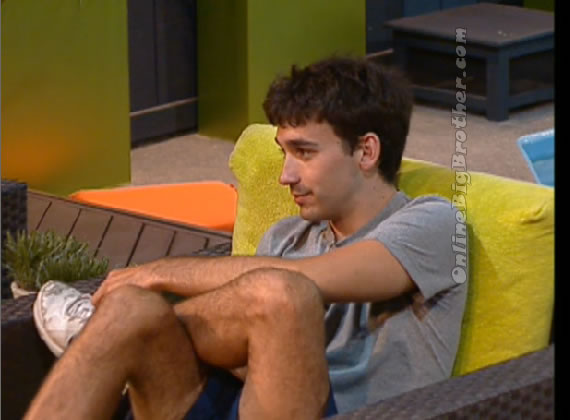 8:40pm Cam 3-4 Boogie, Ian and Frank
(Boogie is pissed off about Ian be so buddy buddy with Shane)
Boogie: "So is that part of your game to be hanging out with him"
Ian says he's not talking Game with Shane they are just playing pool he likes Shane. Ian points out that when the house was against Willie he never stopped hanging out with him.
Boogie: "You don't have the problem with him yo yoing with us"
Ian says he does have a problem with Shane because he almost went on the block still Shane is a nice person in the real world. .
Frank: 'We're in the game right now.. this isn't the real world son.. every minute you are here it's game"
Boogie tells him that these are fake people in the house and they are going through their routines. He doesn't want to see Ian Fooled.
Ian says that he's not going to ignore people or douchebag them.
Boogie says he's making us look like fools he's not a good person he made us go through all this back and forth when he knew what was going to happen.
Boogie explains to Ian that Danielle, Britney, Shane and Dan are a solid group of 4 where does Ian think he sits with them. Ian points out that if he's not playing Pool or in the salsa bowl he's cutting himself out from a lot of people in the house and that hurts his game.
Ian and Frank go to play pool
9:10pm Cam 3-4 Frank and Danielle
Danielle asks why Jenn has been so mean to her since the POV Ceremony. Frank thinks it has something to do with Danielle not telling her Jenn was going up. Danielle swears she didn't know what Shane was going to do. Danielle was under the impression it was going to be someone else. Danielle has tried to talked to Jenn but she turns away. Danielle can understand why Frank is pissed but not Jenn, Danielle doesn't have the POV ans isn't the HOH. Frnak points out that the house sees Danielle is close to Shane. Frank thinks time will heal all wounds and people have a short memory in this house.
Share it YO!!
Tweet