Get the BB13 live feeds on your Android and iOS devices. Sign-up for the 3 Day Free Trial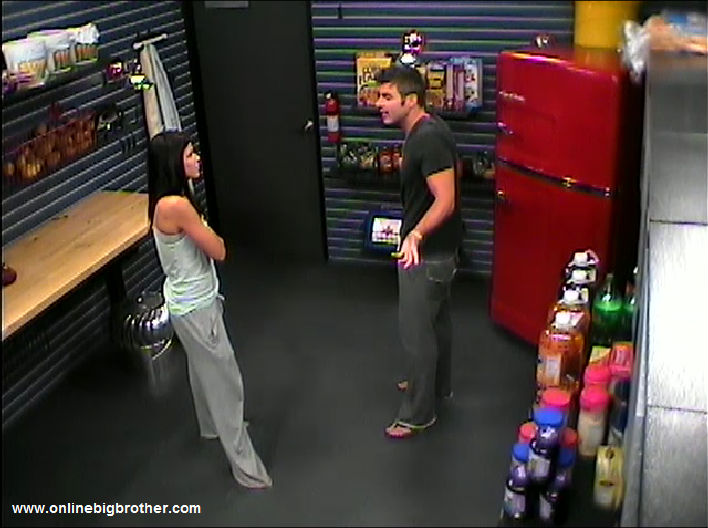 10:25am Dani and Jeff are in the storage room talking about how Rachel was up in the HOH room telling them about how there are 17 surf boards and she had a different amount. Jeff says and there are like 90 pairs of sunglasses not 30. Jeff tells Dani to call Rachel out on it because she is trying BLANK with them. Jeff asks about Dominic. Dani says that Dominic said he doesn't even want to win HOH this week. Jeff and Dani leave the storage room and Dani starts counting the surf boards and the sunglasses. Jeff comes over and Dani tells him that there are 30 pairs of red sunglasses like Rachel said. Jeff says oh…just the red ones. Dani and Jeff laugh about almost calling Rachel out on it.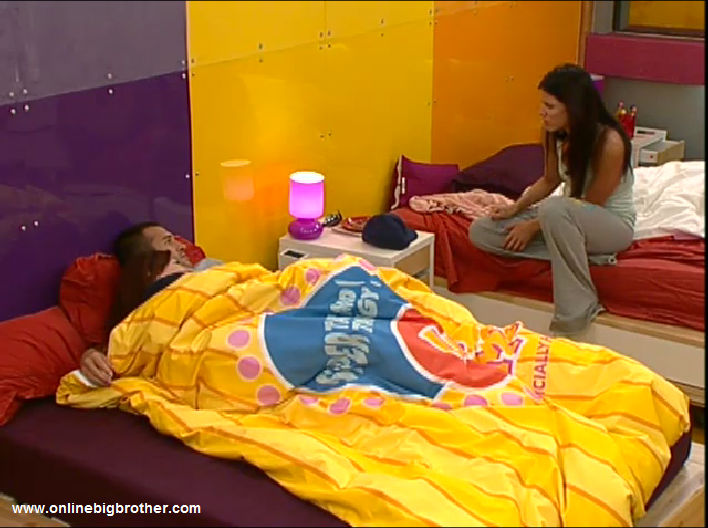 10:30am Rachel, Brendon and Dani are in the candy bedroom. Dani is showing them options about what she could wear tonight. She holds up a dress and Brendon says that would make your cleavage look big. Rachel says Brendon stop hitting on Dani. Brendon says I'm not, I'm just giving my expert opinion. Rachel and Brendon are under the covers and Brendon keeps telling Rachel to stop touching him inappropriately. Dani says you make me sick. Rachel finds a black hair on their bed and asks why Dani was cuddling with her fiancé. The conversation changes to talking about how much Dominic loves Dani. Rachel says that she just keeps thinking about them kissing. Dani tells Brendon to punch her in the face. Dani says that Keith and Porsche made out and that he said he pinched her right nipple. Rachel says everyone makes out in the big brother house.
10:45am Brendon is sitting on the edge of the bed. Dani tells Rachel that she isn't wearing any pants. Rachel lifts up the blanket and Dani says that I just saw your vagina. Brendon says great I'm marrying a hussy. Dani talks about how during their season they had to clean way more on Thrusdays. Dani goes to leave the candy room. Rachel asks where she is going. Dani says that she's leaving so that they can finger bang each other for a bit. Dani leaves. Rachel asks for a kiss and then asks if he loves her. Brendon says yes, and that he just wants to go to sleep…
TRY the Live Feeds for FREE!
Click here for your: SUPERPASS – 3 DAY Trial!
10:50am Dominic and Cassi are in the bathroom. Cassi says that she thinks she could get Kalia, Lawon, Dominic's votes and maybe Jeff and Adam. She says that she thinks she could get Jeffs vote because they already think they can't trust Rachel and Brendon. Dominic offers to talk to Adam. Cassi says that she wants Dominic to talk to Adam because he will tell him the truth but if she talked to him he would just lie to her. They talk about how if they can't get Adam's vote there is no point in talking to the others. Cassi says that they wouldn't have to know where Jeff's vote came from. Dominic says that he will talk to Adam right after she finishes trimming his neck hair. Dominic asks Cassi how she knows that she has Lawon and Kalia's votes. Cassi says that Kalia was the one telling her that they have the votes.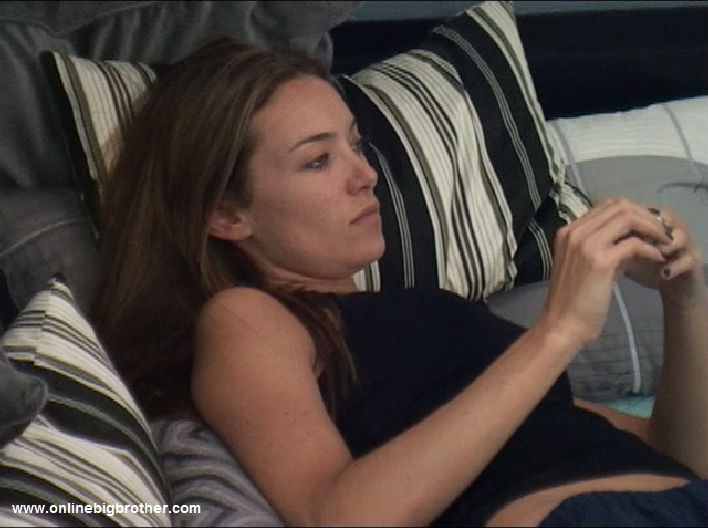 11am Dominic goes and talks to Adam in the HaveNot room. Dominic tells Adam that Cassi says that she has Kalia and Lawons vote and wonders if they can trust that Kalia and Lawon. Dominic says that Kalia and Lawon could totally flip and they would be the ones getting screwed and then have huge targets on their backs. Dominic says that they are a team and if Adam doesn't want to then they will play it safe and vote out Shelly. Adam says that he doesn't trust Lawon. Dominic says that he doesn't trust Kalia or Lawon. Dominic asks so what do I tell Cassi then? Dominic and Adam discuss talking to Cassi together. Dominic leaves and goes back to the bathroom.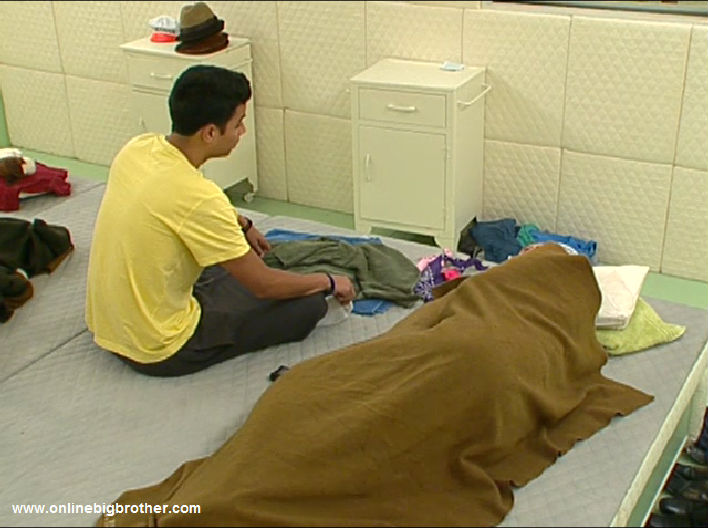 11am – 11:10am Meanwhile up in the HOH room Cassi is talking to Jeff and Jordan about how they would like them to vote for her to stay and that she will then never come after them. Cassi says that she thinks she has Kalia and Lawons vote. Cassi says that Kalia was the one encouraging her to fight and that all she needs is 5 votes. Cassi says that she would be better to keep because if there is something that needs done she will do it even if it gets her sent out in two weeks. Cassi says that her word is gold. Cassi says if you are thinking about it, let me know so that I can tell the others so that there it doesn't cause problems after she leaves. Cassi leaves. Jordan and Jeff talk about how Adam would never give her his vote. They says that even if they did keep her, they would need to split up her and Dominic… especially after how he was washing her hair and BLANK. Jordan says that they can't vote out Shelly, she has been with them since the beginning and they trust her.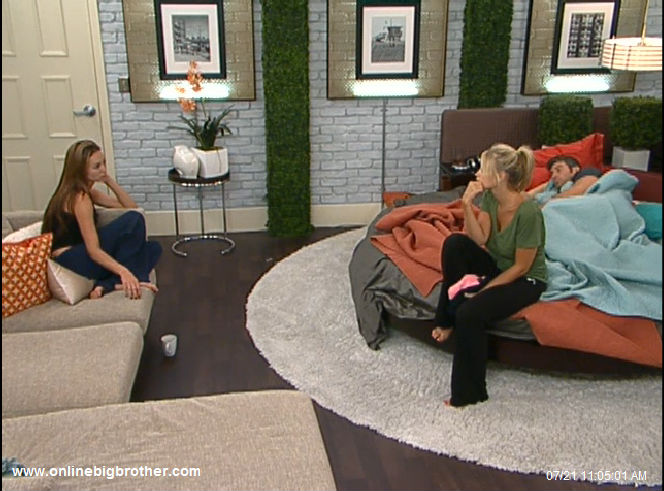 11:20am Cassi goes down to the bathroom and talks to Dominic again. Dominic says that he and Adam don't trust Kalia or Lawon at all. Dominic says that they think Kalia and Lawon would want to make Brendon and Rachel happy and wouldn't want to go against the house if they think thats they way the house is going. Cassi says that she has the balls to do something as soon as the opportunity presents itself. She says that she hates people are making decisions just to make people happy… we are all playing against each other. Cassi says don't they know Brendon and Rachel will be gunning for Kalia and Lawon soon. Cassi tells Dominic about her conversation with Jeff and Jordan. Cassi says that if that is the case she would just rather they vote to keep Shelly. Dominic says he does like this though. Cassi asks what? Dominic says the effort. Cassi continues to cut Dominics hair.
See What They Can't Show You On TV! SUPERPASS – 3 DAY Trial!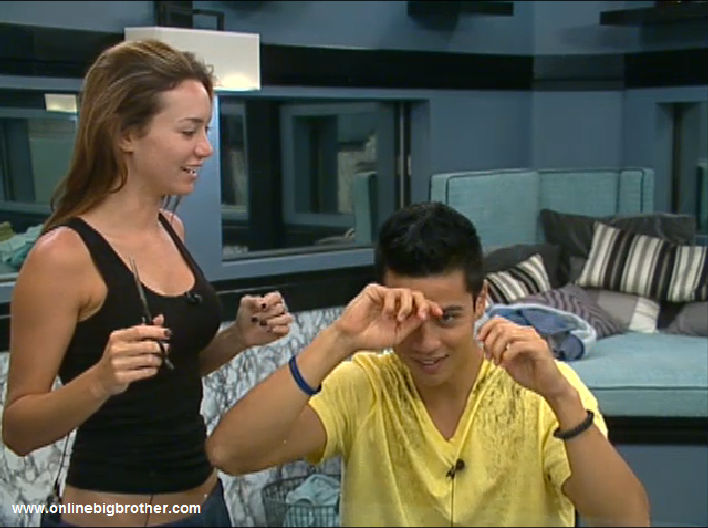 11:30am – 11:45am Big Brother tells the houseguests to go to the HOH room. they are now on HOH lock down. Adam, Dominic and Cassi are the last houseguests to make it up to the HOH room. All the houseguests head up to the HOH room and find a spot on the bed, couches and floor to sleep on. They turn out the lights. Right after Big Brother says the bedroom lights must remain on during the day. They turn the lights back on and Big Brother says thank you.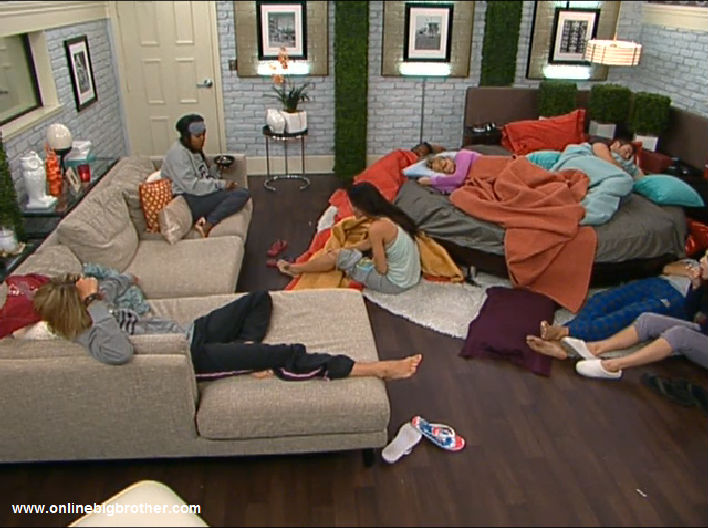 12pm The Big Brother 13 Live feeds are showing TRIVIA..
12:30pm TRIVIA..
1pm The live feeds come back for a minute and then straight back to TRIVIA..
Big Brother 13 Spoilers POLL CAST your VOTE!
BB13 Live Feed Screen Captures , These are being updated every 10 minutes all 4 Cams 24/7
Follow: @BigBspoilers and @Dawgsbigbrother on Twitter for recent crazed out spoilers. Theres also our Facebook page.
If you like this site and want to help us keep it running please consider donating, Your donations go directly to paying the server and bandwidth fees. Donate Link
Share it YO!!
Tweet