Get the BB13 live feeds on your Android and iOS devices. Sign-up for the 3 Day Free Trial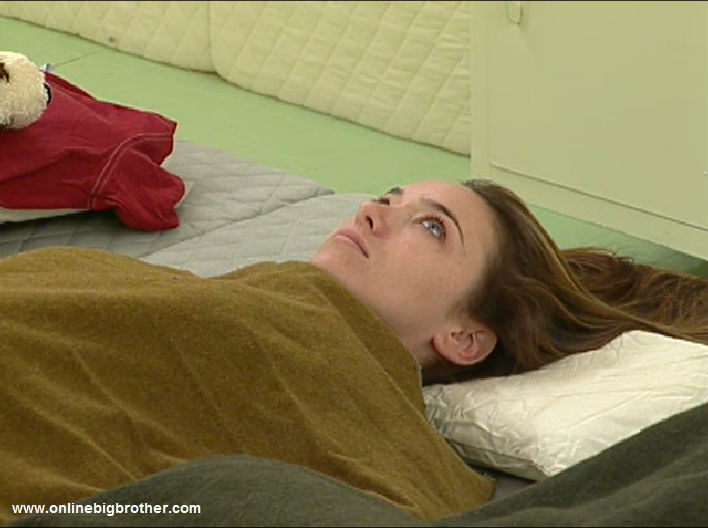 8am – 9:25pm Shelly is awake, she goes to make some coffee and then goes into the lounge room to wake up. After drinking her coffee she goes to the storage room, grabs the vacuum and then takes it to the living room. She then goes to the bathroom to take a shower. At 9am Big Brother cuts the live feeds to wake up the other houseguests. Dani, Lawon, Kalia and Cassi are in the metal bedroom talking about the morning wakeup music. It was Kenny Chesney. Cassi leaves to go to the bathroom to get ready. Dani talks about wanting to go up to the HOH room to sleep before the lockdown. Meanwhile in the havenot room, Dominic and Adam are talking. Dominic says he hates to say it but thinks its better to keep Brendon and Rachel. Dominic says that if Adam put them up and one of them goes then they are gunning for you but if you put up Jeff and Jordan they won't act like that. Dominic says that if he or Adam win this week they should put up Lawon and Kalia. They talk about how they need to win HOH this week… cuz if they don't their is a 50% chance they're going up. They tell each other that they will talk again later. Adam and Domini leave the havenot room. All the houseguests are waking up, making breakfast and getting ready for the Live Show tonight!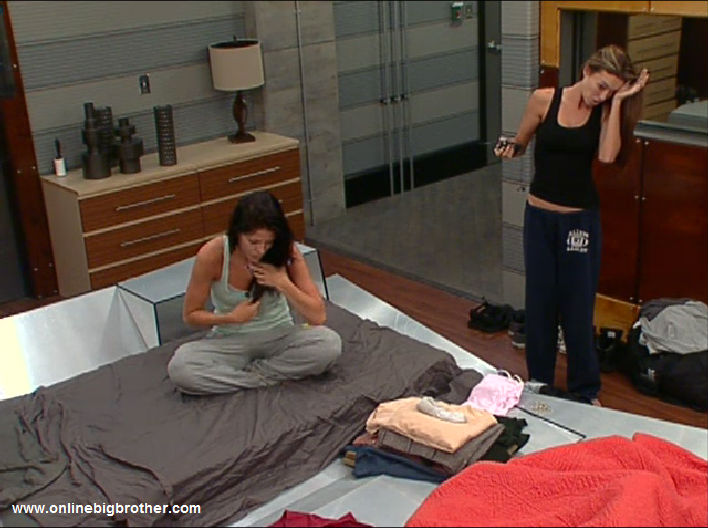 9:30am Rachel is in the kitchen telling the other houseguests about the dream she had last night. Shelly and Cassi are talking in the havenot room about Rachel and Brendon. Cassi talks about how insecure Rachel is and how she tries to create moments so that when they fight Brendon will look back and remember. They talk about how much of a contrast Jeff / Jordan are to Brendon /Rachel. Cassi says how Jeff & Jordan's relationship is just so natural but Rachel and Brendon's seems to be forced. Cassi says you can't just say look at my wife she is cute and has huge tits.
24/7 UNCENSORED Big Brother 13 Live Feeds!
Click here for your: FREE 3 Day TRIAL!
9:45pm Up in the HOH room Jeff, Jordan, Brendon and Rachel are talking about what this weeks HOH competition will be like. They talk about how the want Kalia to answer the questions a certain way. Brendon asks if they think Kalia will do it. Rachel say oh yeah she will. Big Brother cuts the live feeds. When they return Dani is up in the HOH room now. They ask Dani what she thinks the HOH competition will be like. Dani says that it will definitely be a question HOH competition. They start going over the number of items in the house. Dani says she thinks its going to be questions on the forms they filled out. Then Dani says it could even be questions about the houseguests that have left the game. Brendon asks if it would be majority rules questions. Dani says no, majority rules works better for lots of people but not so well with only 7 houseguests. They congratulate Dani for keeping up Dominic till 5am. They wanted her to try and keep him up as late as possible so that he would be tired for the competition.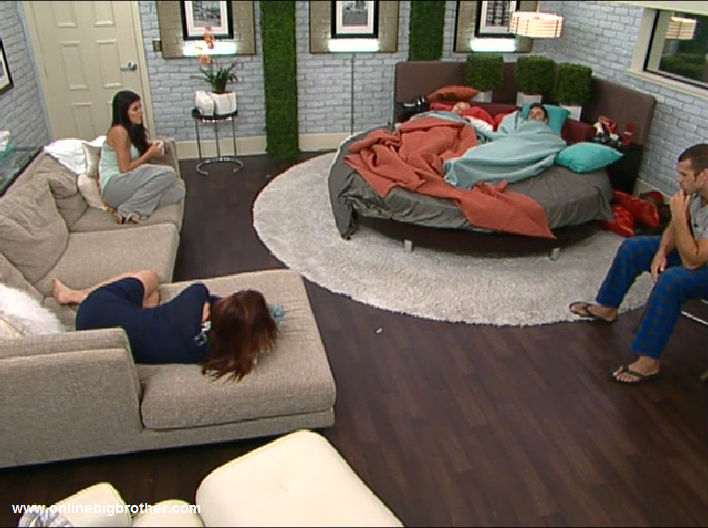 10am – 10:15am Jeff, Jordan, Brendon, Rachel, and Dani are up in the HOH talking about tonight HOH competition. They think the questions will be about the previous competitions. How many litres of milk there were, how many jelly beans? Dani asks Jeff about the chocolate brownie poop left in the toilet. Jeff says yeah he saw it ..he was like what sick bitch left that in here! They all laugh. Rachel asks if they know the secret about the bikes. Rachel says that there are 6 gears in the bathroom. Dani keeps saying its not going to be questions like that. Dani says that some people have OCD. Rachel says she doesn't have OCD ..there are 7 owls in the HOH room. They talk about how Adam still has bacon in his pillow. They discuss how many litres that were in the milk pool competition. Dani, Brendon and Rachel leave the HOH room.
TRY the Live Feeds for FREE!
Click here for your: SUPERPASS – 3 DAY Trial!
Big Brother 13 Spoilers POLL CAST your VOTE!
BB13 Live Feed Screen Captures , These are being updated every 10 minutes all 4 Cams 24/7
Follow: @BigBspoilers and @Dawgsbigbrother on Twitter for recent crazed out spoilers. Theres also our Facebook page.
If you like this site and want to help us keep it running please consider donating, Your donations go directly to paying the server and bandwidth fees. Donate Link
Share it YO!!
Tweet