Get the BB13 live feeds on your Android and iOS devices. Sign-up for the 3 Day Free Trial
1:05pm The live feeds are back from TRIVIA. All the houseguests leave the HOH room and head downstairs. Dominic is the last one to leave and talks to Jeff and Jordan shortly about trying to see if they will keep Cassi. Dominic says that he is making one last ditch effort to keep Cassi. Dominic says that he wanted to ask Jeff what he is going to do, cuz he wants to be on the same page with them. Jeff says that everyone is going to vote for Shelly to stay. Dominic says Okay everyones voting for Shelly to stay. Dominic says that Kalia and Lawon were going to vote to keep Cassi. Jeff asks are they …or are they just saying that? Dominic says I don't know! Jeff says that he was going to tell Cassi soon. Dominic says okay ..I just wanted to know where you were at.
1:15pm – 1:35pm All the houseguests are cleaning up and getting ready for the live show tonight. Cassi cleans up the hair cut that she gave Dominic earlier. Jeff is trimming his side burns. All the girls are talking about what the will wear tonight and other random stuff.
1:35pm – 2pm All the houseguests are still getting ready and eating. Random chit chat about food and what to wear. In the kitchen Jeff asks Dominic if he is going to wear that (t-shirt and suspenders). Dominic says yeah ..if you guys dress up, I'm going to dress down in a t-shirt. Jeff and Adam head up to play a game of chess.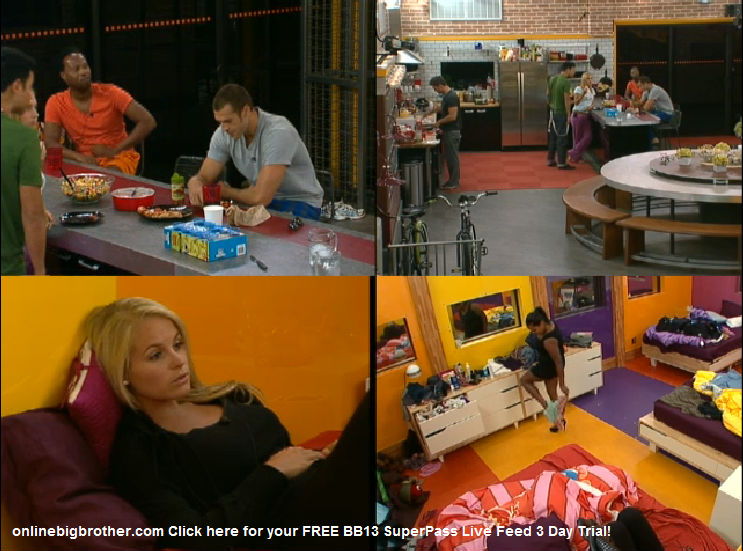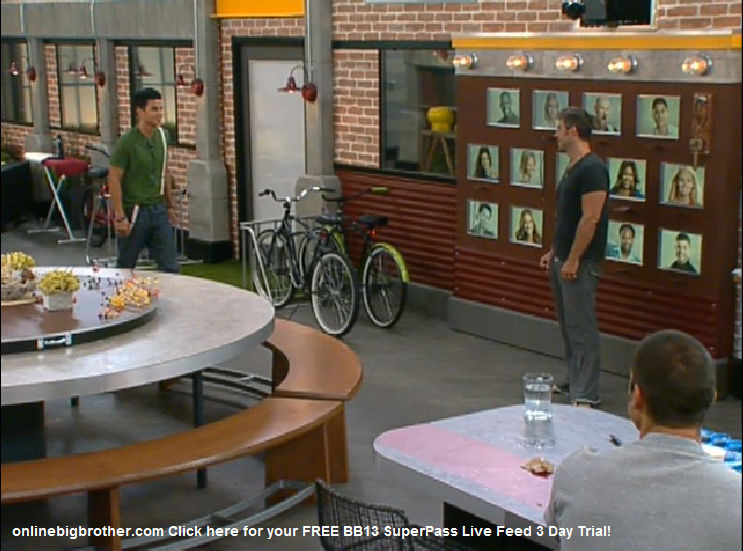 2:20pm While Adam and Dominic play their chess game they whisper that its best if they vote Cassi out to avoid becoming bigger targets in the house.
2:40pm The girls are still getting ready in the bathroom (Rachel, Porsche, and Cassi). The rest of the houseguests are lounging around talking about random things.
Big Brother 13 Spoilers POLL CAST your VOTE!
BB13 Live Feed Screen Captures , These are being updated every 10 minutes all 4 Cams 24/7
Follow: @BigBspoilers and @Dawgsbigbrother on Twitter for recent crazed out spoilers. Theres also our Facebook page.
If you like this site and want to help us keep it running please consider donating, Your donations go directly to paying the server and bandwidth fees. Donate Link
Share it YO!!
Tweet