Get the BB13 live feeds on your Android and iOS devices. Sign-up for the 3 Day Free Trial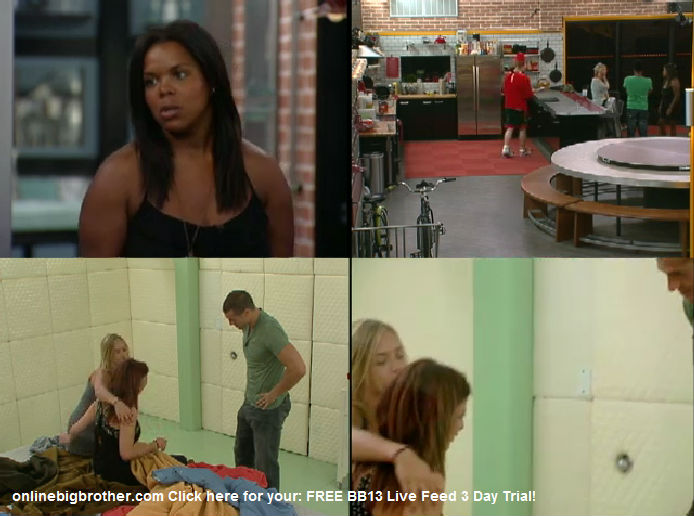 11:43am When the live feeds come back from TRIVIA, Kalia is in the kitchen talking about she knew he would take her down. There was no way he wouldn't have taken her off the block …she is big brother. Jordan says that she doesn't think that even she knew it because last night he was saying he was going to use it on himself. Shelly, Jordan, and Jeff are talking in the hall. Shelly says that she was shocked and that even Dani was shocked. Shelly says that she though Dani was going to put up Jeff. Rachel, Brendon and Porsche are in the havenot room. Brendon is comforting Rachel. Porsche leaves. Rachel is crying. Brendon says that he gets to have his bachelor party tonight because they are getting married.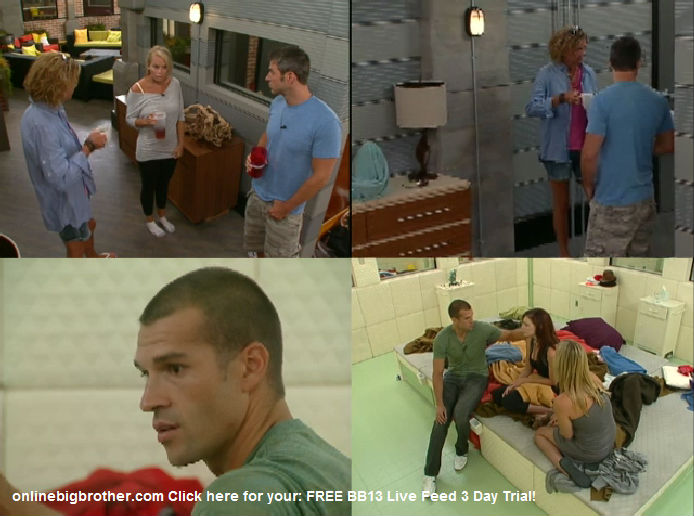 11:50am Kalia and Dani are up in the HOH room. Dani says that she needs to talk to Porsche and make sure she it okay. Dani and Kalia talk about how this is perfect …this is exactly what we wanted! Dani says that some times she hates this game ..that people are crying and its because of her. Kalia says that if she hadn't won the HOH it would be her going home. Dani says that she does think that Rachel can win HOH this week… that when he walks out the door she is going to be a wreck. Kalia says that she is going to torment Rachel ..not in a bad way but just keep talking about him and distract her. Kalia says that if its a competition about the people in the house… she doesn't know any of us. They talk about how shocked everyone was that Brendon took Rachel off the block. They talk about how they need to get Rachel out this week because after next week Rachel will be back to normal and strong again.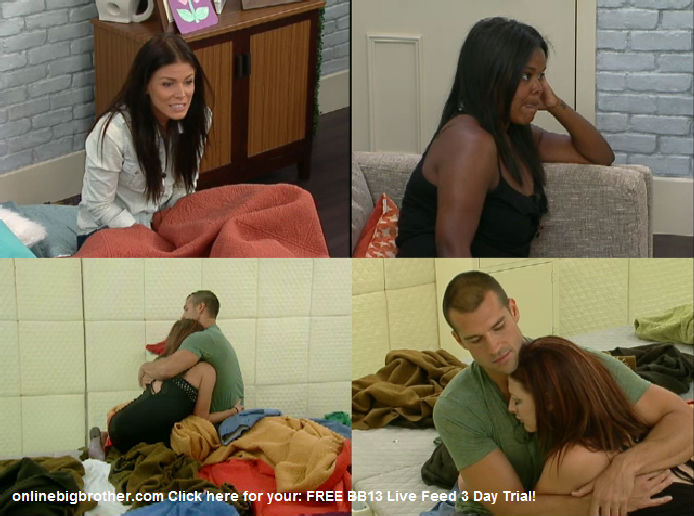 12pm – 12:10pm Dani, Jordan, Shelly, Jeff and Adam are in the kitchen talking and making lunch. Jordan, Dani and Shelly are talking about how shocked they all are that Brendon used it on Rachel. Jordan says that she really thinks this HOH is going to be a knock out competition. Jordan says that they told her that he was using it on himself. Shelly says that it just goes to show that you can't trust what anyone says in this house. If I say something ..I mean it. Meanwhile in the HaveNot room, Brendon and Rachel are hugging and talking about how much they love each other. Rachel is crying. Brendon tell her that she needs to be strong and hold it together. Brendon wipes her tears and they leave the havenot room. Brendon and Rachel go into the kitchen with the other. Jeff tells him that he really dropped a bomb. Brendon says yeah like call of duty style. Shelly asks Brendon if he is going to get a sword for his chivalry. Brendon says he wishes he could get a sword ..he would be wielding it around all over the house. Porsche and Rachel go into the storage room to grab more food. Porsche says that its going to be a rough battle in front of them now. Rachel asks what against Jordan? Porsche says for them against the house. All the houseguests are now in the kitchen talking about random stuff and making lunch. Dani tells Jordan not to stress at all …that if there was any risk in her going home ..then she wouldn't have put her up. Jordan says I know.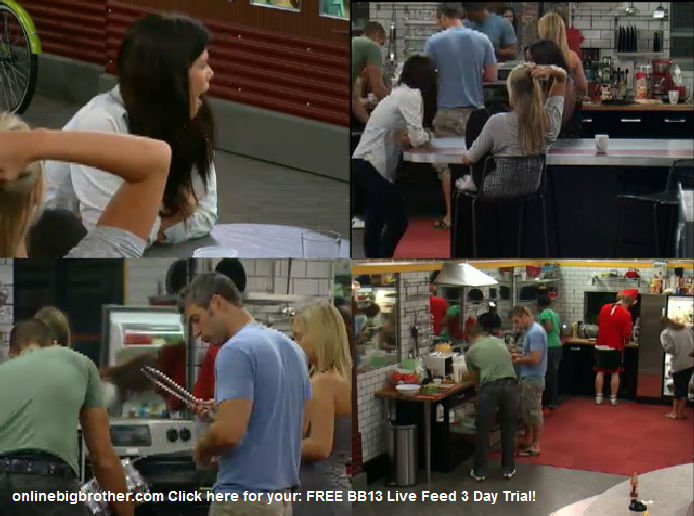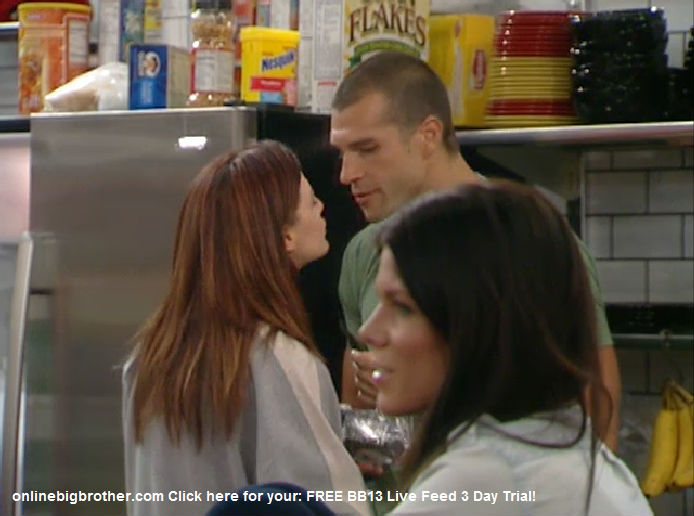 If you like this site and want to help us keep it running please consider donating, Your donations go directly to paying the server and bandwidth fees. Donate Link
Big Brother 13 Spoilers POLL CAST your VOTE!

Big Brother 13 Live Feed Image Gallery
Follow: @BigBspoilers and @Dawgsbigbrother on Twitter for recent crazed out spoilers. Theres also our Facebook page.
Share it YO!!
Tweet