Get the BB13 live feeds on your Android and iOS devices. Sign-up for the 3 Day Free Trial
9am Big Brother wakes up the houseguests. Shelly, Adam, Brendon and Rachel are out in the backyard talking on the couches. Adam tells Shelly that she was snoring last night. Shelly doesn't really believe him and says that she's never heard that. Shelly tells a story about her sister and how she used to count pennies in her sleep. The conversation changes to talking stitches, scars and breaking bones in their bodies. Shelly gets up to go inside and after she leaves Brendon says to Rachel that he went into the diary room and told them… Right then big brother cuts the live feeds to the we'll be right back screen. Brendon and Rachel start talking about what they should do with the POV. Brendon says that they need to make a smart decision and that Rachel doesn't have anything to go home to so maybe she should stay. Brendon says that people are scared of me because I won two back to back POV's. Rachel says yeah and I won two HOH's. Brendon says yeah but I was right there with you and I could have won those too. Brendon tells her that she has to play smart and that she can't be emotional. Brendon says that he thinks Jeff would go after Dani next week. Brendon says that he is going to have a long talk with Jeff about helping and working with you. Brendon tells Rachel that if she is staying in this house she needs to play hard and win. Rachel asks if she can trust Porsche. Brendan tells Rachel that she can trust her a bit, but you think she's your best friend. Brendon says that when she went up there last night, she could've been throwing you under the bus. Brendon tells her to look at the big picture… you can't trust her. Brendon tells Rachel that Porsche embellishes things a lot. Brendon says that Rachel's problem is that you want to believe in everything that everyone tells you… you need to think about things logically. Brendon says that she will need to see and be cautious about who she trusts in this game. Brendon says that she is going to need to see how this game goes week by week. Brendon says that if he goes home, Dani may want to work with her. Rachel says that she isn't going to work with her if she sends you home. Brendon explains that she might have a better chance to work with Dani. Brendon tells her that she will need to see what happens next HOH and that will determine the way she needs to play her game. Shelly and Jordan come out and the conversation ends.
TRY the Live Feeds for FREE!
Click here for your: SUPERPASS – 3 DAY Trial!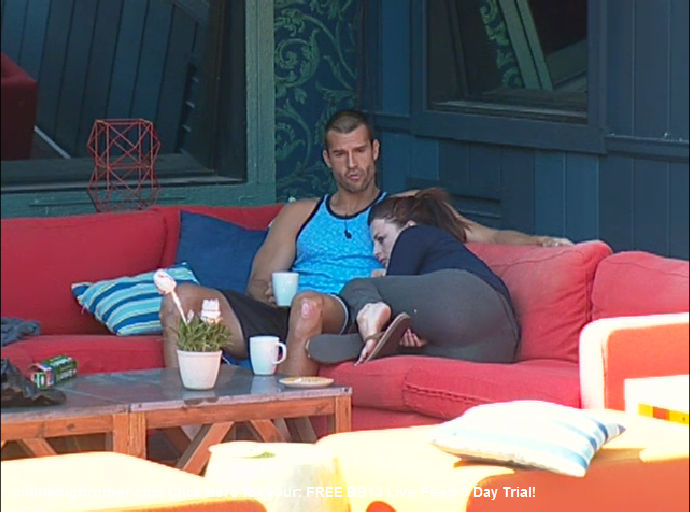 10am – 10:15am Jordan and Brendon talk about Dani and say that she is going to do what she wants to do. Brendon says but hey if she wants to fight the battle on her own. Brendon and Rachel don't think Dani will put up Jordan or Jeff up because she already soured their relationship and she wouldn't want to do it again. Brendon says that he thinks he presented it to her in an eloquent way … he says that if you send my fiancé home …then I will be coming after you. Brendon tells her that she cant be playing a vengeful game. They talk about how Dani is just mad that Dominic left and that she says the house is so boring now. Brendon gets called into the diary room. Shelly, Jordan, Rachel talk about random stuff in the backyard. Rachel is now working out on the elliptical. Lawon joins them in the backyard. Jordan and Rachel tell stories about their childhood.
See What They Can't Show You On TV! SUPERPASS – 3 DAY Trial!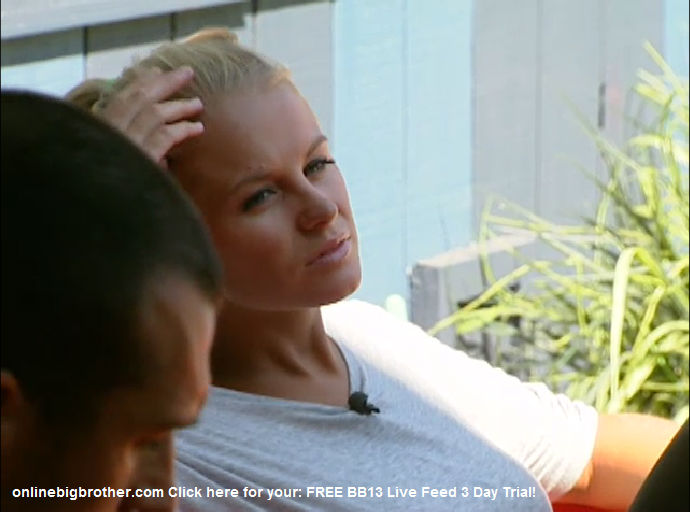 10:15am – 10:45am Jeff, Brendon, Rachel, Shelly and Porsche are getting ready in the bathroom. Adam, Jordan and Lawon are in the backyard talking about the people living in LA are obsessed with their weight. Jeff joins them out in the backyard. Brendon goes up to the HOH room to talk to Dani. Dani says that honestly she doesn't think that she could put Lawon up. Brendon says okay …I still love you. Brendon then leaves the HOH room and goes downstairs…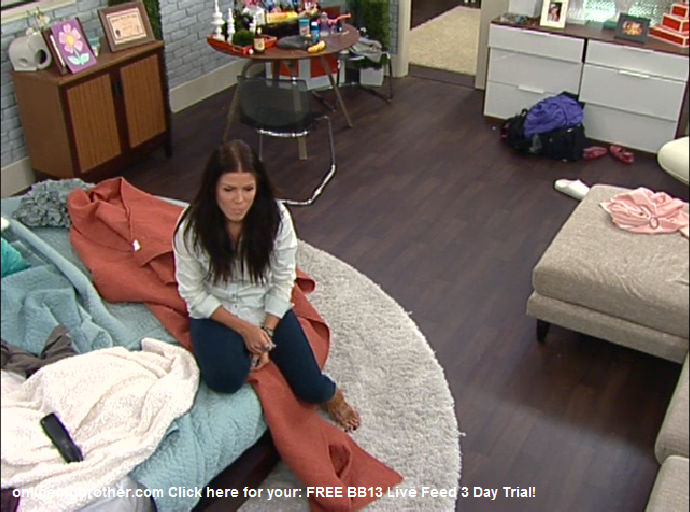 10:45am Big Brother switches the live feeds to the TRIVIA screen. The POV ceremony might be happening now!
If you like this site and want to help us keep it running please consider donating, Your donations go directly to paying the server and bandwidth fees. Donate Link
Big Brother 13 Spoilers POLL CAST your VOTE!

Big Brother 13 Live Feed Image Gallery
Follow: @BigBspoilers and @Dawgsbigbrother on Twitter for recent crazed out spoilers. Theres also our Facebook page.
Share it YO!!
Tweet