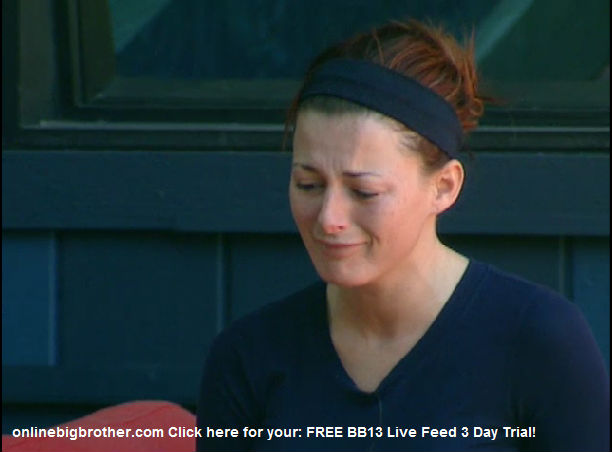 If you like this site and want to help us keep it running please consider donating, Your donations go directly to paying the server and bandwidth fees. Donate Link
WATCH all DRAMA unfold LIVE on SuperPass! FREE 3 Day TRIAL
12:25pm – 12:30pm Brendon and Rachel are out in the backyard on the couches talking. Brendon is really angry at Rachel and she is upset. Brendon says that she acts crazy and needs to stop it. Rachel says that she did not act crazy while he was gone ..she was upset for two days … Brendon says that when stuff happens you need to just move on and go with it. Brendon says all we can do is deal with what has happened and move on. Brendon tells Rachel that she needs to mend things with Shelly. Brendon tells her to squash it. Rachel says guess what ..I am trying to squash it. .. but she is going around saying stuff and lying… I am tired of it. Brendon says well then vote yourself out then…. get yourself under control. Rachel says that she is.. Brendon says no you haven't. Rachel starts to cry. Brendon tells her to get a hold of yourself lay on my lap …I dont want people to see that you are crying. Big Brother tells Brendon to change his microphone. Brendon heads inside and Rachel sits on the couch with her head in her hands thinking.. Big Brother then cuts the live feeds to the we'll be right back screen.
WATCH all DRAMA unfold LIVE on SuperPass! FREE 3 Day TRIAL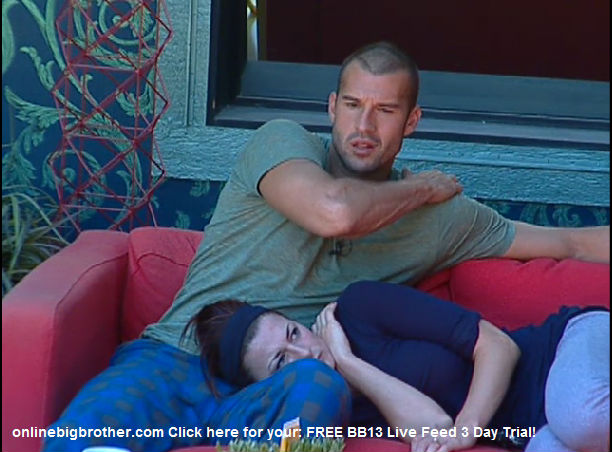 1:30pm The live feeds are still showing the we'll be right back screen…
1:45pm The live feeds are still showing the palm trees..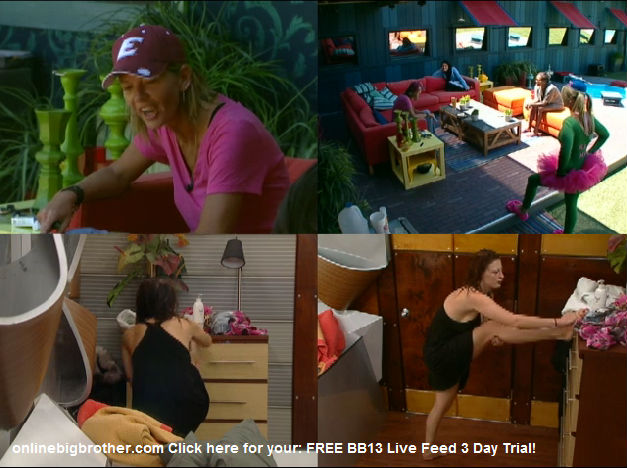 1:50pm – 2:05pm When the live feeds come back, Shelly is out in the backyard. Her 24 hour lock down in the HaveNot room is over. Shelly is talking an crying about her phone call that she had with her daughter. Shelly says that hearing her daughter call out mommy ..was priceless. Shelly said that her husband even broke down. Shelly says that they said that everyone was watching. Shelly says that it was the fastest 3 minutes of her life. Everyone is listening and saying awe.. Shelly says that it was so great to hear her husband and daughters voice. Shelly says that she forgot stuff to ask them. Shelly says that it is better than an HOH …she got to hear them and felt like she could see them. Shelly said that she asked if she embarrassed them yet.. they said no. Shelly thanks Jordan from the bottom of her heart …that she promises she will do something for her and her brother.. that it means the world to her.. it was worth more than winning the veto.. Shelly says that she would wait in there for 48 hours just to get that phone call. Brendon, Jordan, Jeff and Kalia head into the kitchen to make lunch.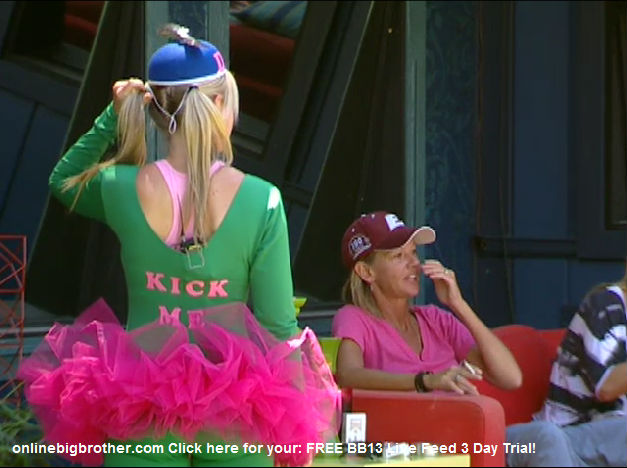 2:10pm Shelly continues to talk about her phone call to Dani, Adam and Porsche in the backyard. Shelly is smiling and talking about how happy she is that she got the phone call. Shelly says that its funny that you can see someone smile in your head. They talk about how her daughter is going to go to school and brag now. Shelly starts talking about how Jordan's outfit is adorable. Shelly says that she doesn't regret it at all …and if she had known that doing that would have gotten her the phone call she would have chucked it over the wall. Shelly says that they said all they do is watch her ..on the show and the live feeds. Shelly says that there was no negative stuff at all … Shelly says that you cant understand how much she appreciated people laying outside her door talking to her… and that Jordan even tried to lay down to show her costume. Shelly heads inside to brush her teeth so that she doesn't kill anyone with her breath.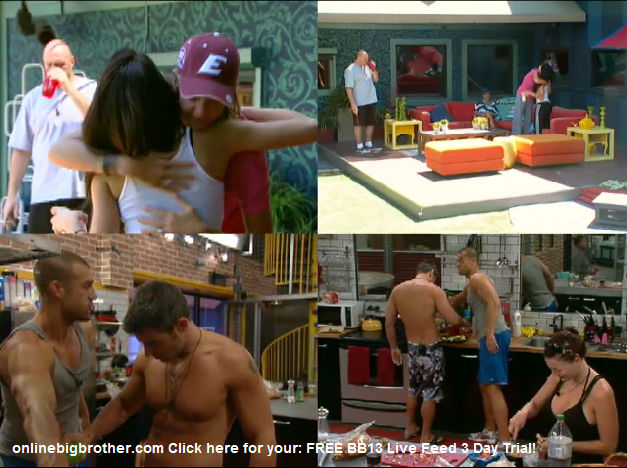 2:20pm – 2:45pm Meanwhile in the kitchen Brendon tells Jeff that he talked to Adam but that he can't get a read on him. Brendon says that he really tried to remind Adam that Dani is after him …and that he just needs to re-enforce that idea. The houseguests are all talking about random stuff and making their lunches. Brendon and Rachel are on the backyard couches talking. Brendon tells Rachel that she needs to start acting right and not to stare people down. Rachel tells Brendon that she is just worried about losing him again…its hard! Brendon tells her that he just doesn't want her to be doing dumb things. Brendon heads inside and Jeff comes out with corn and other things to grill on the BBQ. Brendon comes back outside and tells Rachel to sit back and relax. Rachel says stop saying stuff like that in front of people. Brendon says no one is even around. Brendon says that people notice when you are like this. Rachel says people notice when you call me out on not being relaxed. Brendon tells Rachel that he just told Dani that he wants to talk to her later. Shelly comes out and head over to the grill and then goes back inside. They talk about how Shelly has a new hope in her step now. Rachel says under her breath that she can't stand her. Brendon gets mad at her for saying stuff. Rachel heads inside. Shelly joins Brendon on the couch. Brendon tells Shelly that he thinks she got one of the best prizes possible… and that they are all happy she was the one to win it. Brendon says that now you have the energy to get to the finish.
TRY the Live Feeds for FREE!
Click here for your: SUPERPASS – 3 DAY Trial!
Get the BB13 live feeds on your Android and iOS devices. Sign-up for the 3 Day Free Trial
Big Brother 13 Spoilers POLL CAST your VOTE!

Big Brother 13 Live Feed Image Gallery
Follow: @BigBspoilers and @Dawgsbigbrother on Twitter for recent crazed out spoilers. Theres also our Facebook page.
Share it YO!!
Tweet