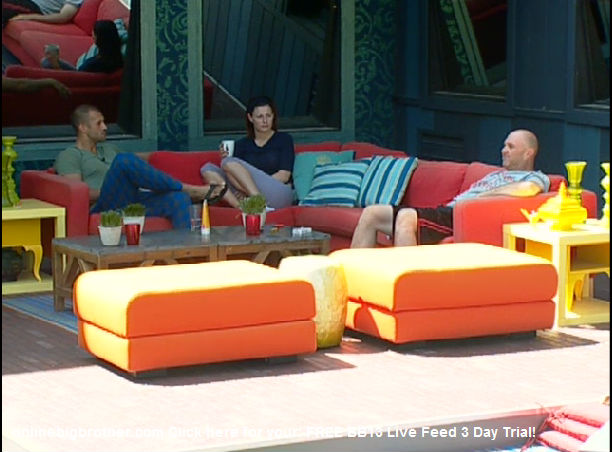 Get the BB13 live feeds on your Android and iOS devices. Sign-up for the 3 Day Free Trial
10:30am – 11:10am Big Brother wakes up the houseguests. When the live feeds come back, Brendon and Rachel are in the kitchen and then they head out into the backyard where with Adam. Brendon and Rachel complain about how uncomfortable sleeping in the metal bedroom. Adam tells them about the dream he had last night. Adam talks about how because he works for a high level record company every year he writes to the Rock&Roll hall of fame president to complain that the bands Rush, Iron Maiden, Judas Priest haven't been inducted into the hall of fame. Adam says that the president actually writes him back every year because his email address is from a high level record company. They continue to talk about random things. Rachel mentions that Brendon has said to her that one day they'll open up a savings account and she won't know the password to it because she has a spending problem. Rachel talks about how she likes to buy colour coordinated clothes for her and Brendon to wear. Brendon says that he doesn't like doing that because it looks like he chopped off his balls and handed them to her. The conversation changes to talking about their schooling and then about the financial crisis. Meanwhile Shelly is in the HaveNot room on her 24 hour lock down walking around the bed and eating.
WATCH all DRAMA unfold LIVE on SuperPass! FREE 3 Day TRIAL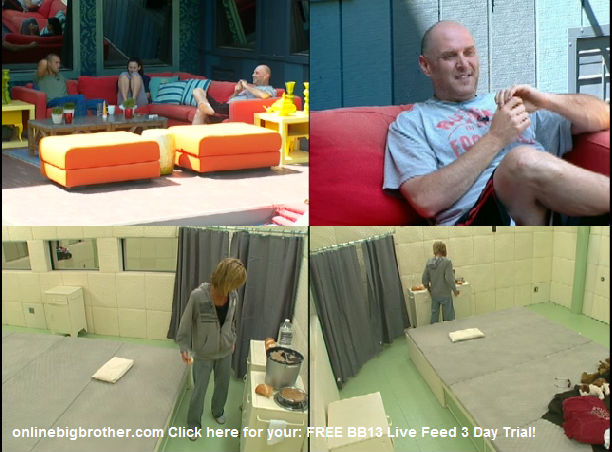 11:10am – 11:30am Adam notices that the basket ball hoop is now gone. Rachel wonders if the same people that hid the other things in the house took the hoop too. They talk about the other things that are in the house are still missing and say that it could have only been four people (Lawon, Dani, Kalia, Porsche). The conversation changes to talking about Lawon and how they all know nothing about him. They talk about how initially he said he just graduated but that just recently they found out that he actually graduated 8 years ago. Brendon mentions that it's so hard to tell when people are lying because so many people lie in this house. Adam says that it's so much harder to remember a lie than it is to remember the truth. They talk about how Andrew lied on their season about being a shoe salesman instead of a doctor and how he suspected Matt's wife's medical condition was fake. The conversation changes to talking about Dominic and how he told Dani day 4 that he was going to get her dad out. Adam says that you can't win in a week but you sure can lose in a week. Brendon asks if Adam talked to Dani after the POV and he says yeah and that he told her that he is definitely using it on himself. Brendon says that its obvious who she is putting up. Adam says yeah its either Brendon, Rachel or Jeff. Brendon says that Dani is just going after us guys. Rachel says that she thinks she is coming after me. Brendon tells Rachel that Dani isn't afraid of you …especially after your performance last week.. Rachel says EWWW! Brendon says I am just being honest! Rachel says that Dani has to go!!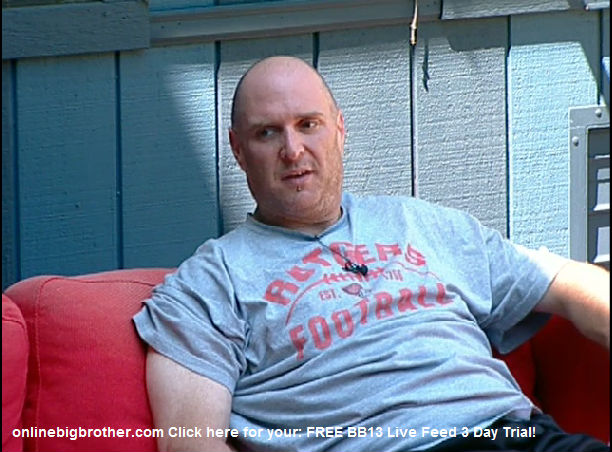 11:40am Adam says did you notice all the girls have won the HOH's and the guys have won the POV's. Brendon says that Dani knows that if its a physical competition she needs us guys out. Rachel says that Dani has been HOH three weeks in a row ..literally. Adam agrees. Rachel says that the guys are definitely going to win this week. Adam says that the fact that she has that veto ticket good for her. Rachel says yeah especially when she is HOH. Brendon tells Adam that he 100% has his back. Brendon tells Adam to think about you as a guy ..Dani wants to knock all us guys out. Brendon tells Adam that he is definitely not their target and that he would like all of them to make it to the double eviction. Brendon says that he wants Dani out and that he is going after her. Adam says that Brendon is a threat. Brendon says but am I a bigger threat than Dani. Adam says that at least I know when you would be coming after me ..whereas with Dani I don't know. Adam says that it comes down to having an enemy in front of me or an ally behind me. Brendon says that to be honest he has three weeks of targets …and that will get us to the double eviction. Rachel says and then at that point if I or Brendon don't win at double eviction we are targets and that means you get farther. Adam says that you can't win anything. Brendon says definitely ..me not winning HOH this week means that I am probably being back doored and maybe going home. They talk about how Jeff will walk out of the house with close to $40,000 with the prize money he has won and his stipend.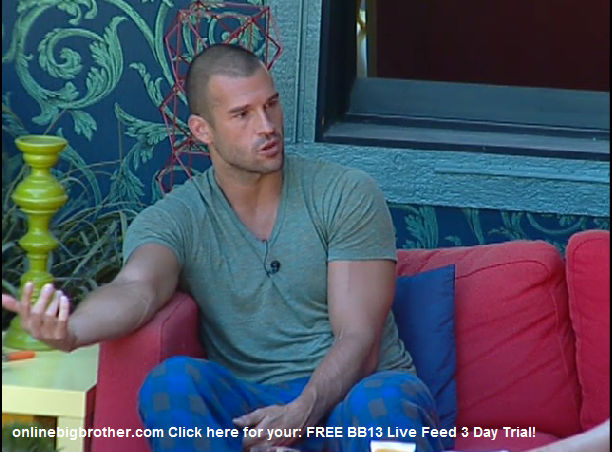 WATCH the houseguests LIVE on SuperPass!
Click here for your: FREE 3 Day TRIAL!
11:50am – 12:05pm Brendon asks Adam what would convince him to keep him in the house. Adam starts to talk and Rachel says that the chances aren't that good that Brendon or I will make it to the end. Brendon says that as long as he is in the house he will always be a bigger target than Adam guaranteed. Brendon says that Adam will do well near the end in the competitions because he is good at the quizzes and remembering dates and stuff. They ask Adam ..how many times can you be the pawn ..until you go home. Rachel says that if you don't keep people in this house that can get Dani out … you are handing her this game because no one will be able to stop her. Brendon says that there is going to be another endurance and she will win. Rachel brings up the fact that if Brendon and her are gone …Jeff and Adam are the next targets …and you have to think about the votes ..Jeff has Jordan … Adam agrees that he needs to think about everything. Rachel says again that she might be going up. Brendon gets mad and says that 100% Dani wants the guys out ..not you ..you put her through BLANK last week ..but she wants the guys out. They talk about how Dani is able to separate emotional and game. Adam tells Brendon that if he is on the block.. by Thursday morning he will tell him which way he is voting. They warn Adam that near the end the competitons are mental. Adam heads inside to make breakfast.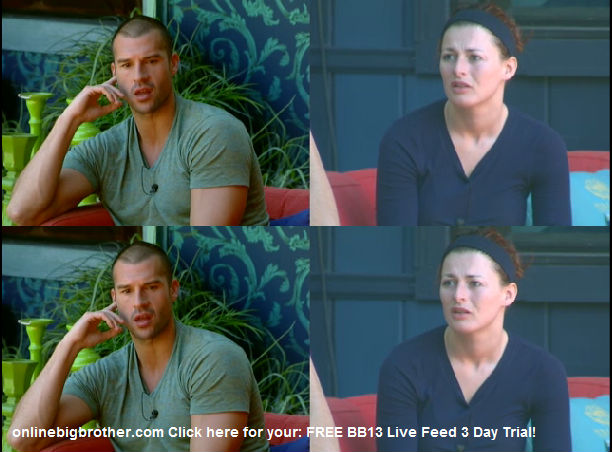 12:15pm – 12:25pm Brendon gets mad at Rachel for telling Adam that she is a target too. Brendon says that she is trying to sell Adam on the fact that Dani is targeting the guys. Brendon says that he needs to sell Adam on the fact that he and Adam are competitors. Brendon tells Rachel that it is not her place to talk. Rachel says that she knows she is not going to win ..that she is playing for second place. Brendon tells her that it is not her BLANK place to talk …and that he told her to let him do all the talking. Rachel says I know I am sorry. Brendon says he has a good shot at getting Adams vote. Rachel says that we have a better shot at me being on that block. Brendon says that he feels better about Jeff and Jordan now that they talked to them last night.. that they are thinking the exact same way I am. Brendon says that he thinks that Adam might vote against him but that he needs to try. Rachel says okay I don't want to fight ..maybe we only have a few more days in this house. Brendon says that why are you being pessimistic. Rachel says that if I go home then I go home …if I stay no one will vote for me. Brendon says don't ..you never know things can change in the jury house. Brendon tells Rachel that her arguments are stupid. Brendon says just don't be counter productive… talk to Porsche and find out how she is voting.. stay on her good side. Brendon asks what deal will get Porsche to vote to keep me. Rachel says that nothing she has said to Porsche has gotten out. Brendon asks about what. Rachel says about Shelly. Brendon says yes obviously it has ..she is pissed at you… you need to keep your BLANK mouth shut! You need to learn to SHUT YOUR MOUTH! Rachel says that she does. Brendon says no you haven't you're not listening to me.. Jeff and Jordan BLANK us by making deal with everyone. brendon says that she has horrible game play ..she shows everyone her cards.. last week is over ..get back on your BLANK horse and move on..
WATCH all DRAMA unfold LIVE on SuperPass! FREE 3 Day TRIAL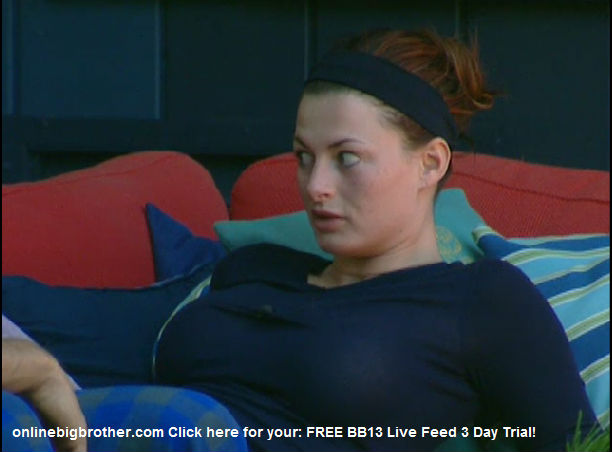 If you like this site and want to help us keep it running please consider donating, Your donations go directly to paying the server and bandwidth fees. Donate Link
Big Brother 13 Spoilers POLL CAST your VOTE!

Big Brother 13 Live Feed Image Gallery
Follow: @BigBspoilers and @Dawgsbigbrother on Twitter for recent crazed out spoilers. Theres also our Facebook page.
Share it YO!!
Tweet