Big Brother 13 Weekly Summary web cast Big Brother Rewind Starts 7pm ET https://bit.ly/mVHKXE
Get the BB13 live feeds on your Android and iOS devices. Sign-up for the 3 Day Free Trial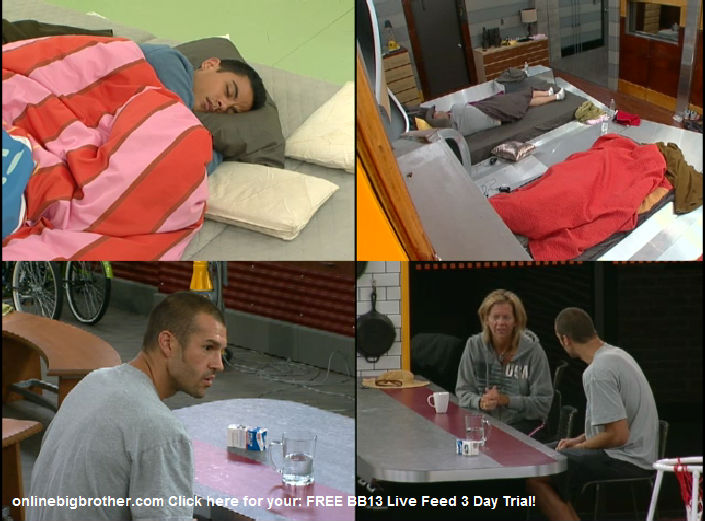 10:15am – 10:50am Shelly and Brendon go around cleaning the Big Brother house while the others sleep. Shelly tells Brendon that he will give the others till 11am and then she will vacuum the living room. Shelly says they don't want to give them too much sleep. Brendon says no ..exactly! Brendon and Shelly are in the kitchen talking. Brendon tells Shelly that Kalia is after Shelly. Brendon says that it doesn't even matter we will pick them off one by one. Shelly says that Lawon still won't say which way he is voting. Shelly says that she got her deal in right in the beginning …and it doesn't benefit me for them to go after you. Shelly says that if they come to me right before the vote I will tell them exactly what I am doing. Shelly says that she literally thinks I am stupid and that they can pull me in their direction. Brendon says that all he wanted yesterday was for Dani to admit it. …and she couldn't even do it. Shelly says that Dominic was telling her that if he stays they are the target and she won't be …because the vets will be going after him and Dani every week. Shelly says it's amazing what people will say to get your vote. Brendon talks about how in the beginning he didn't trust Porsche …and that Rachel was the only one .. and that it was Dani that was the fountain spewing all the crap. Brendon says that Dani is disgusting …it's amazing what she will do and say and that I won't stop until she is gone. Brendon says that he really thinks Dani is living in Dick shadow. They talk about how Dominic would be staying if it hadn't been for Dani pushing for them to get rid of Jeff. Brendon says that Dani has a way of twisting a partial truth. Shelly says that it's amazing what people will say when their backs are against the wall. Shelly says that they are desperate ..and that whenever she goes back there ..they attack her ..trying to get her vote. Brendon says that he will be damned if he will let the spawn of satan win tonight.
Catch the endurance competition after the CBS live show ends Tonight, watch it all LIVE on the feeds.
Click here for your: SuperPass – FREE 3 Day TRIAL
Shelly says they must be building something big out there because they're still building. They talk about how they wish Rachel could play for it. Brendon says that we thought about that …but you wanted to eat.. Rachel says that it probably won't be a competition catered to anyone ..and that you have just as good a chance to win as anyone. They talk about what type of clothes to wear for the competition. Rachel leaves the kitchen and heads back up the HOH room. Brendon and Shelly talk about athletes and marathon runners. Rachel comes out of the HOH room and yells down to Brendon to make sure he asks Jeff to borrow his hat for the competition.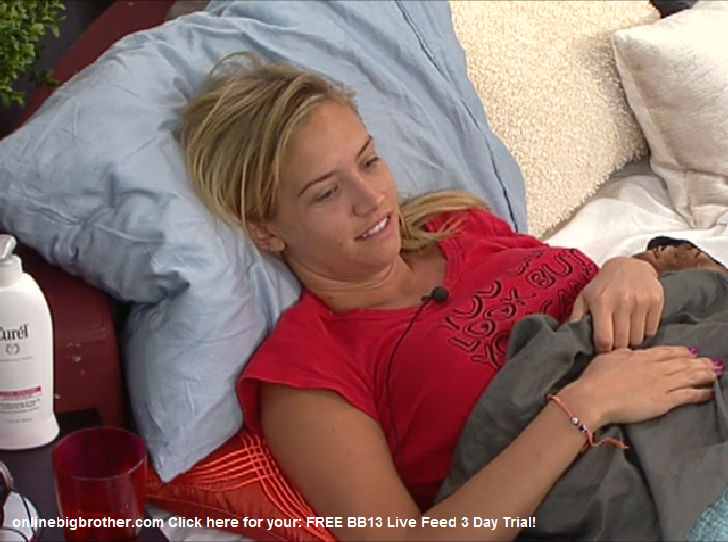 11:05am – 11:30am Big Brother cuts the live feeds. When they come back, Brendon says that he can't wait for Dani to come up here and hangout. Brendon says that at least Dani should apologize to Jeff and Jordan… and a heartfelt one. Brendon talks about how Dani got pissed when she was trying to tell them to put up Jeff and Jordan and they wouldn't. Brendon says that he is going to win this HOH just so he can put her up. Porsche comes up and claims the HOH bed. Porsche says I like how you made the bed all nice like you don't have sex in it. Jeff joins them in the HOH. Brendon asks to borrow one of Jeffs hats. Jeff says yeah. Porsche says that she feels like she will need witness protection after this… that kalia is still pressuring her and that Dani and Dominic won't come out of the havenot room. Porsche says that she has a headache from all the whispering last night. Porsche says that Shelly told her that they were going to use that she knows Janelle against her. Porsche says that she would rather be the weaker player on a team than be behind Dominic, Dani and Kalia. Porsche starts listening to music. Jordan asks Jeff if he wants to talk. Jeff asks about what ..I think we have exhausted everything to talk about. Jordan tells Jeff that Dominic was working Shelly this morning. Jeff says like what .. Jordan says that she couldn't hear much. Jeff asks Porsche if Kalia was harping on her last night. Porsche says that Kalia said that what she has done is only a tiny bit of what she can do in this game. Jeff says yeah like your shoulder injury. They talk about how Dani is such a bitch because she is the only one not sharing a bed. Shelly comes up and says that Kalia is badgering her to talk. Jeff says that he will come down. Porsche says yeah you need Jeff around just so they won't badger you. Brendon and Porsche talk about how much Kalia cries, doesn't wash dishes or make her own food. Lawon and Adam come up to the HOH room.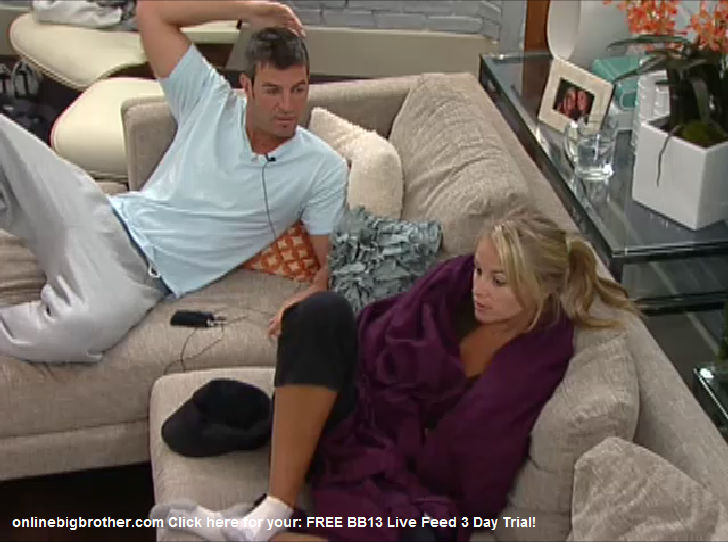 11:30am – 11:40am In the candy room Dani and Dominic are under the covers whispering. Dominic asks Dani what he can do on his way out of the house …to clear her name? Dani says nothing. Dominic says that he knows he is gone. Kalia comes into the candy room. Dominic gets up and gives her a hug. Dominic says that honestly he doesn't regret anything… do you? Dani and Dominic talk about tonights endurance competition. Dominic says that Jeff isn't that great at endurance… he dropped out early in the banana competition. Dominic tells Dani that she is the best ..she doesn't even have losing in her vocabulary.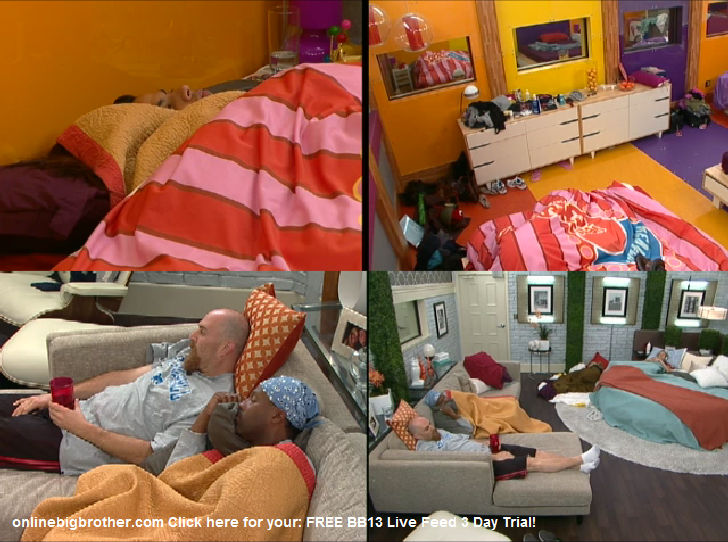 11:50am – 12pm All the houseguests are on an HOH lock down. Brendon is in the bathroom having a shower and getting ready for the day, while all the other houseguests lay in silence trying to fall back asleep…
Catch the endurance competition after the CBS live show ends Tonight, watch it all LIVE on the feeds.SuperPass – FREE 3 Day TRIAL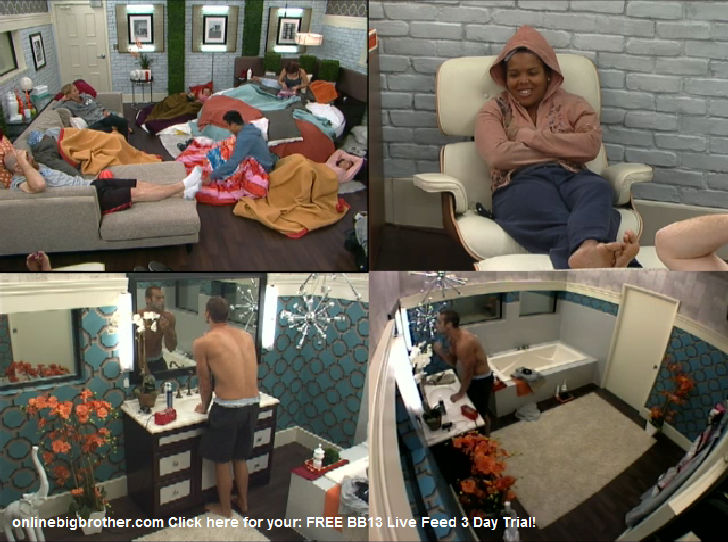 12:25pm The live feeds switch to the TRIVIA..
1:10pm TRIVIA..
Big Brother 13 Spoilers POLL CAST your VOTE!

Big Brother 13 Live Feed Image Gallery
Follow: @BigBspoilers and @Dawgsbigbrother on Twitter for recent crazed out spoilers. Theres also our Facebook page.
If you like this site and want to help us keep it running please consider donating, Your donations go directly to paying the server and bandwidth fees. Donate Link
Share it YO!!
Tweet