Get the BB13 live feeds on your Android and iOS devices. Sign-up for the 3 Day Free Trial
Big Brother 13 Weekly Summary web cast Big Brother Rewind Starts 7pm ET https://bit.ly/mVHKXE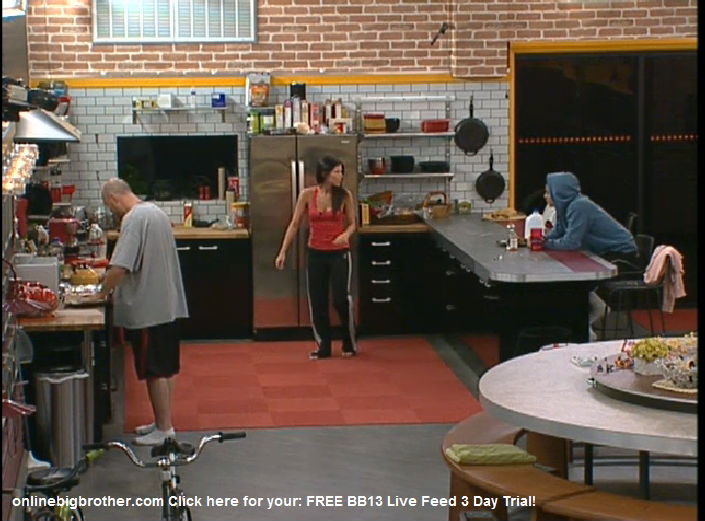 Catch the endurance competition after the CBS live show ends Tonight, watch it all LIVE on the feeds.
Click here for your: SuperPass – FREE 3 Day TRIAL
8:20am Big Brother wakes up the houseguests. The houseguests slowly wake up and move about the house. 9am Adam and Dominic are in the kitchen talking. Dominic asks Adam to avenge his death if he goes. Adam says he will and that if its him who goes for him too as well. Dominic says he will. Dani joins them in the kitchen. Dani asks how Adam slept. Adam says that he slept fine except for Kalia opening and closing the door every five minutes. Jordan comes through the kitchen with her pillow and blanket and heads up to the HOH room to claim her spot on the floor in anticipation of the Thursday morning lockdown. Jordan then heads back down stairs. Dominic says good call! Adam asks Dominic and Dani if they even went to bed last night? Dani and Dominic says yeah. Dani heads back to bed.
9:30am Dominic is in the bathroom with Shelly. Dominic says that he just doesn't know whats happening. Shelly says that he thinks Lawon is his biggest concern because he won't say which way he is voting. Dominic says that Lawon to him that he is voting to keep him. Shelly asks really cuz he won't tell me which way he is voting. Dominic says he doesn't want his friend to get in trouble for voting for him if it doesn't work out. They discuss how he doesn't want people to vote for them just to be the only ones and then be a target. Dominic says that even if he did stay, he's just a sitting target. Dominic says that he and Dani could never stick together.. because every week it would be him and her on the block. Dominic tells Shelly that he knows and wants her to do whatever is in his best interest. Shelly says she knows. Dominic says either way let me know before ..so that I know. Shelly says that she will tell him. Dominic leaves the bathroom and goes to lay down in the havenot room.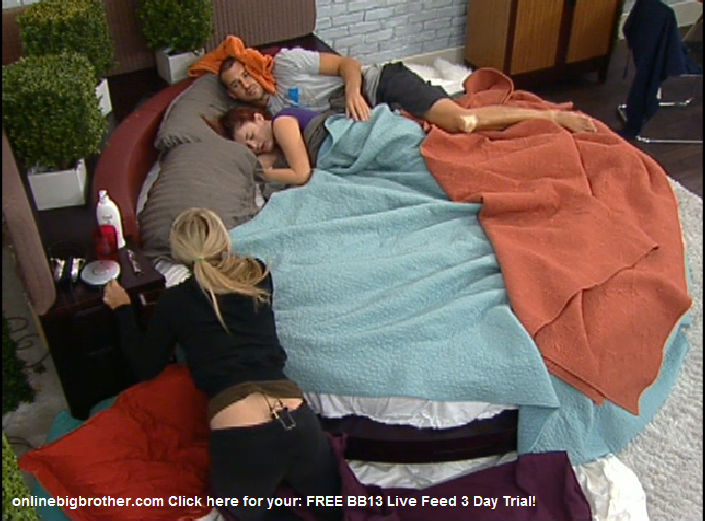 9:35am- 10:15am Jordan heads up to the HOH room Brendon and Rachel asks whats going on down there. Jordan explains that its only Adam, Dominic, Shelly and Dani down there. Jordan says that she over heard Dominic campaigning to Shelly. Brendon asks …right in front of Adam? Jordan says no. Jordan tells them that Dominic is acting a little cocky. Meanwhile, everyone is back asleep except Shelly whos in the bathroom still getting ready for the day. Shelly then starts cleaning and vacuuming the house for the live show tonight. Brendon brings his stuff down from the HOH room.
Big Brother 13 Spoilers POLL CAST your VOTE!

Big Brother 13 Live Feed Image Gallery
Follow: @BigBspoilers and @Dawgsbigbrother on Twitter for recent crazed out spoilers. Theres also our Facebook page.
If you like this site and want to help us keep it running please consider donating, Your donations go directly to paying the server and bandwidth fees. Donate Link
Share it YO!!
Tweet