Get the BB13 live feeds on your Android and iOS devices. Sign-up for the 3 Day Free Trial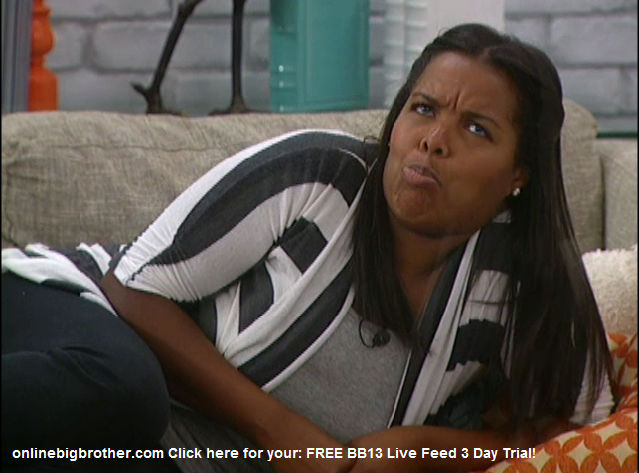 9:45am Dani tell Porsche that we need Jeff to go soon. Porsche says okay! Dani says that Jeff is one of those players he is not that good but when the numbers start going down it's not that hard for him to win competitions. Kalia says she agrees because it's not her. Dani says oh my god ..if Shelly wins she is going to use it and beat Rachel in the face! Kalia talks about how much Shelly hates Rachel. Dani says thats what we have been saying since day one… and you just get it! Porsche says we have a great shot at HOH next week. Dani says that if Brendon leaves it will put us in a really strong spot… until Porsche jumps ship with Rachel. Porsche laughs. Dani says that if Kalia won the unitard she wouldn't be her friend because she would be the most horrible person ever. Dani says that she would lock her door and not let her in. Kalia says that if there is a margarita party she will take it for everyone. They talk about how if it is a POV prize and punishment competition ..Kalia and Dani will take whatever punishment. Dani asks what would you guys do if I drank my whole bottle of wine before the POV? Porsche says what would you do if I did?! Porsche takes the HOH robe downstairs with her …just in case they don't give her an outfit to wear in the POV she will wear her bikini and it. Kalia heads down to the candy room to read the bible.
TRY the Live Feeds for FREE!
Click here for your: SUPERPASS – 3 DAY Trial!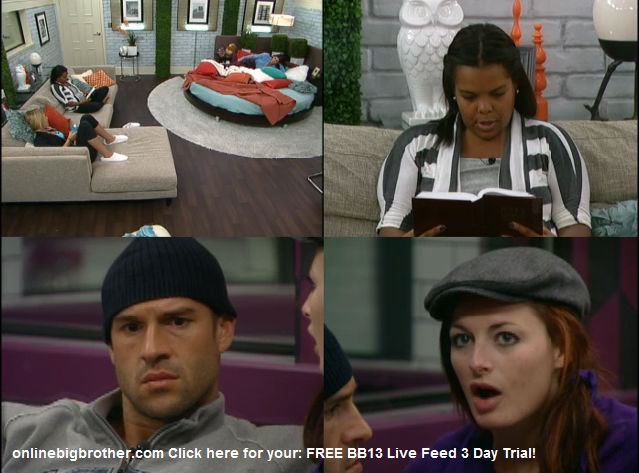 10:30am Meanwhile in the lounge room Rachel is telling Brendon all about Shelly being the one to drive a wedge between her and Porsche. Rachel tells Brendon that Shelly is the person that has been bad mouthing her and that Porsche has told her some of the things Shelly has been saying. Rachel then starts talking about how mean Jeff was while Brendon was gone and now this morning he was mean again. Brendon telling Rachel to be calm around Jeff. Rachel says that maybe she's a little annoying ..but says that she feels it's not Jeff's place to not be nice to her. Brendon tells Rachel that this is a game about getting along with everyone even when you don't want to. Brendon says and you're not good at it. Rachel says obviously! Brendon says why do we have to fight all the time just to stay in here. Brendon is telling Rachel how he needs to learn to how to work with the things that Rachel isn't good at… like how she isn't organized. Brendon says that he is also learning how to talk to her properly ..and that he doesn't want her to think he wants to tell her what to do .. Brendon says that of course there are things about her that drive him nuts. Rachel says that she respects and admires him. Brendon says that he respects her too. Brendon says that sometimes he has talked to her in a disrespectful manner and that he never what's her to think that he is taking things out on her and that he would never want anyone to talk to her like that ..especially not him. Brendon says that he will never betray her or let her down. Brendon says that he is sure he will be kicked in the balls a million more times in life. Rachel says and I will make sure I am there to kiss'em! They talk about how they will be when they're old.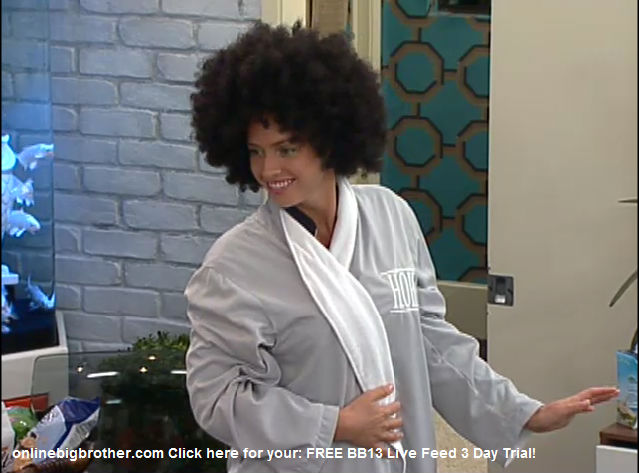 24/7 UNCENSORED Big Brother 13 Live Feeds!
Click here for your: FREE 3 Day TRIAL!
10:50am Dani and Adam are talking in the HOH room. Adam says that he is happy that Brendon and Rahcel aren't playing in the POV. Dani says that Rachel was about to cry when the players got picked. Dani asks Adam if he is paranoid or nervous. Adam says no and says that he thinks it's not going to be physical. Dani says that she feels like it's going to be a random skill or maybe puzzles. Dani says that she thinks that Adam is good at puzzles. Dani tells Adam that this is perfect ..don't be nervous because Jordan won't win. Dani says that you only need to worry about Jeff but she thinks Jeff will keep the nominations the same. Porsche comes up with the HOH robe and Lawons afro wig. Porsche models it and then leaves. Adam says that he hope the POV winner doesn't have to pick who is HaveNots this week. Dani says that she doesn't think so. Adam asks why Kalia and Porsche don't share a bed so that Brendon and Rachel can have one. Dani says its because Brendon acts like everyone needs to bow down to him.. and when he came back he asked where these chips were from ..they told him the HOH ..and he so oh chips laced with evil! They talk again about how upset Rachel was about not being picked. Adam says that he is trying really hard to not talk BLANK about people while being in the house. They talk about how Jeff has been picked to play in all the POV's and they think it's crazy. The conversation changes to talking about getting into the jury house.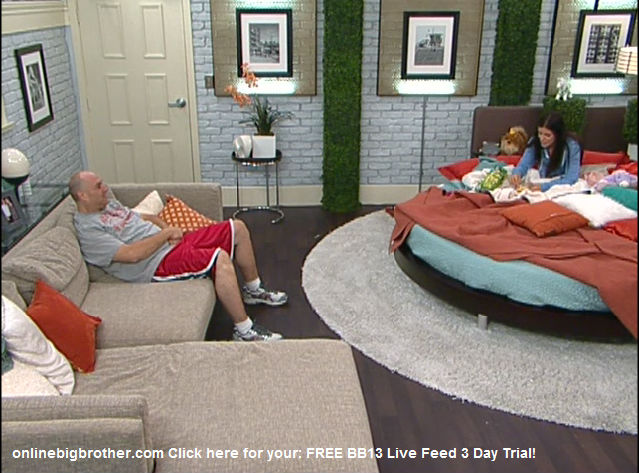 11am – 11:30am All four camera switch to Brendon and Rachel in the lounge room talking about his friends. Big Brother cuts the live feeds to the we'll be right back screen. Rachel starts talking about how no one in the house likes her and that she has already done so much damage in the house. Brendon says that he goes through the house like a Tasmanian devil. Rachel starts going off again about everything…and Brendon tells her to stop ..I don't want to hear it again.. I don't want to go down that road again. Brendon says that even if Adam wins the POV and she puts me up next to Shelly.. Rachel and Brendon both say that we have the votes to keep you. Brendon says that he is going to start studying the days again because he left it messed him up. Rachel says that she has tried to mend things with Kalia by telling her that she respects her and that she is a good competitor. Brendon says that Shelly and Porsche are they BLANK rumor mill around here. Big Brother cuts the live feed and when they come back, Brendon and Rachel are talking about the POV competition from their season where there were prizes and punishments. Rachel says that she thinks there will be a double eviction this season. Rachel is massaging Brendon's feet. Rachel smells Brendons feet. He asks her if they smell. Rachel says that they never smell! Brendon asks if she would rather nice feet that smell or his feet that don't smell. Rachel says your feet!
WATCH all DRAMA unfold LIVE on SuperPass! FREE 3 Day TRIAL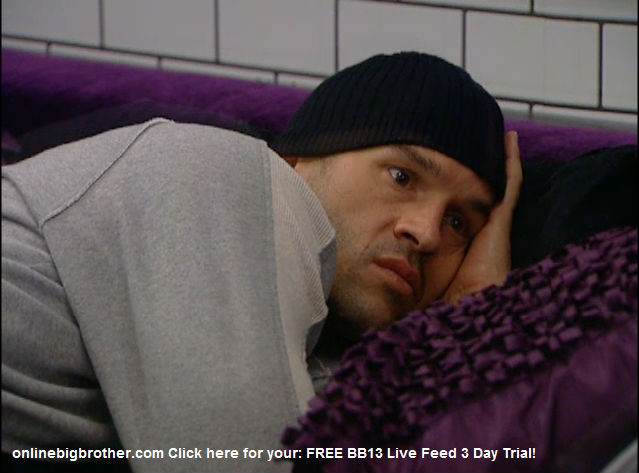 11:35am Dani tells Shelly that she needs to win the POV. Shelly says okay I am going to go full out! Dani then goes into the candy room and briefly whispers to Kalia. Kalia was sleeping and is all out of it. Kalia says that she thought Dani was sleeping too. Dani says that she got called into the diary room. Kalia says oh ..so its starting soon.. Dani leaves and heads back up to the HOH room. The cameras switch back to Rachel and Brendon on the lounge room. Rachel is still massaging Brendon. Big Brother calls Rachel into the diary room.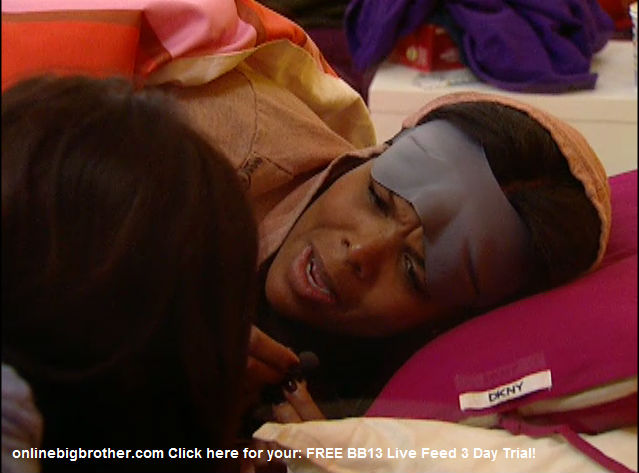 11:40am – 11:50am Porsche heads up to the HOH room to shave her legs in the HOH tub. Big Brother cuts the live feeds …when they come back all four cameras are on Rachel and Adam in the metal bedroom talking about how horrible her sleep was.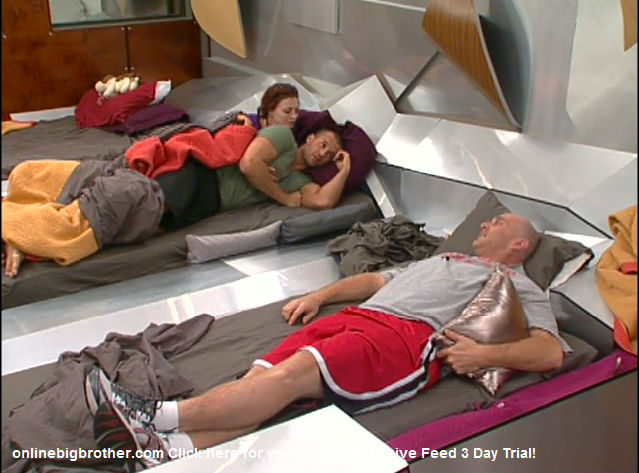 12pm – 12:40pm Adam and Rachel are in the metal bedroom talking about how being in the big brother house has become their reality. The start talking about the competition. Adam says that he thinks even if someone wins it ..it's going to end badly because they think it will be rewards and punishments. Adam says that there will be some sort of torture or pain …or where you can either take a prize or take a punishment and stay in the game. Meanwhile Dani, Porsche and Kalia are hanging out in the HOH room talking about random stuff. Kalia is stuffing her face with Dani's HOH food. Kalia then does a dance as she watches herself in the mirror. In the bathroom, Brendon is coaching Jordan on how he buzzed in really fast for a question competition …he tells her that he just put his clicker in his hand and kept hitting it once the question started to be asked. All four cameras switch to the HOH room, Dani tells Porsche that while she is hosting if Jeff wins anything ..she should says Jeff just won a TV to go with his $10 grand! They laugh. The cameras switch to the metal room, Adam, Brendon and Rachel are in mid conversation. Adam says that he will consider it but that he doesn't want to think about that right now. (I'm guessing they asked him to not use the POV if he wins it so that Shelly will get voted out and Brendon or Rachel can't be the replacement nominees.) They start talking about big brother websites and how other websites will take Adam into a room when he gets out and beat him up for not mentioning them. Adam mentions us again saying that he loves all the big brother websites. Adam talks about how they should have a twin's day ..and he would be Porsche's twin and dress up in a bikini with coconuts under the bikini. They continue to talk about Survivor vs. Big Brother.
1:15pm – 1:30pm Adam and Rachel continue to talk about random stuff and about how Adam says that he doesn't want to lose himself in the game. Rachel says so if Brendon won by over a million votes ..how come we didn't win Crate and Barel's Ultimate dream wedding. Meanwhile in the kitchen Jeff and Brendon are talking. Brendon explains to Jeff how he answered questions in a competition with the buzzer so fast. Brendon says if we get through this week …Jeff says if you two get through this week ..you have horseshoes up your ass holes! Brendon laughs and says yeah. Jeff says but lets not get ahead of ourselves.. lets just get through this week. Brendon heads back to the bedroom where Rachel continues to talk about the ultimate dream wedding contest. Rachel says that fans that didn't like her and Brendon even voted for other people just so that they wouldn't win. They continue to talk about random things..
1:35pm Shelly heads up to the HOH room and gives Kalia B12 vitamins that she got from the diary room. Kalia says thank you. Shelly says your welcome and leaves. All four camera are now on Jeff in the kitchen making lunch. Shelly tells Adam that she doesn't think Jeff will use the POV on either of us. Shelly asks ..do you think they have been lying to us the whole time. Adam says that he doesn't know think they are working together on this ..like without Jordan. Adam says that Jordan isn't the one lying. Shelly says so she is letting Jeff do the lying. Shelly says what like Jordan doesn't know anything about it. They both don't think that Jordan will win it. Adam leaves and heads back to the kitchen. Shelly is in the lounge room talking to herself …she says have I been fooled the whole time. She thinks she is so smart! Damnit!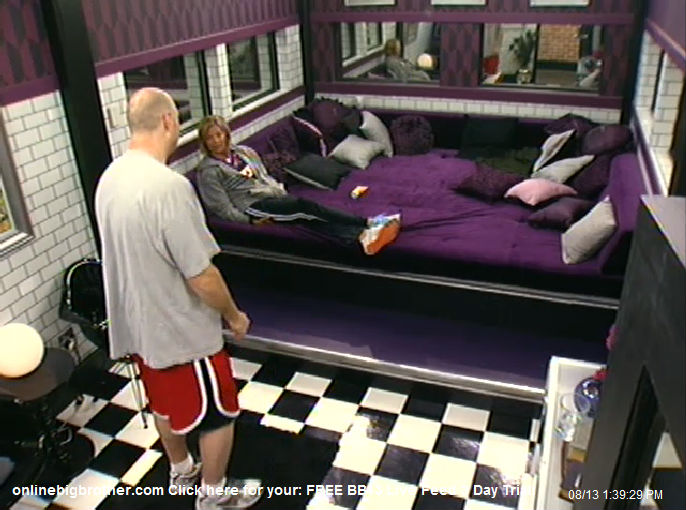 1:50pm Big Brother switches the live feeds to the TRIVIA screen ..looks like the POWER OF VETO COMPETITION IS FINALLY HAPPENING!!
3:27pm Feeds still on trivia
If you like this site and want to help us keep it running please consider donating, Your donations go directly to paying the server and bandwidth fees. Donate Link
Big Brother 13 Spoilers POLL CAST your VOTE!

Big Brother 13 Live Feed Image Gallery
Follow: @BigBspoilers and @Dawgsbigbrother on Twitter for recent crazed out spoilers. Theres also our Facebook page.
Share it YO!!
Tweet