8:15am Big Brother wakes up the houseguests. The houseguests slowly wake up and start getting ready one by one. Rachel apologizes to Shelly. Rachel asks Shelly if she can talk with her sometime today. Shelly tells Rachel.. let's just get through today with some dignity. Rachel then tells Brendon that she apologized to Shelly.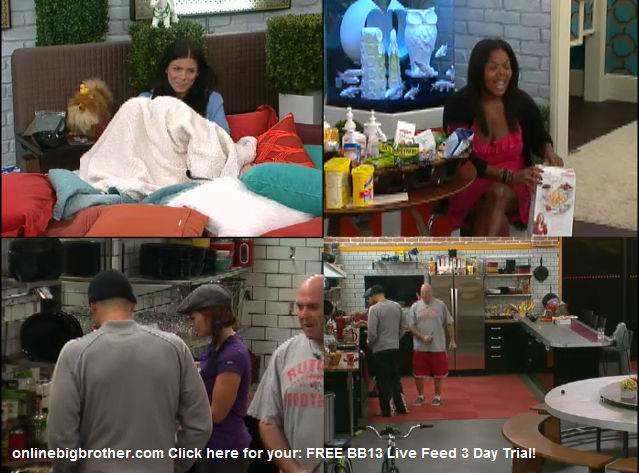 9am Kalia joins Dani up in the HOH room. Kalia tells Dani that Rachel apologized to Shelly. Kalia says that Shelly then came to her and said that it was unbelievable, when people need to keep apologizing. Dani says that she doesn't want to win the POV today because then that puts her in a difficult spot because then she has to follow through with the deal. Dani says that do you realize that if we had back doored Jeff …he would be back. Dani says that she can totally see this POV being one with prizes and crap …its totally that time. Dani says that she feels really bad about lying to Shelly. Kalia says that Shelly has worn herself thin and that she has made too many deal with too many people .. but that she doesnt think she has a deal with everyone. Dani says that you trust Shelly too much ..Shelly has a deal with us… she probably has one with Adam, you don't think she has a deal with Jeff/ Jordan and Brendon and Rachel?! Dani says lets not forget Jeff has already won $10 grand! Kalia says oh I haven't forgotten.

Meanwhile, the other hosueguests are in the kitchen making and eating breakfast. Jeff comes through the kitchen and Rachel says good morning. Rachel says hey big Jeff! Jeff says hey what's up big Rach! Rachel asks what he's doing? Jeff says I'm just getting up Rachel ..what's up!? Jeff says what are you doing Rachel?! Jeff asks Rachel what size shirt do you wear? Rachel says a size small … what size do you wear? Jeff says extra ..GO BLANK YOURSELF! Brendon says hey hey hey! They all laugh. Jeff then says sorry Rachel, sorry Brendon …I just don't like people talking to me in the morning. Adam says sounds like someone has a case of the Mondays! They all laugh and start talking about the movie Office Space.
9:20am Big Brother cuts the live feeds to the TRIVIA screen … POV players being picked!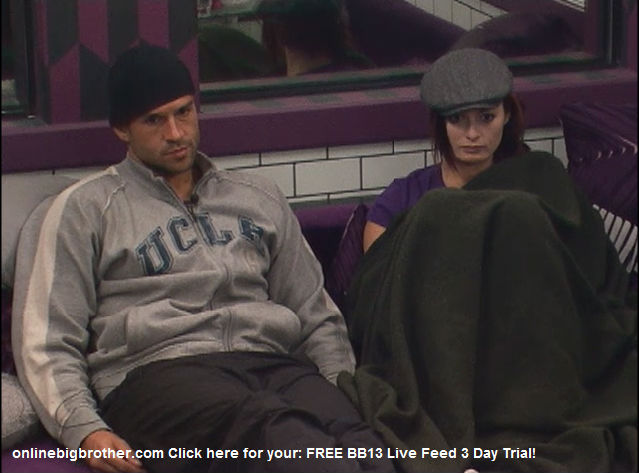 9:45am The live feeds come back, Brendon and Rachel are in the lounge room saying how did this happen?! The camera switch to Kalia and Dani in the HOH room. Kalia says how does this happen? Dani that this is perfect …it couldn't have even worked out any better. They talk about how both Rachel and Brendon didn't get picked for the POV. Dani says that she didn't even pick them to host. They laugh! Dani picked Porsche to host the POV. POV players are Dani, Kalia, Adam, Shelly, Jeff and Jordan. Kalia starts talking about how gross Brendon and Rachel are.. they are the messiest people. Dani says be nice. Kalia says well they are in their beds jacking each other off. Dani says yeah and the scabs and crusty toes. Porsche comes up to join them. They talk about how Brendon and Rachel always get picked. They say that Jeff and Jordan won't even try to win it.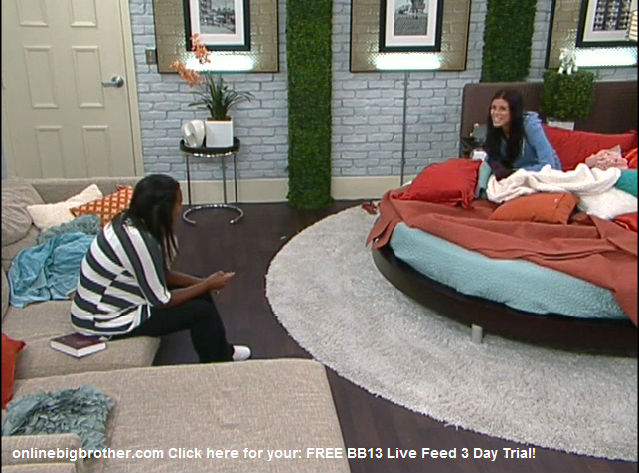 If you like this site and want to help us keep it running please consider donating, Your donations go directly to paying the server and bandwidth fees. Donate Link
Big Brother 13 Spoilers POLL CAST your VOTE!

Big Brother 13 Live Feed Image Gallery
Share it YO!!
Tweet