Get the BB13 live feeds on your Android and iOS devices. Sign-up for the 3 Day Free Trial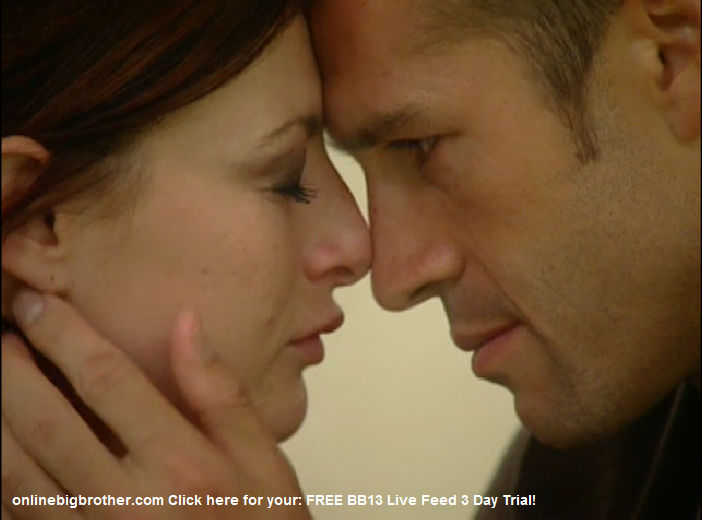 6:35pm Brendon and Rachel both tell each other that they would rather be here arguing and fighting with each other than be apart. Brendon tells Rachel that if he can he will win POV and take her off the block so that she can stay and fight. Brendon says that he couldn't do that for her last year but he will this year. Brendon tells her to BLANK up! Brendon and Rachel both tell each other that they respect and look up to each other. Rachel says that she doesnt think she can do it without him. Brendon says yes you can! Brendon tells her to play to win ..and to not let her emotions get in the way …think about what you are going to say before you say it. Brendon tells Rachel that it is time for her to start believing in herself …that she can do it with or without him. Brendon tells her that he is here for her even if he isn't here. Brendon tells her that she is doing it for them. Rachel tells him that she wants to marry him right now. Brendon says that he is happy he is here with her …he says that he is happy to play with her …do you know how many men and women can't play with each other. Brendon tells her that she can do it without him. All you have to think about is your goal. What is your goal.
24/7 UNCENSORED Big Brother 13 Live Feeds!
Click here for your: FREE 3 Day TRIAL!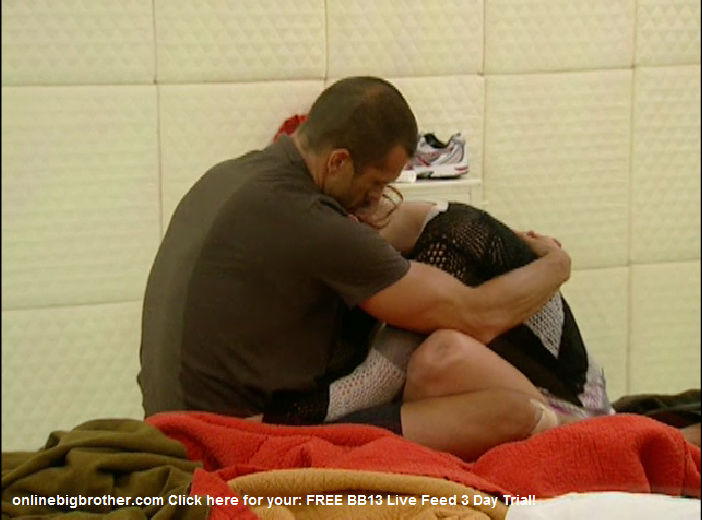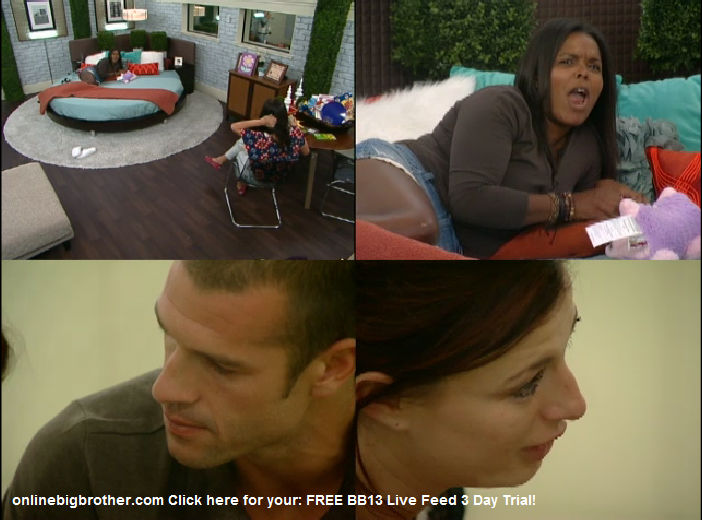 Rachel says to get married. Brendon says but that isnt going to get you to win this… Rachel says to think about the 500 thousand. Brendon says that he wants to marry her too …just not in the big brother house. Brendon says that he is going to find the cure for cancer, patent it and make money for the rest of our lives. Brendon tells Rachel that she can trust Shelly.. she wants to work with us. Brendon tells her that if Dani wants to work with her ..just be nice to her so that you can get ahead. Brendon tells her that this year you have to play smart and not for vengeance. Brendon says that he will walk her through everything she needs to do before he leaves. He says that they talked about this and prepared for it. Brendon says that if he does walk out that door on Thursday ..and when we do finally see each other ..we will miss each other so much.
FLASHBACK – Don't miss all the drama!
Superpass – 3 Day FREE Trial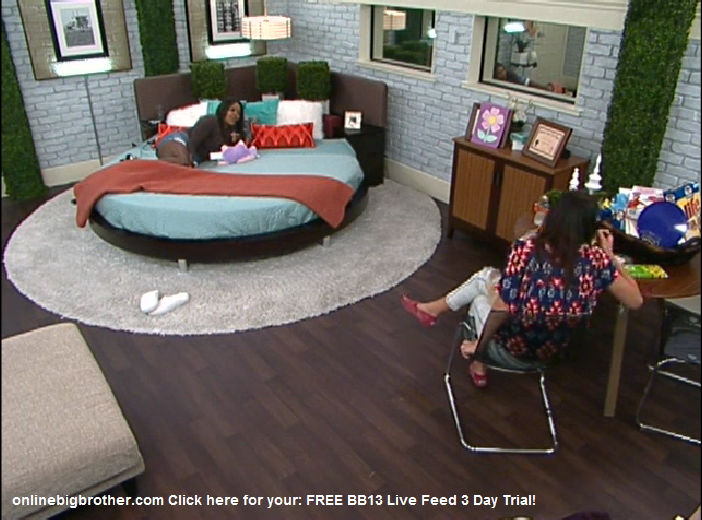 6:45pm Dani and Kalia are talking in the HOH room about competitions. Dani asks Kalia if she is going to try and win the POV? Kalia says that she will do whatever she wants ..if you want me to win it she will …if you want me to through it I will. Dani says that she talked to PT about it …that if its a prize POV she would take all the prizes with Brendon and Rachel on the block because either way one of them is going home …so I might as well take some prizes. Dani says that she really doesn't care if one of them wins the POV … but that she would really rather not have to put someone else up … but if I had to put up Jordan ..I think she would at least feel safe … I just don't want her to be mad at me. Dani says but if there is a trip ..maybe I'd take it. Kalia asks Dani …I just have to ask you something … if Dominic was still here .. do you think we would still have a final 2 deal? Dani says yeah ..because I think if he was here ..we would always be big targets and one of us would be gone. Lawon joins them up in the HOH in his robe. Kalia asks him why he came in looking so creepy.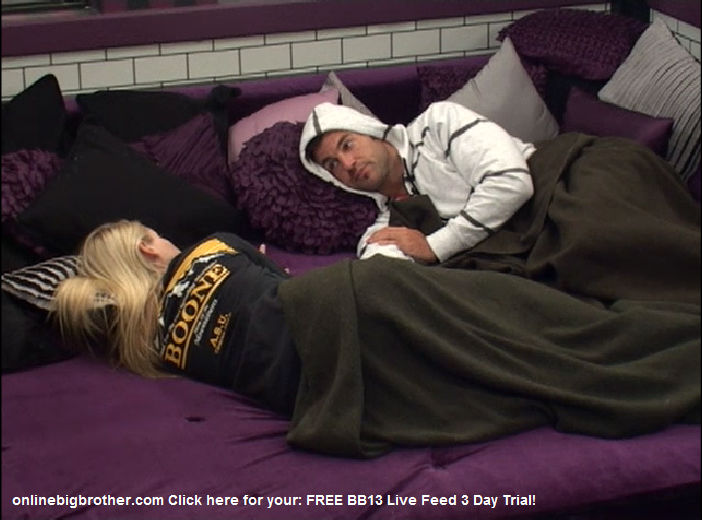 7pm Jeff and Jordan are in the lounge room talking. Jordan says that she really thought it was Brendon and him going up. Jeff says that he didn't think thats what was going to happen. Jordan starts going over the votes Jeff and Brendon would have had. Jordan says if they win the Veto she is going to put one of us up. Jeff says that he knows Jordan would have a better chance at winning than he would and that she wouldn't need to worry about being up on the block because she would have the votes hands down. Jeff says he is going to tell Brendon that he's voting for him to stay. Brendon and Rachel come into the lounge room with Jeff and Jordan. Brendon says that he really thought Jeff would be going up ..seeing as you were her target. Brendon says that he really doesnt think her plan it to back door Jeff or Jordan. They talk about part of her nomination speech "A Queen is a pawn that makes good moves" Jeff says thats a like from Gym Class Hero's. They talk about how they are building already out in the backyard. It is going to be a crazy competition. Jordan says that she can't stand to be on lock down any more. Brendon says that everyone needs to stick together and get her out next week. Jeff says lets just stay calm until after the POV. They laugh about who Dani will pick for the POV houseguest pick. They say she'll pick Kalia, thats the only person she can ask. They laugh. Brendon says that its BLANK ..she looks at it like we betrayed her… she was betraying us! Brendon says that at this point it is a moot POV.. it doesn't matter who wins …one of us is going home either way. They speculate on what type of POV this one will be …They talk about what a snake Dani is and that no one can trust her deals any more.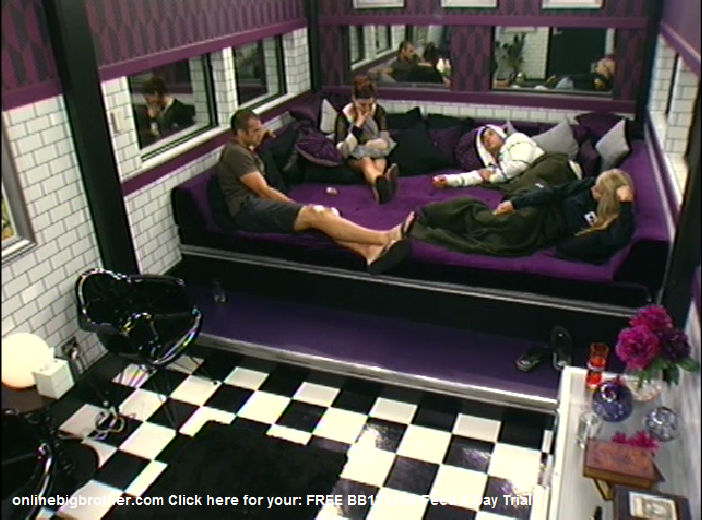 TRY the Live Feeds for FREE!
Click here for your: SUPERPASS – 3 DAY Trial!
7:10pm – 7:20pm Dani comes in and asks them if they are okay. Rachel says yeah they are okay. Dani says that its nothing personal, she says she is sorry …and that its just a game. Dani says that there are trust issues now. Brendon says game on. Dani leaves. They talk about how the only chance they have is if Jeff wins the Veto and then takes Brendon off and then we convince her to put up someone random. Jeff says it would be better if Brendon wins it. Rachel says no because then she could and would put you up. They joke about Jeff having the Diamond Power of Veto. They talk about how Dani gave Dominic a vote but that she didnt even give her boyfriend Nick a vote during her season. They talk about what twists might happen and wonder if someone is coming back. Rachel says that they have never brought back someone that was evicted before the jury house… to come back and be in the jury house. Jeff says that it is just really unfair if someone comes back. Like if I got voted out and come back ..people would be like he cheated ..its rooked. Just like if I had a diamond power of veto and America voted it to me …everyone would still say I cheated… its rooked. Rachel laughs and says its rooked.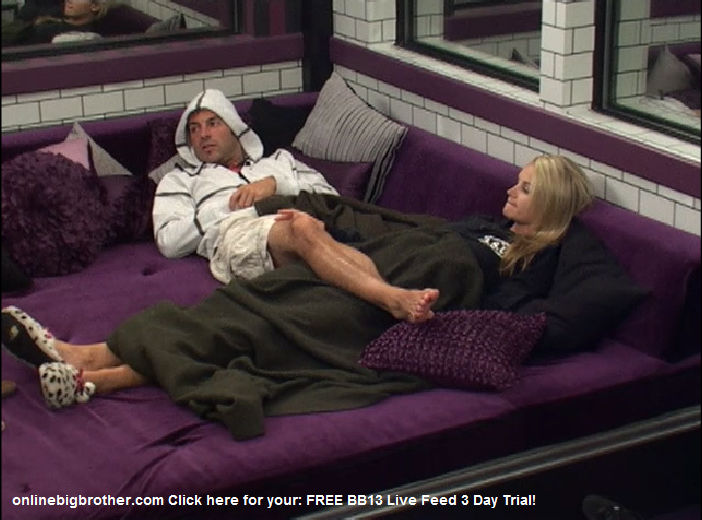 7:30pm Rachel says that she thought this might happen but that at least it wouldn't be until next week. Rachel says that we are BLANK by our own person. Jeff says why do you think I got so mad! Jeff says that always in the history of Big Brother .. if there is someone that the whole house is against .. it is that person that wins. Rachel wonders what the people watching the live feeds think. Jeff says that the people love it and want to see the villains get BLANK! Brendon says that Dani just back stabbed and betrayed 4 people… twice …she is not getting our jury votes. Brendon says no matter what happens …send her packing ..send her BLANK home. Jeff says that he just wants a jet pack to get out of here for a day. Jeff says that he wouldn't stir the pot until after we win the veto …and then strike up a deal.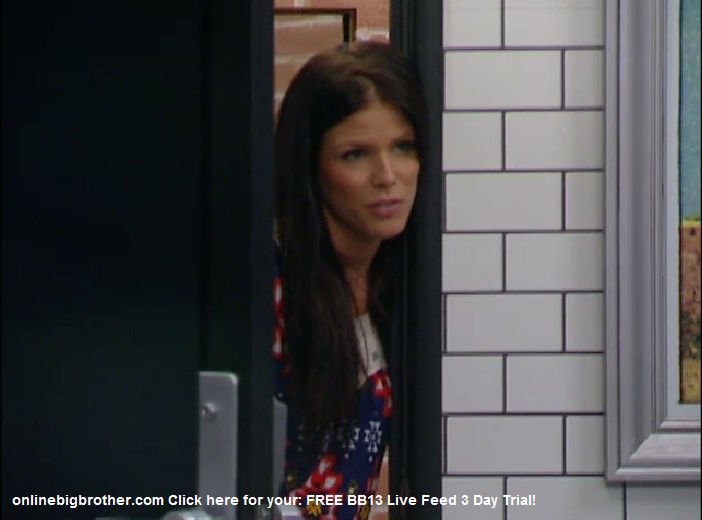 7:35pm – 7:45pm Meanwhile up in the HOH room Lawon, Dani and Kalia are talking about random things. Brendon and Rachel leave to go to the havenot room. Rachel grabs pillow and says they never said anything about bringing in pillows. Dani sees Rachel leave the lounge room on the spy screen and says that she thinks Rachel just gave her a dirty look through the camera. Jordan and Rachel go into the havenot room and lay down. Jordan and Rachel talk about how they don't think she will make a deal. Brendon and Jeff come in with food. Jordan is grumpy. Jeff asks how many period do you have a month? Brendon says just put her up next week and send her home.. crazy ass! Jeff says that we can't just keep bashing every scenario …lets just wait till the POV happens and see from there.. Jeff says that Dani knows she can't get anywhere with those people. Brendon says from the penthouse to the outhouse… Jeff asks if Dani gets Pandoras box do you think she'd get it now. Brendon says no ..not while they are up there.. Brendon then explains what happened in his Pandora box and how it worked.
See What They Can't Show You On TV! SUPERPASS – 3 DAY Trial!
7:50pm – 8pm All four cameras switch to Lawon, Dani and Kalia up in the HOH room. They are talking about Dominic and his girlfriend back home. Kalia and Lawon are explaining that it was already pretty much over ..that she was moving away for a nursing job. Dani is asking Kalia questions about Dominic's relationship with his girlfriend from home, They talk about how the house is really getting smaller. Dani says that technically this is the 5 week we have been in the house. Dani says that for the most part she has enjoyed this house compared to her season ..she says that her last season was a lot rougher. Lawon says that it changes week by week. Dani says day by day! Kalia asks Dani if she likes the actress keira knightley. Dani doesn't remember what shes been in. Kalia goes through a list of movies. Dani says that she doesn't watch movies. Lawon says that he doesn't believe that.
If you like this site and want to help us keep it running please consider donating, Your donations go directly to paying the server and bandwidth fees. Donate Link
Big Brother 13 Spoilers POLL CAST your VOTE!

Big Brother 13 Live Feed Image Gallery
Follow: @BigBspoilers and @Dawgsbigbrother on Twitter for recent crazed out spoilers. Theres also our Facebook page.
Share it YO!!
Tweet