11am Adam comes up to the HOH room. Adam asks if they are ready to get dirty today. Rachel says that Brendon thinks there will be prizes today. They talk about other competitions that Brendon and Rachel played last season. Brendon says to Adam and Dominic that they aren't the targets this week ..that they really want out Lawon. Adam says but he really wants to win something.. Dominic was my knight in shinning armour ..they laugh. Dominic asks when they are going to do this. Brendon says in an hour, hour and a half. Adam and Dominic leave and head down to the lounge room. Adam and Dominic both talk about not throwing the POV. Adam says that he would like to believe Brendon and Rachel but… Dominic says okay well lets go hard! Adam and Dominic go and lay down to nap. Meanwhile, up in the HOH room Brendon and Rachel are talking about Porsche. Rachel says that she keeps pushing for Porsche to win HOH. And then talk about how their plan to get Adam and Dominic to throw it will work out perfectly.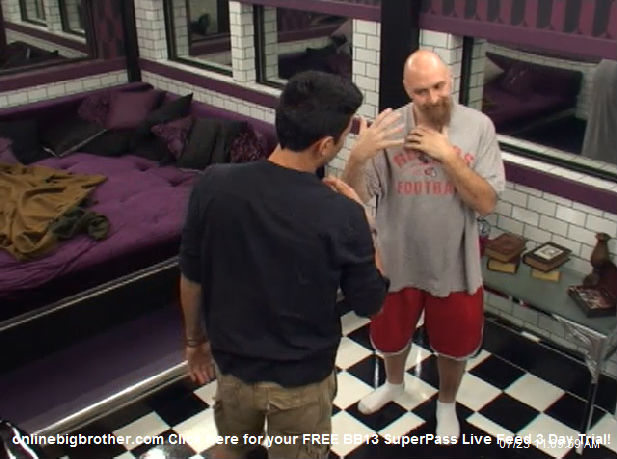 11:15am – 11:30am Dani heads up to the HOH room. Big Brother cuts the live feeds to the we'll be right back screen. When the live feeds come back, Dani, Rachel and Brendon are talking about the POV plan. Dani is upset about what Jordan said to her earlier. Rachel says that they think I said thinks about production. Dani says that if it was you or her using that …its just stupid … it makes me so mad. Dani says that she thinks Jordan feels guilty cuz she thinks they are doing stuff but its really her doing stuff. Dani doesn't like the plan to get Dominic throw the POV. Brendon asks don't you want Adam out? Brendon says that they want to win the POV so that they have the choice to use it or not. Brendon explains that if Adam tries and Dominic doesn't then Jeff and Jordan will then trust him. Brendon asks why would you want to keep Adam. Rachel asks because you want us to put up Jeff and Jordan. Dani says yeah but .. I don't know ..I don't really care either way. Dani asks if they are going to try for prizes? Brendon says that they want the POV but would love a vacation. Dani tries to convince them that if they wait until Jeff and Jordan get into the jury house…then thats two votes. Brendon says that you can't think about that now. Dani says that you have to.. you have to consider everything. Brendon says if we win it we will still have two days to decide. Dani says that later down the line it will be easier to get out Shelly, Adam, Lawon … but really hard to get out Jeff. They tell Dani to tell Jeff that Adam really tried and Dominic didnt try for the POV. Dani says that she will get Kalia to say that because she doesn't like the comments Jeff has been making about her and Dominic. Rachel flat out tells Dani that she never would say that production told her anything.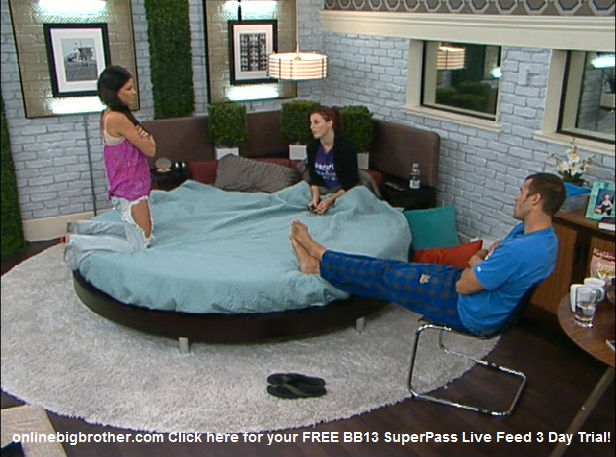 11:40am – 12:10pm Big Brother calls Porsche to the diary room. Brendon, Rachel and Dani yell VETO, VETO, VETO! Dani leaves. Brendon and Rachel talk about how Dani is getting pretty ballsy. Brendon talks about how they can't talk about stuff with Jordan and that Jeff will be okay with that because of how she is… Meanwhile, Dani Kalia and Dominic are in the Have Nots room talking .. Dani says that Rachel and Brendon are so dumb. Kalia then start telling them about a dream she had about the house. Kalia starts saying that she doesn't know if things really happened or if it was all a dream. All the other houseguests are waiting around for the POV to start talking and eating. Kalia leaves and goes to the kitchen. Lawon and Kalia come back into the havenot room and complain about how Brendon is in the kitchen picking his scab on the kitchen table. They talk about how grosses out they are. …Lawon and Kalia leave. Dominic says thats its going to be hard to throw the POV. They talk about him taking prizes if there are some. Dani tells him to take the margarita party if there is one.. Dani starts to tells Dominic about what Jordan told her earlier… Right then Big Brother cuts the live feeds. When they come back, Dani is telling Dominic all about how Rachel says that she never said that production told her stuff. Dani says why would Jordan ever make that up or all things… its just weird …and that Jordan is super paranoid now. Dominic talks to Dani about how Jeff wants him to pick a side Jeff and Jordan or Brendon and Rachel. Dominic says that Dani is going to do anything because she doesn't want blood on her hands. Dominic says that Jeff is super nervous. Dominic says that he really wants Porsche to win HOH next week. Dominic says that in the next two weeks no one will have the balls to go after Jeff and Jordan. Dani says not necessarily.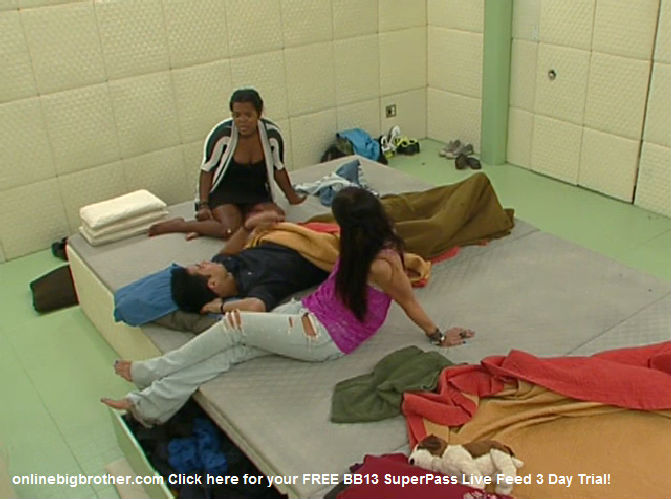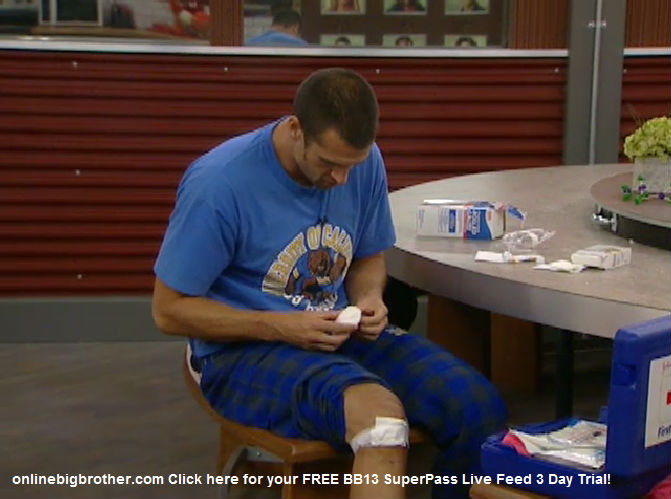 12:10pm Big Brother cuts the live feeds to the TRIVIA screen… The houseguests are now playing for the power of veto…
1:30pm Still TRIVIA…
1:50pm TRIVIA…
2pm The TRIVIA continues..
2:15pm The houseguests are still playing for the POV! Apparently its Dominic, Adam, Brendon, Rachel, Jeff and Jordan fighting it out with Porsche as the host. Stay tuned to find out the results…
Share it YO!!
Tweet