Get the BB13 live feeds on your Android and iOS devices. Sign-up for the 3 Day Free Trial
See What They Can't Show You On TV! SUPERPASS – 3 DAY Trial!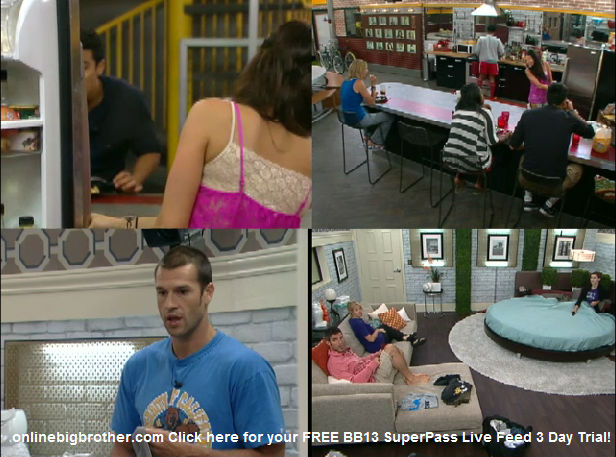 9:35am Jeff, Jordan, Brendon and Rachel are up in the HOH room talking. They talk about what was said earlier about hearing that Jeff/ Jordan and Brendon / Rachel are turning on each other. They talk about how Dani has the best position in the house. They say that Dani complains that shes in the worst position because she can't play for anything. Jeff says that he would love to be in that position. Brendon say that they are trying to plant seeds and make us fight. They talk about how the others want them to fight so that they can skate through while they fight. Rachel says that the others notice that we have a rift between us because of last week and this week. Brendon says that we should let them think that, that we are fighting when we really aren't. Rachel says that she thinks Shelly would nominate Rachel and Brendon if she HOH. Brendon says that Shelly is planting seeds here and there. Jeff ask how would they… production tell you that we are plotting against each other?! Right then Big Brother cuts the live feeds.
24/7 UNCENSORED Big Brother 13 Live Feeds!
Click here for your: FREE 3 Day TRIAL!

When the feeds come back, Jeff talks about how Dani is in the best position because the newbies are gunning for BR & JJ and we are gunning for the newbies …and Dani is sitting pretty playing both sides. Jeff says not once since the beginning of the game as any one …not once brought up taking out Dani…. just watch she is going to skate to the end. Jeff says that he purposely asks Dani and others questions to set them up …knowing what he thinks they are going to say …and what benefits them and not the vets. Rachel says that Dani wont even play to win this next HOH… Shelly, Porsche will. Jeff asks what the vote is this week … they tell him they need four votes this week. Rachel tells Jordan that she heard that Kalia and Jordan aren't as close as she thinks they are. Brendon says from this point forward ..all four of us, whenever we talk to Dani we need to remember that she is trying to play all of us. Jeff says that he always feels better after talking to Rachel and Brendon. Brendon says that Dani would be stupid to make any move against us. Jeff says that for him …he doesn't care .. whatever they want they will vote that way. Brendon says that Dani will not do anything to us for the next three weeks.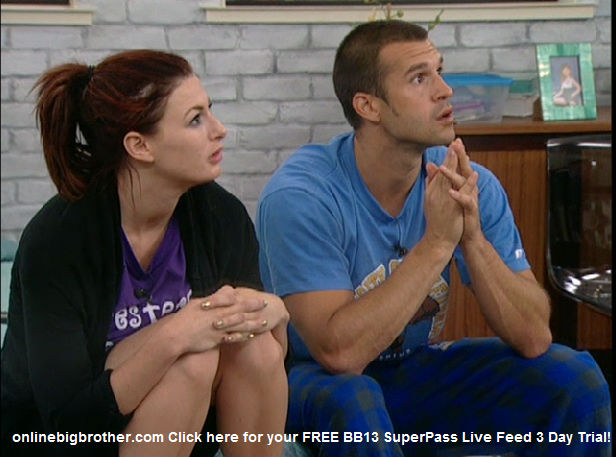 They talk about how Dominic has a big target on his back and that they can use that against him. Jeff says that both Adam and Dominic think the other one is the target. Brendon says that if Dominic throws the POV …then we can trust him even more. They talk about how if they both really try for the POV ..then they can't trust either of them. Brendon and Jeff tell Jordan to watch what she tells Kalia because she can't be trusted. Brendon says that they just need to make strategic moves that make it look like we don't know what they are thinking. Brendon says that us four need to make decisions that benefit us but that we make it look like its for the benefit of the whole house. Brendon asks if they Jeff and Jordan could get Shelly to put up Kalia and Lawon. Jeff and Jordan say that it would be a no brainer. Jeff says that she would put them up over Rachel and Brendon. Jeff warns them about listening to the conversations from some people, that people are not telling them the same things they're telling Rachel and Brendon.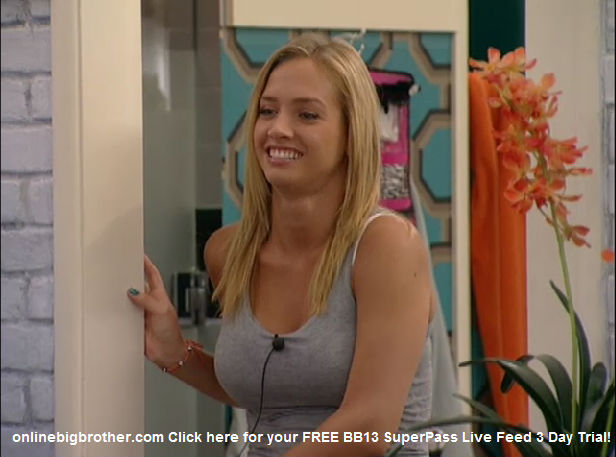 10:15am Porsche comes up to the HOH room. They comment on ho she looks all done up …she says yeah because I'm hosting the POV. They ask her if she is ready or has any voices. Porsche says that she doesn't even know what its going to be like. Jeff says that he thinks the competition will be good and messy with prizes. Rachel starts talking about other Big Brother shows in different countries. Jeff and Jordan head down stairs to climb back into bed to sleep.
TRY the Live Feeds for FREE!
Click here for your: SUPERPASS – 3 DAY Trial!
10:30am – 10:45am Dominic comes up to the HOH room to talk and kicks Porsche out. Rachel asks if Dominic knows that they didn't put him up to get him out. Dominic says that he knows, and that he wants to work with Rachel and Brendon and do whatever they want. Dominic says that Jeff and Jordan are going to come up to him and asks who he is playing with. Dominic says that he wants to know so that if they do he can tell them. Dominic says that he trusts Rachel and Brendon 100%. Dominic asks is Adam the target.. or what?! Rachel says that she would really want to get the veto and take Dominic and Adam off and put up Lawon and Kalia to get Lawon out. Dominic asks if that is a back door? Rachel says no a back door would be like if we put up Jeff and Jordan. Dominic asks what Lawon is saying. Rachel says that she doesn't trust him, not since week one since he did that thing with Keith. Rachel says that she will make sure they have the votes to keep him. Rach tells Dominic that if she doesn't think she has the votes to keep him, she would use the POV on him. Rachel tells him to use the POV if he gets it. Dominic asks what Adam is saying? Rachel says that he doesn't talk game with them. Dominic says that Adam doesn't talk game with him either. Dominic says that he thinks Adam is talking game with Jeff and Jordan. Big Brother keeps cutting the live feeds in and out. When they come back, Dominic asks what they want him to do ..win the POV or not? Rachel tells him to do what he wants to do but that if he trust them .. they want him to throw it. Rachel says that she and Brendon want to win it.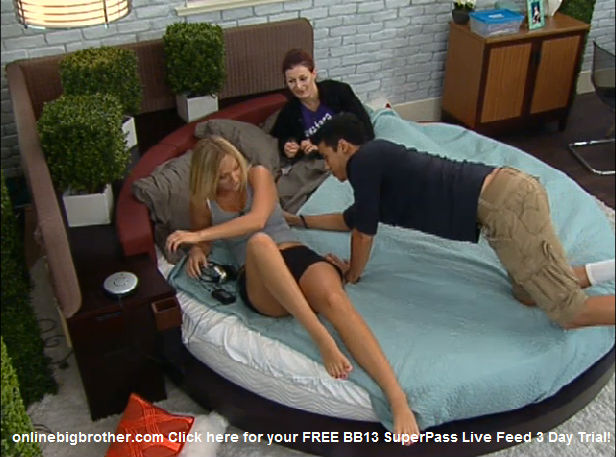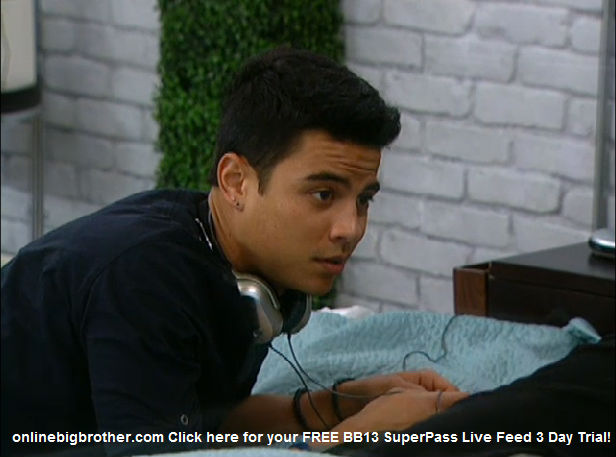 Brendon joins them up in the HOH room. Brendon and Dominic talk about the POV and where they think Adams head is at. No one knows what Adam is thinking and that he just runs to where ever the power is… Dominic talks about how Jeff is really pushing to find out where he stands. Dominic says that he just keeps saying that he is with the vets but that soon Jeff will want to know if he is with BR or JJ. They talk about how Kalia wants to go up on the block because she thinks she knows that Lawon would be the one to go home. Rachel and Brendon talk about how they don't have any control over Shelly. Brendon says that he thinks Shelly would stick with Adam. Dominic says no ..that Shelly already told him that she doesn't trust him. They wonder if Adam is Americas Player. Dominic says that he has a little connection with Shelly but not much…and thinks that she is working with Jeff and Jordan. Dominic asks if Kalia is on their side. Rachel says oh no she's not on our side. Dominic, Brendon, and Rachel all say that Kalia is a floater. Dominic says that definitely Lawon and Adam need to go. Dominic asks Brendon if he should throw the POV? Brendon says YEAH! ..because then we can use it and get Lawon out. Brendon explains that they will be watching to see if Adam actually throws it. Dominic says that he is going to pump Adam up and then he will throw the shit out of it.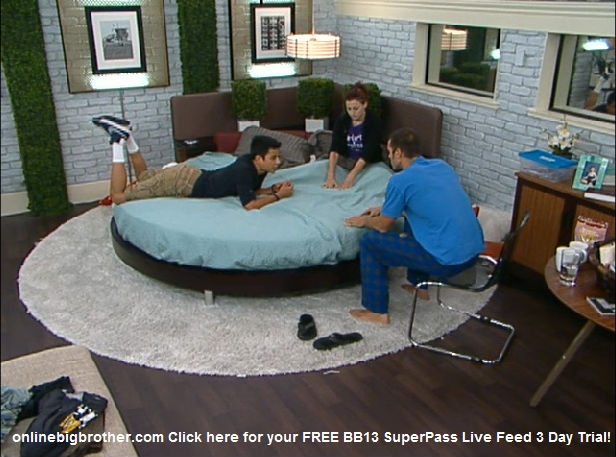 Big Brother 13 Spoilers POLL CAST your VOTE!
BB13 Live Feed Screen Captures , These are being updated every 10 minutes all 4 Cams 24/7
Follow: @BigBspoilers and @Dawgsbigbrother on Twitter for recent crazed out spoilers. Theres also our Facebook page.
If you like this site and want to help us keep it running please consider donating, Your donations go directly to paying the server and bandwidth fees. Donate Link
Share it YO!!
Tweet