9:55pm Jordan, Adam and Brendon Backyard Jordan says she saved her legs yesterday and they are already harry. Adam says that your hair grows back faster when you shave a lot. He asks Brendon if that's true. Brendon thinks if you shave frequently some people say the hair grows back thicker, "Girls will shave their legs regardless so it doesn't matter"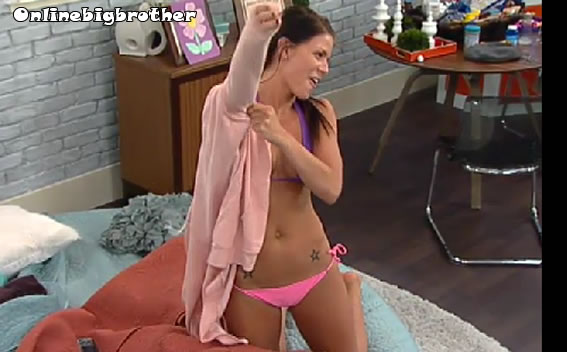 9:57pm HOH Rachel, Brendon and Dani
Brendon tells her he's using the POV on himself because he has a better shot of winning in the end. Rachel says Dani has the power to put someone on the block to go home or she can put someone up so Rachel goes home, "who are you thinking about". Dani says she has 2 people in her head but she really doesn't know which way to go because she doesn't need any more enemies. Right now she doesn't know which way she is going to go in the game. Brendon asks if she would consider putting up a floater like Lawon.
Dani says she'll be in a worse position if Lawon goes because now she losses someone close to her and has one more person gunning for her. Rachel and Brendon tell her if she keeps them in the game then it's clean slate they can start rebuilding the trust.
Brendon: "I promise you I will win HOH next week" He adds that if she puts up Lawon then he won't target her, "I haven't abandoned the idea of the 3 of us working together" Brendon says that there is a lot of people in the game that is playing for themselves and this last week they have seen how everyone is playing it alone. Rachel brings up the floaters and how there are so many in the game that are going to win big brother if they don't do something.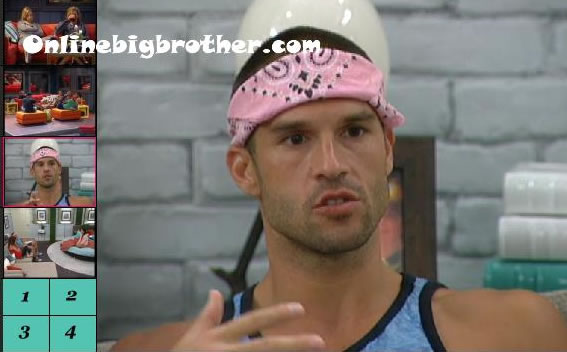 Brendon says the same thing happened last year with Matt and Ragan, BR went to battle and fought it out until both sides were in the Jury house and a floater won BB12. Brendon: "if you put someone up like Lawon and Rachel still goes home the deal is still good I won't come after you" Brendon adds that she cannot campaign to save Lawon though.
dani: "If I put Lawon up next to Rachel she will probably still go home"
Rachel and Brendon are shocked by this. Rachel: "we have Jeff, Brendon and Adam" Rachel adds that this is really the best shot for Dani, nobody will be upset and BR have a great chance of wining HOH/POVS so Dani will be save from Kalia.
Brendon: "I'm not going to lie if she goes home I'm, going to be upset.."
Dani: "this is one one of the big things.. I am not putting you guys up for revenge, the trust was broken between us". Dani explains that BR were her closest allies but when the trust was broken you became my number one threat so you had to go up. "Obviously I'm sad that Dom is gone.. I'm afraid do be in the same spot before if both of you stay.. you guys have still have Porsche"
Brendon: "she's just a lost puppy that Rachel has following her around"
Brendon: "If you send Rachel home I'm gunning for you.. and the people downstairs will have no problem sending you home because your in their way to win"
Brendon doesn't think that if any of the newbs can make it to final 2 there ao way they will win against a veteran. Rachel adds that the only newb that had a chance of winning bb13 was Dom and now he's gone.
Brendon: "I told Matt and Ragan the same thing if we got to war and fight among ouselfs then we'll all get sent packing.. and look what happened Enzo, Hayden and lane won BB12″.
Brendon: last 2 season we've had floaters win big brother". Rachel and Brendon both say Hayden was the biggest floater of the season. Dani: "I actually thought Hayden deserved to win"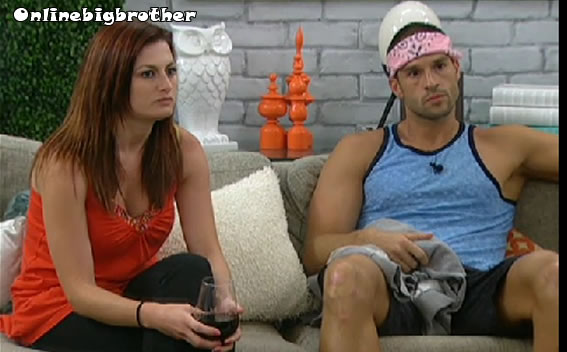 Rachel: "Ohh but he really didn't start playing the game until Brendon left" (In BR's world Big Brother is all about winning comps and if you are not winning competitions you are not playing the game.. SO WRONG)
Brendon: "Even if I don't win HOH or if you win a POV and survive next week I will still be coming after you every week until you are gone.. and while we fight those other people down there all the float to the end".
Brendon adds that they all got screwed last week and he's willing to reboot their friendship. Dani: "out of the 3 people in this room I got screwed last week yo 2 didn't". Rachel: "we have fought the entire season this summer to survive we deserve to be in the or at least in Jury together" (she used the same excuse last year)
Brendon says he would of supported Dani's plan if she proposed it next week but she did it too early. Rachel: "we are at a point of the game were we knocked out the tough newbies and now we are against these floaters… I don't understand why you have this fear of us you're just as capable to win as JJBR"
Brendon thinks there is going to be a Adam, Lawon and a Kalia winning bb13 and we'll be in the jury scratching there heads. Rachel brings up that Kalia moves to whoever has the power, points out that week 1 she was with Rachel, Week 2 she was with Jordan and now she's with Dani. Brendon reminds her that she can't win this game alone and having Lawon and Kalia on her side is a waste because once he wins HOH they'll drop Dani in a second.
Brendon: "Kalia and Lawon will not win the next HOH I will and you will go up and I will win the POV.. I'm not here to pressure you .. your a smart player and its your HOH.. you need to weigh your options carefully it'll be a huge turning point in the game"
Dani: "Yeah sure ok… i'll think about it"
Brendon: "Just talk to us before the POV"
Rachel: "You have anything to say"
Dani: "hmm yeah I dunno this is clearly not the easiest decision"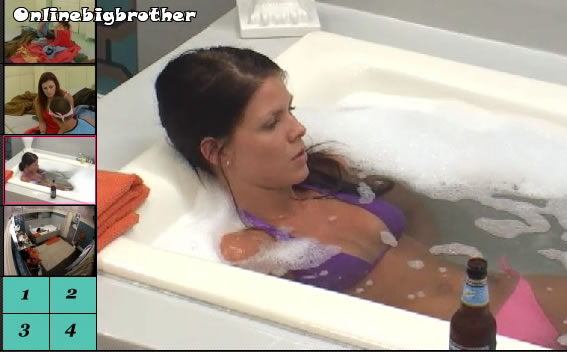 Dani lets out a giant SIGH lays in the tub…
10:20pm Have nots BR Rachel is going over all the little things that Dani said during their talk. Rachel points out that dani doesn't think that they have the votes against Lawon. Brendon explain to her that Dani is the second smartest player in the house and she only tells them small bits of information to plant seeds in their heads. Rachel says that Dani brought up Porsche she worried that Porsche is going up. Rachel wants Porsche to stay she's her friend. Rachel says that JJ won't win HOH next week it'll be Brendon so whatever deal she has with JJ is useless. Brendon tells her to stop thinking about it they've done their part now they will find out what they have to do tomorrow morning.
10:50pm HOH Dani and Kalia
Dani is giving Kalia a rundown of the conversation, "They Actually want me put up Lawon" (they both laugh)
Dani says they are basically telling me that Brendon will keep coming after me until I am gone or until he is gone. Dani adds that Brendon is bringing up that if we are preoccupied with fighting each other another threat will move in and take us all out and win. Dani thinks there's a lot of truth in what they are saying, but not for Kalia to worry she is not going back on her plan. Dani says that BR have such a HUGE disgust for everyone but the vets it's insane. Dani: "they want to go back to final 5 i'll be in the same spot before and that is why I left.. They think I'm so stupid" Dani adds that after she told them that if they go back to final 5 she's worse off Rachel replied that a new final 5 deal puts dani in a better spot because she saved them.
dani: "I was like c'mon people I wasn't born yesterday" Kalia: "what are you to do" Dani again says she isn't planning to change anything but she's just thinking about how to execute it. Kalia says that them as a group moving forward they need more allies that are stronger that lawon. Dani agrees but there isn't anyone left. (Unless Dom comes back, BB13 twist YO!)
Kalia: "in my mind I have already won HOH"
Dani: "brendon has said that to"
Kalia: "I don't care about brendon everyone thinks he's so big and bad but I'm really determined I know I can win"
Dani warns Kalia that Brendon is not only a strong physical Player he's also smart as hell.. she's worried that he will win a lot more comps. Kalia thinks that eventually he won't win HOH and he won't win POV and someone will backdoor him. Dani says that they called Hayden and JOrdan floaters.
Kalia: "He's so BLANK arrogant… he discounts everyone. he thinks we are all worth BLANK" Kalia brings up that the entire house was not playing the game because they were riding the coat tails of the vets and now that we're nearing jury we're going to start stepping up and you know who is every ones number one target? the guy who wins most the comp. kalia doesn't think Brendon will win the game. Dani thinks he could if he keeps winning every comp she will vote for him in the end if he keeps it up.

Share it YO!!
Tweet