Bring together all the onlinebigbrother.com spoilers right to your browser using our BB13Spoilers ToolBar
4:38ppm POrsche tells Brendon that she'll pissed if they make a deal with Dani to put Prosche up. Porsche says Adam told him that her name has been mentioned being put up. Porsche is worried that if she's up against Rachel she'll go home. rachel says that is not happening. Brendon says that they are going up to talk to Dani later tonight and they'll have it all figured out. He begs them not to talk to about it.
Brendon: "If Jeff doesn't go up then we know JJ have a deal with Dani" He wants them to all cool down right now.
Porsche tells Rachel she doesn't want any deals made to save Rachel. rachel: "Porsche you are not a sacrifice" Porsche says she's worried that Jordan isn't going up that Dani has made a deal with JJ. so she's going to keep both of them off the block so she has 2 votes. Por is sure that dani is going to screw her, "The best game move is for her to split you and I up" (Porsche is retarded) POrsche: "If I go home this week I want you to take her out next week.. I know what kind of game Dani is playing she's going to take out the strongest players" (Why the hell does Porsche think shes classified as the stronger players)
Both Rachel and Porsche are certain that JJ has made a Deal with Dani. Rachel points out that JJ are not working with them anymore if they are running around making deals with dani. Porsche is just really worried that she's going up, She's heard that Shelly wants Porsche gone. Rachel goes on and on about how safe Porsche is.
5:11pm Hammock Brendon and Rachel(Jordan is walking laps around the backyard) They are talking about the replacement nomination. Brendon thinks it's pretty clear that Jeff has a deal with Dani but there's a good chance that Jeff is just doing that to save his ass this week next week it may be a different story. Rachel is saying how peronal Dani is and how dani wants to make her life miserable in the house. rachel says that if Dani puts POrsche up against her then everyone in the house will see how personal it has become. Brendon doesn't think it's like that she is just trying to get revenge. rachel: "She's putting up my 2 closest allies up for eviction it's obvious she's attacking me". Rachel goes on and on about Porshe being a true friend and how she's never played this game before with a person that was nice to her. Brendon doesn't think it'll be that difficult to get Jordan out if Rachel is up against her he thinks they can scrape enough votes by, Rachel disagrees. Brendon and Rachel talk like they haven't decided who will be safe this week but they tell everyone around the house that Brendon is saving himself.
Brendon: "so if she puts up Jordan against you do you think Jordan has the votes"
rachel: "for sure Jordan has the votes; Jeff, Shell, Kalia and Lawon"
brendon want them to enjoy there last week in the house so they have to wait and see what happens after Monday. Brendon: "Dani is a 12 year old, she fell in love with a little boy and we sent her home and now she's stomping her feet"
Brendon asks her to please stop talking about the nominations because he's smart in this game and one thing he knows is people are always watching you. He points out Jordan walking around the backyard every time she comes close you are quiet that is going to send alarm bells out to her that something is up. Rachel really want the 2 of them to go up and Talk to Dani. Brendon thinks it's a waste of time that Dani will do whatever she wants and they will do whatever they want. Brendon: "lets tells Kalia to get her fat ass out of HOH tonight and we'll talk to her'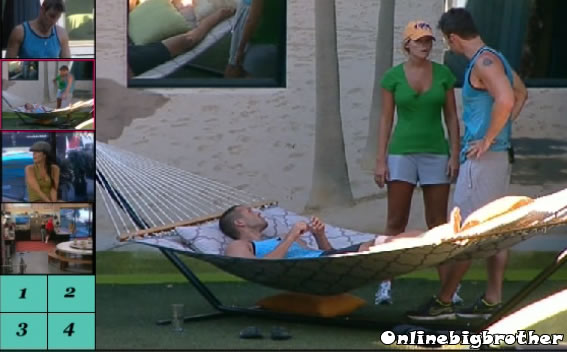 Rachel leaves, Jeff joins Jordan in walking laps.. they briefly talk to Brendon about it. Brendon ask them if they have been tlakign to Dani. Jeff says they did, Dani doesn't know who brendon is taking off the block. Brendon says he's saving himself. Brendon says he's making it known that his number one target is Dani next week and he'll win the HOH and the POV and She's going home. (Biam just like eh brendon) Jeff says there no wat Dani is lasting it's 6 Vs. 2 next week. Jordan says whoever survives next week must pair up with Brendon and Jeff and they have to make it to final 3.
5:30pm Jeff and Jordan walking Jeff mentions that with rachel gone they don't have to worry about sneaky BLANK going around they now that Brendon is with them and all they have to do is fight for final 3. They are both thinking Dani will be gone next week and if she does go they have a sure shot to final 2 because the house will go after brendon as he is the top competitor.
Jordan fears that dani will cut a deal with BR because she was closer to them than JJ. Jeff doesn't think so he points out how much stronger Brendon and rachel are then them. Jeff: "It's the logical move for her to take out the strong players… mind ya people in this house don't hink logically so I dunno what the BLANK" Jeff thinks his dani with Dani will hold.
5:48pm Jeff and Jordan working out..
If you like this site and want to help us keep it running please consider donating, Your donations go directly to paying the server and bandwidth fees. Donate Link
Share it YO!!
Tweet