POV Holder:
Frank
Next POV:
Aug 18 (Saturday)
POV Used
Yes
POV Ceremony
Aug 20 (Monday)
HOH Winner:
Shane
Next HOH:
Aug 13 (Thursday)
Original Nominations:
Boogie and Frank
Current Nominations:
Boogie And Jenn
Have Nots
No Have Nots This Week
Last Evicted Houseguest
Wil
HOH temptations
Britney Safe this week, Boogie gets 10grand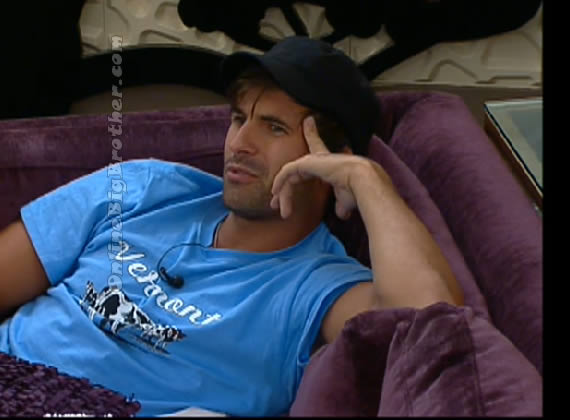 9:40pm HOH Cam 3-4 Danielle, Dan and Shane Watch with FlashBack FREE TRIAL!
Talk is around Britney. They need to have a chat because she's making them all nervous with how close she is with Frank and Ashley/Frank. Dan mentions that Britney is a Bit in a Ian situation right now both side probably won't put them up. Shane and Dan both are worried that Britney may not be going for the HOH.
Danielle is a bit salty that Jenn is pissed with her not with Brit. Danielle asks if Jenn is ever going to let this go. Dan: "Some people never will… Frank always prides himself for being this awesome player when he tells to our face he's coming after us"
Danielle tells them she was just downstairs and asked Jenn what she is drinking Jenn never answered and slammed the microwave door shut. Jenn then went outside.. Danielle is shocked by this. DAn: "How old is Jen? 37"
9:55pm Cam 3-4 Shane, Britney, Danielle, Dan

Britney and Danielle tell them that Ian got in sh!t from Frank and Boogie for playign Pool with Shane. Britney mentions that Ashley said she voting to evict Boogie. Britney told ashley that Boogie and Frank were saying that Ashley is voting to evict Jenn and they. They are using that to try and get BRitney's vote. Britney adds AShley seemed very shocked that Boogie and Frank are saying that.
Shane thinks the tension has gotten higher in the house that is why he's waiting until late to work out.
Joe comes in.. they ask him if he's still alive ( no he's a freaking zombie) . Joe tells them about his talk with Frank earlier today. (Hugely exaggerated what he said though)
Joe goes on about how Jenn is acting. Shane: "She's 37 years old and she's acting this way". Joe starts joking "It's so hard when 2 of our teammates on on the block.
Joe tells them earlier today Frank and AShley were on the hammock with their legs all wraped up. Joe: "When did this happen" Danielle: 'HAHAHHAHA i told you i told you" Joe: "I guess it's a vote.. I was like it's just Monday" Danielle: "you wait until Wednesday"
Dan: "Thats the one thing that is great about being in this game they can't physically touch you" Dan mentions about when he was in the living room after the POV ceremony and Boogie and Frank were venting about him. Joe was there says just laid there reading the bible. Dan: "In the real world I would have been punched in the face" They ask Dan some of the stuff Boogie was saying. Dan says boogie told him he hopes Britney gets cut final 4 like she did in season 12. Joe says they were saying Dan's a liar and a Pu$$y because he won't respond to them. Britney chimes in says she heard them saying Dan's not saying anything because otherwise he would get trapped in his lies.
Dan: "They also said I would throw the final 4 so I didn't have to put up danielle"
10:44pm Cam 1-2 Boogie, Frank and ?
? Tells them from here on in it's kamikaze for her. Frank: "you know what we should have done.. last Monday.. Put them up"
Boogie says Julie is going to ask him if I regrets playing for the 10K she is also going to ask him if he regrets not putting Dan up last week. Boogie has no regrets he doesn't play that way. Boogie: "I'm going to make more than the person who comes in thrid.. douces cool"
Jenn leaves to go inside. Frank says as soon as they get a good footing it feels like they are kicked down.
In the end tomorrow night.. Boogie is going tell Joe that he's in the "Business" and he can help Joe out if Joe is wanting to produce a TV Cooking Show. Boogie will point out that the other players can't help him out with that. Frank wants to talk to Joe first before they start pulling that out.
10:55pm Cam 1-2 Frank and Joe
Frank saying he wants Joe on his side.. Frank is the muscle, Ian is the brains and AShley has her social game with Joe they have a strong team. (Strong team if the comps are hauling bricks)
Joe: "If Jenn keeps up it's not going to be good for your game.."
Frank: "She's talking about blowing up"
Joe: "If she blows up she's going home.. doesn't she know she needs votes"
Frank pitches even if Boogie goes home he wants to work with Joe.
Joe: "If we did that are you comfortable for drawing a line.. I'm tired of bargaining"
Frank: "Of course.. that is what me and Mike are all about.. We were with the 6 and you see what they did to us"
Joe: "You will know a definite tomorrow"
Frank wants to bring back Team diversity says Joe was solid with him week one Frank wants to bring that back.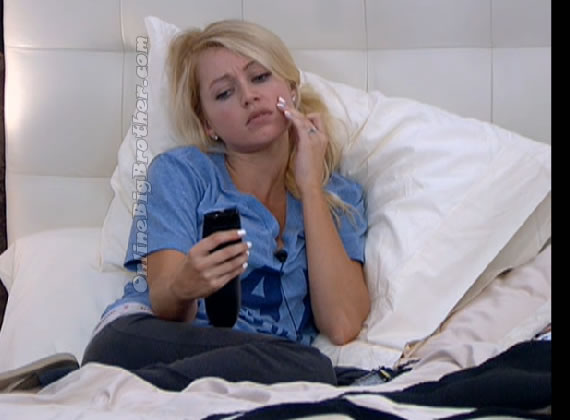 11:07pm Cam 3-4 Joe and Britney
Joe says he had a panic attack and his blood pressure went through the roof. The DR gave him some meds and now he's feeling better. Joe relaying most parts of the conversation he had with Frank. Britney remind him that Frank and Boogie were trying to get them to put Joe up this week. Joe adds that JEnn is about to go off on someone. Joe says that tomorrow frank and Boogie are going to flip because Joe i supposed to give them his answer. Frank offered him a deal with Ian and Ashley, "I wanted to say Too late buddy"
Britney tells him that yesterday Boogie and Frank were waiting for you outside they were going to start a fight with you and call you out on the lies. "That is why Ian had the popcorn.. everyone in the house knew about it.. I'm only telling you this is because 24 hours ago they were trying to get you on the block.. now they are pulling you aside with final 4 deals.
11:18pm Cam 1-2 Ian and Ashley
Ashley tells her he's voting to keep Boogie. Ashley asks him if he'll still vote even if Boogie has no chance. Ian says yes he's voting to keep boogie regardless of the house vote. AShley points out that all they need is Joe then. Ian wishes he wins HOH so he can take Joe out. Ian tells Ashley that Joe is really tight with the upstairs crew.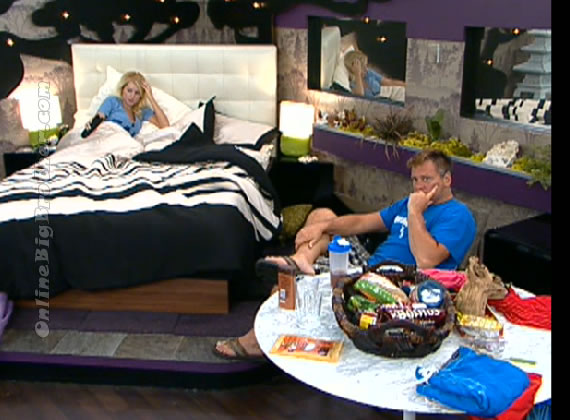 11:35pm Cam 3-4 Joe and Britney Joe is joking around sayign yesterday Frank was all up in his face today he's smiling and winking at him like he's a girl .(LOL Joe is soon becoming the funniest character on the feeds)
Shane comes up.
Joe: "You know now that you want to get rid of me"
Shane: "what the"
Joe: "apparently you are the guy coming after me next week"
Joe is proposing that their knew super alliance stops going in back rooms with Frank and Boogie because they'll just twist the conversation around.
Britney says she's heading downstairs to put on her "Mask"
Shane is on board with that.. Starting now they will stop talking to Frank and boogie in private.
Joe fills Shane in on the conversation he had with Frank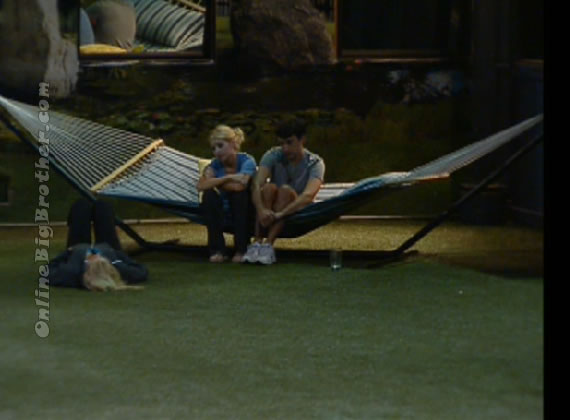 11:43pm Cam 1-2 Ian and Britney
Ian says that he had a talk with ashley and told her he's voting to keep Boogie. "What am I goign to say Yup Boogie is out" Ian thinks they should Get joe to vote to keep Boogie then he will vote to evict Boogie and they will blame it on JOe. This way Frank starts gunning for JOe. Britney tells him that won't work because Joe is telling Boogie tomorrow he's voting to keep Jenn. Ian: "Ohh … ok fair enough"
Ian about Ashley : "She's following me around like stink on shit "
Brittney :'It's freaking me out Ian.. she's acting really strange"
Ashley Comes out and joins them..
11:56pm cam 3-4 Frank and Boogie Kitchen Frank sayign that RAH RAH team bullsh!t really works with JOe. They are both surprised that Ashley has thrown her support behind Boogie the way she has.
Frank: "Ian told me he wanted to make a truce with Dan and Shane and go after JOe… What the F***"
Boogie: "He's a idiot"
Boogie: "They never planned on Ashley jumping to us so quickly"
Boogie tells Frank they need to keep Jenn Fired up. Frank: "Don't poke the bear but rattle the cage a bit" Frank says that Joe mentioned people are getting pretty sick of Jenn's attitude right now.
Boogie mentions that the Diary got a real kick out of his comment about going to Michigan to F*** Dan's wife.
Share it YO!!
Tweet