POV Holder:
Emmett
Next POV
March 30th
POV Used
No
POV Ceremony
March 25th
HOH Winner:
Alec
Next HOH:
March 28th
Original Nominations:
Aj & Suzette
Current Nominations:
Aj & Suzette
Last Evicted Houseguest
Tom & Liza
Have Nots
No Havenots this week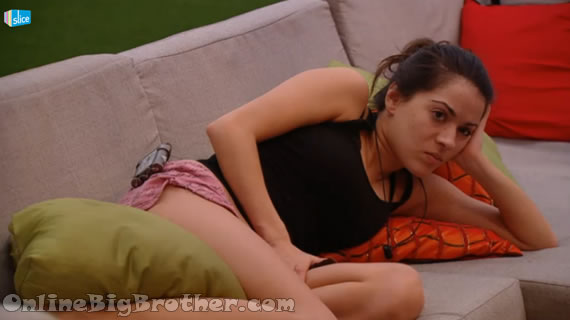 11:43AM Talla and AJ backyard
Talla is thinking that Emmett put it into Gary's head to take her out.
Aj: "I don't think he (Emmett) talks at all about Game" AJ really doesn't think
AJ: "Emmett is not playing with Gary.. trust me"
Aj tells her to stop freaking out about Gary targeting her because there are 7 people playing in the HOH and only one of them is after her
AJ: "The only way to control your own fate is to win the HOH"
Talla: "I'm trying"
AJ: "Even if you are nominated you can still play for POV"
Talla: "But they are all physical"
AJ: "No they are not"
AJ says to her she has a really good chance to beat Jillian in the next endurance competition. Talla knows wants him to stop talking about it because it makes her nervous.
Aj points out that him and Andrew are her friends in the house. Aj has been her friend since day one and Andrew just recently has gotten to know her. Aj: "I don't think you fully realize how many relationships you've made in the house.. we've got to the point that people just want to win this game" Aj adds and Andrew and Aj are close to hear so she needs to stick by them because everyone in the house has already paired up. Emmett and Jillian, Alec and Peter, Alec and Topaz, Topaz and Gary.
AJ: "Look at Topaz she's in the best position in the game.. she's close to Alec and Gary"
AJ: "Topaz is in the prime position in this game all she has to do is sleep all day"
Talla: "I just want to say she is not Canada's favorite by far"
Aj: "Have you seen her? she definitely does have her fans"
Aj says that going into next week Gary is almost everyone's target.. "You cannot argue that Gary is the strongest player right now he can win competition and he's playing the social game.. Everyone loves him".
Aj: "They are painting gary up to be the sh!t of shitz.. i'm telling you that Gary's character is very popular outside this house".
Aj warns her that production is building the character up.
Aj starts complaining about Suzette
AJ: "I'm sorry you suck at life.. she's played the martyr card WAY TOO MUCH"
Talla: "She doesn;t suck at life don't say that"
Aj: "Suzette is playing the card that she is the only one that has gone through hardship… we all have gone through hardship we just don't bring them up all the time"
Talla completely agrees.
Talla: "You know what suzette said that her goal was to last longer than Tom"
AJ: "Thats it.. there are 14 people in this house to beat.. that's her goal"
Talla: 'I think it's that she just feels defeated"
AJ: "i swear to god if Gary talks to me outside of the house like he does inside I will lay into him.. he'll need to see a physiatrist"
AJ is getting really animated says Gary and Topaz name really loud
Talla wants him to keep quiet because everyone can hear him yelling out their names.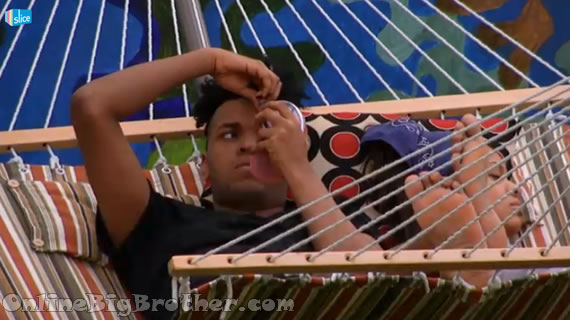 12:11pm Hammock Gary and Topaz
Gary: "If I lose my alliance i'm getting an Andrew.. " ( I think he says he wants Aj out next.. )
Gary: "I'm worried about everyone else's brow and my brows are looking whack as f*** "
Gary: "did you guys make up"
Topaz: "No not really"'
Gary: "Oh oh trouble in paradise.. just fake it Topaz you don't want to lose him.. because he's already acting like he doesn't give a f***"
Gary warns her that they cannot afford Alec getting any closer to Peter than he already is. They need Alec close to them to get further in the game.
Gary: "I think Emmett is going a bit crazy.. he doesn't really have anybody here." Gary explains that Emmett wasn't crazy about Tom but he was still a person Emmett could go to. Gary thinks Emmett has a lot of friends back home that are "A$$hole Bros" like Tom.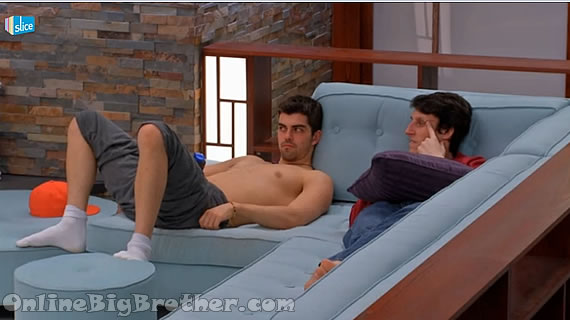 12:38pm Alec and Peter Game Talk
Alec: "I was talking to Gary last night and he was saying that Andrew needs to go" Alec adds it's also what Topaz wants because Gary won't do anything without topaz co-signing it. Alec: "That is why we need to have Gary and Topaz on the block next week.. if one of them takes themselves off the block the other one goes"
Peter: "OK"
Alec: "I'm pretty sure that is what Emmett and Jillian will do.. Andrew and Talla will.. AJ won't"
Peter agrees, says that Aj will put up Gary and Jillian. Alec: "That's not going to happen anyways he's not going to win"
They make a plan to get the entire house together to get Talla to put up Gary and Topaz. Alec: 'I cannot be there for that" Peter: "I can tell her though I can make her do that"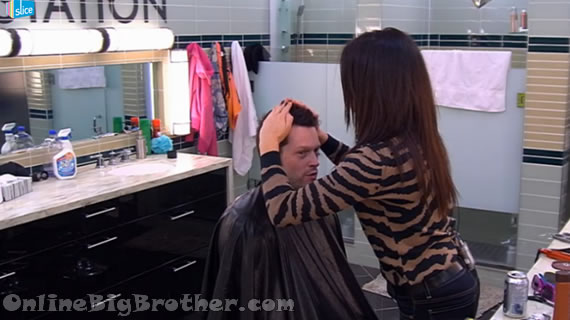 1:17pm Jillian giving Andrew a haircut. He says he use to have a mullet
1:20PM Bedroom Topaz and Gary
Gary is joking around with Topaz about her being so lazy. Topaz: "My laziness is amplified 1000% in this house"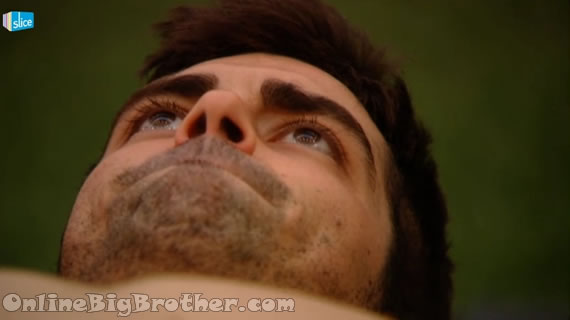 1:45pm Alec and AJ weight area
Talking game, tossing around the idea that they have the power right now to take out Gary. AJ Alec says he's worried that Gary will put up Topaz and Peter and back door him. Aj just wants to make sure if he does get out up and is the target that he isn't left out of all the fun. AJ knows it's a game and is aware that everyone has to go home at one point for there to be a winner.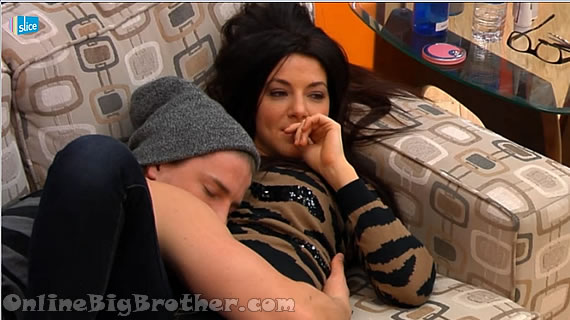 2:18pm Big Brother: "Attention Houseguests there is 3 hours until the POV Ceremony.. 3 hours "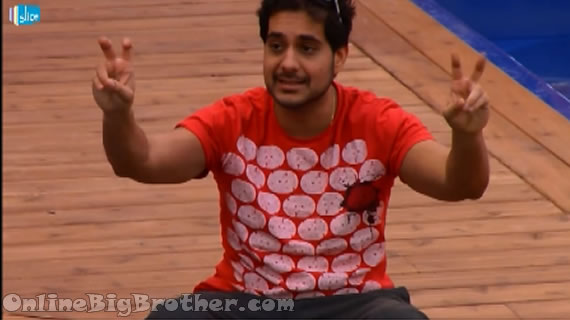 2:36pm Aj and Alec talk about the game..
Giant video uploading
Stay connected and interact with other Big Brother Fans on our Facebook page.
And Follow: @BigBspoilers and @Dawgsbigbrother on Twitter for the most up to date spoilers.
[polldaddy poll=6985048]
Share it YO!!
Tweet