Get the BB13 live feeds on your Android and iOS devices. Sign-up for the 3 Day Free Trial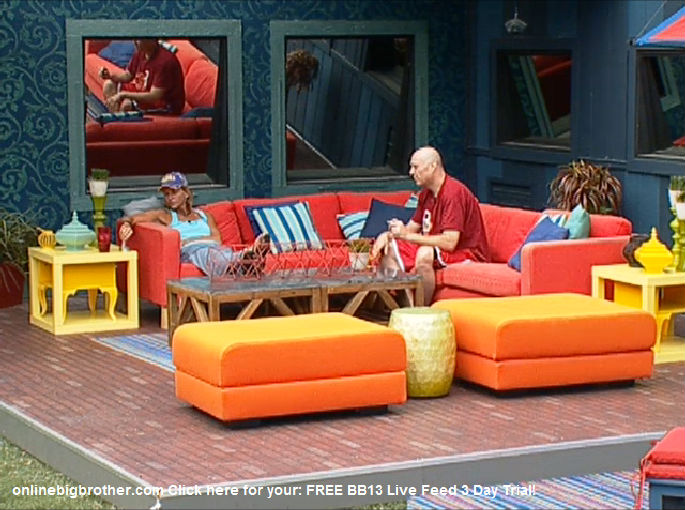 9:35am – 10am Adam joins Shelly out in the backyard for a smoke. Adam says that he has the most to lose with keeping Rachel around. Shelly says that she thinks from what Adam is saying that Kalia and Dani have his vote. Adam says that he was thinking the other day …couldn't they have given us better people to work with.. Adam says that the only thing that might have given them the impression that he was with them was when he went up there and told Kalia that there is nothing he would want more than to see a new person win this thing. Adam says that he was talking about himself but they didn't need to know that ..I didn't lie. Adam says that he isn't sure they should keep Rachel. Shelly tells him to do what he needs to do. Adam says that Rachel wants to talk to him today …and that he is thinking of telling her that she owes him if he votes for her. Shelly says that she just can't keep her mouth shut .. she's a loose cannon. Adam says that he will tell her that she can't turn on him till all the floaters are gone. They talk about how they still haven't mentioned they are in the jury house and that there is something up with that. Adam says that Lawon hasn't campaigned to him yet.

Rachel joins them outside. Adam asked her how she slept. Rachel says not so good. Adam says you slept better while Brendon was here …he serenaded you with his ass farts. Adam tells Rachel that he will talk to her later about his vote. They talk about the twist. Shelly says that evicted houseguest gets to come back ..but that doesn't mean that person won't compete against other evicted houseguests. Shelly says that she thinks they (production) are just trying to change things up, because all you vets know the game too well. They talk about whether or not they will be on lock down so that production can build something in the backyard for the HOH competition tomorrow. Adam says that he will judge what type of competition it will be depending when they go on lock down. He says if they go lock down early it will probably be a physical competition and if its not till later it will probably be a quiz competition. Shelly heads over to the hammock to sit in it before the sun hits it.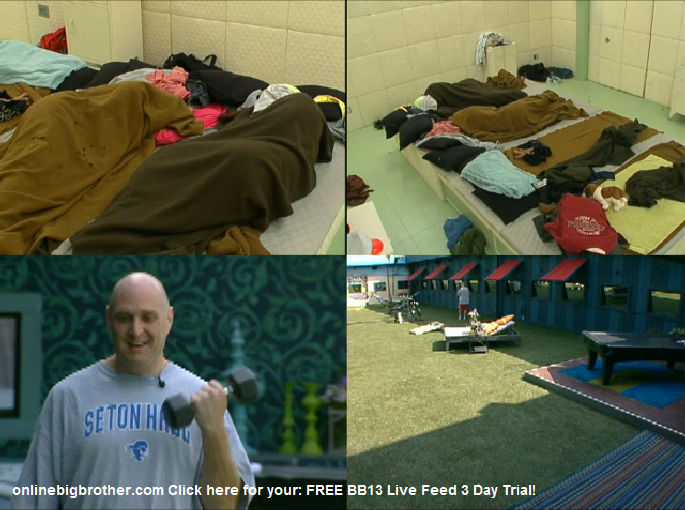 10:10am – 10:20am Adam tells Rachel to give him a half hour so that he has a chance to work out and then he will talk to her. Rachel says okay I don't want to bother you. Adam says oh no ..I've been waiting for you to come talk to me. Adam and Rachel head inside to change into their workout clothes, and then head back out side. Adam is talking to Shelly about sports and metal music while he works out. Rachel is on the elliptical. All the other houseguests are still sleeping…
11:10am – 11:20am Adam and Rachel finished up working out. Adam heads inside for a shower. Dani is now up making breakfast. All the other houseguests are still sleeping.. Rachel heads in to take a shower. Dani is eating and Adam is now cooking something to eat. They both share their big brother application videos, Adam talks about the multiple copies he made beore deciding on the right one.
Share it YO!!
Tweet