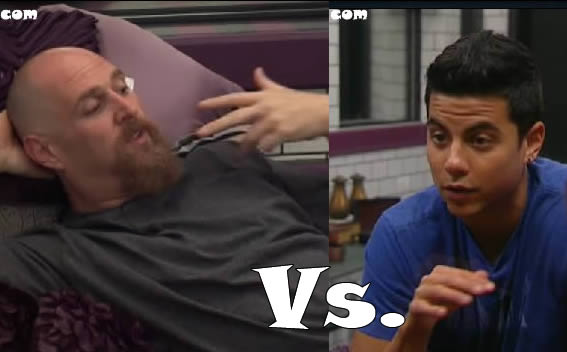 Dom Vs. Adam Big Brother 13 Live Eviction Results
Craziest week on the feeds no question there. Dani's entire game crumbles around her she's now stuck with the Dream Team Lawon and Kalia. She's target number one for the hated Brendon, RAchel, Jeff, Jordan and Shelly alliance and must now win serious competitions to stay in the game.. Daniele may be crafty enough to stay in the game but when it comes down to it she's needs to Finally clue in that Shelly has a giant B*ner for Jordan and Jeff. Catch the endurance competition after the CBS live show ends Tonight watch it all LIVE on the feeds.
Brendon and Jeff: These 2 are about as arrogant as you can get EVER on a Big Brother Season. They're doing well but just once lets see them squirm PLEASE.
Jordan and Rachel These 2 are so uninteresting right now it's not even funny. Even though I led the charge for Rachel Hate last year I miss the old Vegas act this year.
Adam We love ya Adam you're our man but Please do some damage this week or at least talk about it so we know you're still in it.
Porsche I feel sorry for her when I hear the stories about her upbringing. Listening to the BLANK she says on the feeds is funny and almost sad but somehow I think she'll surprise us. She wants to be a actress and wants directors to see her in Big Brother to give her work.
Lawon/Kalia I cheer for the underdog it's in my nature and these 2 are the biggest underdogs by far. They need to win comps to survive nuff said
Dani Hated dani the first 2 weeks now I am overflowing with BB love for her (I'm a flip flopper what can I say). She needs comp wins to survive in the short term. If she can take out some players in the next 2 weeks her long term game is promising if she can't then she goes home and I flip flop to another player (My eyes on you rachel ;) ).
Shelly SHELLY SHELLY SHELLY what the BLANK Shelly your playing a sneaky game and it's working for you and JJ in a big way. It's not all roses for you though I already see Porsche trying to plant seeds in Rachel's tequila mind about you playing both side.. Shelly is in a "epic battle" for 5th place. From what I can see she's playing a decent game but don't believe her BS shooting straight story for one minute. Shelly would sell her daughter to a Chinese businessman if it meant she could spend another day in the BB house with Jeff and Jordan.
Everyone is waiting for the twist to save what is left of the newbs but i'm not sure if it'll be enough.
Site's running lean until the traffic slows down
Pacer Votes to evict DOM
Lawon Votes to evict DOM
Shelly Votes to evict DOM
Kalia Votes to evict DOM
Dani Votes to evict ADAM
Jeff Votes to evict DOM
Jordan Votes to evict DOM
Brendon Votes to evict DOM
Evicted House guest is DOM
HOH Results
The HOH competition is endurance it will not be shown on TV this episode either get the SuperPass Live Feeds or read the updates here.
Big Brother 13 Twist
is Gold Key Players are back in the game Duo twist is over.. Julie "but keep in mind the summer and the twists are not over"
6:55pm It's endurance. Feeds are still down
7:00pm – I'll up date the second something comes up on the feeds
7:06pm – No Feeds yet :(
7:14pm – Adam, Lawon Dropped
7:14pm – Feeds Back
7:27pm – Brendon out
7:38pm – Nobody new out
7:43pm – JEFF IS OUT
Jeff "Too Steep at the End.. Dude"
Brendon: "I figured this was going to happen"
7:50pm Jordan Down

8:06pm Dani, Porsche, Kalia, Shelly Left
8:08pm POrsche Down
8:19 SHELLY OUT

8:23pm Kalia and Dani are left
8:30pm Dani WINS Dani: "AND SHES BACK IN THE GAME FOLKS"
8:23pm Kalia and Dani are left
8:30pm DANIELE WINS HOH Dani: "AND SHES BACK IN THE GAME FOLKS"
8:40pm Too much traffic to post real updates.
After Dani wins the HOH she says to Jordan that Jordan Is safe.
Kalia and Rachel/Brendon get into a fight Rachel playing the victim saying that Kalia mad her Cry, Brendon tells Kalia to Shut her BLANK mouth
8:43pm Havenots BRJJ. Their talking about how one of them is gone this week. Jordan says she'll go home this week becuase she's the weakest and she's won already.
Brendon tells her that isn't going to happen she'll want a strong player gone
Share it YO!!
Tweet