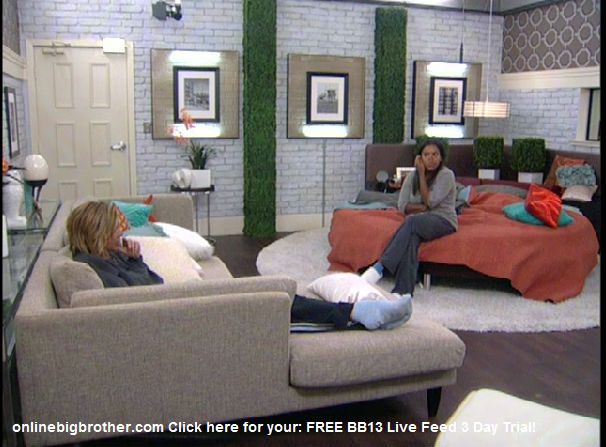 10am – 10:45am Shelly is up in the HOH room talking to Kalia. Shelly asks her what is your gut feeling about what to do. Kalia says that she doesn't know. Shelly says that Lawon told her a huge lie yesterday. Kalia says everyone lies in here. Shelly says that part of her thinks that if Lawon is gone I feel more secure with being here. Kalia says thats not true. Shelly says he was a part of your final four. Kalia says its not even about that ..its about losing an ally. Kalia says that she thinks there is something in Porsche that genuinely changed. Kalia says that she warned her that the people that you think are your friends are really not your friends.. and that she had already started hanging out with us the week before. Kalia says that she doesn't think she is going to flip flop any more. Kalia says that Porsche is on our side and she will vote the way that we want her to vote. Kalia says that everyone gets out of this scot free but me. Shelly says that she isn't worried about the twist and tells Kalia to control what she can control. Shelly says that she just doesn't trust Lawon .. because he blatantly lied to me and was acting absolutely crazy. Shelly says that the best possible position is to keep Rachel because she will come back with vengeance. Kalia says what if America votes back Brendon? …my absolute worst case scenario is that he walks back into the house and Jeff, Jordan, Brendon and Rachel are back together. Shelly says well Dominic coming back is not good for my game. Shelly says that he can't come back if he (Brendon) has seen goodbye messages. Kalia says yeah because a lot of people said some mean things to him.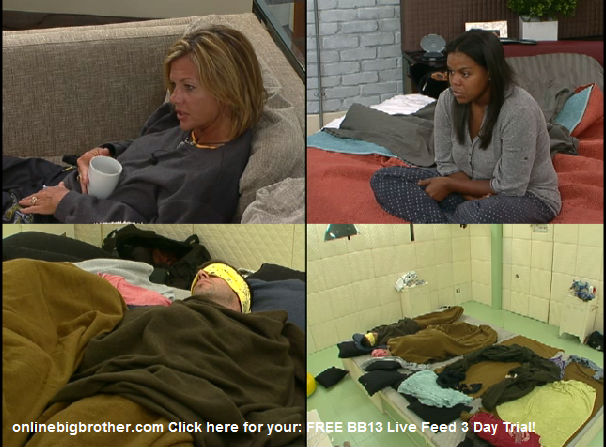 10:30am – 11am Kalia talks about how Rachel has been telling everything they talked about up here. Shelly says that Jordan has been doing a lot of baby sitting with Rachel since Brendon left. Kalia says that she just has one problem with Shelly …that she sees her out there with them and I know they are talking game. Shelly says they don't talk game around me …just like said you guys didn't talk game with the pyjama jams. Shelly says that if you have a problem with me talking to people …you will always have a problem with me because I like to talk to everyone… and they don't talk game. Shelly says that Jeff literally gets frustrated talking about game so he doesn't.. if Jeff and Jordan talk game they go in to the purple room alone. Shelly talks about how Lawon and Porsche do absolutely nothing. Kalia starts to disagree with Porsche doing nothing… but that she is the weakest link because she not that smart. Kalia says that she can only really trust two people in the house. Kalia says that maybe we just take the risk and vote out Rachel and take the risk of her coming back mad. Shelly ask how good would it be though to have a grateful Rachel come back …or is that not possible? Kalia says that ever since I made that pact with you I have been talking to you a lot more. Shelly says that she appreciate that. Kalia says I invest in you ..you invest in me. Shelly says you need to talk to who you need to and make a decision because before you know it they will all be up here. Kalia says that whatever decision I make I just really hope that someone of the people I trust in will stand up and win HOH. Shelly says believe me I want it. Shelly asks who do you need to talk to? Kalia says Rachel. Kalia talks about how they have a plan to switch the vote if Julie Chen reveals something that changes everything right before the vote. Shelly goes down and tells Rachel in the havenot room that Kalia wants to talk to her. Rachel says I don't care ..F*** her! Shelly says okay she just told me she wants to talk to you. Shelly leaves. Rachel she doesn't control me …she doesn't control the votes. Jordan asks why would you talk to her … all she is going to do is frazzle you for today so that you mess up! Rachel says I know. Jeff says F*** her. Rachel tells Jeff and Jordan that they need to win HOH this week. Rachel says either way if I go I am coming back.
See What They Can't Show You On TV! SUPERPASS – 3 DAY Trial!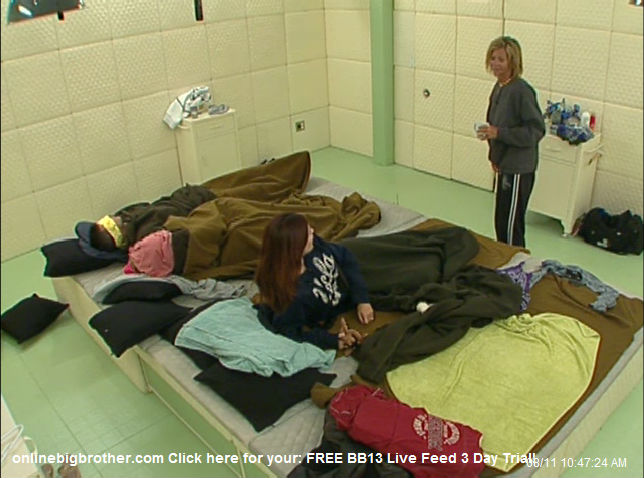 11:05am Kalia comes down stairs and finds Shelly in the bathroom and asks if she told Rachel that she wanted to talk to her. Shelly says yeah I told her. Kalia says that she tried to talk to Rachel this morning too while she was in the shower and she didn't want to talk then either. Kalia says well if she doesn't want to talk then I am not going to chase her…
11:10am Shelly is in the bathroom getting ready for the day. All the other houseguests besides Kalia are still sleeping.
11:35am – 11:45am Big Brother puts the houseguests on an HOH lock down. All the houseguests head up to the HOH room and find a spot to go back to sleep.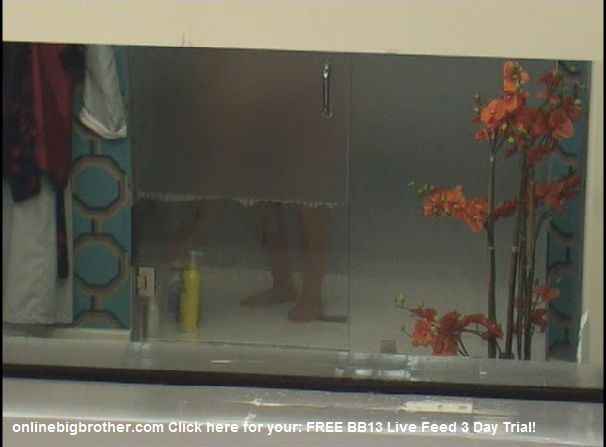 12:15pm The houseguests are still on an HOH lock down…

12:50pm Still on lock down ..all the houseguests are napping in the HOH room..
1:20pm HOH lock down is over…
Share it YO!!
Tweet