Get the BB13 live feeds on your Android and iOS devices. Sign-up for the 3 Day Free Trial
If you like this site and want to help us keep it running please consider donating, Your donations go directly to paying the server and bandwidth fees. Donate Link
1:20pm – 1:40pm Big Brother calls an end to the HOH lock down. All the houseguests leave the HOH room, except Kalia who heads into the HOH bathroom to get ready. Kalia then starts packing up her stuff and all the food in order to get ready to leave the HOH room. Shelly immediately starts cleaning the house. Adam and Rachel head to the kitchen to make lunch/breakfast. Lawon is in the bathroom getting ready. Adam goes into the candy bedroom and lays down. He tells Porsche that they will talk later. Porsche says that she will vote how ever he is voting. Adam tells her again that they will talk later. Adam and Porsche then lay in silence. After awhile, Porsche gets up and heads into the kitchen.
WATCH all DRAMA unfold tonight LIVE on SuperPass!
FREE 3 Day TRIAL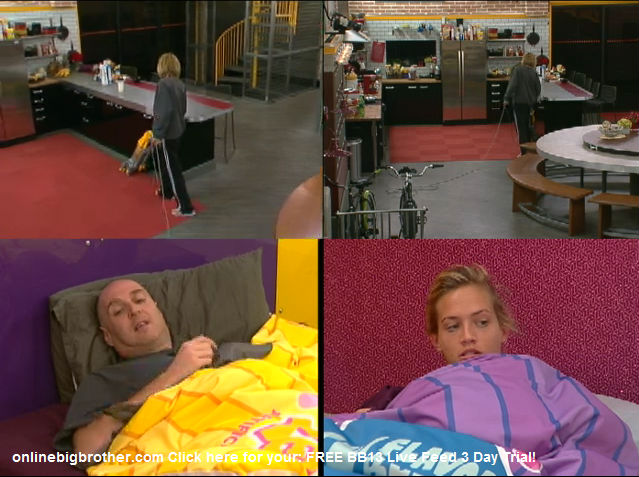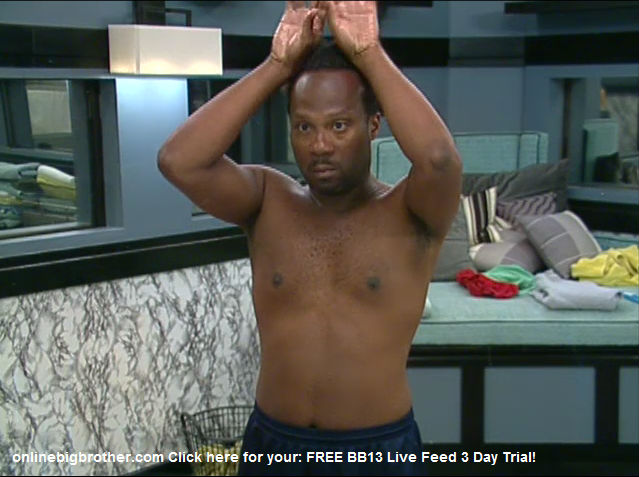 1:45pm – 2:10pm All four cameras are on Rachel in the kitchen cooking catfish by herself. Adam joins her in the kitchen, then heads to the bathroom. Rachel tells Adam that the main argument is that Brendon is coming back ..but that she knows he isn't. All four cameras switch to the bathroom where Lawon is getting ready in the mirror and Porsche is taking a shower. Adam comes up to Porsche in the shower and says that will only have a minute ..he says that he just felt really uncomfortable last night. Porsche says oh me too. Adam asks if Lawon even wanted to be here? Porsche says no.. that now he is all sketchy because we don't know if people are in the jury yet. Adam says that he doesn't feel good keeping Lawon and that he is going to try and get out Rachel next week. Adam asks if she was thinking that too? Porsche says whatever you want to do …I will do. Adam then leaves the bathroom and starts cleaning up in the kitchen.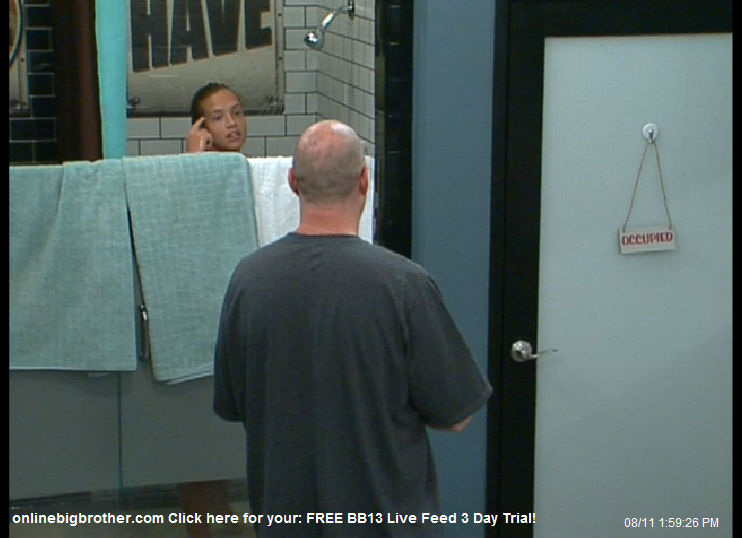 Sign-up NOW and watch the houseguests live!
Click here for your: SUPERPASS – 3 DAY Trial!
2:15pm Lawon is in the kitchen making lunch. Kalia and Porsche are in the bathroom getting ready for the live show tonight.
2:20pm In the bathroom Porsche and Lawon are talking. Porsche asks Lawon if he thinks the person that gets voted out will come back into the house. Lawon says he doesn't think so. Lawon says that this is the only chance to get Rachel out of the house… otherwise they never will. Porsche says no it won't be the only time. Porsche says that she is still trying to figure out what to do. Porsche says that they will have a signal during the live show to switch the votes just in case. Lawon says yeah do that. Lawon says that he's not afraid …he feels good. Big Brother cuts the feeds. When they come back Porsche has left the bathroom and Kalia is talking to Lawon. Kalia says that people will do and say whatever they have to just to be safe ..and that is very frustrating. Kalia says that she will never have beef with floating strategy …but that she understands why people hate it …because one week you have the numbers and the next week you don't. Lawon says yeah.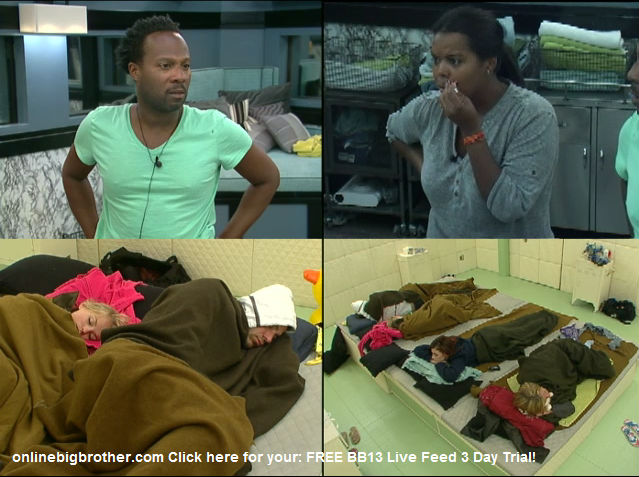 2:35pm – 2:45pm Kalia says that as much as Dani loves Porsche …I don't trust her …I've seen a change in her… she and Adam are still going to do what is best for them. Kalia says that Porsche was one of the people that said she would do whatever they wanted and now she is saying she doesn't know. Kalia tells Lawon that his act that he pulled on Monday ..really hurt him. Lawon says okay boo.. it hurt me. Kalia says yeah it made people think and really question what was going on .. Kalia says if you are put up as a pawn you just remain calm. .. if you don't you draw attention to yourself. Kalia says that if it ends up being a split vote …it will be Shelly. Kalia says that she thinks Adam and Porsche will vote to keep him. Kalia says that she will talk to Shelly again. Kalia says that you lied straight to her face and you got caught… it made people question you and me and what was going on. Lawon says that he tried to smooth things out yesterday. Kalia says that its just hard to convince people to keep you when you were acting so weird. Kalia says that people now want to keep Rachel because she isn't a threat to them …she is going to come after Dani and I. Kalia says that we definitely over thought this twist and that we can't really do anything pre-emptively because we just don't know whats going to happen. Kalia says there is no difference between a mad Rachel coming back and the one that is already here. Kalia says that she feels like her HOH didn't mean anything. Kalia says that someone coming back goes to the fact that they need it to have a fast forward or double eviction. Lawon asks …so what do you think in your gut that is going to happen. Kalia says if you leave you aren't coming back …but if Rachel leaves she is coming back. Kalia says if Rachel comes back ..we are right back at week two. Kalia says that they bring someone back every three seasons …and that if they are bringing someone back they are in sequester ..because no one can be sitting at home …Big Brother cuts the feeds. When the feeds come back they break up their conversation and head out of the bathroom…
WATCH all DRAMA unfold tonight LIVE on SuperPass!
FREE 3 Day TRIAL
Big Brother 13 Spoilers POLL CAST your VOTE!

Big Brother 13 Live Feed Image Gallery
Follow: @BigBspoilers and @Dawgsbigbrother on Twitter for recent crazed out spoilers. Theres also our Facebook page.
Share it YO!!
Tweet