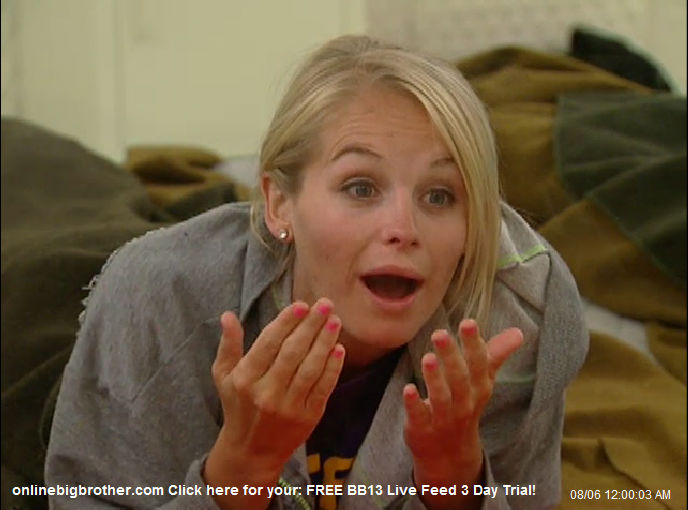 12am In the Have Nots room, Jordan is crying. Jordan tells Shelly that she was emotional, and just felt bad for making Shelly cry before. Jordan says that she feels like everybody's just brainwashed. I'm being honest with all of them, and they don't care. Jordan talks about Kalia saying how it's dumb that she put up Jeff because someone will come back. Jordan says that she's dumb because she now made three enemies. Shelly says that she hates to see somebody like her upset, because you have the biggest heart. Jordan talks about Dani being so arrogant and cocky. Jordan says that Dani's having Kalia do her dirty work, and she's just coasting. Jordan says that Dani told her that people are scared of her, and won't do anything. Jordan says that today outside , I just wanted to scream. I just wanted to tell Dani off. Jordan says that she doesn't think it's Kalia's HOH, it's what Dani wants. Jordan says that she thinks she (Jordan) was acting immature earlier. Shelly tells Jordan that she is being way too hard on yourself, and asks do you realize that? Jordan says that she doesn't want all my grandparents and mom, back home to see it. Jordan says that was embarrassing, and asks why she act like that during the nomination ceremony. Jordan says that is started with being a have-not, and that it just went downhill after that. Jordan says that she was just yelling at Kalia. Jordan says that she was saying things like you're stupid, you're making a dumb move, one of them is going to come back with vengeance! Jordan says that then she stormed off.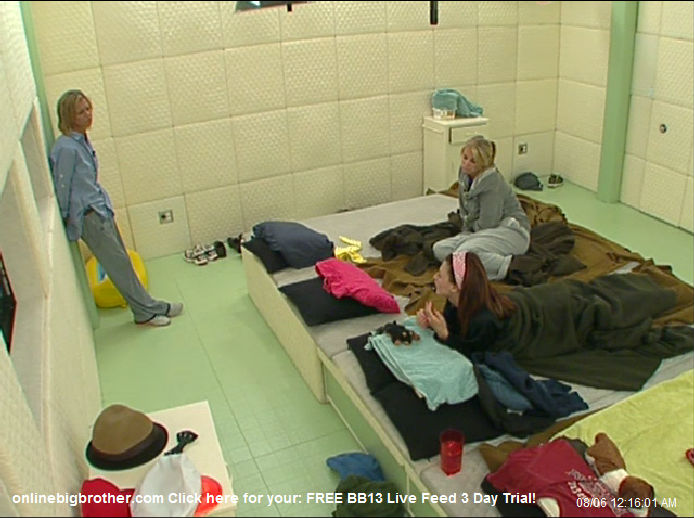 Rachel says that Kalia is so dumb, she gets rid of me, Jeff is pissed, they go after her, she gets rid of Jeff, Me and Jordan are pissed, she's BLANK stupid. Shelly says that you can be a goat or a sheep, they all flock up like sheep. Jordan says that Porsche needs to go. Shelly talks about when Dani and Kalia wanted to flip the house to keep Dominic in the game. Shelly talks about if they couldn't even get two people together. Shelly says that she isn't going to dive into the death pool, and go in. Jordan says that she doesn't believe anything that they say and that they're all just going to listen to one another. Rachel says that they're stupid. Jordan says that she doesn't think they're stupid. Rachel says that she thinks they're stupid, I think they're bad game players. Jeff joins them, and says that he got called to the diary room while he was asleep. They talk about Adam and how he did an Elf's striptease when he was allow to remove the costume. They wonder if he set up the meeting himself or if it was planned by big brother. They laugh about his strip tease. Jeff says that it's this house, people don't know, it's crazy and you lose your mind a little bit. Jeff says he is 32 years old, what am I doing in here? Rachel tells Shelly to go keep everyone up all night while they try and sleep.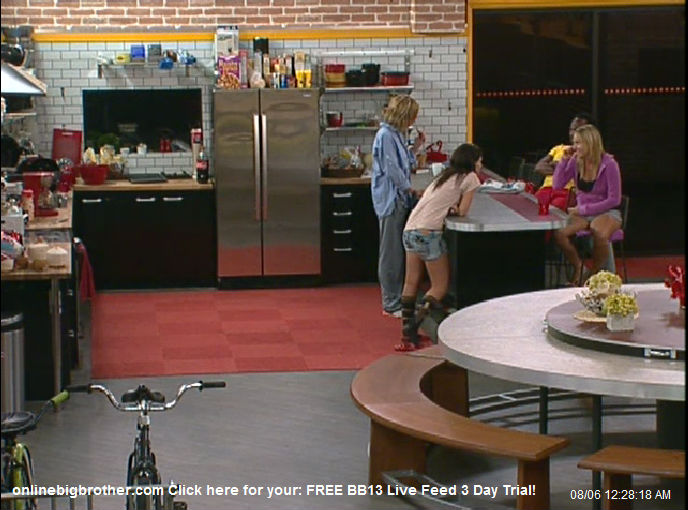 12:35am Porche and Lawon are in the kitchen talking. Lawon says that to be honest, he is happy with the point he's at in this game. Porsche starts talking about Dani and says that she is so happy she made such a big move, because she wouldn't have been able to. Shelly joins them kitchen. Lawon and Porsche talk about how they genuinely want to see her daughter Josie if she wins HOH. Porsche says that she can't wait for her pictures too. Meanwhile, back in the HaveNot room, Jordan, Jeff, and Rachel are talking. Jeff says that he wants to put up floaters. Rachel says that she can't wait to win HOH, to put up the floaters and then backdoor Dani and Kalia. Rachel says that she would like to just play in a double eviction or a fast foward, so that she can get in their faces, and say that she chooses to nominate Dani and Kalia!!!! Jeff and Jordan laugh. The conversation changes to talking about how they all think next week will be a pandora's box. They talk about how think something like five grand might be in the box. Jeff says that he thinks' it would be ridiculous for someone to not take the box. Rachel says that anyone would open Pandora's Box….even Daniele would do it, that's the thing, and I even said outside to everyone… that Dani's a great friend, she screws over her ally. They talk about how Dani thinks she is making all these great game moves.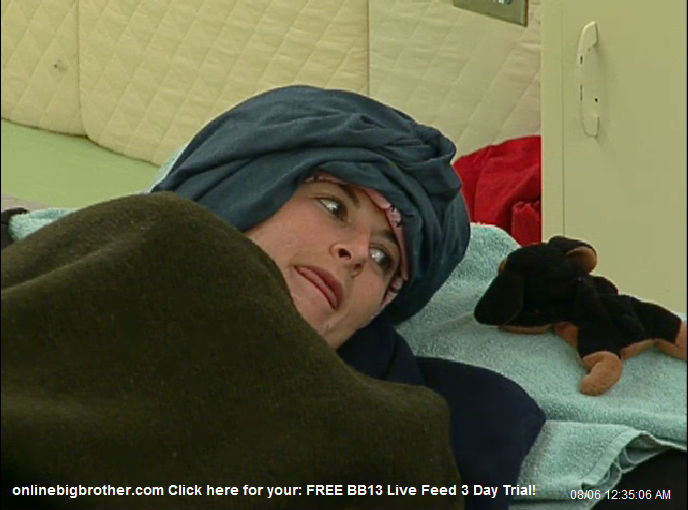 Porche tells Lawon that she is sorry for saying the whole Dominic jellyfish comment in the diary room when she voted him out. Porsche says that she wanted to apologize later. Lawon tells Porsche that the late night crew was his escape. They didn't talk about game, they talked about crazy stuff the whole time. They start talking about Rachel. Porsche talks about telling Rachel not to make people feel uncomfortable. Lawon says that she should just have respect for herself. Lawon says that he would not want to be a woman in here playing this game and that woman in general are very catty. Lawon talks about Kalia's nomination speech and says that this is a catty game, my decision is based on the whole house. Lawon says that it's going come to a point where someone's going to blow up and everyone's playing the game differently, and thats fine… this is a game.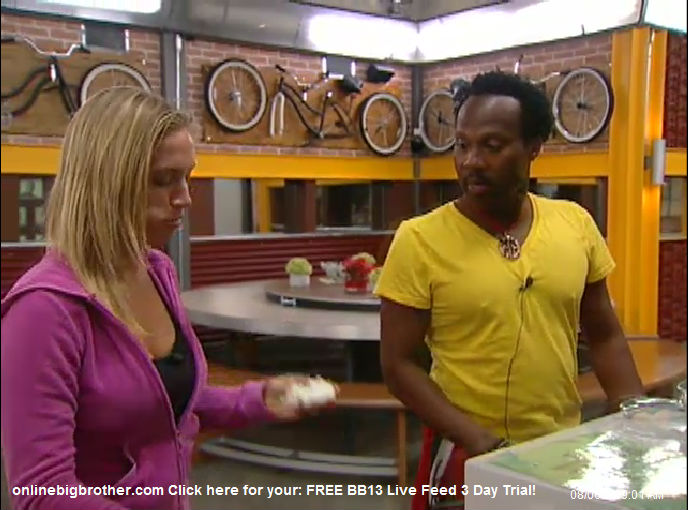 1:10am Lawon tells Porche that he is in four alliances. Lawon says that his alliance is me, myself, and I, and Lawon. Lawon starts joking about calling a house meeting and banging pots and pans. Lawon and Porsche start talking about their families and then about their auditions to get on big brother. Dani comes out of the diary room and joins them. They talk about how they can't believe Rachel's behaviour for a 27 year old woman. Dani says that the diary room is going to talk to Rachel about getting in Dani's personal space. Lawon says that he thinks the vets are vulnerable this week as they are going to be weak from slop and being havenots. Dani tells Porsche and Lawon that she told the diary room that if Rachel touches her again that she will backhand her. Dani says that she is not a petting zoo and if someone touches her she will flip the hell out. Dani says that she has never seen anyone act like that. Dani says that if Jeff wins Big Brother then both him and Jordan win and the same thing with Brendon and Rachel. Lawon says that Jeff is a bully and at the end of the day he's looking out for Jeff and Jordan. Lawon tells them that after the nomination ceremony Jeff was saying that Big Jeff ain't going nowhere. Porsche says that she secretly hopes there will be a half way party, or Adam birthday party tomorrow, so that Rachel, Jeff, Jordan and Shelly can't eat because they are havenots. Dani says if Big Brother were to throw them a halfway party everyone would be involved. They talk about Adam's birthday, they feel bad for him having his 40th birthday in the house. Dani wishes he could get a letter from Farah.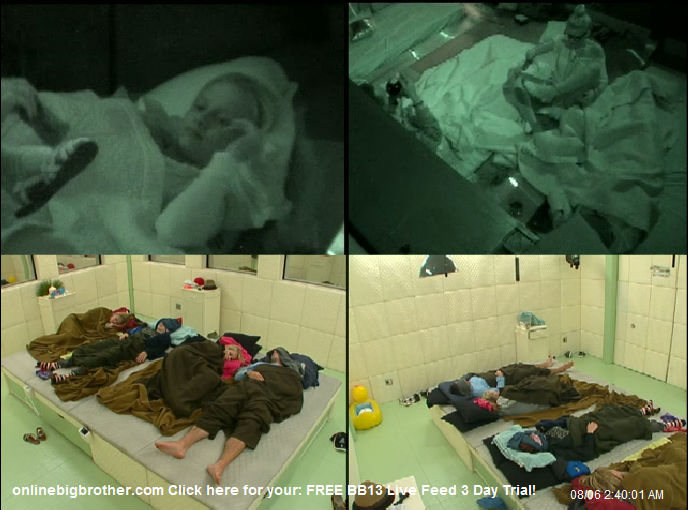 2:40am Dani, Porsche and Lawon are talking about the Have/HaveNot competition today. Dani tells Lawon and Porsche that she'll have to wear a bullet proof vest for at least a year after leaving the house. Dani gets into the shower, while Lawon and Porsche lay on bathroom couch. Dani asks them both if they could google one thing right now what would it be? Lawon and Porsche both agree they probably would google themselves. They talk about what the power of veto competition will be like. Dani says that she thinks it will be one where you have to give things up who's the most desperate to stay. Dani says that Jen during her season won the veto because she said she would give up half of the half million if she won Big Brother. Dani says they all knew she could never win so it was like she didn't give up anything. Dani says that she wants a trip to anywhere, out of this house. Dani tells Porsche that she needs to step it up and win HOH this week. Lawon says that maybe there will be a double eviction. Dani says that she thinks they won't have one unless they bring someone back into the house. Dani says that she isn't so sure someone is coming back though. Dani says that whoever comes back into the house, if they don't win HOH right of the bat then they will be going home right away. They all decide to go to bed.
3:35am All the houseguests have gone to bed and are now asleep.
5:20am Shelly is half asleep in the lounge room …she then goes to the kitchen and gets a cup of coffee…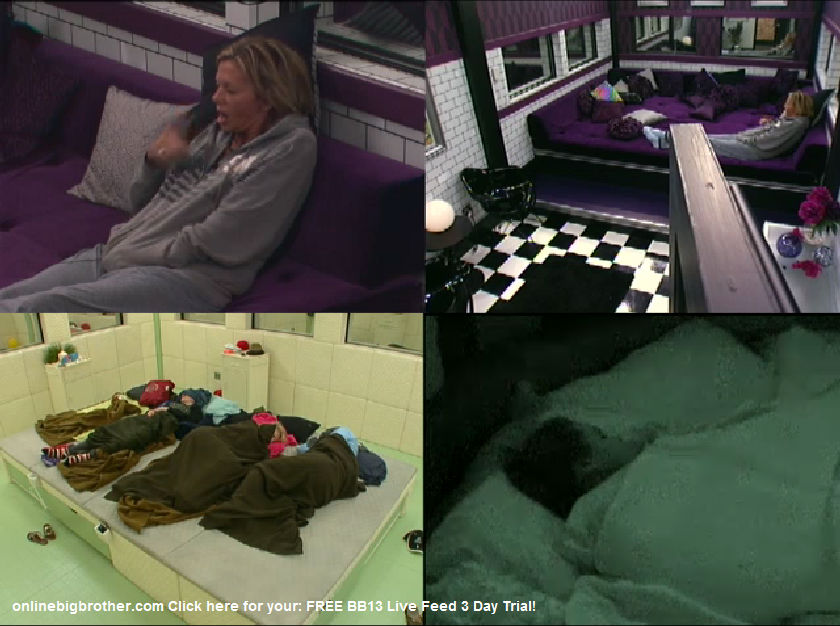 Share it YO!!
Tweet