Follow @BigBspoilers and @Dawgsbigbrother on Twitter for recent crazed out spoilers. There is also a Facebook page.
5:50pm Kalia and Dani
Kalia says that Cassi has been campaigning to her saying that she hasn't lied in the game and she plays it with integrity. Dani and Kalia think that complete bullshit and if that is the way you play the game you won't last long because big brother is all about lieing. Kalia continues talking about how full of shit Cassi is, dani agrees. They are both worried if Adam wins the HOH, Kalia doesn't think Adam is going to go for the HOH because he genuinely thinks he will not be nominated. Dani says that next week there is only 3 people playing in the HOH and there isn't too many choices to put people up. Dani says theres no doubt if Kalia and lawon go up that Lawon will go home, "Everyone wants him out I mean everyone".
Dani tells kalia that Por is pathetic she like rachel lapdog. Kalia says she has a deal with POr that kalia will not vote to evict POr if Por has not voted to evict Kalia. Kalia adds hoe stupid Por is she has no idea what is going on, she's convinced that America's player is Cassi.
Kalia says that she's talked to Por but all they talk about is numbers, "If she puts me up then i'll make her life he'll" Dani doesn't even know what the hell is going on with Porsche she thinks that Por is everywhere making no sense in the game.
Kalia tells Dani that Jeff and Jordan have Shelly in their pocket.. She continues saying that Jeff and Jordan have told her that they were planning on taking cassi, Kalia and Shelly with them. (OOHHHH damn JJ put a bit too much trust in Kalia).
Kalia says her and Jordan have pinky swore that they will not but each other up. Dani says that a couple like that will vote you out if you're in their way. Kalia agrees, she knows that Jeff and Jordan will take her out especially if they are with Shelly. Dani reminds her that Jeff and Jordan have played this game before and Kalia is bottom of their totem poll. Kalia decides not to talk to Jeff and Jordan so much anymore because it doesn't look good. She wants Adam to stick around till the Jury but he's getting her nerves too much. Dani doesn't care for Adam thinks his social game is lacking but believes his knowledge of Big Brother makes him one of the more dangerous players.
6:26pm Jordan, Porsche and Rachel Working out por starts talking and Jordan leaves. Once Jordan leaves Rachel and Por start talking about all the reason why they want to get rid of cassi and Keep Shelly. They have various like she's manipulative, a liar, close the the other side (Cassi is hot and it boils their blood)
Rachel says she thinks the next the next HOH is huge because they'res such a huge chance that her and Brendon will get backdoored.
Por doesn't want to be in jury because she thinks everyone hates her she's also worried that Dani is going to GUN for the HOH when the keys are up. Rachel: "You have to win when the gold key is over.. trust me you have to win you have no option.
Por: "I'm not the best game player i'm not the best physical so why put me up.. it's because they don't like me"
Porsche says that if she doesn't make it to Jury she won't be that upset because she doesn't want to be the first to Jury. She thinks it'll be stupid hard for her to make it to the end so what she wants to do is help Brendon and Rachel get as far as they can and hopefully they help her along the way. Rachel asks her if she wants to go home once the key twist is over. She says she would rather go home that week or stick around tilll near the end because if she's in the jury house everyone will be mean to her. Rachel says she felt the same way on her season but once she got to the Jury everyone was cool and she had a good time.
Porsche says that Lawon told her he practices Yoga so he's very flexible and will have a "leg up" in physical endurance comps. Rachel asks if she's ever seen him doing anything like that, Por says no.
6:30pm HOH Jeff and Jordan Jordan: "I need to shave my arm pits they're getting harry" (LOL that sums up the last 10 minutes of these 2 up in the HOH… not sure whats going on in their heads but from what I can see they are in trouble). Jeff is feeling sick.
7:12pm Rachel and Brendon working out their running laps have a pretty hard workout.
7:10pm Storage Room Jeff and Jordan
Jordan is saying that Rachel has been telling people that Jeff and Jordan will get America's vote. Jordan is worried that Rachel wants to get the out. Jeff: "if Rachel gets us out all of America will focus on Rachel and she'll be the next hero".. Jordan: "maybe i'm Getting a it paranoid". Jeff: "What do I know". Jeff is worried about his stomach he's been feeing sick all day.. Jordan says she's going to pull Rachel up into the HOH and talk to the.
7:20pm HOH Jordan and Rachel Jordan is saying that she's getting some weird vibes from the house right now she's noticing that everyone is divided and not talking much. Rachel says everyone is separated. Jordan just hopes that Rachel isn't trying to get rid of them, Rachel: "Ohh Jordan you're being sooo stupid". Jordan wants them to stick to the plan and wait until the couples are split, Rachel agrees tells her that her and Brendon need JJ and JJ needs BR. Jordan agrees she just wants to make sure they are all on the same page and they don't get any surprises. (Ohh you're in for a surprise)
Jordan: "If I leave before the Jury and Jeff and I spend the summer apart i'm going to be pissed"
Rachel: "I swear on my life I will never put you guys up I understand why you are getting paranoid I messed up last week". Jordan: "I don't want there to be any sneakiness going on and I feel there is". Rachel tells her the simple truth is they have to win HOH comps from here on in if they don't win HOH one of them will most likely get backdoored. If Kalia wins BR get backdoored and if lawon win JJ gets backdoored. Jordan knows kalia is going to throw the comp, Rachel says lawon is not going to throw it he told her outside today. Jordan says she doesn't feel safe if Dom, Adam or Lawon win HOH. Rachel agrees says she doesn't trust Dom at all tells her that she's been hanging out with other people to not make it look so obvious that she's with JJ. Rachel adds that the last couple HOH comps are must wins for them because there is fewer and fewer options to put people up.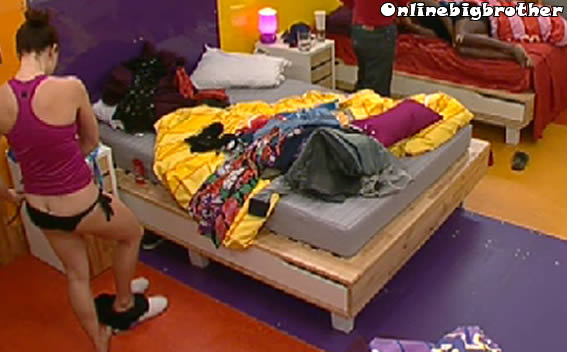 7:38pm CAM 4 July 19th Rachel Crack I know it's not exciting but this year it's slim pickings re-watch this on the Live Feeds Flash Back
8:45PM Hours of TV Talk
Check out the BB13 Polls
Share it YO!!
Tweet