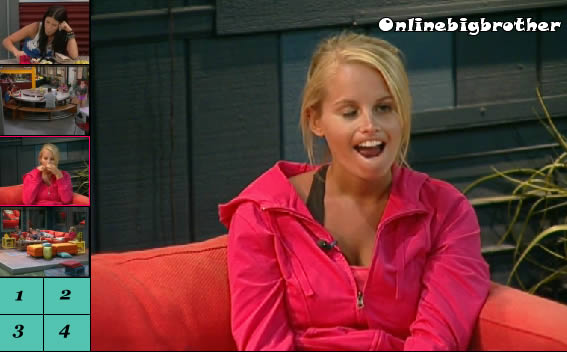 Follow @BigBspoilers and @Dawgsbigbrother on Twitter for recent crazed out spoilers. There is also a Facebook page.
9:13PM backyard couch Jeff, Jordan and CassiJordan makes a comment about Jeff's perfect toes… Jeff asks if his toes are nicer than Brendon's, Cassi says yes Jordan says "OMG YES". Jeff says Brendon got some narly toes. Cassi impersonates the way Jordan says Jeff they giggle. Shelly: "She says his name good". Jordan "pulls out the dry lips" and freaks everyone in the back yard out.
9:27pm Backyard Rachel and Dom made a platter of various slop dishes and and is letting Cassi and Adam try it.
9:30pm Shelly, JEff and JOrdan Backyard
Shelly: "I'm nervous of Rachel and Brendon flipping you know I see people talking".
Jordan explains that she's talked to Rachel and it's all good, she asked Rachel if she's going to go after Jordan and backdoor her but Rachel told her that she's good, Jordan: "I'm not worried".
Jeff says it's super easy to get paranoid in this house and he leaves to go inside
Shelly: "We have to get them out before they try for us"
Jordan: "shy… shy"
Shelly tell her Brendon and rachel they cannot win this you guys can but they can't she'll put them up
Shelly says she's worried if she makes big mistakes in the game than people at work will give her a hard time. Jordan understands that says that this year her and Jeff are not as snugly as they were last year and she hops people don't think something is up.
9:48pm Kitchen Brendon and Porsche Por thinks that Beef Jerky and JElly Beans was selected because of Adam because he's so wild about Bacon. Brendon doesn't think so he says that there's a lot of things in the big brother that happens that you think are for you but their not.. (To answer some questions about Porsche Yes she wears that Pink outfit most of the time and Yes she's chunking up to the point most houseguests notice)
10:02pm Rachel and Dom Dom asks her what she did before Big Brother. Rachel says she was a cocktail waitress making 1200 a night 3 days a week. Dom's really surprised it's a lot of money. Rachel says she saved a lot but blew it all after Big Brother 12 moving to LA to be with brendon.
Dom asks what she did before that he heard she was a scientist. Rachel says she was a chemist but she wasn't very good at it, It was a boring job, the people i worked with didn't like her and she didn't fit in. Dom wonders why chemisrty. She says she loved science. She asks him what he does at school Dom use to be into Chemistry but is now in business. She explains her first job after she left her career in science. She was at this club where she would wear a Bikini and sit on a bed for "Atmosphere", "They hired hot girls in Bikinis"
10:13pm HOH Bathroom They're talking about whether or not they can Trust Adam or Dom. Brendon isn't sure about Adam but Jeff thinks Adam is good he's more worried about Dom. Brendon is going to talk to Dani about Dom see if they can trust him. Brendon thinks they should put up Adam and Dom if they win the HOH. Jeff thinks Kalia and Lawon are better targets because Lawon cannot be trusted by anyone. Brendon asks him about Shelly, Jeff thinks they can trust her right now but once the game goes single he has no idea where she'll go.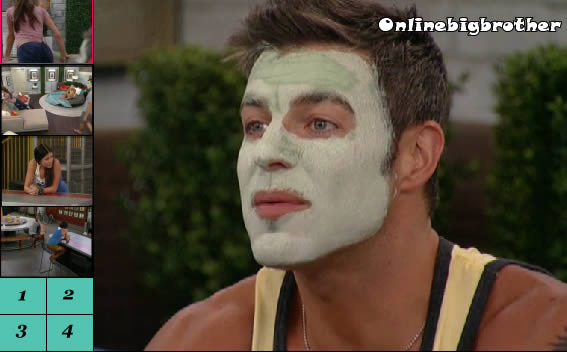 10:25pm Jeff, Brendon and Cassi are wearing face masks
10:42pm HOH Jordan and Jeff whitening their teeth.
10:47pm HOH Brendon, Cassi, JOrdan, Pinto, Jeff, Rachel They call him mentally challenged guy, Rachel thinks it's time for him to take it off.
11:02pm Fortune Room Brendon and Rachel Rachel is saying that Jordan is getting paranoid that she called Rachel into the HOH early today and asked her if they are going to flip. Brendon asks her where she would get that idea. Rachel says its from a comment she made about Jeff and Jordan getting America's vote. Brendon tells her to keep quiet. Rachel thinks it might be a physical HOH, she says she needs to win it. Brendon tells her he doesn't want to talk about that right now he has to figure out a scary story for story time.. He started thinking about the story at 11:03.. its 11:11 and he's still thinking about a scary story.. 11:20pm still thinking. Jeff walks in Rachel tells him that the comp is most likely a physical comp because there isn't enough material to quiz them.
11:35pm Jordan and Shelly Jordan is saying that she's getting really worried about Rachel flipping, but she talked to rachel and asked her if she was and Rachel told her no. Jordan mentions that Kalia told her that her and Jordan cannot hang out as much anymore because it's not looking good (The real reason now jordan's HOH power is essentially over) Jordan says Rachel gets all pissey when she talks to people but then rachel is getting all buddy biddy with Dom. Shelly thinks Rachel is trying to get Dom on her site. Jordan says if Jeff win HOH he'll put up Kalia and Lawon, and if the POV is used they will backdoor Dom.
Check out the BB13 Polls
Share it YO!!
Tweet