POV Holder:
Gary
Next POV
March 9th
POV Used
YES
POV Ceremony
March 4th
HOH Winner:
Jillian
Next HOH:
March 7th
Original Nominations:
Gary and Aneal
Current Nominations:
Aneal and Danielle
Last Evicted Houseguest
Kat
Have Nots
Talla, Tom, Peter, Gary, Alec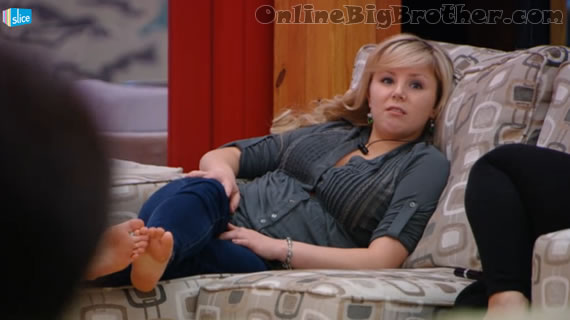 7:00pm Danielle and Suzette Living Room
Danielle doesn't want to go up as the pawn. She was talking to Jillian/Emmett earlier and said if she went up as the pawn then they will owe her one later. Apparently Jillian and Emmett didn't reply to that which pissed Danielle off. Danielle has told Gary, Suzette and Liza this.
Prior to this conversation the Feeds showed Tom and Liza chit chatting in the bedroom. Casual conversation about condoms with some of the other houseguests (Gary and ?) This tweet is the highlight of the conversation
Tom: "I don't use condoms.. condoms are for the non risk takers of the world.. I'm risky business.. going to name my kid Cruise" #BBCAN

— OnlineBigBrother.com (@bigbspoilers) March 3, 2013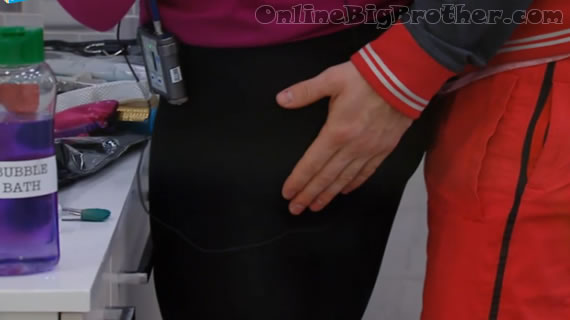 7:02pm HOH Jillian and Emmett
Jillian rehashes her conversation with Aneal. 7:10pm Jillian gets called into the Diary Room.. Power of Veto Ceremony
7:22pm Feeds come back. Random chit chat as the houseguests play cards, Topaz is cleaning things up and I suspect Jillian is in the Diary Room.
7:33pm Backyard Aj and Topaz
He asks her if she has any idea who is going up. Topaz isn't sure, she doesn't even know if a pawn is going up. Aj thinks that Jillian still wants Aneal out but he's 100% anymore.
Aj just starts blabbering on about dentists etc.. Feeds go to HUSH HUSH screen (Now we probably have the Power of Veto Ceremony)
8:21pm Still on Hush Hush Screen
9:00pm Still hush hush
9:14pm Feeds are still on HUSH HUSH
9:19pm Feeds Back HOH Jillian, Danielle, Gary and Talla
Gary is getting heated about Aneal. Apparently Aneal has been threatening Gary like Aneal has some power. Gary: "He keeps wanting to talk to me.. I tell him i'm not the F***** Head of Household.. why are you talking to me"
The general agreement of the group is Aneal is going home this week. Gary :"Liza and Aneal are putting targets on themselves talking to Aneal" Gary Leaves.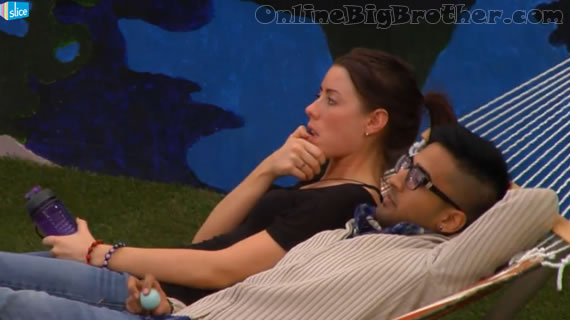 9:25pm Aneal and LIza Hammock Aneal counts the votes.. he's worried and confused (Video being uploaded)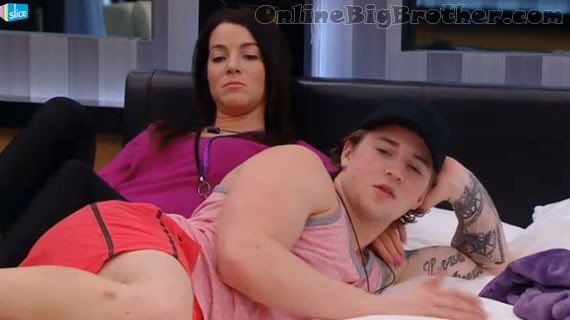 9:30pm HOH Jilian and Emmett
Talking about how well Danielle is taking it. Jillian is a bit worried that something is going to happen and Aneal will stay. Emmett tells her no way. Aneal
Jillian: "I don't want Gary or Danielle to win HOH"
Emmett agrees
Aneal joins them asks straight up if he's going home or staying. Emmett doesn't know what the house will do. Aneal asks if he has Emmett's vote. Emmett is waiting to see what the house is doing he's not making any promises. DAnielle joins them says that the rash she's on her face is getting really bad. She went into the Diary room to ask them to see a doctor. Aneal pipes in says from where he's sitting her rash looks just like rosy cheeks. They think it might be an allergic reaction.
Danielle leaves, Jillian: "I think it's stress" (the source of the rash)
Aneal tells them he really wants to stay and is scared he's got no chance.
I'm brown i'm gay i represent a demographic.. I don't know..
Emmett: "No no what do you bring to the game in here"
Aneal: "I'm good with mental things… I'm asking for advice what do I do "
Emmett: "Enjoy it be nice do the best you can.. A lot of shit can happen between today and Thursday"
Aneal: "I don't know I feel like everyone is lying to me"
Aneal: "This has never happened in Big Brother history.. you joke about not going up in the Diary Room because your best friend wins HOH and then you go up"
Emmett: "You told me downstairs that Suzette is your best friend in the house"
Aneal: "No she's not… Suzette never talks to me"
Emmett: "I don't know man.. this is Big Brother Expect the unexpected.. " They all laugh
Aneal sounds convinced he's going home.. Emmett keeps telling him that nothing is certain in this game. Emmett tells him that he's going with what the house says, "That sounds fair.. OK"
Aneal says his target is Gary and Emmett/Jillian have nothing to worry about. Aneal brings up that the next HOH will be memory and nobody other than Peter can beat him.

9:50pm Hammock Liza and Andrew
Andrew: "Did you know that was coming"
Liza: "yes"
Andrew: "Me to"
Liza: "Who do you trust more.. Emmett or Tom"
Andrew: "I'm talking to Emmett and Tom.. who do you trust more"
Liza: "Tom… but those 2 are not my concern"
Liza: "Who else do you trust?"
Andrew: "Alec.."
Andrew tells him that Peter never talks to him and that is what worries him. Andrew sees Liza with
Andrew: "Aj is the only one i'm talking to"
(Feeds flip to another cam)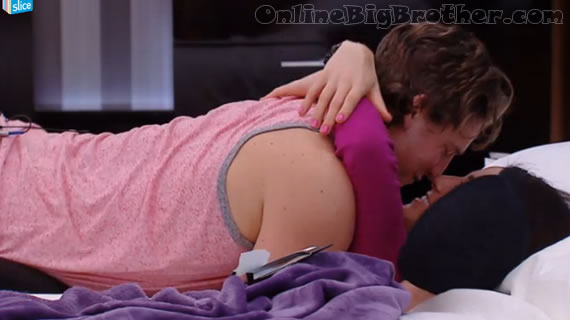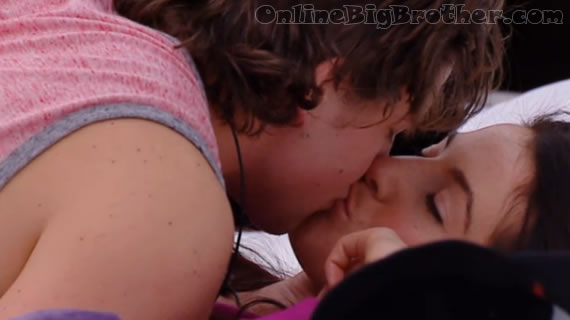 10:01pm HOH Emmett and Jillian Back to making out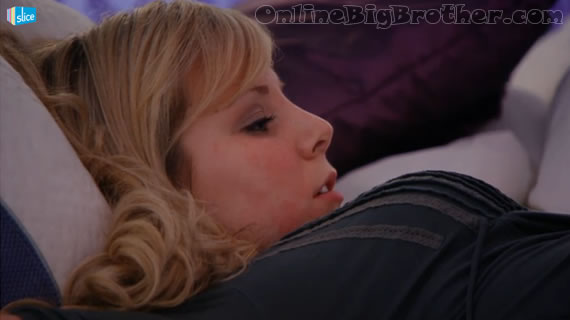 10:15pm Bedroom Danielle, Gary and Aneal (You can see the rash developing on Danielle's Face)
Aneal is acting like he's going home. Aneal goes on and on about being blindsided and having his "Best friend" put him up. Gary was shocked to hear that Danielle was nominated he thought AJ was going up. Aneal thinks that the entire house knows he's going and they won't tell him anything. Danielle reminds him that she's on the block to and doesn't want to go home either.
Aneal: "You guys should have known from my reaction that I was blindsided"
Gary: "Ask me questions and i'll tell you no lies"
DAnielle says early in the game she heard that Aneal was telling people she wasn't in the game she was going downhill and wasn't worth the time to hang out with. Gary pipes in "You can't trust Liza"
Aneal: "I never said that.. I never said you were going downhill in this game"
Gary: "we'll we need confront some people in the house before you leave" (LOl Gary talks like Aneal going home is a given right in front of him)
Andrew walks in.. They start talking about getting an award from Big Brother. Aneal says they will be getting it tonight. Danielle thinks it's booze and they will get it tomorrow.
(Video being uploaded to youtube)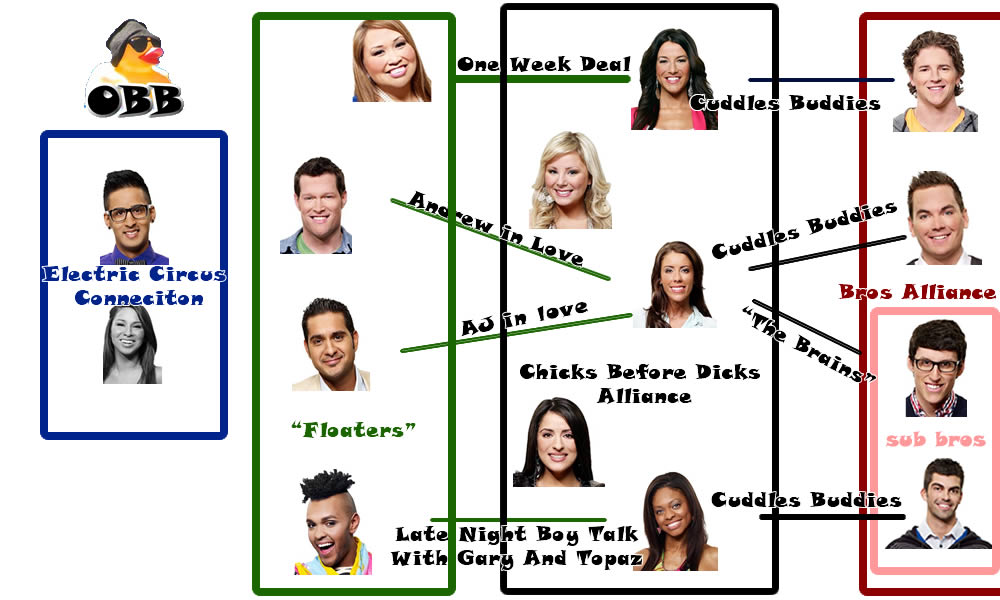 [polldaddy poll=6935400]
Share it YO!!
Tweet