POV Holder:
Gary
Next POV
March 9th
POV Used
YES
POV Ceremony
March 4th
HOH Winner:
Jillian
Next HOH:
March 7th
Original Nominations:
Gary and Aneal
Current Nominations:
Aneal and Danielle
Last Evicted Houseguest
Kat
Have Nots
Talla, Tom, Peter, Gary, Alec
I'll be streaming feeds tonight for US viewers https://www.onlinebigbrother.com/big-brother-canada-episodes-live-streamed/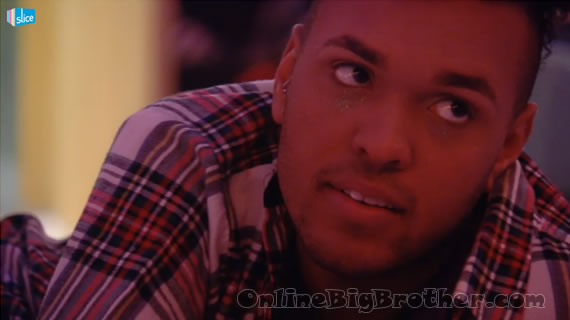 10:31pm Bedroom Liza, Gary and Danielle
Liza is really worried about the showmances in the house. Liza mentions that today she's seen Emmett/Jillian and Topaz/Alec flat out kissing. She doesn't think Emmett and Alec will cut their women. She tells them that Tom is the type of person that wants to make BIG MOVES. Gary says he's really starting to like Tom and he sees him allying with him earlier. Liza mentions that Tom really opens up to her.
Gary: "It would be perfect if Tom can do our dirty work and put Emmett and Jillian up"
For the 5th time today Danielle tells them that Jillian and Emmett would acted like they are not "returning the favour" for her going up as a pawn.
Gary wants to see Aneal leave this week and see what happens in the next HOH. Liza agrees, says Aneal has to go. They wonder who Emmett will put up. Gary says Tom, Liza and danielle think it's too early for him to make that move…
Liza tell them even though Andrew talks and Jokes around with the "Cool kids" club he's a outsider. Liza: "Andrew talks to me a lot and he's more about the misfits.. " (New alliance it's called the misfits and it's run by Liza)
Danielle about the Misfits vs the cool kids "We're funner.. " Liza tells them that Andrew and AJ are getting close. Danielle about Aj "I can't stand the f**** c***" Both Gary and Liza agree they don't like AJ and he needs to go. Liza says AJ will vote with the "Cool Guys" but he's not really part of them. Gary feels that Peter is "Fiddling" With them but is playing very much for himself, "He'll f*** the cool guys over in the end.." Gary explains that Peter is with the Cool guys (AKA Bros) and will use them to get to the end.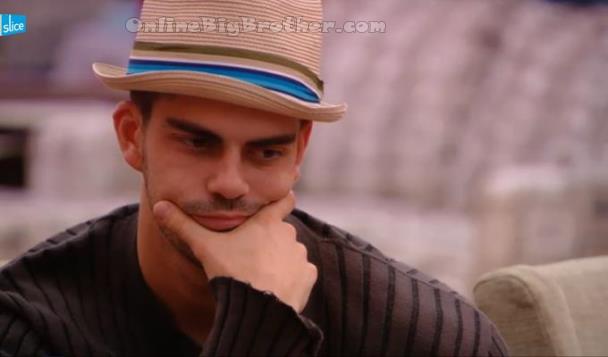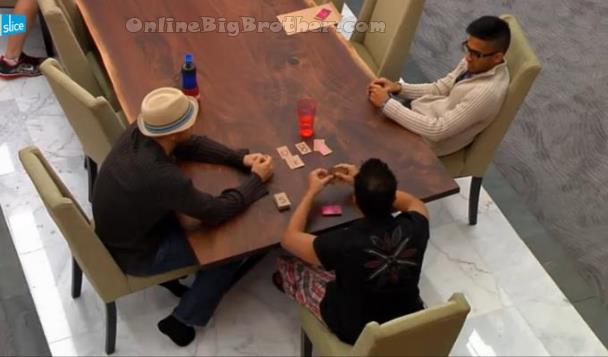 11:00pm Kitchen AJ, Alec and Aneal playing cards (There's a chess game and a card game going on in the House. Both Games took a awhile to make and are now being played almost constant)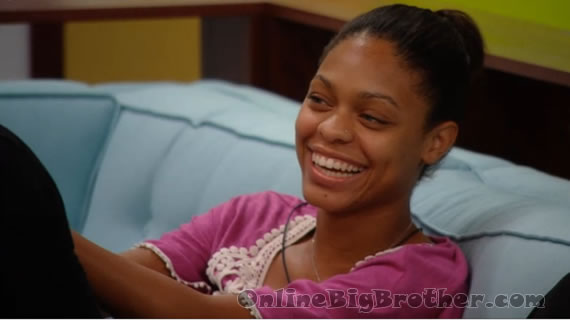 11:12pm Living room
Big Brother Calls the house guests into the living room. Tom is really excited he thinks it's going to be food. (He's on slop and hurting) They are about to get the prize everyone has been talking about.
Attention Houseguests
"many of you have been reluctant to respond in a timely manner.. as a results all hot water to the house has been cut for 48 hours… future repercussions will be severe.. Games are not permitted in the big brother house.. Topaz please collect the games and leave them in the storage room.. have a good night "
They players are loitering around topaz is taking her time.. collecting the games. Production starts speaking through the speakers telling her to hurry up.
Topaz is freaking out that Big Brother singled her out for something everyone in the house was doing.
(Video uploading)
11:20pm Hammock Liza and TOM Liza is trying to keep Tom safe becuase the other side doesn't like him. Suzette, Gary and Danielle. Liza is trying to get close GAry and Danielle, "Suzette can F*** herself". Tom is confident AJ, ALec and Peter will vote to keep him in the house. Liza warns him that he's not playing smart enough he's up against some strong players.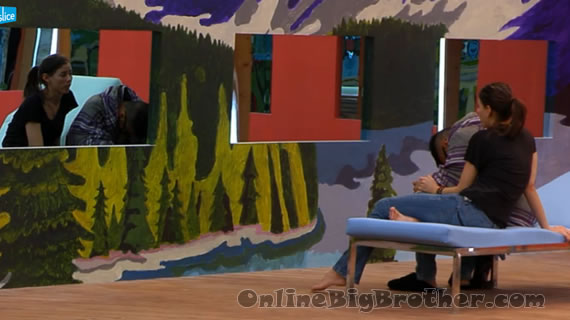 11:32pm BAckyard Liza and Aneal Aneal is crying up a storm. He brings up that Jillian was his best friend and she stabbed him in the back.
Aneal: "I feel like I let my Mom down"
Apparently Aneal's mom spent a whole chunk of cash buying him clothing etc etc for being on Big Brother. Liza tells him Jillian is her number one target. She tells him that he's the target this week because Jillian and Emmett want him gone.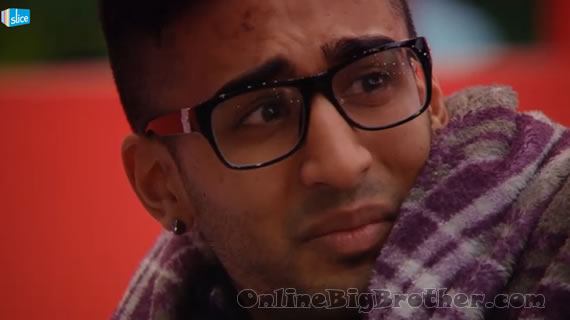 11:30pm Hallway Peter and Tom
Tom wants to take Danielle out and go after Aneal. He says Liza was talking to Gary and Danielle and they both are trying to break up the showmances. Tom: "Right now we're making moves for the 9 .. F*** the 9 lets make a move for the 4.. We send fucking Danielle packing we bring Aneal in and we take over this game.. I need to talk to Emmett "
Peter:"I can talk to Emmett.. Lets talk over the votes"
Tom: "If we can send DAnielle out Gary has noone.." Tom wants to tell Aneal he's got to f**** take out Suzette if he wins HOH"
Peter says if they can sway Liza they can pull it off and if she doesn't side with them they know there is a girl thing going on.
Peter says he's onboard with taking Danielle out. (Lisa is a major player in this game)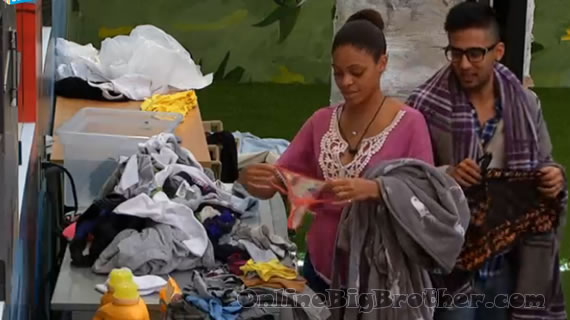 12:04AM Laundry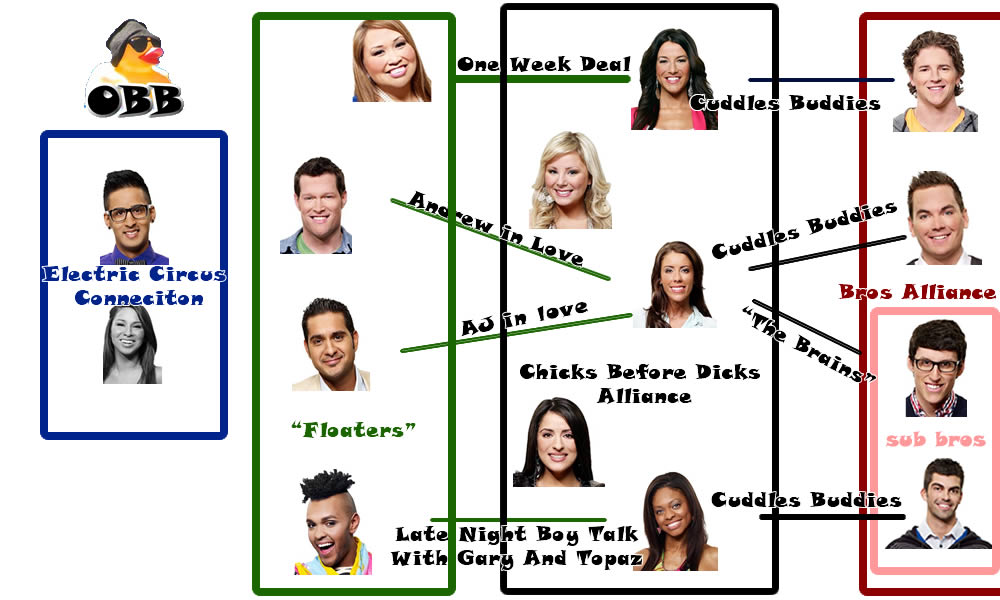 [polldaddy poll=6935400]
Share it YO!!
Tweet