POV Holder:
Andrew
Next POV
April 6th
POV Used
No
POV Ceremony
April 1st
HOH Winner:
ANDREW
Next HOH:
April 4th
Original Nominations:
Gary & Topaz
Current Nominations:
Gary & Topaz
Last Evicted Houseguest
Aj
Have Nots
Gary, Peter, Topaz, Emmett (used Slop Pass)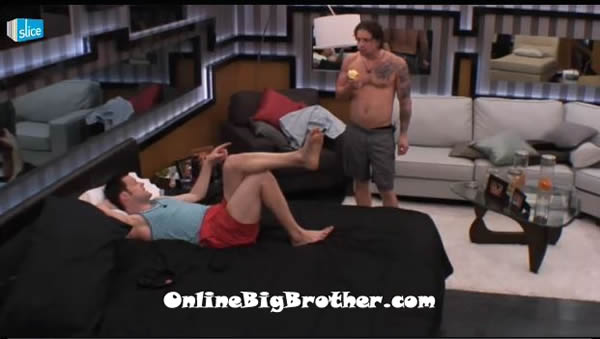 6pm – 6:40pm Emmett and Andrew have a brief conversation up in the HOH room about how Talla thinks Alec is lying to her.
Andrew and Emmett both still want to make sure Talla is on with them to ensure they have the votes and just in case the next HOH is an endurance competition as they think she will do well at an endurance.
Andrew says that he will talk to her to reassure her that Emmett isn't coming after her.
Emmett talks about how Talla was coming after him and if she continues to then he will have to take her out.
Emmett and Andrew go out to the hot tub.
Andrew talks about how Topaz got the viewer question "Which evicted house guest do you miss the most?"
He says that she (Topaz) said Aj and he told her that she was the one to get him out. He says that she said no but I didn't want to.
Emmett asks if you had to bring any house guest back in which would it be?
Andrew says Aneal because he isn't a physical threat, had good social game and I had a good relationship with him.
Andrew starts talking about the coup d'etat.
Andrew talks about how if it is true that Alec's showmance breakup was fake ..that's just bullsh!t man. Can you imagine, how bad is that!
Emmett says we will just have to wait and see .. when Gary goes.
Alec and Peter head out to the hot tub to join them. Jillian, Talla, Topaz and Gary also come out. They talk about random things and past seasons of Big Brother. Talla, Topaz and Gary head back inside.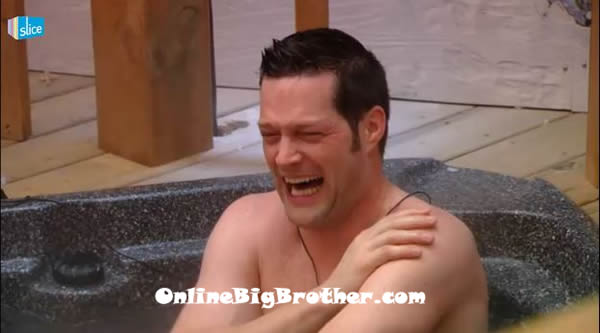 6:45pm – 7pm Gary and Talla are talking in the kitchen. Gary says we need to win HOH this week and make some big moves. Gary says I know you have what it takes to make some big moves. Gary tells Talla that Topaz is 100% going I talked to her.. she is good. Topaz joins them. She remembers she had a slop pancake in the grill. She looks at it and its all burnt.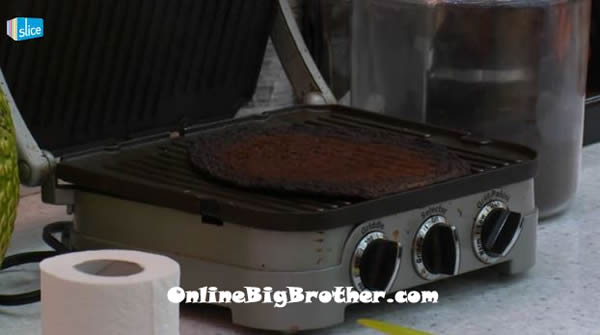 7:20pm Topaz tells Gary that she walked in on them doing a bit of sh!t talking. Talla joins Jillian out by the pool. Talla tells Jillian the conversation she had with Gary. Alec, Andrew, Peter and Emmett join them by the pool. Talla tells Emmett and the other how Gary was telling her that when Topaz leaves it will be just him and her at the bar because obviously Emmett and Jillian don't want to work with him.
Talla pulls her shirt down just a little too far: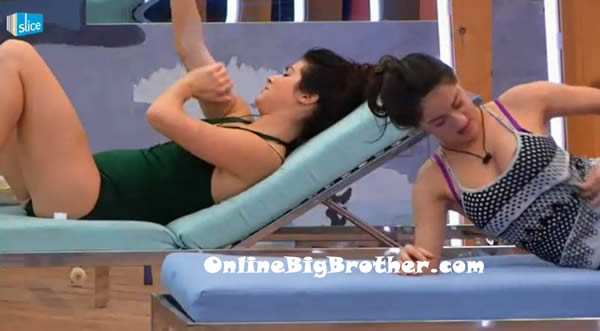 7:35pm – 7:45pm Talla goes up to the HOH room to talk to Andrew. Andrew asks her what she meant when she said she didn't think she could trust Alec. Talla says that she isn't sure but that she thinks their breakup was fake. Talla tells Andrew that Peter told her if he won he would put her up as a pawn. Andrew says that if Alec and Topaz are lying about the breakup, then that is horrible. Talla says that when she talked to Topaz she made it off to be ploy. Andrew says yeah I believe it. Andrew reassures Talla that with her, him, Emmett and Jillian they are 4 strong. Andrew says that Peter is probably getting scared and he knows he needs to start winning something. Andrew says that if it gets down to the final two I am not voting for someone who floated there way through the game. Andrew says that Talla needs to win this one ..she has come 3 in the last few. Talla says that she is going to talk to Emmett tonight and make sure he knows that he is not on my radar and that we need to make this final four official. Us four are the strongest. Talla heads downstairs.
7:55pm Talla then goes to tell Emmett & Jillian in the bathroom. She tells them that she is with them even if they aren't with her. Emmett tells her that she can't be all over the place switching sides. Jillian tells Emmett that Talla hasn't been. Talla brings up how she doesn't trust Alec and how Peter told her she would be put up as the pawn. Talla asks Emmett why he would want to keep Alec who is Emmett's biggest competition over her. Emmett tells her that they are good.
8:30pm Jillian and Emmett are in the hot tub talking about her past relationships and other random things. Meanwhile Gary is in the bedroom re-doing his make up. Gary finishes up and heads back to the kitchen where Andrew is cooking steaks and Talla is helping and doing dishes.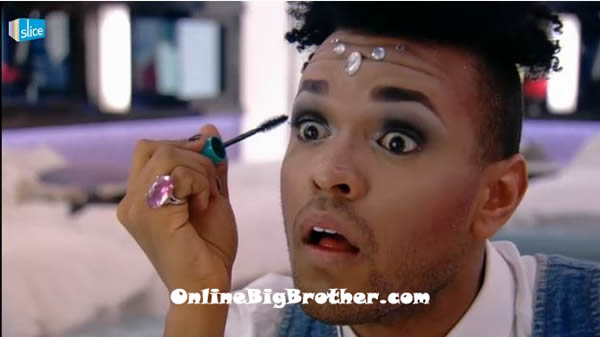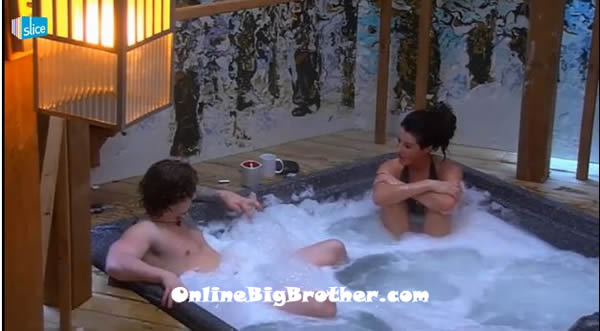 9pm – 9:35pm Talla, Andrew, Alec and Emmett sit down at the kitchen table to eat their steak dinner. Topaz sits by Talla to watch them eat. They argue over who looks in the mirror the most. Emmett says that Gary looks in the mirror the most. Topaz says that Emmett and Talla do. Emmett says no I don't you just notice when I do because you're always looking at me. Andrew complains that the steaks were poor quality and old. He says his is over done and that he likes it more rare. He says he wants it to look like he is cutting in to Alec and eating him. When they finish up Talla pushes her plate to Alec and tells him to take it away. Alec says that's demeaning and he won't do it. Andrew comes by and takes it .. he says I'll take it like a gentleman and not like a douche-bag like Alec. Talla spills her pop and says that someone needs to get her something to clean it up. She then slurps it up off the table. Everyone tells her not to do that. Talla mops up the pop with a cloth and squeezes it into a glass. Jillian then dares her to drink the mopped up pop. Talla gives it to Alec and tells him to drink it. He starts to and Topaz and Jillian yell at him to not drink it.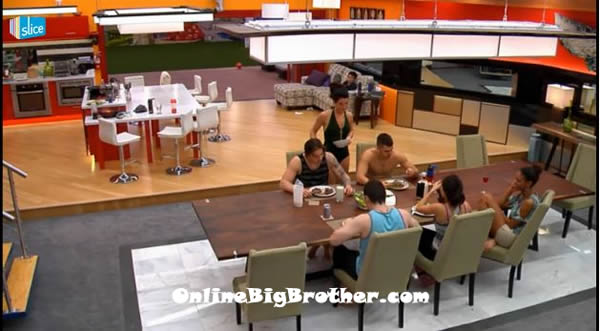 Video of dinner time:

OnlineBigBrother.com
Stay connected and interact with other Big Brother Fans on our Facebook page.
And Follow: @BigBspoilers and @Dawgsbigbrother on Twitter for the most up to date spoilers.