POV Holder:
Alec
Next POV
March 23rd
POV Used
No
POV Ceremony
March 25th
HOH Winner:
Gary
Next HOH:
March 21th
Original Nominations:
Tom & Liza
Current Nominations:
TOm & Liza
Last Evicted Houseguest
Aneal
Have Nots
Jillian, Emmett, Talla and Alec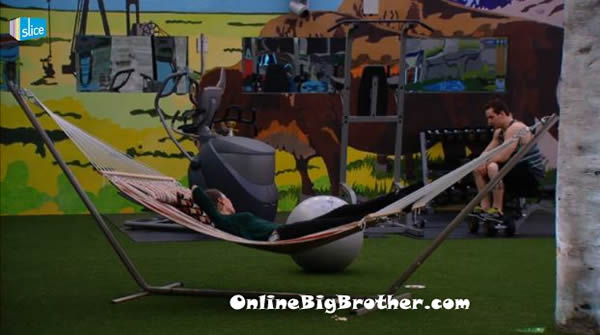 8:40pm Liza and Tom are still separating themselves from the rest of the house guests. Tom says that he feels like they are outcasts. Liza agrees. Tom says that Jillian is just a lost little school girl trapped in a woman's body. He says that she has to ask Emmett what to do and say. Liza says that she is just too intelligent for these people. Meanwhile back in the house: Talla, Peter, Jillian and Emmett are still trying to remain silent. Andrew picks Gary up off the ground. Jillian and Alec put their noses into a chip bag to smell it because they want to eat real food so bad. Aj tries his best to try and get them to talk by dancing and acting like a fool.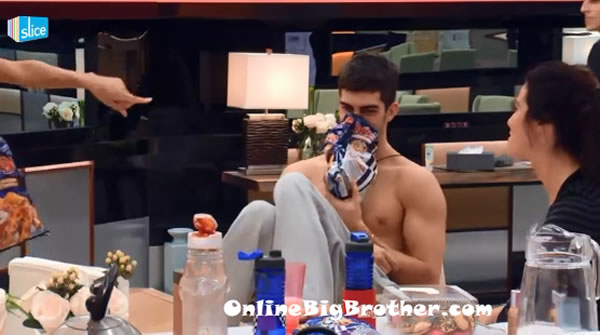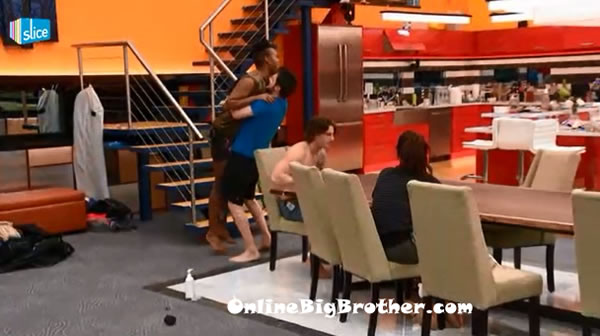 9:15pm Aj and Andrew head out to the backyard to talk with Tom. Gary and Suzette are sitting by the pool. Tom comes over and talks to him and Suzette. The start talking about movies they like. Andrew says that he loves the move the descendants. Liza says she loved Oceans 11 but hated the descendants. Andrew asks are you serious and jokingly walks away.

9:15pm Alec and Topaz are up in the HOH room talking. Topaz says that she was fine until Liza said she wanted to get physical with me. Alec asks Topaz who she would put up if she won HOH this week. Topaz says she would put up Liza and Aj as the pawn. Alec says that Topaz could do that but that he wouldn't because he likes Aj. He says that he would put up Liza and Suzette. He says that he would ask Suzette first so that he doesn't lose her trust. Alec says that if one of them came off he would put up Talla as the replacement. Alec says that he wouldnt want to put up Aj because he has been the pawn before and I know he wouldn't do that to me.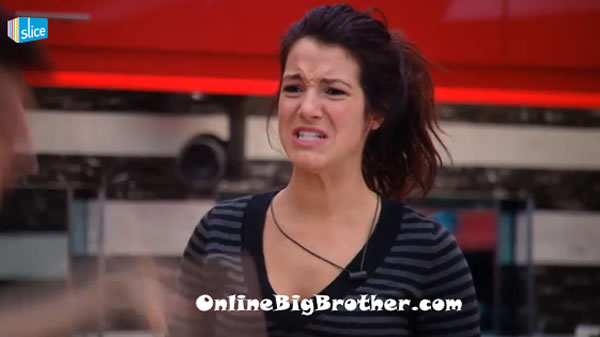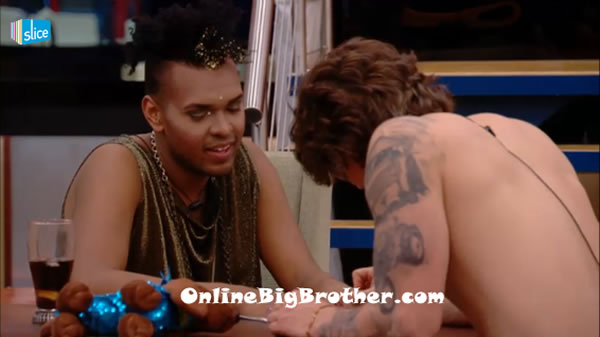 9:35pm At the kitchen table Emmett is painting Gary's nails. Gary tells Emmett he wants 3 coats. Jillian tries the slop and freaks out because its gross .. she says it tastes real sour .. it bad! She says that she tired it three times because she though she messed it up. She thinks big brother made it worse.
9:40pm – 9:55pm Gary heads up to the HOH room to talk to topaz and Alec.

10pm – 10:30pm Alec, Gary and Topaz are still talking in the HOH room. Alec says that he would volunteer to go up a pawn against Suzette. He says that he trusts them to not vote him out. Topaz and Gary both think Alec is crazy to volunteer and tell him not to. Gary heads down to the kitchen. He tells everyone that he is having a party in the HOH room and everyone has to come up. He tells everyone they need to bring a drink.
10:45pm – 11pm
Gary's party is a bust. He had told them all do the photo shoot and after their would be a party in the HOH room. Gary says that he was told everyone had to come up to the HOH room with a drink. Jillian freaks out at the people that were taking their time to come up to the HOH room. After they all sat around for ever, they realized they had failed the task. Talla goes off and has a hissy fit and freaks out because she is pissed everyone couldn't just come up and make it happen. She goes downstairs to have a smoke. She then comes back up and freaks out again. Talla leaves the HOH room again.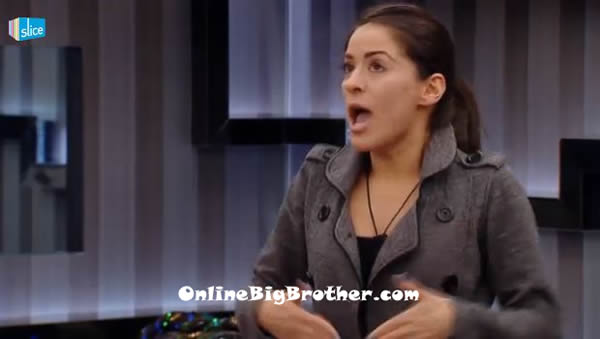 Gary says that he was about to laugh when Talla was going off. Talla goes out to the hot tub room to smoke. Emmett and Jillian come out to talk to her. Emmett tells her that she sounded intelligent and professional. Emmett and Jillian head inside. Aj comes out and tells her that it wasn't right for her to yell and take it out on everyone.

11:10pm Back up in the HOH room Gary tells Suzette and Topaz that it wasn't a task he lied just to try and get everyone together to have a good time. Gary says that they will never find out. He tells Suzette and Topaz if they say anything he will make up a lie about them. Gary comments on how Peter suspected it wasn't a real task. Suzette says oh my god that turned a bit ugly there.
11:40pm – 11:50pm Jillian is in the kitchen freaking out about how the slop big brother gave them has gone bad and that they don't have anything to eat. Jillian says that it's illegal to stave them. Andrew tries it and agrees its bad. Alec grabs Talla to come with him to the diary room to ask for more slop. Jillian and Emmett are in the living room talking to Tom. They ask Tom if he is okay. Tom says that he is good, he says that he only talked to Liza on a personal level today. He says that he started talking to people and is trying to rebuild the relationships. The conversation turns to talking about being a havenot. Emmett and Tom go to the storage room to look at the rule book to see what they say about being on slop. Tom says that the rule book says they came be on slop for a week. Emmett and Tom wonder if they can eat on the 7th day instead of waiting till the next havenot challenge the day after.

11:55pm – 12:15am In the bedroom: Alec, Peter, Gary and Suzette are talking. Alec tells Suzette that Liza is staying but we can't let her know. Alec is worried someone will say something. Gary tells him that he tells Suzette everything and she won't tell anyone. Liza joins them. The conversation turns to talking about Big Brother 15. Peter says that it was rumored that Brian from season 10 is going to be on it. He also says that it's rumored to be fans versus favorites.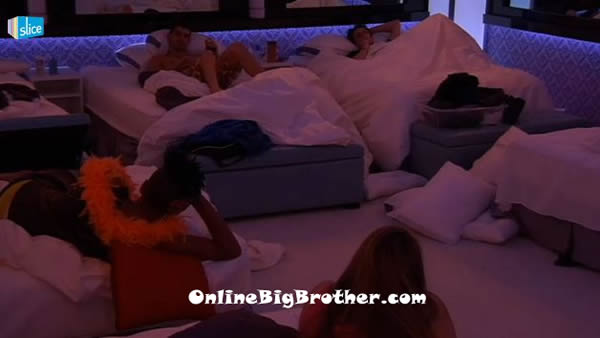 12:15am In the havenot room: Talla tells Jillian what she said to Liza about how she wasn't going to not talk to her just because other people told her too. I am not a follower. The conversation turns to talking about slop and how everyone should have to experience it. Jillian says that she is on day 13 of slop, I am sleeping on the floor, I am not getting good sleeps, we couldn't compete in the HOH, we didn't get two food items to eat on slop, we didn't get to compete in a havenot competition… etc.
OnlineBigBrother.com
Stay connected and interact with other Big Brother Fans on our Facebook page.
And Follow: @BigBspoilers and @Dawgsbigbrother on Twitter for the most up to date spoilers.
Share it YO!!
Tweet