POV Holder:
Alec
Next POV
March 23rd
POV Used
No
POV Ceremony
March 25th
HOH Winner:
Gary
Next HOH:
March 21th
Original Nominations:
Tom & Liza
Current Nominations:
TOm & Liza
Last Evicted Houseguest
Aneal
Have Nots
Jillian, Emmett, Talla and Alec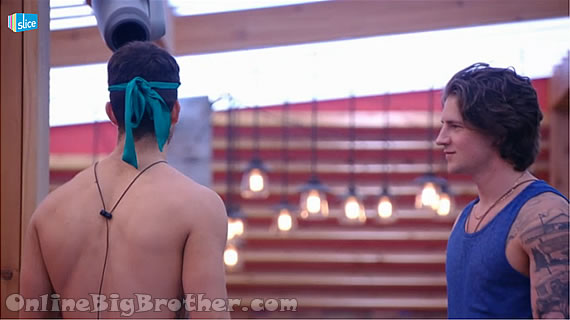 12:22AM Tom and Emmett tossing the football around
Gary is in the pool. Tom is being extra nice to Gary.. He heads to bed early leaving Emmett and Gary. Gary: "I talked to Jillian.. it was about me not wanting her out week 2"
Gary goes on to explain that the it was mostly Liza filling her head full of stuff
Alec joins them and starts talking to the camera. Alec: "I will personally give a person in production a hundred dollars if they can do a week on slop.. you can tell us who it was at the wrap party"
Big Brother: "house guests please stop talking about production"
Alec :"It's not talking about it's talking to"
Emmett starts saying that the players would be much more active if they were not on slop because all the slop people are too tired.
Emmett starts saying he loves fruit it's his passion.. "I use to have a candy addiction then I substituted it with Fruit"
Emmett says the only way he's able to survive is from Jillian's protein/slop shake concoction. Alec gives it a try and says it's gross way too sweet.
Suzette joins them. they ask her what is going on in the bedroom.. Suzette: "Same old.. Aj telling stories" You can hear the bedroom from outside..
Suzette asks Emmett how the slop is. Emmett explains that the shakes are alright but they never really fill him up. Suzette jokes if she was on slop she has so much extra body fat she would just consume herself.. Gary laughs like crazy "Suzette is melting away"
Emmett says the most important competition in the house is the havenots. Suzette comments that Emmett is wasting away, 'Your muscle definition is going away". Emmett: "My body is breaking itself down" Emmett goes on to explain that if your body doesn't consume enough calories it starts consuming itself. Suzette gets excited again because she wants to lose a bit of weight, "Ya baby" Emmett smirks "You say that now"
Emmett starts talking about the whey protein that he had purchased for this show and production promised him they would supply it. .
Suzette jokes again about being on slop for 30 days and coming out of the house totally unrecognizable, "Hey whos that new girl in the Big Brother House" (LOL Suzette is getting funny)
Talk moves to past seasons of Big Brother Pandora Boxes
Suzette and Gary say they would open Pandora's box. Alec says he wouldn't
Suzette: "What if it's 20 grand"
Emmett: "20grand.. we get 100 for this they are not going to give us 20 grand"
Emmett says he's never been to a professional sports game, "Never been to a hockey game, Baseball or Basketball game"
Alec tries the protein power drink that Jillian made for Emmett.. apparently it's whats keeping him alive. Aj and Tom join them and they start talking about sports.
1:06am Bedroom Tom and Suzette Tom is using the bonding power of Baseball/Hockey talk to get suzette's vote.. Suzette says she would lovbe it if they had a room full of kittens.. looks like the bedroom crew is heading to bed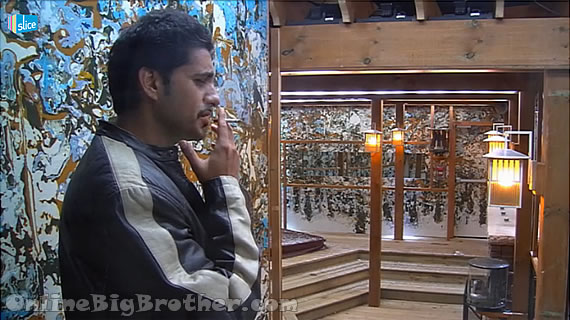 1:21AM hot tub room AJ smoking talking to himself about Sports.. Aj starts talking about Cars and what he would do if he won the grand prize. He would give the car to his dad, he would take another year off, he would
AJ: "It's not a life saver if you think it's a life changer emmett .. "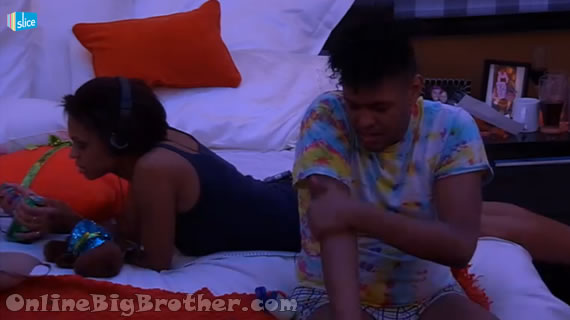 1:48AM HOH Topaz and Gary Gary is worried that he's getting screwed over by teaming up with Alec but at this point if it can get him to final 4 he's happy. Gary knows that Alec is lying to him. Gary: "I know this mo*** fu*** is lying to me.. just keep it real" Topaz says that it's a game so people may not say everything truthfully or may not want it exposed to the watchers. Gary thinks Alec should at least open up to one person in this house, "You have to trust somebody.. right now he's not opening up to anyone in this house.. not me not peter" Topaz is just accepting that is who he is. Gary: "You would think the wall would come down now that the d!ck is exposed.. know the story behind the D1ck"
Topaz: "I guess i'm over it.. i'm going to trust the guy.. not as much as I trust you" Gary says he'll trust Alec to. Gary says that Tom is 100% convinced he's staying.
Gary gives a rundown of players and what he thinks about them.
Aj = whatever
Andrew = being weird
Talla = Crazy ..whatever
Liza = Whatever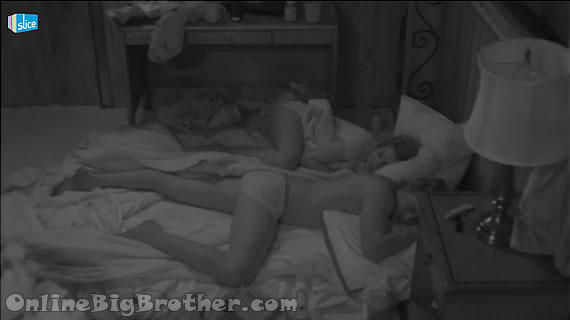 1:55Am Sleeping
Share it YO!!
Tweet