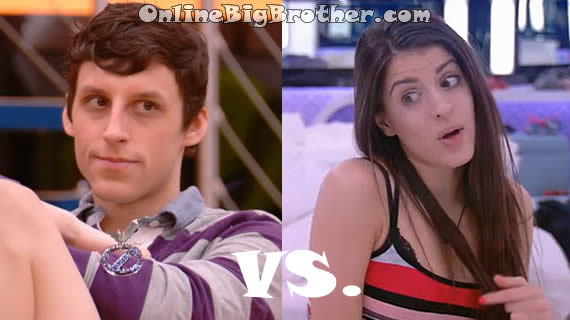 Big Brother Canada EVICTION Episode: April 18th, 2013 @ 10pm ET/PT
Talla Rejaei and Peter Brown were nominated for eviction. We can say with decent confidence that Peter is not going to receive the required votes to stay in the house. (I would just like to add that at times tonight's vote was very much in the air as Peter's campaigning was effective) This is not to say that some crazy twist is going to save him. This is Big Brother Canada After All. We do know that someone is coming back into the house. Rumors are rampant that maybe that person will compete against Peter to stay in the house or if the returning player is dropped right into the game anything goes. The season ends May 2nd and we are getting word that it will be a live 2 hour episode, if this is true than Big Brother Canada might be moving away from the Big Brother US format giving us the entire finale comp in one night. Who knows..
Peter has been quoted giving himself and Emmett credit for every single eviction this season, he believed himself the puppet master of the game. Like him or not you cannot deny he was gifted in scheming and strategic planning however his opinions on his performance are clearly delusional. His campaigning these last two days have been very effective and showed us his potential but in the end it could not overcome the extreme lack of a social game and inability to create close relationships with anyone other than Alec and Liza. Pity Party video gives you a glimpse of how he feels towards the "stupid people". Please keep in mind that the big Brother experience is stressful and to see a dream disappear can results in someone saying all sorts of crazy sh!t.
Talla whose played the exact opposite type game to Peter has had really only a social component. Her inability to win any comps coupled with this social game has kept her safe from the powerhouses holding the reigns. Described as a jumper Talla has at times been known to stay close to whoever has the power of the week, this has worked out well for her as she's almost never the target. On the flip side it's pretty much erased any hope of her winning this game. Peter has said Talla is only playing for second and it's probably true as a strictly social player she will not get the votes unless she's up against a returning houseguest (Gary maybe). Talla and Andrew's banter on the feeds have been a saving grace for this blogger as the milkmance slurps and Peter slept..
I feel both these players had a lot to offer on very different ends of the spectrum good luck to them both.
My predictions
Peter goes home Gary comes back and Wins HOH resulting in the milkmance being in jeopardy
Social Media Rumors
(Totally unconfirmed totally BS until we watch the show)
Peter evicted 2-0
Gary unleashed into the game..
Dan from BB10/14 is staying in the house for 2 nights..
unconfirmed which night it is or how many nights.. either way i'll be sick those nights.
Twist results
(There probably going to be 6 twists unleashed tonight so get ready)
Gary back in the house
Dan Gheesling will join the houseguests for a sleepover sometime between now and Wednesday
Confirmed Eviction results
Peter goes home 2-0
Confirmed HOH results
EMMETT WINS
Stay connected and interact with other Big Brother Fans on our Facebook page.
And Follow: @BigBspoilers and @Dawgsbigbrother on twitter.