POV Holder:
Andrew
Next POV
April 20th
POV Used
Yes
POV Ceremony
April 15th
HOH Winner:
JILLIAN
Next HOH:
April 18th
Original Nominations:
Andrew and Peter
Current Nominations:
Peter & Talla
Last Evicted Houseguest
ALEC & TOPAZ
Have Nots
Talla & Andrew (Servants for haves)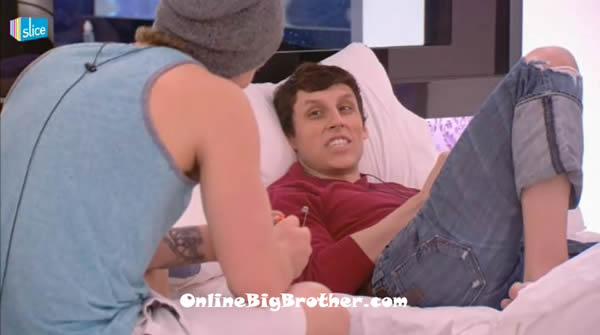 12:50pm The live feeds come back. Peter is talking to Emmett in the bedroom. Peter says that he had a talk with Jillian and she says that I lied to her which is not true, I only ran scenario with her because that's what I do. Peter tells Emmett that he told Jillian she would not get my vote in the jury. Peter says that Jillian thinks just because she won 3 HOH's that she will win, and that's not true .. you don't need to win HOH's to win the game. You only need to win to secure your safety. Frank learned that last year. Peter tells Emmett that he will win against anyone. I will make sure of that you have my vote and you have Alec's vote. Peter says girls don't beat boys at the end, it just doesn't happen! Girls don't beat boys! Peter tells Emmett not to give me a pity vote .. I don't want to give her the satisfaction that she voted me out. You don't need to vote for me, Andrew already told me he was't voting for me. Peter tells Emmett that he hopes there is a twist tonight so that he can laugh at Jillian.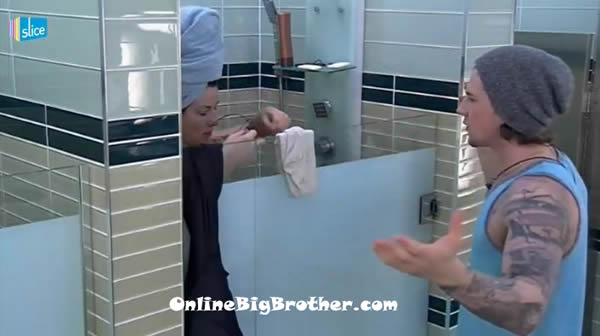 Emmett hears Talla yelling in the bathroom. He goes to tell her to calm down. Emmett goes to the bathroom and tells Talla to be quiet. Jillian starts going off about how Peter lying. Emmett says that it's big brother you're allowed to lie! Talla keeps freaking out about what Peters doing. Emmett tells her then fine go in there and rip a strip off of Peter.. because it will be better for me if you do it. Talla leaves the room. Emmett tries calm Jillian down. He tells her that she needs to go and make up with Peter.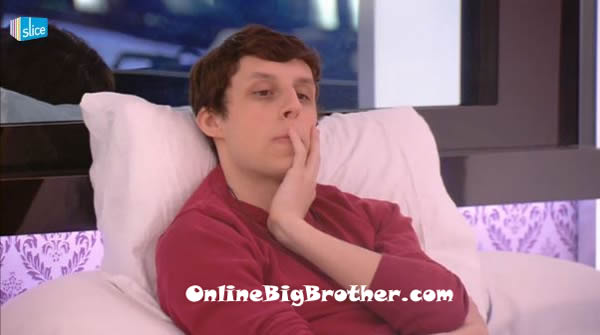 1pm – 1:30pm Talla and Andrew are in the havenot room. Talla is still freaking out. Andrew is trying to calm her down. Emmett comes in and tells her to relax. He explains that Andrew is smart he is letting it go and not letting it get to him. Talla keeps going on and on about it. She doesn't listen to Andrew and Emmett when they tell her that she is safe. Emmett then goes back to talk to Peter in the bedroom. Peter talks about how he will exit to be memorable. He says that maybe he will walk up the stair very slowly .. and then at the top of the stairs stop and say something very cryptic. Peter tells Emmett that he hopes he sees him on May 2 with the check. Emmett says that he can barely hang out with these people any more. Peter tells Emmett that he would rather vote for the coffee maker than anyone else but Emmett. Peter says that Jillian loses to everyone, even if she is up against Talla because people will wonder who the hell she did that. Peter says that he is definitely going to do the silence thing because that will be unique to me… and then I will stand at the top and say something .. that will be very cool. Emmett says yeah if you are going out .. go out with a bang.
1:30pm – 1:50pm Jillian comes in and asks to talk to Peter alone. Jillian tells Peter that she doesn't think it's fare that he is telling her that he wont vote for her because of the moves she made. She says that she played the game the best she can and has made moves to get herself further in the game. She says that she doesn't know the game. She says that its a compliment that she wants to vote him out because he is a huge threat. Peter says that he will vote for the best person in the end and if you played the best game in the end then I will vote for you. I shouldn't have said that Alec, Gary or Topaz won't vote for you. I shouldn't have spoken for them, that wasn't right. Jillian says that she doesn't care if Emmett or her win. Peter says thank you for the compliment. My favourite two players are Dan Gheesling and Will Kirby and they never had to win competitions. Peter tells her that he is more upset with himself than with her. Peter says that people left their homes to come in here .. I came in here to come home. Jillian tells Peter that's sad. She feels bad that he loves this game so much and she is sending him home. Peter tells her again how he will listen to what each person says and then he will make his decision on who he will vote for. Alec and I think about this game very similar, so if you can convince one of us you can convince both of us. Jillian says that she is sorry she snapped .. I was under too much pressure and I think I was hungry.. Peter says the game doesn't begin until jury house. Peter tells Jillian that he is going to do all his goodbye's now .. I want everyone to be silent when I leave. Jillian says but what if there is a twist. Peter says I have told Emmett what I am going to do for my goodbye, no one has done it before and it will be good.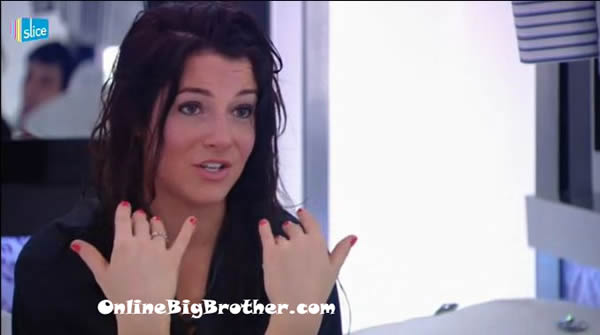 Video is uploading:

2pm – 2:10pm In the bedroom: Peter tells Talla that he wants her to sit down and be quiet when he gets voted out. Talla is confused but says okay. Peter leaves the room. Talla asks Emmett about how Peter wants everyone to sit down. Talla says what if it is a trick? Emmett tells her its not and to relax.
2:13pm In the kitchen Peter tell Emmett when he does his vote… do this (Peter then held up the shield) and says you won't understand it now, but you will when you watch it. Meanwhile in the havenot room: Talla tells Andrew about how Peter wants everyone to sit down in silence. Andrew complains about how they just want to be these memorable characters. Andrew leaves to go to the washroom. Talla says to herself imagine if I get blind sided.. I will tear a strip off someone! Andrew comes back. He says I just want to know what Peter is going to do .. if he says anything stupid I am going to.. !! Just accept your fate.
2:30pm – 2:40pm Jillian talks to Talla where she tells her about her conversation with Peter. Jillian tells Talla about how he said he doesn't feel like he belongs in the real world. Talla thinks its sad.

2:50pm – 3:15pm Andrew, Peter, Emmett and Jillian are in the kitchen talking about random things. Peter and Emmett sit down at the kitchen table to play a game of puck ball. Meanwhile in the bathroom: Talla is putting on her face. Andrew joins her and says that Peter is probably just going to do something from wrestling. Andrew says that he is pissed that he hates me as a player. Talla says take it as a compliment. Talla says he was just trying to turn us all against each other and that's what he did. Andrew leaves to go lay down again. Talla continues putting make up on. She says to herself that she feels bad now that she knows that about Peter. Jillian joins her and then talk about the fight earlier with Peter.
3:15pm Big Brother switches the live feeds to the hush hush screen..
3:55pm Still Hush Hush .. it looks like the live feeds will be down till after (or back during) the live episode tonight. Who do you want to come back into the house? Who do you think will come back?
Please consider donating. Simon and I work 24/7 all season long to bring you all the live feed updates and spoilers. ANY amount is greatly appreciated, your donations go directly to paying the server and bandwidth fees needed to run this site.
OnlineBigBrother.com
Stay connected and interact with other Big Brother Fans on our Facebook page.
And Follow: @BigBspoilers and @Dawgsbigbrother on Twitter for the most up to date spoilers.