POV Holder:
?
Next POV
April 20th
POV Used
?
POV Ceremony
April 22nd
HOH Winner:
Emmett
Next HOH:
April 25th
Original Nominations:
?
Current Nominations:
?
Last Evicted Houseguest
Peter
Have Nots
Talla and Andrew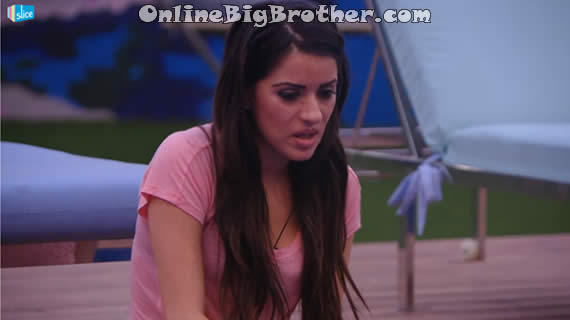 11:34pm POOL Talla and Andrew
Andrew wanting to get Gary out this week.
Andrew: "We just did this week.. instead of Emmett it was jillian and instead of GAry it was Peter"
ANdrew: "Canada voted this week and GAry is back… I would probably have voted Gary back if I was Canada"
Andrew: "People are watching this writing about this.. BLOGS? who knows what what's going on"
Andrew: 'Imagine if GAry had won HOH you would be safe.. and I would be screwed with Emmett"
They both feel like crap.. being on have nots is wearing them out.
Andrew tells her they need to win POV get some sleep tonight. If Gary wins the POV one of them is going home.
Andrew: "The thing that sucks about Emmett and Jillian being HOH is they spend the entire day up in the HOH"
Talla: "Ahh i don't want this to end"
Andrew: "You are crazy.. you don't want to see your family"
Talla: "I can't believe i'm still in this house playing the big brother game"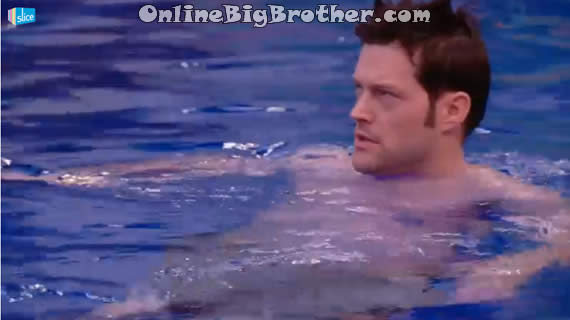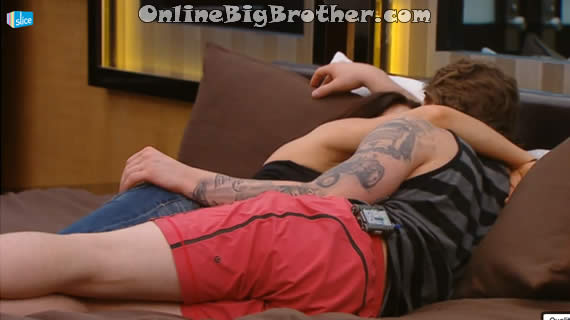 11:42pm HOH Milkmance
Emmett: "This week is just like last week" Emmett explains if he puts Talla and Gary up anmd Andrew wins POV he'll take Talla down and Jillian will go up. Emmett wants to put Gary and Adnrew up. Jillian is tired doesn't want to talk game.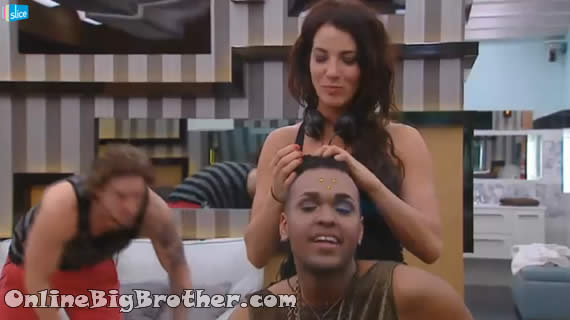 11:47pm HOH Gary, Emmett and Jillian
Emmett: "You are going on thje block again Andrew you have to win Veto"
Gary: "Can he go home"
Emmett: "you need to win the VETO"
GAry: "Listen when I left I was rooting for you in the jury house.. why didn't you guys come to me"
Emmett explains why they voted him out they found out he had an alliance with Topaz, Peter and Alec final 4 and a deal with Andrew.
Gary: "really.. I wasn't in an alliance with them.. that was f***ing real I was with you guys"
Emmett: "You spent all your time with topaz"
Gary: "I played a honest game from the beginning and that is why I got voted back into the game.. My Image got me back"
Gary: "Alec hates you"
Emmett: "Who do you think got Alec out.. we did"
Gary swears that he's got a final 3 with Emmett and Jillian for real and all of Canada knows it that is why he's back. Jillian says that Alec told them everything Topaz told him when he was on the block 2 weeks ago. Gary calls Alec a liar says he's always trusts the milkmance.. Gary: "The only people I trusted in the house is you guys and Topaz"
Gary calls Talla a f**** jumper, "She doesn't deserve to be here at all.. but people are starting to respect her game a bit saying Jumping is a strategy" Gary adds that the jury house is all saying that Andrew is play a good game and he's not someone you want to be in the final 2 with cause he'll win the game.
Emmett: "We are the only people in the house that are happy you are here"
Jillian brings up breaking her word with topaz.. explains how it all went down.
Gary: "Why did you guys decide Pete.. I thought you were working with him on the side.. you guys with the 3 of us we can make final 3″
Jillian: 'We are the only ones happy you are here"
Gary: "I don't trust Talla.. Andrew put me up I'm sure he wants me gone.. a lot of time has past so i'm sure you guys have some sort of relationship with the people left in the house"
Gary: "Peter id s d1ck I didn't want him in the house.. I would have voted for you guys if you made it to the final 2"
Emmett says there is a few people in this game that would vote for Talla
Gary: "Makes me sick I have to look at her face"
Gary keeps saying that he's not playing this game very well… he thinks it's Andrew's week to go.
Emmett: "Look you gotta go up and Andrew is right beside you and I cannot stress enough how much we have to win this VETO.. you cannot take it easy"
Gary: "Of course I am you think I want not win the VETO"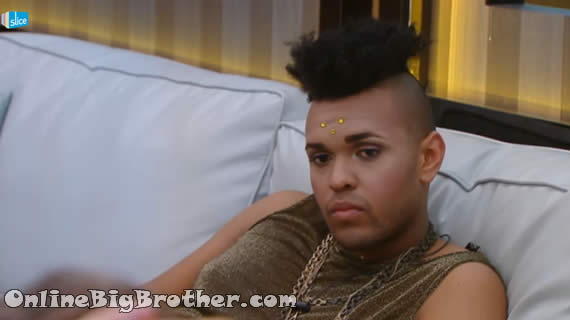 Jillian leaves
Gary: "I just want to play with you guys for real and not be a motherf***er"
Alec kept Andrew in the game to get me out of the house..
Emmett: 'Alec kepot Andrew in the house to get me out"
Gary: 'Andrew wanted you in the house since day one.. he wanted you and and Tom out because he thought you were juiceheads.. "
Emmett :'Whatever.. you understand why you are going up.. this is a blessing"
Gary: 'It's a blessing you need to prove to your mom you like me"
Gary: 'That motherF***er is kissing your a$$ I can see that now"
Emmett: 'I'm telling you right now if I win POV i'm keeping you up there"
Gary: "WHY! i'm going home"
Emmett: 'How would you go home.. there's only two votes
Emmett: "Seriously you have a brain in your head.. Christ man you are like a child.. stop saying that shit.. no offense I will take you to the final 2 because I think I can beat you"
Gary: "All I want is the 20 grand"
Emmett: "You just sat there I want that f***ing b1tch gone.. i don't understand you man.. you are ridiculous"
Gary: "I could have met Talla.. I'm still a little bit angry at Jill"
Emmett: 'Let that sh1t go you are lucky you got your a$$ back in the game"
Gary: "I just don't think Talla deserve to be here"
Jillian comes back up
Gary: "They were called the three stooges.. Andrew Aj and Talla"
Emmett: "Ohh really.. she says that all the time.. she called him a stooge" (Andrew)
Emmett leaves
Gary tells her how they now have the numbers they have final 3. Jillian isn't sure that Emmett putting him up is the best idea but wants him to know he needs to win the POV. Gary: "we have the numbers.. we're on the same page.. etc etc"
Gary tells them that everyone in the Jury is Team Andrew.. (Great production lets sink Andrew's game more cause Jillian and Emmett are hurting)
1:51AM HOH Emmett comes back up tells them he's sure it's double eviction this Thursday because next week is the final HOH
Jillian leaves, Emmett and Gary go back to playing chess.
Gary goes on and on about how he doesn't care about the money, "I need camera time .. I want a career in front of the camera"
Emmett: "Good.. I don't give a sh1t"
Gary: "I'm not playing good cause I'm talking a lot of sh1t right now"
Emmett: "Do me a favor.. stop talking about me and you .. do your own thing talk about Talla and Andrew"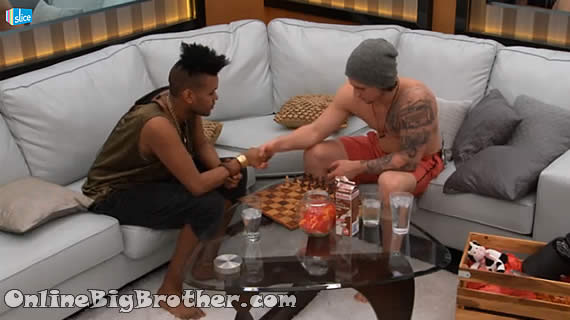 They shake on it (this shake was more Gary wanting to shake final 3) .. Emmett says he'll talk to Talla to throw the POV and all Gary needs to do is win the VETO.

(Videos coming it's mega long)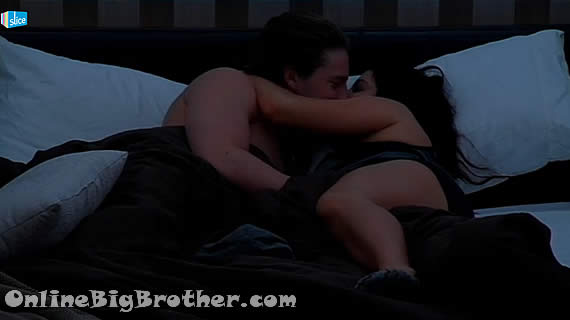 1:12AM Milkmance
Emmett: "So for right now we keep the same thing with Andrew and Talla.. I told Gary straight up you he's going up"
Jillian: "I'm glad pete went home"
Emmett: 'he thinks I'm taking him to final 2" (Gary)
Jillian: "You are taking me to final 2 otherwise we won't be friends"
Emmett: "If Andrew wins Veto we have to send Gary.. or do we keep Gary and get rid of Talla.. because Gary cannot beat yo in endurance and can't beat me in physical"
Jillian: 'Andrew is scared"
Emmet: 'Why is he scared"
Jillian: "Because if Gary wins Veto either Andrew and Talla are going home.. it's true"

(Videos coming it's long)
1:30AM Gary roaming around the house. He starts dancing int he backyard. Emmett tells him to go to bed because tomorrow is probably the Have nots comp.
(Videos coming it's long)
2:06AM I got a giant video of the milkmance slurping around.. it's processing