POV Holder:
Andrew
Next POV
April 20th
POV Used
Yes
POV Ceremony
April 15th
HOH Winner:
JILLIAN
Next HOH:
April 18th
Original Nominations:
Andrew and Peter
Current Nominations:
Peter & Talla
Last Evicted Houseguest
ALEC & TOPAZ
Have Nots
Talla & Andrew (Servants for haves)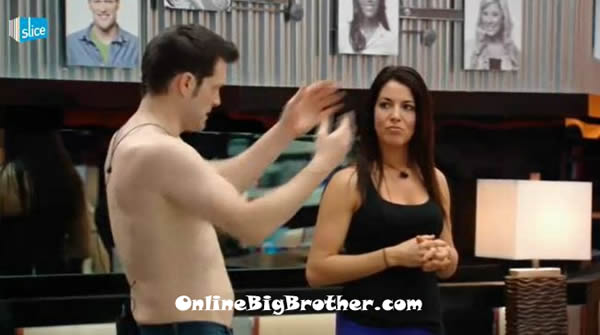 5:05pm When the live feeds return we learn that Andrew used the Power of Veto during the Veto Ceremony to remove himself from the block and Jillian as the Head Of Household nominated Talla as the replacement nominee.
Talla and Andrew are in the kitchen. Talla says that she is annoyed and is going to bed. Talla tells Jillian that she is really annoyed by Peter's speech. Andrew says that Peter and Alec just want to be characters on a TV show, they want to be memorable instead of being themselves. He says that Peter referenced the Chaos Theory in his speech. Andrew says that the Chaos Theory was said in the Jurassic Park movie. Chaos Theory "Chaos theory is the study of nonlinear dynamics, in which seemingly random events are actually predictable from simple deterministic equations." Andrew explains that when there is a certain amount of chaos different result come from it. The house guests are wondering when the havenots can end the 72 hours of service. They agree that Big Brother will let them know when it ends. Talla says as soon as it's dark out I am going to bed because I am having a sloppy day. Andrew tells Talla that at least we don't have to wake up early and watch that god forsaken video.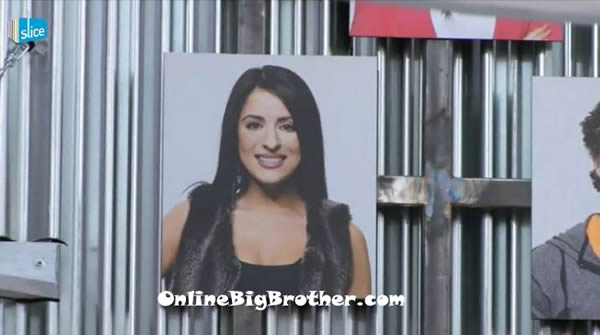 5:35pm Jillian says that because you and Andrew did so well at serving us for 72 hours, they should take you off slop right now. Talla says that she is in such a bad mood and just wants to sit in the corner. Jillian heads to the bedroom to climb in bed with Emmett. Emmett asks what Andrew was all worked up about? Jillian says his (Peter) speech. Emmett asks why? Jillian says that he was just annoyed that they (Alec/Peter) aren't being themselves. Emmett says he called Andrew out .. saying that he is a believer in the chaos theory and not afraid to shake things up. He says that it was a jab at Andrew to say that Andrew wasn't brave enough to use the veto on him (Peter). Emmett says its just funny. I like Peter. Emmett asks what Andrew really mad. Jillian says that he wasn't mad, he just doesn't like how they are playing characters than being themselves. Emmett says who cares. Jillian starts talking about a guy she dated. Emmett asks how many people have you dated. Jillian says that was only in a relationship with 3 people and went on dates with 6, 7, ..8 people.. Emmett laughs and says that a lot of her conversations go back to talking about people she's dated. Jillian says I haven't dated that many people, I am not a skank! Jillian says that she would rather go to the final three with him and Andrew rather than Talla .. she would probably win the endurance HOH. She is so small she could win that. Jillian says and still either one of us could and take the other. Emmett says that he doesn't think Andrew would take him. I tried to sell it to him today but I don't know. Emmett says that he was throwing the line out there to see if he would bite. Jillian says you could win HOH or not it doesn't matter as long as one of us wins the veto. Emmett says Talla just can't win the veto. Emmett and Jillian start studying the events of the house.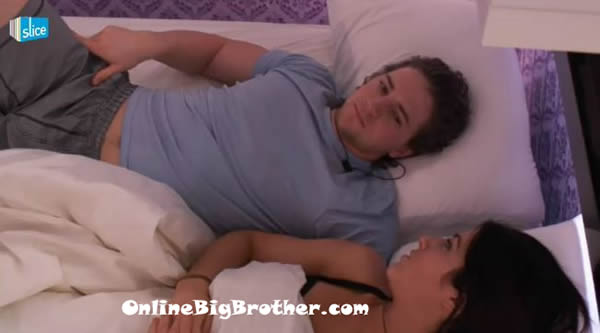 6pm – 6:50pm Andrew and Talla head out to the hot tub room. Andrew and Talla discuss being on slop and about how much weight they've lost. Talla says she hopes they get a reward for serving the haves for 72 hours. Andrew says our reward is not having to wipe their a$$es any more. Andrew and Talla start playing puck ball in the kitchen.
Meanwhile in the bedroom: Emmett and Jillian are talking about past events of the house. Jillian says that she will be able to defend all of her actions in the house to the jury. Jillian asks Emmett do you think the jury would pick you over Andrew? Emmett says yes. Emmett asks do you want to take that chance with Talla? The only reason she is around right now is because every one wants to take her. Emmett says your excuse to get rid of Talla could be that she is a threat in endurance. Andrew and Talla join them. Andrew jokingly says hey do you guys think we should get rid of Talla this week? She won't even know its coming. Talla says shut up. Andrew asks them what they thought of Peters speech. Emmett says that it was a witty comment to call you out and making fun of you. Andrew is called to the diary room. Emmett and Jillian head out to the hot tub room to play cards. Peter joins them in their card game.
6:55pm Emmett, Jillian and Peter playing cards in the hot tub room. Talla is up in the HOH room listening to Jillian's music.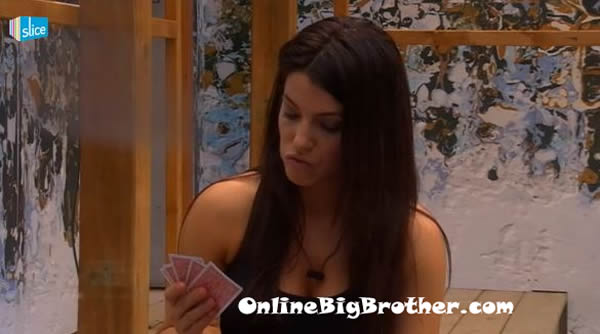 7pm – 7:25pm Andrew and Jillian are talking game in the kitchen. Jillian says that Emmett has been distancing himself from her a bit lately. Andrew says that well that's why we have our deal. Andrew and Jillian are worried about Talla winning the next HOH. Andrew says its one thing for her to win HOH but all we need to do is make sure we win the Veto. Andrew talks about how Emmett is 2 years younger than she is and he isn't as mature as she is. He says that he is a little cocky and doesn't treat you like a lady like I would. Jillian says well maybe we should ditch our partners and go together. Emmett comes out of the diary room and they run out to the hot tub room to quickly finish their game before Peter gets called in. Meanwhile Andrew goes up the stairs to the front door and scares Talla when she comes out of the diary room. He says that he went up there to see his twin brother Pete's perspective when he came in.
OnlineBigBrother.com
Stay connected and interact with other Big Brother Fans on our Facebook page.
And Follow: @BigBspoilers and @Dawgsbigbrother on Twitter for the most up to date spoilers.
[polldaddy poll=7031963]