POV Holder:
Andrew
Next POV
April 20th
POV Used
Yes
POV Ceremony
April 15th
HOH Winner:
JILLIAN
Next HOH:
April 18th
Original Nominations:
Andrew and Peter
Current Nominations:
Peter & Talla
Last Evicted Houseguest
ALEC & TOPAZ
Have Nots
Talla & Andrew (Servants for haves)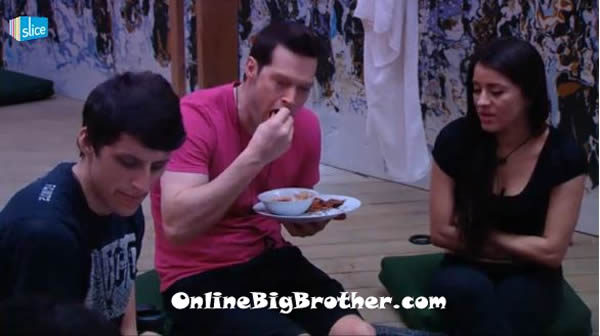 7:30pm – 8:15pm Talla asks Andrew to read the card of what she is allowed to eat. Andrew reads: Water, Salsa, Ketchup, Mustard, Coffee, Tea, Syrup, Salt & Pepper, Sugar, Slop, and Supplements. He says why don't we put all that in a bowl and SELF-EVICT! Peter and Talla head out to the hot tub room. Talla says that last week they didn't do a "Canada's Vote" maybe this week they will? Peter says it's doubtful. Emmett and Jillian join them to finish their card game. Andrew finishes making his slop chips. He brings them out with salsa to the hot tub room for him and Talla. They finish eating them and Andrew says that he is heading back inside. Talla asks what he is going to do? Andrew says I am going to listen to Taylor Swift and cry. Their card game continues. Talla then heads inside. They finish their card game and Emmett teases her. She says that she has never been talked to like the way he talks to her. Peter comments thats Andrew is looking for a new lady. They all head inside.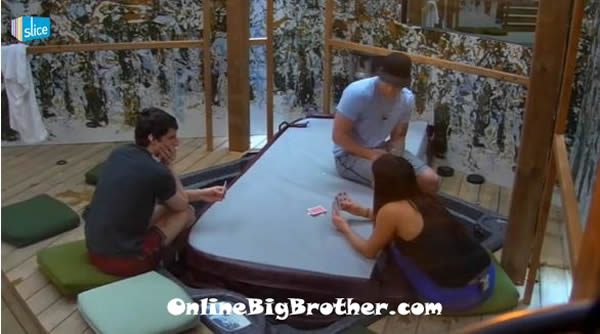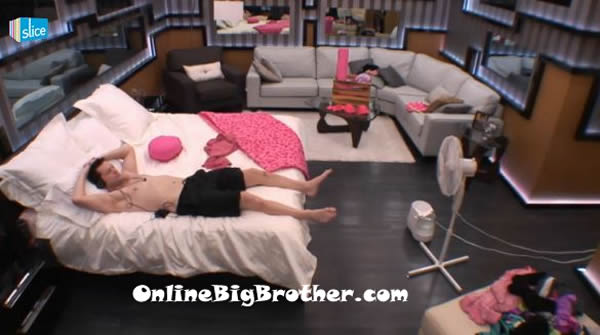 8:30pm – 9:10pm Andrew is annoyed that they still have to serve the haves even though its been longer than 72 hours. Andrew checks on Talla who is sleeping in the havenot room. Big Brother then buzzes Talla for sleeping. Andrew, Peter, Jillian and Emmett are in the living room. Jillian is super hyper and doing jumping jacks on the the couch. She then yells OH MY GOD someone's coming into the house!! It's Andrews brother!! She says just kidding! Andrew looks up and says that she freaked him out. Talla is pissed off and annoyed. She says they won't let her sleep and she already took her face off. Andrew comments to the others that Talla is psycho. Andrew apologizes to her family and says that she isn't psycho. Talla is still walking around complaining about how pissed off she is that she is on slop.
Out in the backyard: Talla says that she wants to hangout with Andrew but that she is upset and that he is not going to get Talla 10 .. he is going to get Talla 0. Talla asks are you excited? Andrew says no, why would I want to hangout with Talla 0! Andrew asks you aren't mad at me are you? Talla says no. Talla says that if they don't get a reward for being the servants to the haves by tomorrow then she will continue to be upset and Talla 0. Jillian and Emmett are working out. Andrew is in the pool. Talla continues to talk about how she isn't going to talk but continues to talk.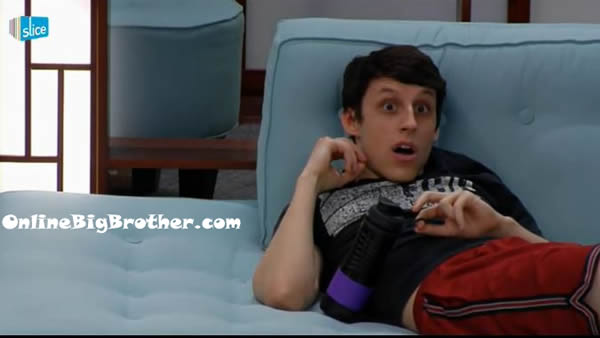 9:15pm – 9:35pm Andrew and Talla are out in the hot tub room. Talla is still talking about being in a bad mood. She says that she is at a 3 now. Andrew says what about that video of your sister that you watched yesterday .. do you think your family wants to see you like this? Talla talks about not want to hold a grudge with her friends when she is mad but that she will still be mean. She says okay maybe I am at a 5 now. Andrew asks Talla.. what if Big Brother gave us a meal because of how well we served the others.. what would you want?
Talla says that she would want: For my drink I want a Gin Martini 3 times the dirty, stuffed mushroom caps or calamari, Steak medium well,.. Andrew tells her to walk him through it and how it tastes we have a lot of time to kill. Talla says with my tenderloin I am having a nice 9oz glass of $30 wine. Andrew says why not a bottle? I am here! They continue to talk about her meal. At the end she says she is so pissed off. Andrew says hey I just did all that to cheer you up!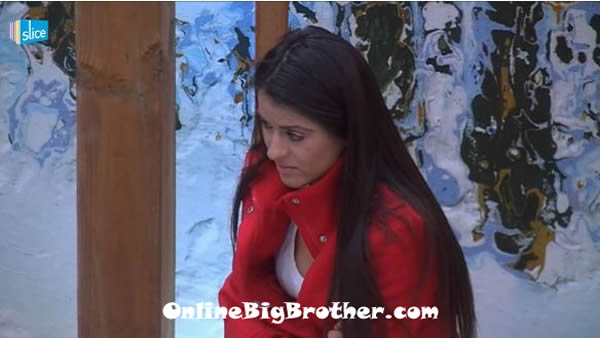 9:50pm – 10pm Talla and Peter are playing puck ball on the kitchen table. Andrew is making a slop drink in the kitchen. Jillian and Emmett are out in the backyard talking about random things like biking. In the kitchen Peter tells Talla that he as asked her to make out with him more times than he has ever asked anyone and she has always responded with BUSY!
9:05pm Big Brother tells the havenots that they are no longer servants for the haves. They still must eat slop and sleep in the havenot room for the remainder of the week. Talla says Thank God .. 90 hours later!! Andrew, Talla and Emmett are in the kitchen talking about random things. Emmett demonstrates how Gary slammed his fists on kitchen table when he was pissed at Talla. Emmett and Jillian head out to the hot tub room. Andrew tells Talla.. you know you aren't going home .. so many be you should cool out! He says Peter is going home and you are cranky. Peter comes into the kitchen and Andrew says if you want something.. go get it yourself! Andrew tells Talla that she has the mouth of a sailor and the mind of a turnip. Peter says and the body of a stripper.
Peter's gruesome leg from the last havenot competition "Rub A Dub Dub 2 House Guests in a Tub":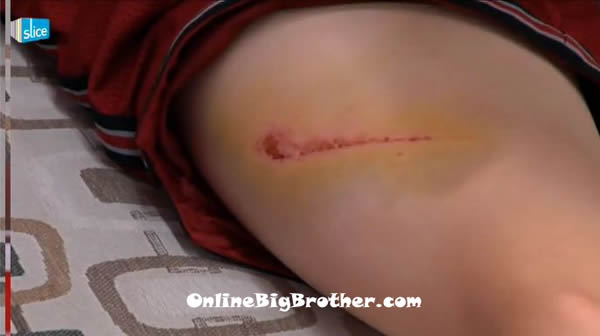 10:45pm – 11:10pm Talla gets mad at Andrew for continually making jokes about her. He tells her that he is just trying to live in this house. Andrew says I don't give a shit. Talla says yeah you have had such a bad attitude the last few days. Andrew says I have? Yeah and you have been a peach. Andrew and Talla get into it. Andrew gets up and says he will just walk away. He heads out into the backyard. He says you are such a fu*king waste. She is an idiot! Talla tells Peter that she will never hesitate to speak her mind. Andrew continues to talk about Talla off camera. Peter tells Talla that she isn't afraid to speak her mind and that's what she likes about him. She says that she is pissed off about being on slop and for what happened in the diary room. Peter and Talla head out to the hot tub room where Jillian are still playing cards. Andrew heads back inside and up to the HOH room to listen to Jillian's music.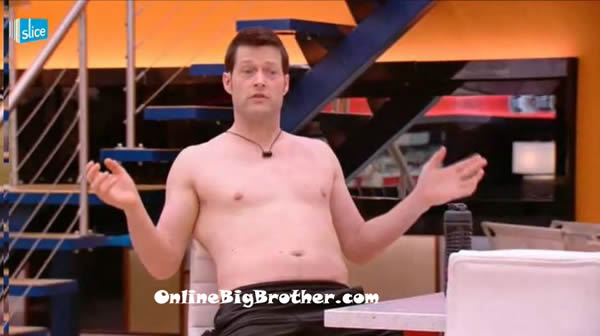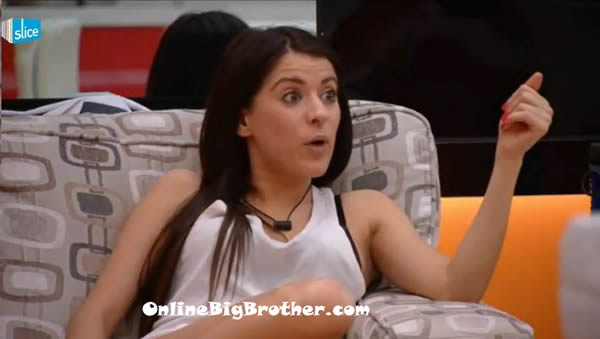 Video of Andrew & Talla's blow up will be posted here:


11:25pm – 11:45pm Peter and Talla decide to head to bed. Emmett and Jillian head in to grab some more wine. Andrew, Emmett and Jillian head out to the hot tub. Andrew asks if Talla talked about their blowup. Jillian says no but I could tell something was worng. Andrew says that he does so much for her .. like making her slop chips and she blew up on him. She is so selfish.. she is an idiot! Andrew says that she wanted to go ask for booze.. he says we are havenot's you idiot! We're lucky we aren't wiping their a$$es! Jillian says you know what it is .. its like you and her are married and she's on her period. Andrew says that he isn't going to apologize to her first. He says you know I might just reminder her that I have to vote this week so she might want to be a bit nicer! Andrew worries that he hopes she didn't persuade them to not give us a reward for being servants. Emmett says it was probably why they made it last longer. Andrew says he is going to bed …
11:45pm – 12am Talla and Andrew make up in the havenot room. Talla says I know you don't hate me. Andrew says I do hate you. Talla asks do you? Andrew says no. Andrew says its hard I had to spend all day with you. Talla says you crossed the line.. well no you didn't really. Talla says its just because I am on slop. Andrew talks about telling Jillian and Emmett. Andrew jokes that he came into the room with a pillow to suffocate her. Andrew and Talla make up and laugh about their fight.
OnlineBigBrother.com
Stay connected and interact with other Big Brother Fans on our Facebook page.
And Follow: @BigBspoilers and @Dawgsbigbrother on Twitter for the most up to date spoilers.
[polldaddy poll=7031963]
Please consider donating. Simon and I work 24/7 all season long to bring you all the live feed updates and spoilers. ANY amount is greatly appreciated, your donations go directly to paying the server and bandwidth fees needed to run this site.
OnlineBigBrother.com
Stay connected and interact with other Big Brother Fans on our Facebook page.
And Follow: @BigBspoilers and @Dawgsbigbrother on Twitter for the most up to date spoilers.