POV Holder:
TOM
Next POV
March 9th
POV Used
YES
POV Ceremony
March 11th
HOH Winner:
TOM
Next HOH:
March 14th
Original Nominations:
Gary & Suzette
Current Nominations:
Suzette & Aj
Last Evicted Houseguest
Danielle
Have Nots
Alec, Topaz, Aneal, Jillian
2:50pm Andrew and Alec are out in the backyard talking. Alec says that he is always going to make the smartest move for himself. Andrew says yeah you have too. Alec says that the smartest move for me is to align with people I can trust. Andrew asks yeah but is that with him (Tom). Alec says I am not aligned with him (Tom). Alec gets called to the diary room.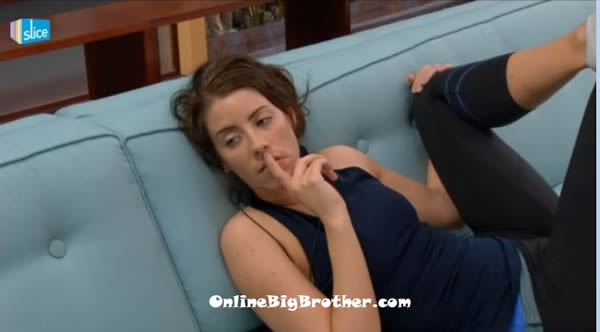 3pm
Liza and Suzette are sitting on the living room couch talking about Jillian and Emmett. Liza brings up how Emmett sleeps in the havenot room with Jillian, are you fu*king kidding me. Peter walks by and Liza follows him into the bedroom. Peter asks her why she is up there in the HOH sleeping with Tom. He tells her that being being around Tom all the time does not help your cause. Peter says that he is trying to dispel rumor about her. Peter tells her that she can't act like a player the next two weeks. He says that she can't react if something happens, just pretend you are okay with it. Peter tells her that she cant trust Topaz or Gary. Peter says that she needs to distribute her time with more people. Liza says that the two people you are closest to are the ones that want me out the most. Peter tells her to stop talking to people one on one because people think you are talking game. Liza asks if its okay for her to sleep with Tom. Peter says that she needs to distance herself from him. People think that you are controlling Tom. Liza says that Emmett was up with Jillian all week. Peter says but the perception isn't that Emmett is controlling her. Liza says yes it is… I want Emmett out, I want him out bad. Liza says what if I put up Emmett. Peter says that Alec would flip. Liza says what if I put up Emmett and Topaz. I want to see Alec lose his mind. Liza leaves the room to go try and hang out with the other and not game talk.
Video of Alec & Andrew, Suzette & Liza, and Peter & Liza's conversations: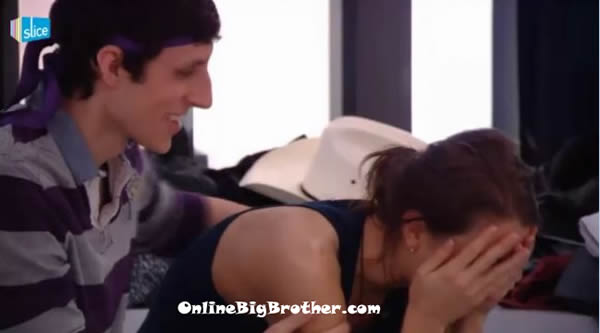 3:30pm – 3:55pm Peter explains the rules of foil ball in the living room to Andrew and Aj. Andrew and Aj start playing foil ball. Meanwhile Aneal and Jillian are out in the hot tub room talking. Aneal says that no one would suspect me and Liza. Aneal is worried that Gary will slip through to the end. Jillian wonders if they can get Gary out this week. Aneal says he's not on the block anymore.. our plans are 5 days old. The both laugh. Aneal says that getting Suzette out this week is so stupid and a waste for the house. Emmett joins them. Jillian heads back to the house. Aneal tells Emmett that he is going to win. Emmett asks what Aneal's game plan is. Aneal says to win mental competitions but that's not working out. Aneal talks about how he doesn't have anyone. They talk about how the house changes so fast. Emmett says that a lot of people make this house too personal. Aneal says that he thinks Jillian was brainwashed because nothing else explains why I was put up. He says that now he doesn't trust anyone. Aneal asks if Emmett has a plan? Emmett says he has people he wants to get out. Aneal asks so you are voting for the house rather than strategy? Emmett yeah its too early for strategy. As they leave Emmett walks out into the backyard and tom kicks the exercise ball at him and hits him in the shoulder and head. Emmett then kicks the ball at Tom but misses.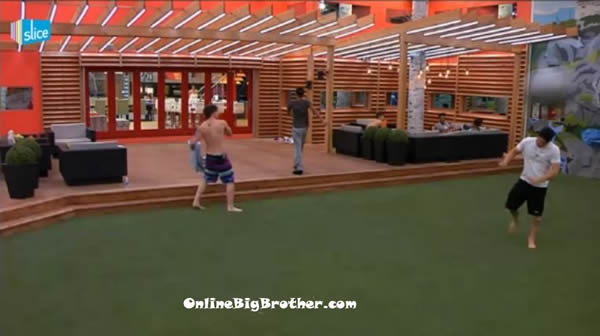 4pm – 4:20pm Alec, Topaz and Gary are in the bedroom talking. Gary says that they think Andrew is working out because Liza likes fit guys but he is working out because he wants and needs to win HOH to prove himself. The conversation turns to talking about how Liza is doing too much scheming and game talking. She is sinking herself. Alec asks Gary what deal he made with Tom. Gary says that he didn't make a deal with Tom, I just said I wouldn't go after him the rest of the game… but it doesn't mean I won't. Suzette joins them and the conversation ends. Alec leaves and joins Topaz in the havenot room. Alec talks about how everyone thinks everyone else is working with Tom but when I talk to each person individually none of them are really working with Tom but Liza, Emmett and Jillian. Alec says that he thinks him and Emmett have the best chance of winning this next HOH if its physical. Alec says that Tom is starting to tell him some of his game plans. Its not so much a mandate any more but its just because he isn't going to be in power any more and wants me to make the moves. Topaz says that Gary just can't put up Tom the first thing he wins. Alec says that no one is thinking of getting rid of Tom just yet. Alec leaves to go layout in the pool.

4:25pm Alec goes through the kitchen and pleads for someone else to join him in the pool because he doesn't want to be stuck with Suzette. He says all she wants to do is talk game and I have a headache. Andrew says that he will join them.
4:30pm Talla, Topaz, Aneal and Gary are in the bedroom talking. Aneal says that you (Gary) and I are going to be up on the block again next week no matter who wins. Gary says if I go up again, I am going to flip out, you haven't even seen the person that is coming to come out if I go up. Aneal asks Topaz if she would be open to putting up Aj and Andrew. Topaz says yes. Topaz tries to talk Talla into not stressing so much. Gary tells Aneal to not let Liza feed you fairy tails. Gary says she feed us the same damn speech. Topaz leaves. Aneal tells Talla and Gary that he is now worried that Topaz will run and tell Alec everything. Gary says that now he is worried. Aneal says that Topaz is a weak a$$ bit*h and they are going to carry her to the end. Gary tells Aneal that we can't trust Liza she is throwing everything. Let her protect us. Just keep it up. You go to her and I will go to her but we won't go to her together. They talk about how they will tell Liza that they each don't trust or talk to the other. Aneal and Gary talk about how they will just let Suzette go home .. there is no need to spice it up. Another one bites the dust!

5pm Peter, Talla, Gary, Liza and Aneal are in the kitchen talking about random things. Liza asks Gary who his celebrity crush is. Gary says that he thinks Johnny Depp would give it to me because he is a freak.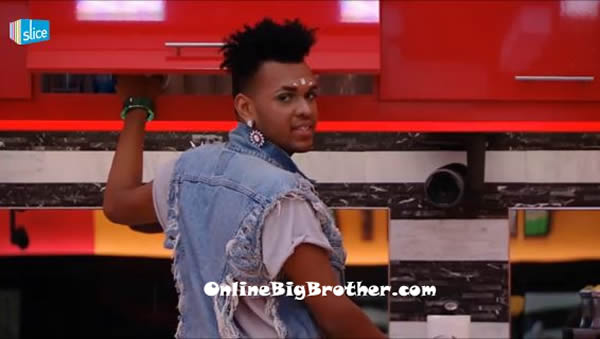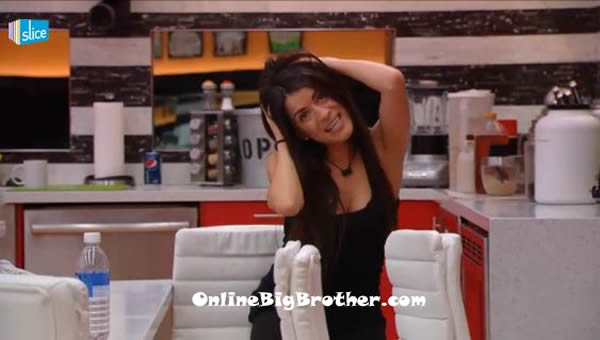 5:20pm Peter, Emmett, Tom and Jillian are working out in the backyard. Gary comes out but wants to skip the workout today. Meanwhile in the bedroom, Andrew and Liza are talking. Liza lies to Andrew and tells him that Tom's target is not you, your name does not come out of his mouth. She tells Andrew that Emmett is after him (Andrew). Liza tells Andrew not be in a boys alliance because he will be the last guy on the totem pole. Liza tells Andrew that Topaz will not stop saying my name. Liza says that Topaz is her biggest threat and she can't get her out because the girls are dropping like flies. Liza tells Andrew to only win HOH if he is ready to make some big moves. Andrew says that he will not throw the HOH, I promise you that, its not my style. Andrew says I am going to win it, he laughs and I am putting your a$$ up obviously. Liza says shut up. Andrew asks Emmett gunning for me? Liza says yup. Andrew says imagine I put up two of the strongest boys and let them fight for it. Liza says yeah do you think they would give you that luxury. Andrew says thanks for cleaning my window. Liza say cleaning your pipes. Andrew says you dirty girl. Liza tells Andrew he is one of the strongest players in this game. Andrew at first doesn't believe it and then says yeah you're right. Aj joins them. Liza asks him if he is capable of winning a competition. Aj say yes. Liza asks him what his wheel house is? Aj says competitions like the last HOH (a or b questions). Liza says you are good at complete crap shoot competitions. Aj says he could also find things in the yard and answer questions like who was evicted 3. Liza leaves to go clean other mirrors. Aj, Suzette and Andrew nap.

6pm – 6:20pm Liza goes into the bathroom. Gary tells Liza that when he wins HOH he wants to talk to her right after. Suzette comes in and tries campaigning for their votes. She says that maybe she can get Gary, Liza, Aneal, Jillian, Emmett and Talla. Liza tells her to get the votes first then talk to her. Gary tells her to get the big dogs first and the little dogs will follow. He tells her to go talk to them now, you don't have much time. Liza leaves the room. Gary then tells Suzette that Liza told him and Aneal the same thing.. that we are singles and everyone else is a couple. She is trying to get all the singles to work together. Suzette tells Gary that she over heard Alec, Emmett and Andrew talking about how this is an easy week and that they only need to worry about next week. Gary tells Suzette that all she needs is Jillian and Emmett. Jillian is your only way in. Suzette asks if she can pitch it that if they vote to keep me ..they will have Gary and my loyalty. Gary says yeah say it like that.

6:20pm – 6:50pm Liza tells Tom and Talla in the kitchen telling them how Suzette is trying to campaign for votes. Tom says that he gets it her back is up against the wall, but don't tell me I have Gary if I keep you.. because I already have Gary. Tom heads out to the hot tub were Jillian and Emmett are and tell them that Topza came up to him saying that she was approached by people to try and keep Suzette. Tom complains about how he was talking to Topaz and Talla flipped out when she came up to us and we stopped talking. Tom says Talla was freaking out and I told her it doesn't involve her. Tom wonders where Topaz heard it from all she does is sleeps. Tom brings up a girl alliance. Jillian laughs and says if there is one I am the only one not in it. Emmett says that its fine this is an easy week .. when Suzette comes to talk to me I will listen and just say I can't see it happening. Tom says someone who sleeps all day doesn't have an opinion. Tom says if we want Talla out of the game all we need to do is pretend we are talking about her and she will wig out.
6:50pm Talla talks to Emmett out by the hot tub. Emmett tells Talla that she needs to take a minute and not freak out when people tell her things because maybe its not true or maybe its only half the truth. Talla then goes to talk Topaz by the hammock. Topaz talks about how Tom is freaking out about hearing that there is a girl alliance. Talla says that it wasn't me talking about a girl alliance. It was Gary talking about it and Aneal agreeing. Topaz says we can't talk about anything to Aneal. She says that Emmett then went and asked Jillian. Topaz is freaking out about the girl alliance getting out and says that we aren't a target right now but this will make us a target. Topaz says that we can't talk to Gary about things but not Aneal. Aneal needs to go! Topaz tells Talla to pair up with Peter because he doesn't have a girl.
Topaz talks to Talla to try and clam her down and stop talking because they are safe right now.

[polldaddy poll=6954869]
Stay connected and interact with other Big Brother Fans on our Facebook page.
And Follow: @BigBspoilers and @Dawgsbigbrother on Twitter for the most up to date spoilers.
Share it YO!!
Tweet