So Canada did you enjoy your HOH? We nominated Sabrina and Andrew AKA the boogermance. Jon won the Power of Veto and chose not to use it on either of the nominees. His excuse was that he felt if he used the veto he ran the risk of someone close to him going up, someone like Neda. This is because the assumption in the house is that Neda hasn't been involved in much "Game Play" she will not be liked by Canada and would therefore have a lot of votes to be nominated. Andrew didn't do much campaigning to stay, he stated that he loved Sabrina too much to do that.. groan. Kenny did more campaigning for Andrew than he did for himself. Sabrina did a bit of campaigning but again she said she loved Andrew too much to go against him and break their boogermance.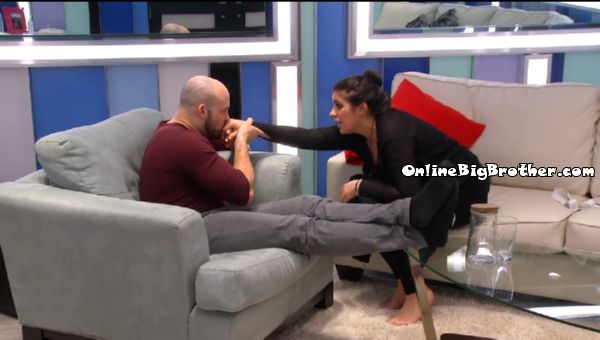 Tonight we'll most likely see Andrew going home which will result in the house undergoing a power change. With the 1st5 having lost one of their stars it's on the ropes but all can be saved if they win Head of Household. Don't forget Canada unlocked productions veto so expect some trickery this week as production "hides" the veto or doles it out to whoever they deem most worthy.
(Please note any alliances I outline below are highly in flux)
Neda and Jon
These two are very popular with fans. They may stumble in their game play but they give great entertainment on the feeds.Their alliance is (Neda/Jon) + (Adel/Heather) + (Arlie/???Sarah???)
Sarah and Kenny
Kenny is very intelligent in the game but may not be building enough relationships with non 1st5 people. Sarah has positioned herself very nicely with Arlie, and 1st5 on one side and Jon's crew on the other side.
Their Alliance as a couple (Sarah/Kenny) + (Sabrina/Rachelle) + (Allison) + (Arlie)
Sarah's side alliances (Sarah/JOn/Arlie)
Sabrina and Rachelle
AKA the gremlins.. Alliances are (Sarah/Kenny) + (Sabrina/Racehlle) + (Allison) + (Arlie)
Allison
Allison is a Disaster.. I won't bother ranting about it..
Arlie
Arlie is playing all sides with perfection.. (Note that Arlie did say to Sarah he wants the outcast alliance to lose one member before they take out Sabrina/Allison and Rachelle)
Adel
Forever the underdog.. If his power is found to be fake and someone from his alliance goes home because of it he's back in the sh*tter.. Adel's final three (Arlie/Adel/Jon) Adel's outcasts (Adel/Arlie/Jon/Heather/Neda) + Sarah
Heather
She's smarter than you think.. trust me she is but still a bit of an oddball within the household social dynamic. She's close to Adel/Arlie/Jon/Neda

My Predictions
Andrew goes home
Heather/Kenny win HOH
Social Media leaks
Andrew goes home by a vote of 7-2
Questions HOH Competition Kenny, Adel, Allison and Sabrina did not win
Next week is double eviction
Leak comes from @Hamsterwatch
Official Results
Arlie votes to evict Andrew
Kenny votes to evict Sabrina
Heather votes to evict Andrew
Neda votes to evict Andrew
Rachelle votes to evict Andrew
Jon votes to evict Andrew
Allison votes to evict Sabrina
Adel votes to evict Andrew
Sarah votes to evict Andrew
Andrew evicted from the Big Brother House
The HOH Competition true/False if you get it correct you get to eliminate a player.
Kenny eliminates Adel
Neda eliminates Kenny
Heather eliminates Sabrina
Jon eliminates Allison
HOH Winner unknown :(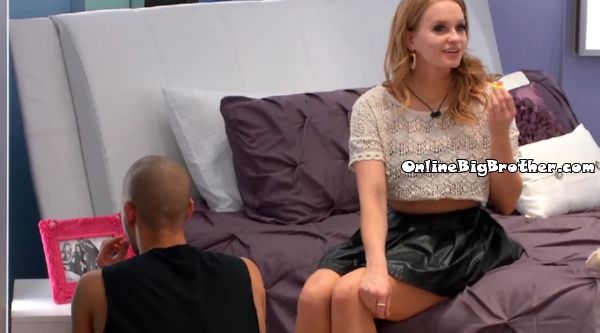 Heather wins HOH
[polldaddy poll=7935497]
Share it YO!!
Tweet