POV Holder:
?
Next POV
?
POV Used
?
POV Ceremony
April 7
HOH Winner:
Heather
Next HOH:
Apr 10
Original Nominations:
?
Current Nominations:
?
Have Nots
?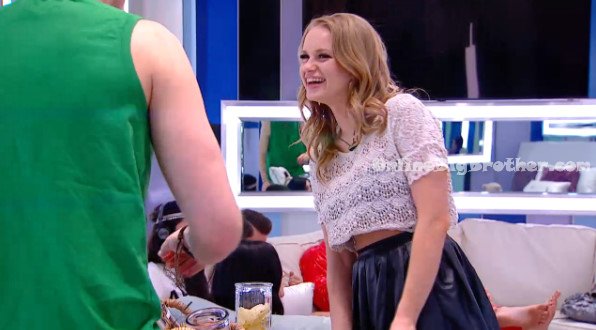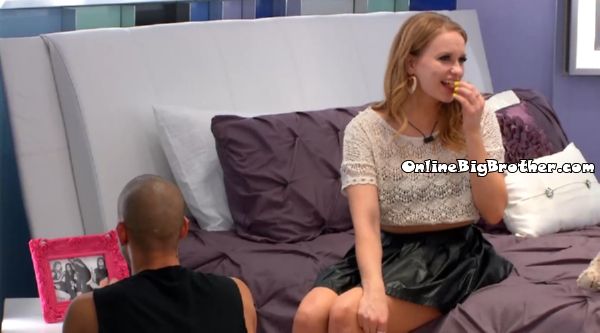 11:09pm Heathers HOH Room
Heather "I'm so happy I have a boyfriend that loves me"
Heather – "I love Sparkles"
She says her boyfriend William is getting her Master degree i Business, "He's a smarty pants.. you guys can help yourself to some candy"
Sabrina is trying to tell them that this week is instant eviction. She thinks the TV is going to come on for Heather and play a part in the game.
Heather at one points tells them that her teddy bear has on all the trips she's gone on.
Heather's HOH Letter
Heather,
I am actually getting into reality TV if you can believe it!!
As much as I miss you, I want nothing more than for you to succeed on Big Brother and show Canada what a smart, kind, and unbelievable person you truly are. This is a once in a lifetime journey that you are on, and really most people would never get the opportunity that has been presented to you. I want you to take full advantage ov the situation you are in, and don't forget that the traits that have won me over, are also the traits that will win over all of Canada and the Big Brother household!
You are the best most genuine person I know, just keep being yourself and stick to what has gotten you this far in your life. There is a reason that I, and everyone else in your life are so ecited for you and want you to go as far as you can in the BB Household.
You've got what it takes .. the smarts, the looks.. the whole package! I cannot wait to see you when you are done with Big Brother, but let's make that happen in a few months!!
I love you and have you on my mind always! XO
Will
Hopefully they include this in the letter they gice you.. but jesus you look good on TV per usual .. much love xoxox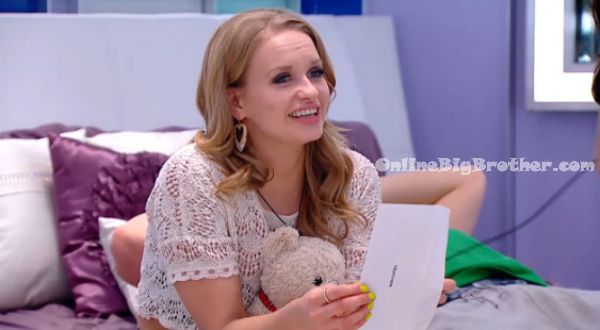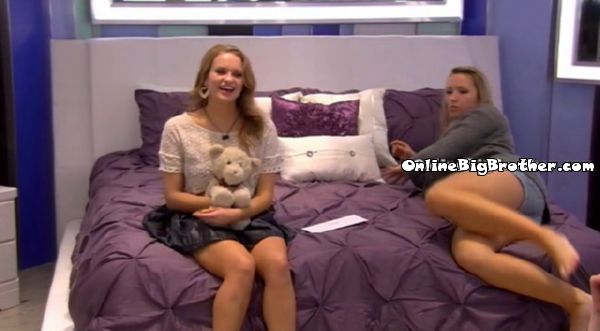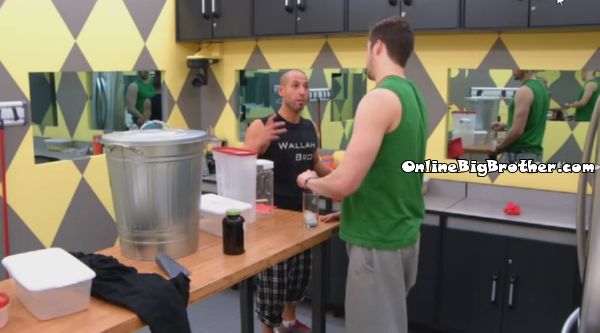 11:14pm Storage room Adel and Jon
Adel – Everytime I see Arlie and Everytime I see you Final three final three"
Jon – WE're going to start running some sh1t here"
Adel suggest they should all focus on outside their team to get votes.
Jon – Stay with HEather
Adel no outside our crew
Jon tells him Rachelle
Jon – OK i'll f*** with her to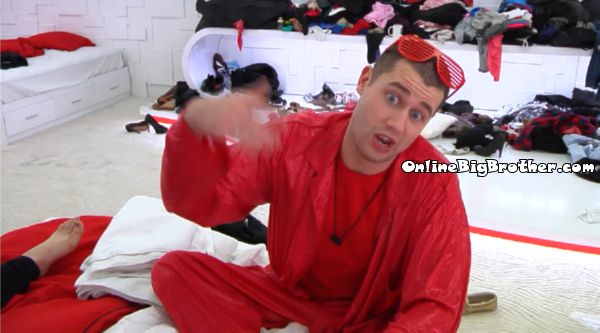 11:22pm Bedroom Sabrina and Arlie
Sabrina is worried they have drifted apart, she loves them so much/
Arlie says he hasn't felt that way at all he sees them not talking as a good thing cause it makes other people think they are not close.
Sabrina – I worked so hard for us to stick together. Sabrina tells her they need to stick with the four she wants Allison to go home if they have to choose someone.
Arlie – "It's tearing me up that Andrew is gone"
Sabrina says what she said in the bathroom she meant "Arlie's my man now"
Arlie tells her he trusts her 100%
Sabrina says Arlie is not going up she says Allison and Kenny are.
Arelis asks her how she knows jit.
Sabrina explains that Heather pulled her aside and told her she's putting a strong guy and Strong Girl up. Heather told Sabrina she's not putting Sabrina up even as a pawn.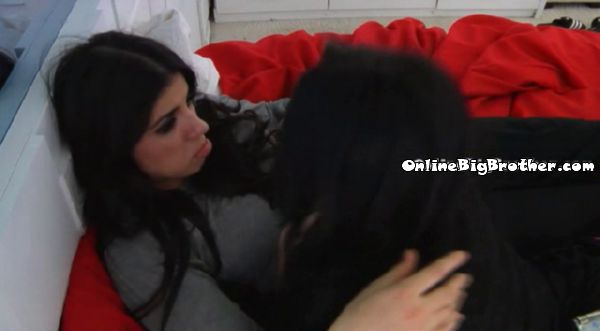 11:40pm Sabrina and Rachelle
Sabrina is saying She's scared she thinks tomorrow is instant eviction.
Sabrina is saying the other side is trying to see who they are trying to take out and are going to get their side fighting among each other. She says her and Rachelle are safe this week.
Sabrina retells what she said to Arlie about how Heather pulled her aside and told her a strong male and strong female are going up and one of the isn't Sabrina. Sabrina asked Heather if her best friend is on the block then she has something to worry about but Heather assured her that Sabrina's best friend isn't going up.
Sabrina sdds Kenny told her he wants to try and get Allison and Rachelle up on the block.
Sabrina – "Heather is not going to put you up because for her she see you as a stupid girl that what's she said in the beginning"
Sabrina says if Kenny and Rachelle go up there is no way Rachelle is going home. They have Arlie, Sabrina and Allison on their side.
Sabrina says she's pretty sure Heather will put up Allison and Kenny or Sarah and Kenny. Sabrina thinks the connection that Sarah and Kenny has is dangerous.
11:40pm Gremlins
[polldaddy poll=7935497]