POV Holder:
Alec
Next POV
March 23rd
POV Used
NO
POV Ceremony
March 18th
HOH Winner:
Gary
Next HOH:
March 21th
Original Nominations:
Tom & Liza
Current Nominations:
Tom & Liza
Last Evicted Houseguest
Aneal
Have Nots
Jillian, Emmett, Talla and Alec
6:05pm When the live feeds come back from the hush hush screen for the veto ceremony. As anticipated Alec DID NOT use the Power of Veto!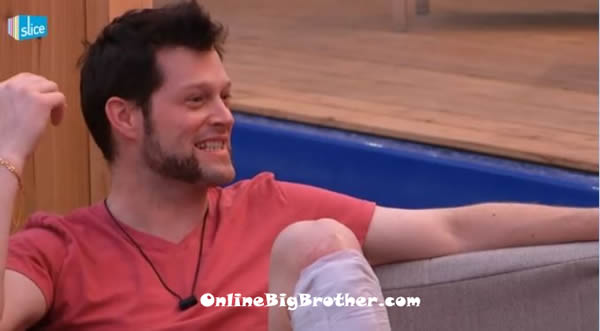 Liza is sitting at the kitchen table eating looking depressed. Meanwhile, Andrew is talking to Peter in the backyard. Andrew starts talking about how Alec finally won something and Tom thinks it should have been used. Peter says that Tom basically threatened him last night to try and get Alec to use the veto. Andrew says that Tom is one of the most unintelligent people I know …and I talk to Aj. Peter laughs. Andrew tells Peter congratulations for making it past another week. Andrew says he would like to get inside Tom's mind .. but it would be a vast emptiness. Andrew comments on how Suzette was right that Tom is a bit of a bully. He says I dare him to come up to me face to face, I will go toe to toe with him. I am not scared of him. It will give me some more camera time. Andrew talks about how even if Liza makes it to the jury and we are in there at least we can ignore her or not have to talk to her. Peter is agreeing.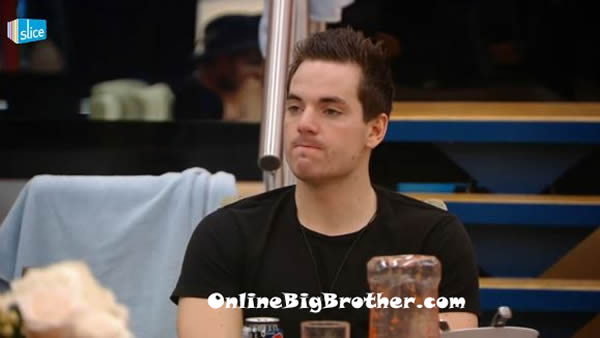 6:20pm – 6:40pm Tom jokingly comments to Liza in the kitchen that he doesn't see their relationship going anywhere .. one of us is leaving on Thursday and I don't think I can wait for you. Liza calls him an a$$hole. He kisses her on the cheek. Liza and Tom talk in the bedroom. Liza asks Tom if he is mad. Tom says that he is pissed. He says that both Emmett and Alec talk about not using the veto and they didn't tell me. Tom says that if he is still in the game and Emmett is up on the block I will not vote for him to stay. Liza says that if she stays she will leave a legacy in this game. I know exactly who I will send out next. Tom asks Topza? Liza says we'll see.. Tom says that if he wins HOH he will put up Gary. He says that he really wants Talla to win and put up Alec and Emmett. Tom says I am done with the four… fu*k the four! I am done, done, done. Tom says my reign of terror begins… hahaha.. Tom grabs Topaz's bandanna and says hahaha what should I do with this? Liza tells him to be careful. Tom says yeah you stay out of this.. Tom and Liza head into the bathroom. Tom tells Andrew that Alec and Emmett didn't tell him he wasn't going to use it and he told me he would tell me. I don't give two sh*ts about them, if they do give two sh*ts about me. Tom tells Andrew that Gary told him he needs him in this game … what a joke.
Video of Tom and Liza's conversation will be posted here:

6:50pm – 7:05pm Tom is pissed off and talking to Liza again in the bedroom. Tom says there can be only one co*k in this house and that's me.. the rest can be hens. My alliance turned on my I didn't turn on it. Tom keeps talking about wanting Talla to win to put up Emmett and Jillian on the block. Liza says that she doesn't think many if anyone would put you up. Tom says that Emmett fu*ked up he is being a super big douche. Tom says that he will keep loyal to the four because he can't everyone coming after me. I will never, ever forget their disloyalty. Liza says that she doesn't think this is the right time for him to win HOH. She says I really don't think anyone is coming after you. Stay loyal to the four. Liza tells Tom that if he falls for someone .. all your plans go out the window. Tom says that his friends at home are probably thinking I am thinking with the wrong head. He says that he isn't, I am thinking with my heart and my head. Tom says that he doesn't regret saving Gary last week .. because he built trust and respect. Liza and Tom comment on how Alec's veto speech was a joke and so disrespectful. She says that him (Alec) and his girlfriend (Topaz) can burn in hell. Liza tells Tom if he wins put up Alec and Topaz and if one of them comes off put up Jillian.
Video of Tom & Liza's conversation will be posted here:

7:20pm – 7:40pm Out by the hammock, Talla and Topaz put on a sock puppet show for Gary and Suzette. Talla and Topaz are acting really silly. They fall out of the hammock. Talla gets back in and falls out again. Meanwhile Tom and Liza practice a diary room sessions they will do together before one of them goes home and pretend to take questions from viewers. They move on to a dating show where Liza asks Tom questions about her.
Video will be posted here:


7:45pm – 8pm In the kitchen Andrew and Tom are talking about how awkward it is with Tom and Liza. Emmett agrees. Andrew says and it'll be awkward again when you stab me in the back too. Emmett says what? ..you know its what we talked about last week. Tom and Liza head through the kitchen and into the bedroom. Tom and Liza continue to talk about how pissed Tom is at his alliance.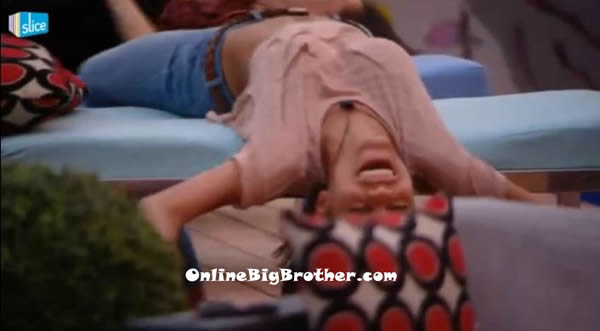 8:30pm – 9pm Tom and Tom and Liza are still in the bedroom. He is having his pity party. Tom says regardless of what happens I am going to spend time with you outside this house. Aj, Alec, Suzette are in the pool. Andrew, Topaz, Talla and Peter are hanging out on the lounge chairs. They are all talking about random things. Talla, Topaz and Suzette talk about people making out in the house. Topaz tells them that she wakes up with Gary and he leaves the bed with a pillow over his crotch because he has an erection. She says that Alec said when he and Tom had to sleep in a bed, Tom woke up with a hard on and told Alec.
OnlineBigBrother.com
Stay connected and interact with other Big Brother Fans on our Facebook page.
And Follow: @BigBspoilers and @Dawgsbigbrother on Twitter for the most up to date spoilers.
Share it YO!!
Tweet