POV Holder:
Alec
Next POV
March 23rd
POV Used
NO
POV Ceremony
March 18th
HOH Winner:
Gary
Next HOH:
March 21th
Original Nominations:
Tom & Liza
Current Nominations:
Tom & Liza
Last Evicted Houseguest
Aneal
Have Nots
Jillian, Emmett, Talla and Alec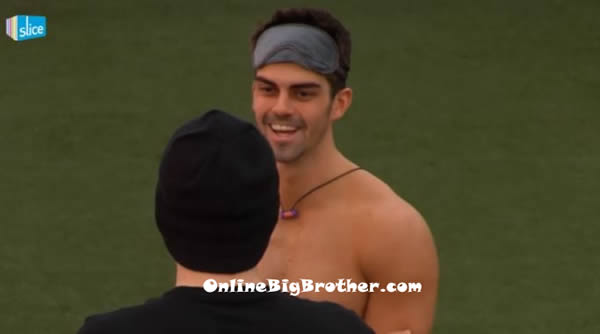 9:10pm Peter heads to the bedroom and jumps in the air a few times. When he gets to his bed he says into his microphone and says "Someone thank Dan Gheesling when I win." The cameras switch to Tom and Liza out in the backyard. Tom tells Liza that he is going to admit to Andrew that he was going to go after him but that he realize he wasn't someone he wanted to go after. Alec comes out and asks to talk to Tom. Alec tells Tom that he doesn't appreciate that he exposed his d*ck on camera. Tom says really coming from the guy that walks around shirtless. Alex says that he just doesn't want that on tv. Tom says they won't show that. Tom says he won't do it again. Alec heads back inside. Tom talks to Aj and Liza about it. Liza says that she was there in the bathroom when Tom opened the shower door. She says that Alec screamed like a girl and says that she didn't see anything. Tom says its just a d!ck, I will whip mine out right now. Tom says he has one guy with pee-pee problems and anther guy that won't eat. Tom says now that I exposed Alec's pee-pee he is probably going to vote to evict me.

9:40pm – 9:50pm Topaz and Gary are up in the HOH room talking. Topaz is livid about how Tom opened up the shower and exposed Alec. She is livid and wants to go confront Tom and freak out on him. She says that Peter wants to freak out on him too. Topaz says that she tried to talk to Alec but that he just needed 10 minutes to himself. She says that he said he would come grab me but he hasn't. Gary tells Topaz to give Alec his space right now.
Topaz goes downstairs and hugs Alec. Aj tells Topaz that he heard what happened from Tom. Aj says not cool. Topaz asks Alec if he wants to talk. Alec says sure. She tells him that she heard what happened with you and Tom. Alec asks what, how did you hear about that? Topaz says people are talking about it because Tom told everyone. Topaz asks if he is alright. Alec says that he doesn't want to talk about it. Topaz stops talking about and brings up how Liza said she would rather be send out of the house for punching her than be evicted. Topaz says that she wants to beat the shit out of Liza. Then Topaz says that she would rather be evicted for punching out Tom for what he did to him. Topaz tells Alec that Suzette thinks him and Peter are running the house. Peter comes up to Alec and Topaz and asks if he is okay. Topaz tells him that he doesn't want to talk about it. Peter says that he will say something to Tom if he wants. Peter then goes to confront Tom out in the backyard. Alec gets up and starts crying .. he pulls his sleep mask over his eyes and goes to the bedroom. Andrew hugs him and Alec starts crying. Big Brother cuts the feeds.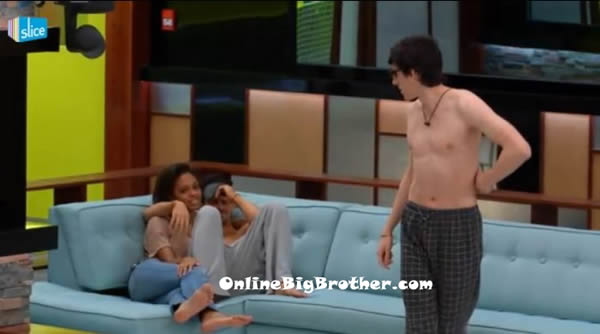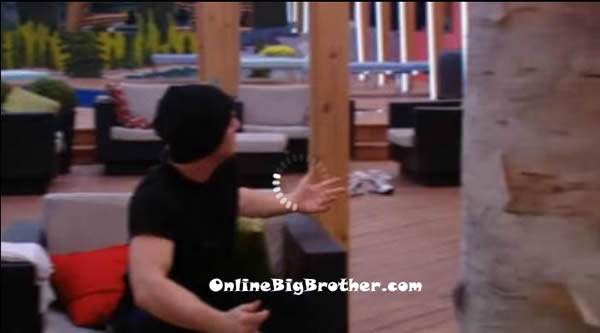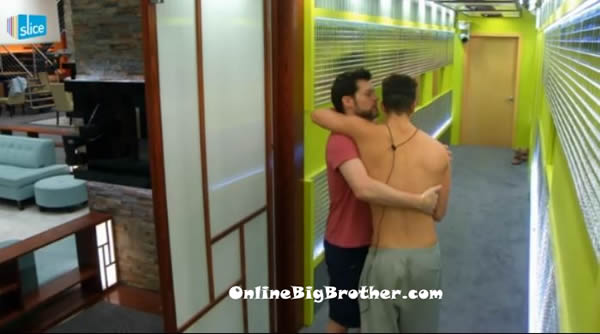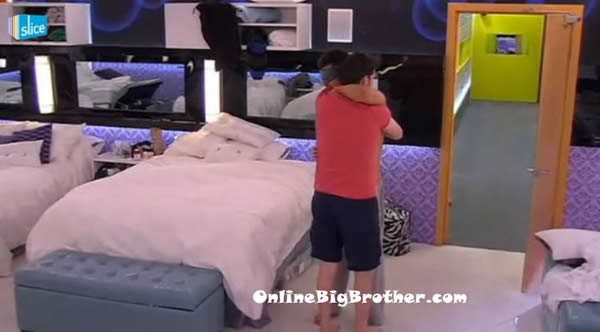 Video of Alec crying over his pee-pee being exposed:
10:25pm Big Brother is still blocking the feeds..
10:40pm The live feeds are still showing the hush, hush screen…
10:45pm When the live feeds come back: Tom is in the backyard talking to Topaz that he feels horrible what he did. He says that he thought that it was just a joke and that Alec was one of the boys that didn't care about that kind of stuff. Tom says that he is sure big brother is going to want to talk to me about it now too. Tom says that he walks around with his shirt off all the time and so I didn't think he would care. Tom apologizes and doesn't want to go out of the house on Thursday because I exposed a good friend of mine. Tom says that he will wait to see what Alec wants to do about it. Tom says that he knows Alec doesn't want to talk about it so I won't. The conversation turns to talking about Liza and how everyone wants her out. Topaz brings up how someone was spreading lies saying that Jillian was homophobic.. Topaz says that Jillian is a teacher she doesn't want people spreading lies about that. Tom says that he heard about that too. Topaz and Tom talks about the nominations and why the whole house wants Liza out. Topaz says that it was up to Emmett to show you the light about Liza. Topaz says we were going to win the POV and take you off to show you it was always about getting Liza out. Jillian joins them. Topaz talks to Jillian about Liza talking bad about Jillian and how Emmett is controlling Jillian. Jillian says that Liza is throwing Emmett under the bus all over the place.

11:10pm Jillian talks to Alec in the havenot room and asks him if he is okay. Alec says that he is fine he just wants to be alone. Out in the living room Emmett talks to Tom about what happened. Tom says that he feels really bad. He says that he felt like Alec was a playboy that walks around with his shirt off and that he wouldn't care about that. Jillian comes over to talk to Tom. She says that she only told a couple lies to the most random people. Jillian and Tom agree that their alliance was money and now its all blown up. They talk about how Liza was going around telling lies and pushing me under the bus. Tom and Jillian continue to talk this through about why Tom and Liza were nominated.
Video of these conversations are coming:


11:20pm – 12:10pm
Alec is still crying about his d*ck being exposed. Andrew is talking him through it and trying to cheer him up. Alec is worried about being kicked out of his profession because he was exposed on the internet. Andrew tells him that he won't be and says that even if he did he would have a bright future as a shirtless pedicurist. Alec says that he just wants the day to be over. Andrew leaves Alec to sleep. Meanwhile Tom continues to talk to Jillian and Emmett in the living room. Jillian says that every single person in this house feels betrayed. Emmett tells Tom that he fu*king hates Liza she took my friend. Tom says I am still here. Emmett tells Tom that Liza was trying to get me out and I tried to tell you 3 times and you wouldn't listen. Emmett says that he didn't want Tom up on the block, I didn't want that! Tom says I am playing an honest game and everyone is lying to me. Emmett says you are a target because you are with her. I don't know if we could save you, you have such a big target on your back. I told you to lay low. Tom says that everyone is lying to me, I am lost in the lights. Emmett says I couldn't even talk to you. Tom tells them that he wanted someone to cuddle with someone to be with.. she was real with me ..it wasn't even about game. Emmett says I tried to talk to you but it was in one ear out the other. I thought if we got rid of Liza you would go back to your normal self. But you started to say that you were going to put up Jillian and I… Tom says I just got caught in the middle of it, if this blow up didn't happen I would be confused all the way up to Thursday. Tom says that he hopes by some chance Alec gets over this and I am able to stay. Emmett says that he doesn't think its you pulling the shower curtain on him, its Liza that has poisoned you. Emmett tells Tom to separate himself from LIza tomorrow .. if you do that people will see that you've seen the light. If you don't it will show that you still are the same person. Jillian and Emmett call Liza poison. Emmett tells Tom that people are going to lie to you. Jillian and I are the only people you can trust in this game. Tom says that he thought Liza was a great girl and that the alliance they had was great.. I feel like I got played. Jillian says she might have real feelings for you. Tom says that he is going to tell Liza that he needs to separate himself from her. Emmett says the vote will be 5-4 that's if you can still get Alec, Topaz and Andrew back. Emmett tells Tom to not even sleep in the same bed as her.. what do you want, do you want to win this game. Jillian tells Tom he only need 3 people …you have us.
Video of this conversation with Jillian and Emmett is being uploaded and will be posted here:

OnlineBigBrother.com
Stay connected and interact with other Big Brother Fans on our Facebook page.
And Follow: @BigBspoilers and @Dawgsbigbrother on Twitter for the most up to date spoilers.
Share it YO!!
Tweet