POV Holder:
Andrew
Next POV
?
POV Used
POV Ceremony
April 1
HOH Winner:
ANDREW
Next HOH:
April 4th
Original Nominations:
Gary and Topaz
Current Nominations:
Last Evicted Houseguest
Aj
Have Nots
Gary, Peter, Topaz, Emmett (used Slop Pass)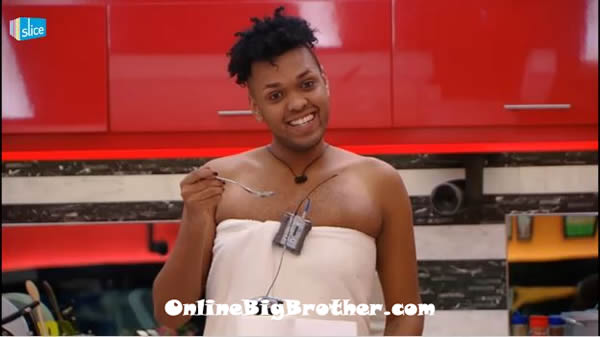 11:40am Gary is in the kitchen talking about how he is going to take a day off slop today and just eat condiments. He says that he isn't going to have a bowl or anything he is just going to have a spoonful here and there of ketchup, mustard, BBQ sauce and salsa. Gary says I don't want to make anything or stir sh*t today.
11:45am – 12:10pm Emmett and Andrew are up in the HOH room talking. Emmett tells Andrew that after the blow up last night Topaz told Talla that I am going after her. Andrew and Emmett talk about how they are aligned with each other and Jillian because they want to have relationships outside the the house. Andrew says our 3 is stronger than their three. Jillian has a bowl on her head walking up the HOH stairs. Andrew goes to scare her but she heads back downstairs before he can. He tells her that he was going to scare her. She says what if I fell down the stairs and broke my tail bone? Andrew says well then there would be one less person to worry about. Emmett goes to get Peter to join them up in the HOH room. Jillian and Talla join them soon after. The conversation turns to talking about phones and headphones.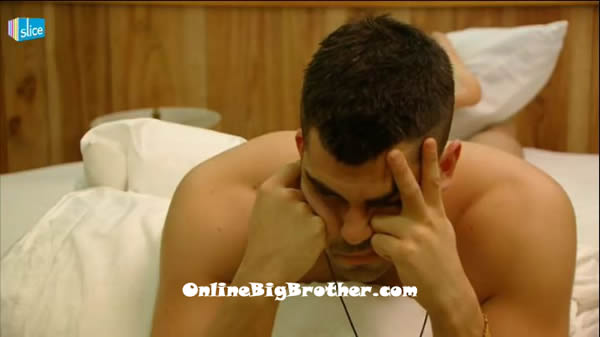 12:10pm – 12:40pm Alec and Topaz are talking in the havenot room. Topaz tells Alec that she misses him. They talk about her flipping out on him last night. He says that it is just a weird situation right now … I don't know who to trust .. I do trust you but its just hard. This isn't a good place to have a relationship, especially if you have a guy waiting for you back home. Topaz says that she doesn't have a guy waiting for her back home… we went on two dates and he didn't even know I was leaving. Alec says that he thinks the showmance needs to end .. and then we can talk it out and pick it back up in the jury house. He says there is no lying and no reason to lie in the jury house. Topaz says that she understands but that it's just hard. Topaz brings up how show is hearing from him that she is going but that she also hears from others that she is staying. Topaz says that she feels like he does want her to go. I wish you would just tell me how you feel and just be honest with me. If you want me to go they you three are all a$$holes. Topaz says if you want me to go I wish you would just tell me. Alec says that he doesn't want her to go, I don't know why you keeps saying that. Alec says I think we should just breakup this showmance because its not a good place to have a relationship and I don't know what's going on in your world outside of here. Alec says you two have been two HUGE fu*king downers the last few days. Big Brother calls Alec to the diary room. Topaz says that's because we are on slop and because I miss you. Alec says lets just wait and see what happens on Thursday .. I am not going to threaten to go after people if they vote you out because its not good for my game. Alec says that he does want to explore things with her outside the house. I want to give you a hug and a kiss right now but I can't because this isn't a showmance. Topaz says well I am going to give you a hug. They hug and Alec kisses her cheek and heads to the diary room.
Video of their conversation is uploading: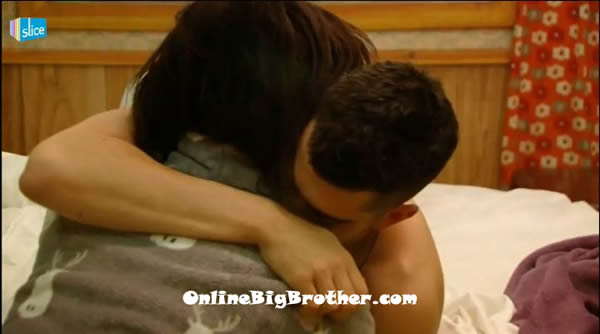 12:50pm Up in the HOH room: Andrew, Emmett, Jillian and Peter are talking about Gary. (Talla is sleeping & snoring on the couch beside them.) They talk about how he freaked out and cried because he was put on slop. Andrew says they probably ripped him a new one in the diary room for that. They talk about how if Gary won the $100,000 he would be the worst with the money and blow it all. Big Brother zooms in on Talla snoring. They play the wake up alarm. Andrew tells her that she was sleeping. Talla says no I wasn't I was listening to coldplay. Jillian, Peter and Emmett head downstairs because they learn that the backyard has been opened up again. Talla and Andrew start game talking. Andrew tells Talla that she needs to win HOH. He says that we also have Jillian and Emmett on our side to win it too. Talla tells Andrew that Topaz told her that their breakup was fake. Andrew says that he only trusts her. Talla starts talking about how she needs to win something and is so close. Talla says you're a stooge and I'm a stoogette.

1pm – 2:10pm Alec and Topaz continue their conversation in the Havenot room. Topaz tells Alec that she will still give him her jury vote. Topaz then goes and tells Gary about her whole conversation with Alec and how they broke up. Talla joins them and Topaz and Talla head to the havenot room. Topaz tells Talla about her conversation with Alec. Topaz brings up the necklace and says that she lied to Jillian because she had trust issues with her to find out if it would get back to Alec. She says that she said it was given to her by a guy but it wasn't it was from her sister. She says she also said it to make her outside dates with the Italian guy to look like it was more than it was just in case Alec was playing her. The conversation turns to talking about Topaz staying and how no one wants to tell her because there could be a twist. Talla says that she has her vote. They continue to talk about different scenarios.

2:10pm – 2:45pm Emmett and Jillian are on the kitchen couch whispering. Emmett is telling Jillian that he needs to be a lot closer with Talla to make sure she consults her if Talla wins HOH. Jillian says that Talla would talk to her but Emmett doesn't think her and Talla are as close as she thinks. Emmett says the last person in Talla's ear is the one that gets to her. They end their conversation. Big Brother tells them that everyone but Andrew will be on an a backyard lock down in an hour. (The veto ceremony will be held in an hour.) Jillian goes up to the HOH room to tell Andrew about the Topaz fight last night. Jillian talks about how Topaz spilled the beans about how their breakup was fake because he was worried he would be put up on the block. Emmett joins them. They talk about how dangerous Alec is in the game. Emmett says that Alec needs to go before Peter. Andrew says I am not using the veto .. but if there is a twist I will put Peter up. Emmett asks what if both of them come off. Andrew says then I will put up Alec and Peter. They head down stairs.
3pm Andrew, Emmett, Peter, Alec and Jillian are working out in the backyard. Out in the backyard Alec tells Emmett and Andrew that Topaz knows about the switch to get out Gary now instead of Topaz. He says that he thinks Talla leaked it to her and he is going to confront her about it. He says that he thought they could trust her but doesn't think he can now. Andrew tells him it doesn't matter but that he should go ahead and ask her about it. They discuss how big brother took the air hockey table away.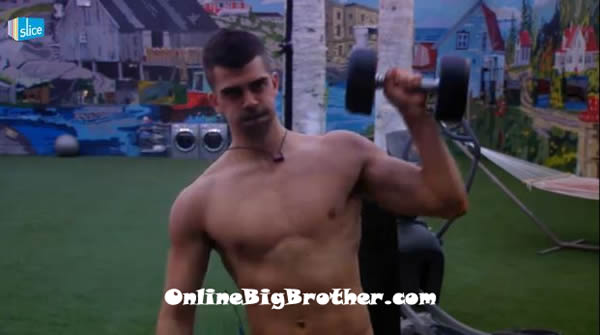 3:25pm – 3:40pm Alec, Peter and Emmett continue to workout. Gary, Topaz and Talla are getting ready in the bathroom. Gary helps Topaz with her outfit and helps Talla with her hair. Big Brother cuts the live feeds to the hush hush screen.
4pm Veto Ceremony is happening right now on the live feeds…
5pm Still Hush Hush..
6pm Still Hush Hush..
6:52pm Still Hush Hush..
OnlineBigBrother.com
Stay connected and interact with other Big Brother Fans on our Facebook page.
And Follow: @BigBspoilers and @Dawgsbigbrother on Twitter for the most up to date spoilers.